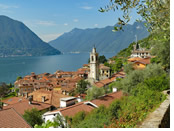 This Gay Lake Como adventure tour offers fun activities with personalized attention to the client's interests. We will enjoy fine dining with local wine in beautiful off the beaten path settings. Come discover why some of the rich and famous (George Clooney for example) have also adopted this magnificent area for their lakeside villas and adventure playground!
Lake Como in Northern Italy, world-renowned for its spectacular vistas, exclusive villas, and surrounding mountains will be our playground for this fun-filled adventure and cultural tour. Hiking, mountain biking (electric assisted), private lake cruise, a train ride through the alps and a visit to the world-class Pellegrino spa will satisfy our sense of adventure as we wine and dine our way through the most scenic region of Italy.
Our journey starts with a private guided tour of the historical and iconic sites of Milan including a visit to Leonardo Da¨Vinci's Last Supper and the spectacular gothic Duomo Cathedral. We will then head to the northern shore of Lake Como to the idyllic village of Colico and stay in a boutique hotel with a world-class restaurant looking out over the lake. The last part of the tour will be spent at an agriturismo style boutique hotel near Lecco.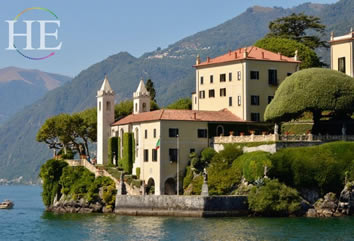 This is a customized tour developed by our tour directors, Ron and Walter who have led our biking and hiking tours in Tuscany for the past 15 years. We welcome travelers from the past and new folks who wish to enjoy some easy to moderate hiking and biking combined with relaxing days on the lake by private boat excursion and a train ride on the world-class Bernina Express.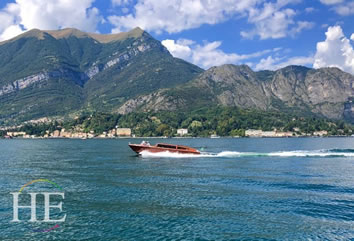 • Explore The Grigna Meridionale as we hike to the top for some amazing views over Lake Como
• Cruise Lake Como on our private boat
• Cycle our way around on an E-bike
• Relax in supercharged mineral water at Pelegrino Spa, known for its curative powers
• Tour some of Milan's most amazing historical architecture
• Board a cable car to our hiking spot beneath Mount Resegone
• Dine on the water's edge and enjoy the spectacular views
• View gorgeous panoramic scenery out the windows of the Bernina Express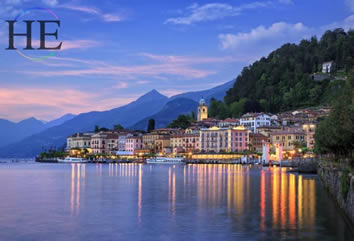 Day 1 - Arrival – Milano Welcome Dinner and Evening Stroll

Welcome to Milano! Recognized as the fashion capital of Italy (and Lombardy). It is home to some of the greatest collections of art and historical architecture. Which includes major works of Leonardo da Vinci, the Porta Nuova, Sforza Castle, the Opera house, La Scala and the spectacular gothic Milano Cathedral to name a few. Milano has an extraordinary history dating back to 600 BC. Including the Celtic Insubres, which was later conquered by the Romans to become the capital of the Western Roman Empire.
For those of you arriving early, there are countless museums, art exhibits and historical monuments to explore. There is also a 4-star hotel with a spa located in the historical center. This evening we will meet in the lobby of our hotel for a reception and orientation. Tonight we will dine at one of our favorite restaurants located nearby with wine and a superb selection of Italiano cuisine.
After dinner, we will take a stroll through part of the historical area to give you a glimpse of some of the sites to see on tomorrow´s tour.
Day 2 - Milano City Tour and Lake Como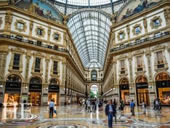 This morning we will tour some of the architectural and historical icons of Milano. Our private tour with a local scholar will take us through the Convent of Santa Maria Delle Grazie. Here we will find Leonardo de Vinci's world-famous mural of The Last Supper created from 1495-1498. We will also tour the historic area including the Milano Cathedral and other unique sites.
In the afternoon, we will head to our mountain chalet-style agriturismo accommodation near Lecco on the southern shores of Lake Como. An hour and a half drive will bring us to a beautifully restored 1800's farmhouse exclusive for our group complete with a fabulous on-site restaurant. Here we are surrounded by the mountains with trails leading out our back door. Decompress from the city and relax on the terrace or take a short guided hike around the historical site of a riverside farming community.
Dinner will be served in our charming dining room with local wines and cuisine enhanced with products from the farm.
Day 3 - Hiking and Spa Day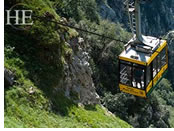 Our extraordinary day will start with a hardy Italian breakfast followed by a ride to the Funivia Paini d'Erna, a cable car landing above the town of Lecco.
A piani in Italian is like a plateau (not be confused with a panini), and the Piani de Erna sits at an elevation of 4500 feet above sea level. Enjoy the spectacular ride to our hiking area in sprawling meadows and unspoiled forest, beneath the peaks of Mount Resegone. From the plateau area, we will have breathtaking views of Lake Como and Lecco below.
It is a gorgeous area for an easy 4-mile loop hike. Or enjoy a more difficult climb up toward the mountain-the choice is yours. There is a delightful restaurant on the piani where we will enjoy traditional local dishes and enjoy the stunning views of Mount Resegone. After lunch, the cable car will gently glide us back down so we can then head to the world-famous Pellegrino Spa.
Near the town of Bergamo, where the exclusive San Pellegrino water has its origin, you can soak in the supercharged mineral water. After several years of renovation, the spa reopened in 2015 in a spectacular Nouveau Palace that is 64,000 square feet! Recommended by Leonardo Da Vinci and countless others for its curative powers, we will regenerate our bodies and souls in the rich sulfated thermal waters. They are rich in calcium and magnesium and will be wonderful after our day of hiking. There are more than 30 spa treatments and many pools; panoramic and sensorial. There are waterfalls, steam baths, saunas, bio saunas, Turkish baths, salt, and ice rooms.
We will enjoy this unforgettable experience into the evening and include an Apertiterme, a tasty happy hour with a light but elegant buffet designed to conquer your palate without adding to your waistline.
Tonight we spend another magical slumber in our cozy villa-style home high on the hill above the lake.
Days 4 - Mountain Biking the Easy Way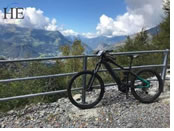 If you´ve never ridden an E-Bike before, you are in for a real surprise and treat! An E (electrically assisted with battery) bike is a delightful way to tour the surrounding lower mountain areas above Lake Como. We use high-quality E mountain bikes which make peddling up the slopes like riding on level ground. We will climb with pleasure up to a spectacular mountain pass and explore some of the dirt roads that meander through pastures and forests with minimal effort. Our itinerary for the day will include about 30-40 kilometers of riding through spectacular scenery once again with gorgeous views over the lake and surrounding mountain peaks.
We will stop for a delicious lunch at a mountain pass restaurant and tour through some beautiful alpine villages. At times it will be relaxing and sometimes exhilarating but with the E-bike you will be left inspired and have great exercise without the burn of those grueling climbs of a conventional bike. The bike loop through the mountains will return us back to the bike shop in the late afternoon so we have plenty of time to relax back at our agriturismo before dinner is served in our private dining room.
Days 5 - Lago di Como, Bellagio, Villas, Gardens and Como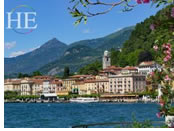 The best way to see the spectacular villas and sites of Lake Como is from the water. Our excursion will include a boat tour of some of the most beautiful sites as we traverse the lake from south to north.
On our way to Bellagio, we will pass by and perhaps visit such picturesque towns of Varenna and Tremezzina and icons including Villa Carlotta, Villa Balbianello (famous for the location of several Star War scenes as well as the James Bond movie, Casino Royale), and Isola Comacina. And of course, we pass by the Villa Oleandra, summer home for George Clooney.
Lunch will be on your own in the beautiful village of Bellagio. We will have a few hours to wander around the village enjoying the spectacular lakeside scenery.
In the afternoon we will have a scenic ride along Lake Como to the northern shore village of Olgiasca. Our off-the-beaten-track hotel overlooks the lake with beautiful gardens and stunning views across the lake to the western shore mountains. It features a fabulous restaurant and classic villa-style rooms. Before dinner, we invite those interested for an evening walk around a nearby medieval stone abbey. Dining will be on site with spectacular views over the water, in a very romantic setting.
Days 6 - Hiking Via di Mello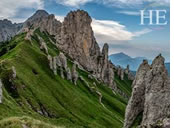 Today we embark on a glorious trek through the Val di Mello – regarded as the "The Yosemite of Italy". This spectacular valley is a well-kept secret to foreign tourists. However, it is a world-class rock climbing area with crystal clear lakes, rivers, and waterfalls and a historic stone village, and even a fine restaurant with local cuisine.
We will hike a few miles into the valley and for those that want a more challenging trek, we can make our way up to a refugio with a mountain stream and pool for a refreshing dip. Those that want to climb (non-technical) will be rewarded with gorgeous views looking out over the valley and the surrounding cliffs.
Both groups will enjoy a delicious lunch together in the center of the valley at one of our favorite open-air trattoria for a taste of the unique local dishes.
In the unlikelihood of foul weather, we always have backup plans to visit the world-class Bagni Vecchi Spa for a really delightful rainy day activity.
We will return to our charming hotel in time for some relaxing and wine tasting before a scrumptious dinner served in our Lakeview restaurant.
Day 7 - E-Biking or Boating on the Northern reaches of Lago di Como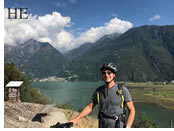 Today we offer a choice between e-biking around and above the northern end of Lake Como or a more relaxing private electric boat ride on the northern end of Lake Como and into the picturesque Lago Mezzola. Either way, the stunning beauty of the area is guaranteed to leave you enchanted and with a lasting appreciation for the dramatic landscape of this area.
Those that choose to bike will start out from Colico on the lake and ride the northeast shore of the lake and then cross between lakes Como and Mezzola and head up into the mountains above the lakes into an old historic village with gorgeous views out over the water. We will then loop back through trails in the woods along the northwest shore of the lake and back to Colico for about a 4 hour, 35 km ride with a picnic lunch.
Those that want a more relaxing final day of activities will join one of our guides on a four-hour excursion by E-boat on the lakes. Our journey will take us by a beautiful waterfall and at the far end of Lake Mezzola. Here, we will take a short hike to a hidden 10th-century church. Wine and a picnic lunch of course will be served on the boat.
Either way, this will be a really fun day with extraordinary beauty all around surely to leave you with a final big wow and unforgettable memories.
Tonight we have our farewell dinner in a special restaurant out on the lake with wine from the local region included. A final chance for an evening stroll along the lake will leave us with the glow of having visited this most beautiful region of Northern Italia.
Day 8 - Farewells and Transfers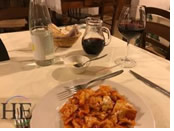 This morning we will have an earlier breakfast to be ready for an 8:00 am departure by van to Milan.
Those of you with flights in the afternoon (from 12:30 PM on) will arrive in time at Malpensa airport in our van. If you have an earlier flight or have a different departure than Malpensa we can arrange a private transfer at an additional cost.
We will also offer an extended evening stay in Milano as an option with an early dinner and a theater or musical performance (opera, theater, cultural event based on ticket availability).
Day 9 - La Scala, Milan
Stay 1 extra night in Milan after the tour. Enjoy an early dinner and a theater or musical performance (opera, theater, cultural event based on ticket availability). The performance this evening will be announced at a later date.