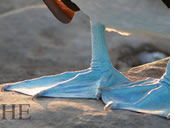 From hiking the rim of an active volcano, Sierra Negra, to swimming with penguins, our Galapagos gay land adventure will take us to three distinctly unique volcanic Islands. Meet blue-footed boobies, Darwin's finches, sea turtles, marine iguanas, and sea lions as we explore these picturesque islands.
The Galapagos Islands are located 600 miles off the coast of Ecuador with more 95% of the islands being protected as part of the Galapagos National Park System. We will explore 3 of the 13 volcanic islands. Some of the youngest islands are still in the process of being formed.
We will learn more about the extraordinary variety of plant and wildlife as we visit the islands. There are 29 species of land birds found here and 22 of them are endemic to the islands. See the world's smallest penguins, the bright red-chested frigate birds, the flightless cormorants, blue-footed boobies, hawks and lava gulls. In the sea, we'll snorkel to find serene sea turtles, playful sea lions, and colorful fish. Each night, we'll enjoy the comfort of the best hotels each island has to offer.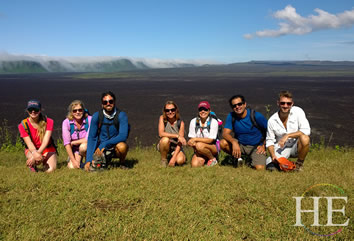 • Experience Darwin's inspiration in a location like no other.
• Snorkel with sea lions and penguins!
• Hike with the Galapagos giant tortoises at El Chato reserve in the Santa Cruz highlands.
• Fly from San Cristobal to Isabela, one of the most volcanically active places on earth.
• View Sierra Negra, a massive crater, over 6 miles across at its widest point. On a clear day you can see Perry Isthmus, Isabela Islands' other volcanoes.
• Explore Volcano Chico with puffing fumaroles and gorgeous colored lava formations.
• Watch an abundance of birds soar through the sky as we stroll to Frigate Hill.
• Arrive one day early and join our Quito City Tour.
For a more leisurely experience, see our Gay Galapagos Cruise.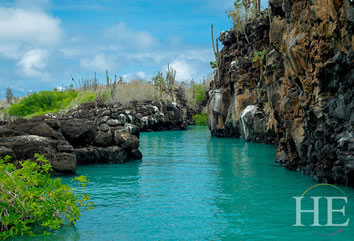 The itinerary below is subject to change, based on the regulations set forth by the Galapagos National Park and the Ecuadorean government. These regulations are adjusted to fine-tune the management of the Islands and keep the environment as pristine as possible. If necessary, we will make adjustments and substitutions to maintain an adventuresome exploration of each island.
Day 1 - Arrive in Quito, Ecuador
We arrive in Quito to begin our adventure. Since most flights arrive in the late evening, there are no official activities scheduled on arrival day. Guests arriving a day early can join today's Optional city tour of Quito, including a walking tour of historic sites, lunch together, and a visit to the equator.
Day 2 - Coffee, Chocolate, and Tortoises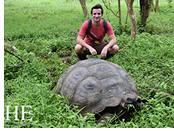 After a great night's sleep, we will board our flight (included in tour price) from Quito over to Baltra, and then ferry to Santa Cruz Island. Then we head to El Chato reserve in the highlands, home to several subspecies of Galapagos giant tortoise. As we hike, we see other highland wildlife such as pintail ducks, egrets, flycatchers, and finches.
Our next stop will be at a local coffee plantation as well as a chocolatier! Ecuador is well known around the world for its coffee and chocolate.
Today we will visit the Charles Darwin Research Station, where we will learn more about many of the endemic species we will meet during our adventure, as well as the ongoing conservation efforts in the Galapagos and why they are so important to the world today.
Dinner will be spent "food hopping", with several stops at some amazing restaurants on the island.
Day 3 - Kayaking Divine Bay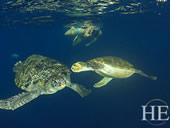 We will head out to sea in our kayaks to paddle around Divine Bay. This outstanding route takes us along calm turquoise waters that wind through high-walled lava channels. Here, white-tipped sharks and rays cruise under the clear water and colonies of blue-footed boobies, tropicbirds, herons, crabs and marine iguanas perch along the steep cliffs. We'll have the lunch at a local restaurant and some leisure time in the afternoon to explore the charming village of Puerto Ayora independently.
Day 4 - On to Isabela Island!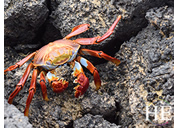 This morning we board our boat to Isabela, the largest and youngest island in the Galapagos, still being formed by five active shield volcanoes. This makes Isabela one of the most volcanically active places on earth. We'll check into our lovely hotel and relax until lunchtime.
This afternoon we head out to snorkel Tintoreras, a set of small, rocky islets tucked in Isabela Bay. Tintoreras' islets are filled with wildlife, most notably the Galapagos Penguin, the only penguin that lives at the equator. We will also be able to see sharks, sea turtles, sea lions and more as we explore the small coves and beaches of Tintoreras.
Dinner will be enjoyed in town at a local restaurant.
Day 5 - Volcanic Highlands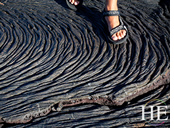 Today we head to the highlands of Isabela Island and into a world of modern geological history. The continuing volcanic activity on this island is a microcosm of the dramatic geological events that have formed the Galapagos Islands over millennia. After driving up to the trailhead, we hike into a young dry forest ecosystem. Our destination is the rim of Sierra Negra, an active volcano which last erupted in October 2005. Upon arrival, we take in breathtaking views and explore the circumference of the massive crater, over 6 miles across at its widest point. On a clear day, we can see Isabela's other volcanoes, the Perry Isthmus, and beyond.
Our hike continues to Volcano Chico, a secondary crater that has a wild landscape of puffing fumaroles and colorful lava formations. A three-course lunch will be enjoyed at Hauser House. In the afternoon, we return to Puerto Villamil to enjoy Isabel's exotic white sand beaches.
Tonight we will enjoy a special BBQ dinner featuring feral pig.
Day 6 - Relaxation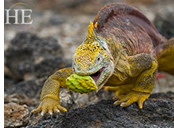 Today is your day to explore Isabela on your own or with new friends, or simply to relax. Optional activities include more kayaking or cycling, let us know what you want to do. A sack lunch is included for you to take along!
In the evening, we'll join up again for a fun local party with music and dinner.
Day 7 - Island Hop to San Cristobal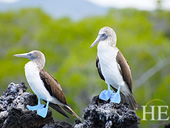 After an early breakfast, we head out on mountain bikes to explore the beautiful coastline on an exclusive trail that takes us through an incredible variety of coastal ecosystems. We will visit the massive Wall of Tears, a lava rock wall built by prisoners when Isabel was a penal colony.
As we continue riding along the coast, we explore pristine white sand beaches, mangrove forests, and brackish lagoons. This area is filled with bird life, including oystercatchers, herons, flamingos, finches and many shore birds, as well as the ubiquitous sea lions and marine iguanas.
We'll transfer to the airport for our quick flight to San Cristobal Island and check into our prime waterfront hotel (which boasts some of the best seafood in the islands). After lunch, we continue our journey at the Galapagos Interpretation Center to learn about the unique wildlife, geology, history, and social dynamics of the Galapagos.
After our visit, we hike to Tijeretas (Frigate Hill) along natural trails formed of lava rocks. The path is surrounded by native plants like Galapagos cotton, Palo Santo, acacia, and cacti, and we will spot blue-footed boobies, frigate birds, pelicans, herons, gulls, warblers, mockingbirds, and finches in the vegetation and sea cliffs.
We cool off from our hike with a refreshing snorkeling session at postcard-worthy Carola Beach, surrounded by sea turtles, sea lions, and marine iguanas, and bask in the setting sun. After dinner, we'll explore the friendly, laid-back beach town and stroll down the boardwalk to visit the neighboring colony of Galapagos sea lions.
Day 8 - Snorkeling and Kayaking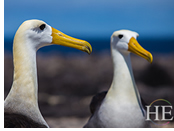 Our second day on San Cristobal, we begin with a morning of kayaking along the coastal bays and coves of San Cristobal's north coast, full of blue-footed boobies, frigate birds, sea lions, and sea turtles. We may visit Leon Dormido (Kicker Rock), Punta Pitt or Cerro Brujo. The visiting site will depend on the week day and Galapagos National Park regulations. We'll put on snorkels and fins to interact with sea lions, as well as marine iguanas and countless reef fish. We'll swim with spotted eagle rays, golden rays, Galapagos sharks, starfish, clams, and fish of every shape, size, and color. With luck, we might even see some menacing but harmless hammerhead sharks!
After a full day spent exploring the seas, we head back to hotel. For dinner, enjoy a local ceviche cooking class and a local beer!
Day 9 - Homeward Bound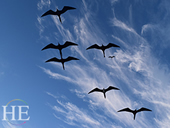 Today we'll say farewell to our new gay Galapagos adventure friends, then take an afternoon flight back to the mainland. We will arrive in Quito in the late afternoon, allowing plenty of time for an overnight flight back to North America. Some flights may require an overnight stay in Quito. If needed, we can help you reserve a hotel room near the airport, or arrange additional touring in the Quito area if you have more time to spend exploring the Andes region of Ecuador.
Stay Longer and visit the Highlands of Ecuador
Join us for a Ecuador Gay Adventure Tour that brings you down below… the equator, that is!