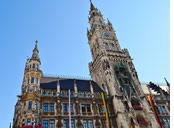 Join us on this special all-access gay tour of Germany, 'above and below', where we'll learn of ancient history, enter the castles of kings, explore the secrets of The Third Reich, and end with a stunning overlap into Oktoberfest. We will bring you access to sites (and sights) only this group will experience. Highlights include Berlin Wall, Brandenburg Gate, Dachau Memorial Site, an exclusive special event at Munich's Hofbräuhaus, multiple world-class museums and natural marvels, the surviving underground Nazi bunker systems, Nuremberg trials, Hitler's rally site, and the Zeppelin landing field, secret locales and hidden histories, plus the stunning architecture of Munich/Bavaria's kings and palaces. Consider joining our extension to celebrate Oktoberfest while already in Munich.
Germany is a country rife with history and culture. On this tour, we'll dive in, starting with Berlin and stepping off at Brandenburg Gate, the remains of the Berlin Wall, and more historical sites.
Furthermore, you will visit Museum Island, home of museums housing many of the world's most vaunted ancient artifacts. We'll also unravel the mysteries of the Third Reich in an exclusive historical/educational exploration that will change everything you were taught in school.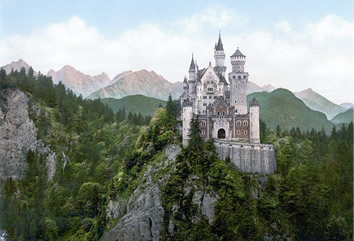 We'll move onto Nuremberg and see the sites where the world's most famous trial was held and where Adolph Hitler rallied huge crowds in his conquest of world domination.
Then, onto Munich and its surrounding areas, where we'll get a taste of the different and lavish architectural styles of 19th-century palaces such as Neuschwanstein, a fairy tale castle whose Bavarian king was gay and "mysteriously" drowned after refusing to take his country to war. We'll learn important history at the Dachau Memorial Site and visit the largest science and technology museum on Earth at the Deutsches Museum where a remaining V2 rocket still stands. You'll then have the option to add an extension to Oktoberfest.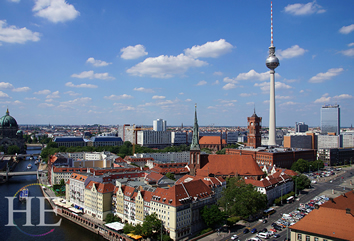 • Immerse yourself in history as you stand in front of Brandenburg Gate and the Berlin Wall.
• Travel through time at Museum Island, which features artifacts from ancient human history through the 19th century.
• Learn about gay history before and throughout WWII and visit a private underground book cellar filled with rescued books from the infamous book-burnings.
• Visit the historically rich city of Munich and experience its eclectic architectural styles.
• Relax and take in the stunning views at picturesque, Neuschwanstein Castle made famous as the "Magic Kingdom" by Walt Disney.
• Pause at Dachau Memorial Site as we learn about the lives of those who were imprisoned there and the secret "Nazi university" located purposely at the edge of the camp.
• Enter the Führer's hidden "Golden Chamber" at the Nuremberg Zeppelin Field and the Nuremberg Trial courtroom where many of the world's worst villains were tried and sentenced.
• Join us on an extension to experience Oktoberfest in all its unbridled glory.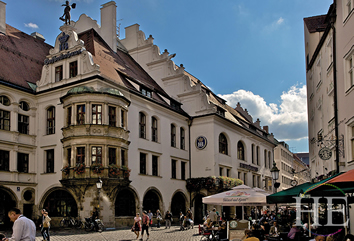 Day 1 - Berlin – Where Marlene Dietrich was Queen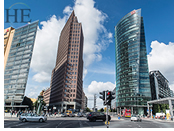 Arrive in Berlin – one of the most open-minded and culturally exotic, even erotic cities in the world. On this anniversary of the uniting of both East and West Berlin, you'll be greeted by a modern city that literally has it all -from the world's finest museums to sleek state-of-the-art transportation. As Berlin's mayor says: "We may not be as rich [as Bavaria], but we are sexy!"
After a brief orientation by our Public Radio and HE travel host, Cary Harrison, we will head off to a deluxe Welcome Dinner followed by some time to explore Berlin at night.
Day 2 - Berlin - Touring inside and out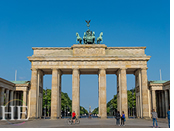 Today, we will enjoy touring through Berlin and see how this magnificent city (now joined) is put together. From the iconic Brandenburg gate (made more famous in Showtime's "Homeland") to the German parliament dome which offers an architectural experience and 360° views of this part of Germany.
Enjoy many sights including Hauptbahnhof, Moltkebrücke, Brandenburg Gate, Hitler's Bunker (buried under a parking lot) where Hitler's suicide and "marriage", remain anonymously entombed.
Day 3 - The Berlin Wall and An Island Holding World Treasures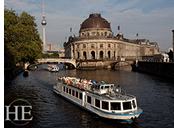 Today, see the only-surviving stretch of the Berlin Wall still standing, complete with intact graffiti of the time (on the Western side) opposed by a shocking counterpoint on the former East German side in a stunning outdoor museum setting.
We will see a dazzling underground landscape of the surviving subterranean Nazi bunker systems, complete with plumbing, communications, and early high-tech air conditioning.
Enjoy special access to a private bookstore's hidden basement full of antique banned books, each individually rescued from the famous Nazi book burnings. (Location remains non-published per the bookstore owner)
Days 4 & 5 - Inside a Buried Fortress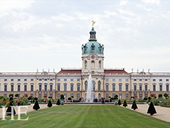 Today we will ride to the Berlin lakeside resort town of Wannsee and enter the mansion where Nazi leaders concocted "The Final Solution". Set luxuriously on a massive lake, the top brass sat in cynical luxury while planning the mechanized and systematized murder of millions.
Next, you may choose to go on your own to Berlin's famous Queer Museum (Schwulesmuseum) or pay homage at Marlene Dietrich's elegant but hidden grave- her headstone covered in flowers and cigarette butts (in homage).
VIP Experience: Leveraging his Public Radio access and journalism credentials, we gain access to the devastated underground ruins of a WW2 Nazi Bunker fortress. Cary takes you under the nerve center of the Third Reich into one of the few remaining Nazi bunkers, as it was left intact after the war. Forgotten deep under the streets of East German communists, these (amount still unknown) bunker systems sat, untouched, and remain accessible under special educational license only. We will get an unparalleled glimpse into "underground Berlin" during the air raids that destroyed 80% of the city center – traveling through the twisting passages and rooms, observing countless artifacts from the war that have remained buried there for decades. A still-functioning pneumatic post provides you with an insight into the 160-year-old underground history of Berlin.
Depending on limited permits and your adventure appetite, we may also see a dazzling underground landscape. Complete with dizzying views seven stories underground where the Führer ordered a gigantic "Flak Tower" built, to fire enormous aerial weapons (some successfully) at Allied aircraft. Though bombed, 8,000 archaeological hours and 1,400 cubic meters of rubble have been removed, opening up an area not before thought to exist.
One of these evenings we will enjoy a spectacular dinner view at the very top of the Berlin TV Tower's rotating restaurant.
Days 6 - Nuremberg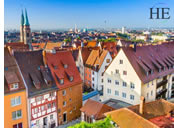 We will arrive by first-class rail to the medieval city of Nürnberg where much of modern history's legal framework unfolded – from the dreaded "Nuremberg Laws" (removal of human rights) to the enhanced tights' protections of the subsequent US-led "Nuremberg Trials".
VIP Access: Through a special license, we will enter the hidden interior of the Zeppelin field's "Golden Room" above which Adolph Hitler held his famous rallies. Inside, we see the last surviving giant fire dish that adorned the rally platform to nod to Roman emperors.
Afterward, we can visit the Documentation Center which details with a specific history and artifacts the calculated rise to power and use of visual propaganda.
Days 7 - Munich – The Crown Jewel of Bavaria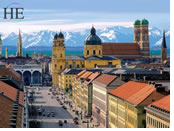 Today we will visit the actual courtroom where Nazis were sat and sentenced, and where new international laws were drafted so that such atrocities could never again occur.
Afterward, we will take a ride to Munich, via first-class rail, giving us plenty of time to relax and enjoy the lush countryside. After we arrive and settle into our hotel, we will enjoy a walking tour of the old city of Munich, followed by a delicious dinner in our hotel's historical "Stube".
After dinner, some may wish (on their own) to visit the 3-story underground gay sauna which is the largest in all of Munich. It's literally under our Hotel, Die Deutsche Eiche, and is celebrated as the premier hangout for palliative steam, soak, and saunter. It even has a first-class restaurant.
Day 8 - Lederhosen Time – Free Day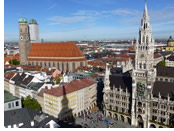 Some will wish to walk around the vast area preparing for the upcoming Oktoberfest. While it won't have officially started (until our Sunday "extension" day), the ramp-up can often be barely distinguishable from real.
Maybe visit the Deutsche Eiche's impeccably-clean gay saunas & cafes (at the sauna) as the saunas peak early, between 5-7 pm, as they are social meeting spots and have an entirely different vibe from what American versions are thought to be.
You may wish to visit Nymphenburg Palace (another castle, right in town(ish) and to have sunset cocktails on Hotel Deutsche Eiche's historic rooftop bar which offers the single best views of Bavaria at Sunset.
Some will wish to visit the English Gardens with lines of German boys literally surfing (on surfboards) on the gushing natural river currents.
You can also visit Munich's Nazi Dokumention Museum which holds a comprehensive history of the Third Reich.
Day 9 - The Real Magic Kingdom; The King was a Big Queen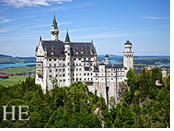 Today is fit for a King as we visit Bavarian Gay King Ludwig II's Linderhof and Neuschwanstein Palaces. These are the famous palaces where our gay king floated in grand, golden swans in his blue-lit water grotto. While King Ludwig was not known to take in visitors (the staff does talk!), he frequently visited the young stablehands below, for hours at a time, ensuring the horses were well-kept.
Castle Neuschwanstein was made famous by Walt Disney, himself, in a literal reproduction known as … the Magic Kingdom. The king spend millions building it; Walt made millions copying it.
King Ludwig had only a few visitors to this castle, principally his mother. Lud also had one of the only working telephones in the world – he being a bonafide tech nerd – which presumably rang to Mumsy.
Day 10 - Private Dachau Memorial & Third Reich Tour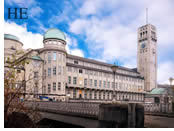 VIP Access: Today we will enjoy a private Dachau tour and Third Reich Tour. To understand the full impact of Dachau, one must immersively understand the perpetrators who created it and the most important question of "why".
Here we'll learn about the lives of those who were imprisoned here through an exhibition that will take us through the "path of prisoners". We will learn of firsthand accounts, biographies, and more in their historical locations.
Day 11 - Farewell Dinner At The World Famous Hofbräuhaus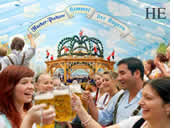 Today starts with an optional Munich walking tour that features many popular highlights that make this beautiful city an impressive destination.
VIP Access: Later we will have a special farewell dinner experience at the Hofbräuhaus complete with oompah bands, house-brewed beer, and traditional Bavarian cuisine. Cary has arranged through his friendship with the Hofbräuhaus manager for our group to have the exclusive opportunity to tap our own keg of premium Hofbräuhaus beer, fresh from the brewery!
Day 12 - Farewell or onto Oktoberfest!
Enjoy breakfast and then transfer to the airport or your next hotel for Oktoberfest!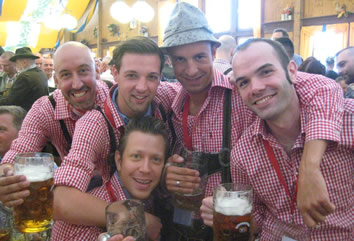 Day 12 - Munich Gay Oktoberfest!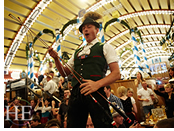 Sunday is the Offical Gay Oktoberfest Day! Enjoy Gay Sunday (Rosa Wiesn) in the Bräurosl tent, with thousands of gay guys. The event started in the 70s when gay leather/fetish Germans (the Munich Lions Club) crashed the Bräurosl beer tent and changed history.
The day continues with plenty of German beer and a live oompah band playing camped-up Oompah music. There's also another venue on the green that's an over-the-top drinking hall that seats over 8,000 LGBT+ revelers in rows of long tables. Yep. Game on!
Day 13 - Farewell
We hope you enjoyed your taste of Oktoberfest! Safe travels home.