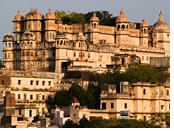 From Delhi, the Taj Mahal & the cities of the Raj, we'll focus on the art, architecture & history of this fascinating, sometimes contradictory land. This gay India tour has an abundance of famous temples, palaces, and forts. Take a leisurely pace, and relax in five-star luxury.
Our classic gay travel India tour begins in Delhi as we are swept away to another time and another place. Dotted with hundreds of landmarks, India's modern capital of Delhi is also a very ancient city. From the beautifully carved 12th century Qutab Minar to the parliament house with its Victorian and 20th century influences, Delhi's architectural gems transcend time.
Next we're off to Agra to tour the famous icon of India, the Taj Mahal. We'll also visit the Agra Fort with its 65-foot-tall walls and maze of temples, halls, gardens and mosques. Then we take a two-hour train ride to a lodge near the Ranthambore National Tiger Reserve for two nights and the possibility of seeing tigers in their native environment.
We'll spend three days around Jaipur, the lovely "pink city" with its broad avenues and harmonious architecture. Our Spring 2020 tour coincide with the Holi Festival of Colors in Jaipur.
Our last stop will be Udaipur, considered by many to be the most beautiful city in all of India. Our elegant hotel overlooks the magnificent Lake Pichola and Aravalli Mountains, and is famous for service and style reminiscent of a bygone age. Our tour ends back in Delhi, from which you can fly home.
For those with more time to travel, consider our extension to the Hindi pilgrimage destination of Varanasi. And if you are able to stay a few more days, we invite you to experience the multi-cultural capital city of Nepal: Kathmandu.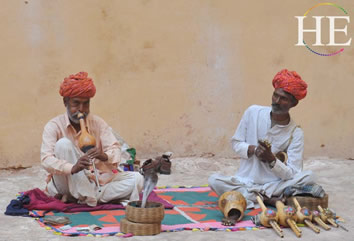 • Explore Delhi with its vast and rich history.
• Watch sunrise illuminate the Taj Mahal.
• Visit a tiger preserve, with the possibility of observing reclusive Bengal tigers in their native habitat.
• See the dreamy "pink city" of Jaipur and its famous seven gates.
• Visit the romantic and lovely city of Udaipur built around Lake Pichola.
• Relax after a day of touring at sumptuous five-star hotels.
• See Mughal history come alive before your eyes.
• Glimpse the daily lives of a variety of Indians during exclusive village and family visits.
• Discover India, a land of overwhelming sensations
• Enjoy a post-tour extension to the ancient Hindu center of Varanasi (March 14 to 17, 2020).
• Experience Kathmandu and fly by Mount Everest on our Nepal post-tour extension (March 17 to 21, 2020).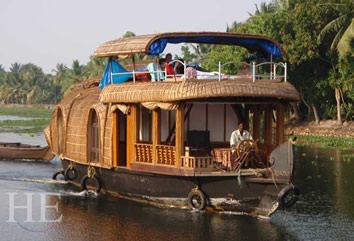 Day 1 - Arrival in Delhi, India

Upon arrival in Delhi, a guide will meet you at the airport, and escort you to our elegant New Delhi hotel. You can rest in your sumptuous quarters, take a walk to shake off the jet lag, hit the pool or relax and rest for our India adventure. Our hotel opened in 2012, but has already won many international awards, offers a variety of amenities to help you recover from the long flight. (NOTE: hotels described here have been reserved, but all hotels are subject to change.)
Day 2 - Delhi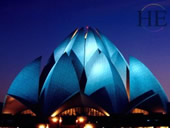 Today we will explore the fascinating and sometimes fast-paced city of Delhi on a full-day tour. We start the day with a cycle rickshaw tour of Old Delhi, passing the Red Fort, a massive structure built with red sandstone and a magnificent symbol of Mughal elegance and design. We will also see the Raj Ghat, a simple memorial to Mahatma Gandhi.
Then we'll visit India's largest mosque, Jama Masjid, built in the 17th century. It took 5000 artisans fourteen years to complete and is a unique architectural piece of the Mughal period. It has three gateways, four towers and two minarets as tall as 120 feet. Nearby is the busy market area of Chandni Chowk, once an imperial avenue down which Shah Jahan rode at the head of lavish cavalcades and today often the scene of world's most picturesque traffic jam with every kind of vehicle imaginable.
Old Delhi exhibits the traditions of the Mughal emperors who presided there, and New Delhi, the British capital during colonial days, shows off the more modern side of India. In the afternoon we leave the walled city of Old Delhi behind to explore the sights of New Delhi.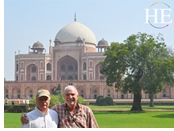 However, even in New Delhi are some very old monuments. We'll see the 12th century Qutub Minar, the highest stone tower in all of India. It was erected by Qutub-ud-din Aibak as a victory tower in 1199. It is considered one of the finest Islamic structures ever raised, and Delhi's recognised landmark, even though it was built with the columns from 27 Hindu and Jain temples. Gracefully hand-carved along its entire height of 234 feet, the tower stands near the Iron Pillar, which has withstood the ravages of time and not rusted in over 1500 years.
We'll visit the graceful mausoleum of the Mughal Emperor Humayun and drive past the modern Birla Temple, built in 1938. The uniqueness of this beautiful temple lies in the fact that it is open for all; it does not recognize any social or religious stratas. This was the condition on which Mahatma Gandhi agreed to inaugurate the temple. The temple houses idols of several deities, but is mainly dedicated to Laxmi (the goddess of wealth) and Narayana (the preserver). We will also see the President's house, the Parliament house and the India Gate war memorial. We finish our busy day of exploring Delhi with our welcome dinner.
Days 3 - 4 - Agra and the Taj Mahal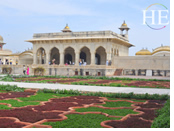 Today we take a 4-5 hour drive to Agra, which was established in 1475 by Badal Singh and came into its own when Sikander Lodhi of the Lodhi dynasty chose it for his capital because of its proximity to the Yamuna River.
In the mid-16th and early-17th centuries, Agra witnessed a frenzied building activity and it was during this time that the symbol of love, the Taj Mahal, was built. The buildings made during this era were purely in the contemporary Mughal style and of very high quality. Besides the monuments, Agra is known for the masterpieces of craftsmen recreating the glory of the Mughal period and for the Mughlai cuisine, the aroma of which fills the narrow lanes of Agra.
During our first evening in Agra we will follow the Mughal Heritage Trail, a community-based enterprise, to Kacchpura Village. Here we will get a behind-the-scenes look at the daily life of Agra. All funds paid for our visit are used to upgrade the village schools and to create sustainable livelihoods. We will also get a unique view of the unmistakable icon of India, the Taj Mahal, from across the River Yamuna.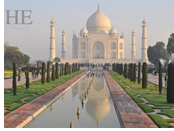 We will awaken early the next morning for a sunrise visit to the monument, so we can personally witness the changing hues reflecting the gradually brighter sunlight. This mythic structure with its history of romance and survival from the ravages of various marauders threatens to underwhelm visitors who have lived in the shadow of its hype. But its symmetry, its purity, its whiteness, the elegance of its curves, and the majesty of its size and silhouette can still surprise and astound visitors. It is easy to understand why it was selected in 2007 as one of the New Seven Wonders of the World.
Later in the day we will also visit the Agra Fort, which evolved during the reigns of three Mughal Emperors. Here we can witness the contrast of the stern red sandstone citadel raised by Akbar with the lavishly beautiful shimmering white palaces built by Shah Jahan. We will also visit craftsmen who create works of art by embedding semi-precious stones in marble, using geometric and floral patterns. This ancient art has been revived in the past few decades after long neglect.
Days 5 - 6 - Ranthambore and Tigers

We start our day with a visit to Fatehpur Sikri, built of red sandstone by Emperor Akbar the Great in 1569 and deserted 14 years later because its water supply failed. It is a perfectly preserved ghost city characterized by a harmonious synthesis of Hindu, Mughal and Persian architectural style.
From there we drive to Bharatpur and have lunch in a heritage mansion. In the afternoon we will take a 2-hour train ride to Sawai Madhopur, the entry point for the famous Ranthambore National Park. We then drive a short distance to our home for the next two nights, a former royal hunting lodge designed with art deco features.
The Park is one of the prime examples of Project Tiger's conservation efforts in Rajasthan. It covers an area of over 400 square kilometers with many steep crags embracing a network of lakes and rivers. Atop one of these hills, the 10th century Ranthambore Fort stands like a silent sentinel. The terrain is a blend of impregnable forests and open bush land.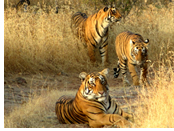 Ranthambore is best known for its reclusive tiger population, but there are also many panthers as well. Kachida Valley is considered to be the place to sight these rather elusive cats. One can also find marsh crocodiles, hyenas, jungle cats and sloth bears. The avian population includes black storks, quails, Bonelli's eagles and painted storks. During the winter months, the park attracts a lot of migratory birds, including a variety of ducks.
The best time to visit the park is between October and April, so we will offer both a morning and a late afternoon "canter safari" during the best times to view game. It is the ideal park for wildlife photography. With so much to see and plenty to do, we will enjoy a leisurely two-night stay here.
Days 7 - 8 - Jaipur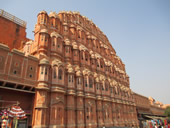 After one final early morning game viewing drive, we will have breakfast at our lodge, then drive about 3.5 hours to Jaipur. We'll check into our rooms at our deluxe hotel, then get introduced to Jaipur during an afternoon city tour.
Jaipur is called the Pink City because most of its buildings are of sandstone. It was chosen by Maharaja Sawai Jai Singh II (1693-1743) for his capital, and it is still the vibrant capital of the desert state of Rajasthan. Surrounded on all sides by rugged hills, crowned with forts and enclosed by embattled walls, Jaipur is a must-see for travelers to India.
The Old City, the actual Pink City, is a great place to wander around. Maharaja Man Singh II had the whole city painted pink when the Prince of Wales, later Edward VII, visited Jaipur in 1876. Today, every home within the old city is obliged by law to maintain this facade. Fabulous, tall houses with latticed windows line the narrow streets of the old city, their rose pink color lending enchantment to a scene which is almost magical at sunset.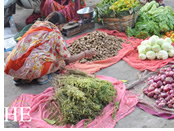 On our afternoon tour we will visit the Maharaja's walled City Palace (1732 AD), which occupies one-seventh of the city's area. Our next stop is the observatory of Jantar Mantar, which literally means "instruments for measuring the harmony of the heavens," and are the oldest astronomical instruments in India. Each has a specific purpose and still gives an accurate reading. We finish our tour with our guide leading us through lively city markets, including the Johari Bazaar.
The following morning we drive through the countryside north of Jaipur to visit the Amber Fort (also called Amer Fort), which was the ancient capital of the state until 1728. With its honey-colored fortress-palace in the Aravalli Hills which can be reached by elephant, Amber Fort has been described as the sleeping beauty of Rajasthan. The somber exterior belies the richness of the royal apartments, which open on to striking views of a gorge.
The afternoon is free to enjoy the facilities of our hotel, but transportation is available if you would like to explore nearby shopping options.
Day 9 - Elephant Safari and Celebrations

In the morning we return to the serene hills near Amber Fort for a special treat – an elephant safari! We'll start with a welcome drink for us, and food for the elephants, then one or two of us will climb onto each elephant. We will slowly follow a picturesque route with a local tribal guide, passing by villages, fields, the medieval fortress and monuments, until we reach our camp in the middle of the forest, where we stop for lunch.
We have timed our tour so that we may celebrate the Holi Festival of Colors in Jaipur. Holi is considered to be the day of friendship, when in keeping with the spirit of the day, people forget petty enmities and renew their friendship. It's also the day when people toss powder of various bright colors on their friends to celebrate the day. (You are welcome to observe from a safe vantage point, or jump into the middle of the celebrations!)
Days 10 - 11 - Udaipur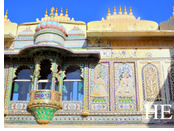 This morning we embark on a 6-8 hour drive across the Rajasthan countryside to Udaipur, with a couple of stops along the way. (No airlines are currently flying between Jaipur and Udaipur, but if a flight is added on a reputable carrier, we may fly from Jaipur to Udaipur.)
Udaipur, one of the most romantic places in India, is situated around the shimmering clear blue lakes which whisper the mood of a bygone era. Founded in 1567 by Maharana Udai Singh on the advice of a sage, Udaipur was the last of the numerous Mewar capitals.
The city acquires its scenic beauty from the three lakes, Pichola, Fateh Sagar and Udai Sagar, that make it a lovely oasis in the desert. Full of enchanting tales, Udaipur has a remarkable past, with episodes of heroism and splendor. Our home base as we explore this city will be one of the exquisite palace hotels overlooking Lake Pichola.
Upon arrival at our hotel, the rest of the evening will be free to explore the exquisite hotel grounds and sample one of their several fine restaurants.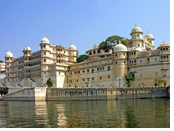 The next morning we will visit the vast City Palace, the largest in the state of Rajasthan. It is comprised of 11 smaller palaces whose walls stretch for more than a mile along the shore of Lake Pichola and display magnificent works of marble and granite, as well as peacock mosaics. Nearby we'll see the Jagdish Temple (1651), one of the largest and most popular Vishnu temples in northern India, then drive around Fateh Sager Lake and see the Sahelion Ki Badi (Queen's resort).
Time permitting, we'll wander through the hustle and bustle of the old market, including locations where the James Bond film Octopussy were filmed and have lunch at a restaurant owned by a German man with ties to Udaipur's discreet gay community.
In the late afternoon, we'll slow down for a boat ride on the placid waters of Lake Pichola, during which we can witness evening rituals on the bathing ghats (steps leading into the lake), and watch the sun set against the backdrop of the magnificent palaces. Then we will enjoy our Farewell Dinner together in a special setting that captures the spirit of this ancient land.
Day 12 - Return to Delhi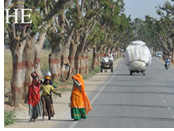 Most of the day is free until early afternoon when we transfer to the airport for our 1.5 hour flight back to Delhi. We are scheduled to arrive Delhi around 6 pm.
The tour officially ends with our arrival in Delhi. Those with evening international flights can stay at the airport and check in for their flights. We also have nearby day rooms (with a transfer) available for anyone with a flight departing during the night.
Overnight rooms near Delhi Airport are included in the extension price for participants in our Varanasi & Khajuraho extension that starts the next morning, and can also be reserved for other travelers with flights on Day 13, one day after the final official tour day.
We hope you have enjoyed our Grand Tour of India and look forward to seeing you again soon!
For those joining our 3-night post-tour extension, we will fly to Varanasi on Day 13 (1 night in Delhi, 2 nights in Varanasi).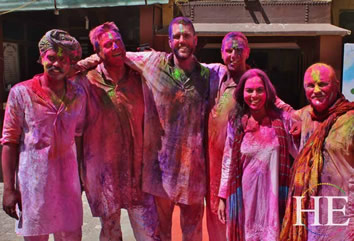 For those participants who have a little more time to spend in India, we are offering a three-night extension including a night in Delhi, and two nights in Varanasi.
Varanasi (once called Benares) is visited daily by thousands of Hindi pilgrims who come to bathe in the sacred Ganges River. During our tour we will see many of the ghats (bathing sites) from both the shore and from a boat, and we will also visit nearby Sarnath, where Siddharth Gautama, the original Buddha, gave his first sermon.
Please note that due to the limited transportation options to these cities, our itinerary is subject to change, but we will ensure that you are able to experience the highlights of these two historic cities.
Days 13 - 14 - Varanasi Visit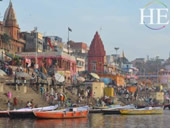 Varanasi (formerly called Benares) is situated on the banks of the holy Ganges River and is presided over by Lord Shiva. It is called the Eternal City and is distinguished by the many "ghats" along the riverside. (A ghat is a broad flight of steps that provides access to the water, especially for bathing). From time immemorial Varanasi has been a seat of learning and an important religious center for Hindus. It is also one of the most sacred places of pilgrimage, being visited by millions of people every year. In addition to its role in Hinduism, Varanasi also holds an important place in Buddhism, since Buddha's first sermon was given nearby.
Day 15 - Varanasi to Home
On our last day, we will fly back to Delhi in the afternoon. Since many flights to North America and Europe depart around midnight, no overnight hotel is included for this night. However, we will have a day room available at a hotel near Delhi Airport so you can freshen up for the flight home. For those flying out the following day or later, please let us know if you would like to add additional hotel nights.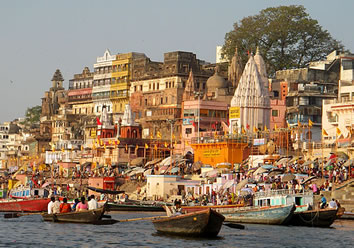 For those able to continue after Varanasi, we are also offering a 4-night extension (1 night in Delhi and 3 nights in Kathmandu).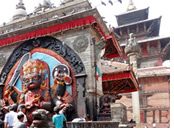 Day 15 - Rest in Delhi
We'll spend tonight at our hotel in Delhi to rest from our India touring.
Day 16 - Journey to Kathmandu, Nepal
We are happy to help you arrange your flight to Kathmandu (not included in tour price). We will transfer to our deluxe hotel in this picturesque city, where you will have the evening to relax and recover from your long journey.
Day 17 - Mount Everest and Kathmandu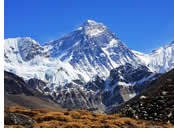 Early risers may enjoy an optional dawn flight tour of Mount Everest (weather permitting). We will see some of the world's highest peaks, and glimpse the Roof of the World, the Tibetan Plateau. After returning to our hotel in time for breakfast, we will then tour Kathmandu, exploring the riches of the Hindu and Buddhist traditions of this historic capital and its surrounding region. During a rickshaw ride past ancient temples and traditional markets, our senses will be delighted by the exotic sights and sounds. We will see the Buddhist shrine of Swyambhunath Stupa, the Royal Palace, and Patan, with its Golden Gate and Temple of Taleju.
Day 18 - Bhaktapur and Dhulikhel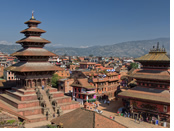 Today we drive 10 miles east to visit the elegant city of Bhaktapur, with its renowned Durbar Square of magnificent temples, sculptures, and palaces. The National Art Gallery is housed within the Palace of 55 Windows, and we will also see Tamaudhi Square with its five-roofed Nyatoapola temple and Dattatreya Square. We will continue on to the mile-high town of Dhulikhel, which offers one of the best vantage points in the region for seeing the Himalaya range.
Day 19 - Departure
In the morning, subject to weather conditions, you'll be awakened early to watch from our hotel as the sunrise slowly illuminates the nearby mountain peaks. We'll be transferred to the Kathmandu airport for flights homeward (departure flights from Kathmandu not included in extension price).