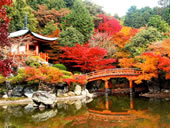 A Gay Travel Japan Cultural Tour. Our gay Japan tour starts in modern Tokyo, then pauses at a traditional lodge that's a short walk from the snow monkeys of the Japanese Alps. Next is Kyoto, with its abundance of temples and gardens and a visit to an art museum built into a hillside. Our unique Extension visits Himeji Castle, the world-renowned Benesse Art Site on Naoshima Island and Hiroshima to see both the solemn Peace Park and beautiful Miyajima Island.
Let us show you authentic corners of Japan that reflect the diversity of that proud and ancient land, both ancient and modern, both urban and surrounded by nature. From colorful kimonos to delicate calligraphy, glorious temples to perfectly prim gardens, indelible images of Japan will remain imprinted in your memory once you experience the real Japan. We'll explore lively Tokyo, visit the Japanese Alps home of the snow monkeys, enjoy Kyoto's abundance of history, and on our Extension relax on Naoshima Island surrounded by sublime art, and contemplate what Hiroshima means to the people who live there.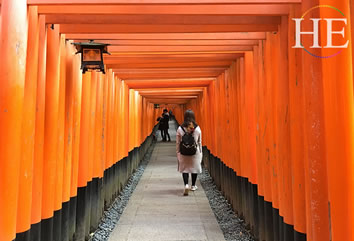 • Explore Japan's bustling capital city of Tokyo.
• Relax in the lovely mountain hot springs village of Kanbayashi, and see the snow monkeys bathing in their own hot spring.
• Stroll through Kyoto, one of the most beautiful cities in all of Japan.
• See the famous Golden Pavillion at the Kinkakuji Temple.
• Meditate in the Tenryuji Temple garden.
• Climb up to the tower of Himeji Castle, the best-preserved samurai castle in Japan.
• Visit Naoshima Island, home of the renowned Benesse Art Site, perhaps Japan's leading home of modern art on our Extension.
• Contemplate the historic significance of Hiroshima, then tour Miyajima Island whose Shinto gate is at sea or on land, depending on the tide on our Extension.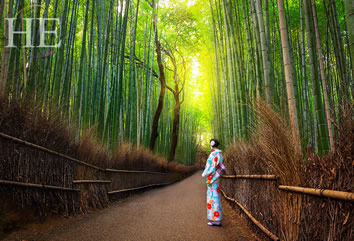 Day 1 - Welcome to Tokyo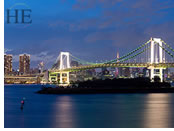 Passengers from North America will cross the International Dateline and arrive in Japan a day after departure from home.
We will give instructions about the most convenient way to get from the Tokyo airports to our hotel. Our HE Travel tour director will be at the hotel to greet you and offer suggestions for your first day in Tokyo. After the long flight, the rest of the day is at leisure to relax or begin to adjust your internal clock by taking a walk or getting some rest. The upcoming days will be very exciting.
Days 2-3 - Tokyo Touring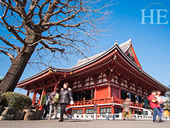 Tokyo is one of the most interesting and most complicated cities in the world. Over two days we will enjoy guided tours including imperial gardens, museums and ancient shrines.
Our Welcome Dinner will be at a restaurant highlighting traditional Japanese cuisine.
In either Tokyo or Kyoto we will be entertained by a professional geisha (and perhaps even one of the few male geishas in Japan!).
Days 4-5 - Mountain Home of the Snow Monkeys then on to Kyoto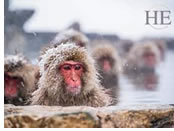 Today we board a bullet train to travel from the vast urban sprawl around Tokyo to Kanbayashi in the Japanese Alps. Our lodge is a 45-minute walk from the hot springs where snow monkeys bathe throughout the year. Whether or not any snow has fallen by the time of our visit, the monkeys are always a fascinating sight.
We will spend the night at a Japanese ryokan, with western beds or futons in tatami mat rooms. Relax in the hot springs pools of our hotel. Later, put on your yukata robe for our special kaiseki dinner, highlighting the vegetables and beef from this mountain region.
The following morning, early risers can make a second visit to see the monkeys. Later we will depart for Kyoto, Japan's classic capital city, by a mix of local and bullet trains. Upon arrival, we'll check into our deluxe hotel for the next four nights, and our guide will give an orientation to what we'll see in Kyoto.
Day 6 - Arashiyama and Kinkakuji in Western Kyoto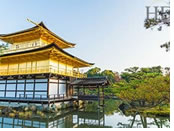 Today is a full day of sightseeing, starting in Arashiyama in western Kyoto, a fascinating part of the city missed by most Western visitors.
NOTE: The locations listed are our planned stops. However, we may substitute other stops based on weather, congestion and other local factors.
We start our touring with a boat ride through the pristine forest and mild rapids of Hozugawa Canyon. Our ride finishes near Tenryuji Temple. This UNESCO World Heritage Site is famous for its gardens, thought to be the oldest in Kyoto, dating to the 14th Century. Their stylish restaurant offers delicious vegetarian meals, so we'll stop there for lunch.
After lunch, we'll take a rickshaw ride around the temple precincts and through a lush bamboo grove.
Today's tour concludes at Kinkakuji Temple, a stunning gold-covered pavilion originally built-in 1393. A great photo opportunity is the image of the Golden Pavilion reflected in the tranquil waters of the lake. It was made famous in the book Temple of the Golden Pavilion by gay Japanese writer Yukio Mishima. He wrote of rivalries among monks, including one who burned down the temple.
Day 7 - Miho Museum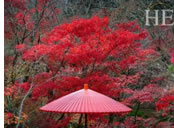 Today we head north of Kyoto to the exquisite Miho Museum. The building was commissioned by a Japanese religious group and designed by I.M. Pei. The museum blends into the surrounding forest by being built mostly inside a mountain. One approaches the museum through a graceful pedestrian tunnel and an extraordinary suspension bridge.
The museum displays a permanent collection of statues and artifacts from ancient civilizations, along with seasonal exhibits of Japanese art. Following our visit to the Miho Museum, we will return to Kyoto. The rest of the day will be free to explore additional temples and castles, take a train up into the mountains, or enjoy the amenities of our deluxe hotel.
Day 8 - Higashiyama District of Kyoto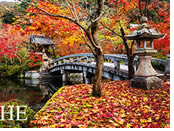 After two days of savoring a great variety of sights, we will tour the Eastern Hills or Higashiyama area of Kyoto, then offer free time to explore Kyoto at your leisure. You can sample everything from quaint shops to ultramodern department stores to see the blend of tradition and progress.
We will have the farewell dinner of our main tour in a traditional building nestled in the hills.
Day 9 - Farewell to Japan or Begin Himeji-Benesse-Hiroshima Extension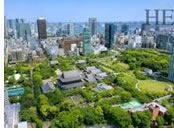 Today, those joining just the main tour will catch flights from one of Osaka's airports to begin the journey home.
For those with more time, join us on our 4-night extension to Himeji Castle, the Benesse Art Site and Hiroshima.
Following that extension our Koyasan Extension offers one-night in a zen monastery on Koya-san, followed by a night in Osaka.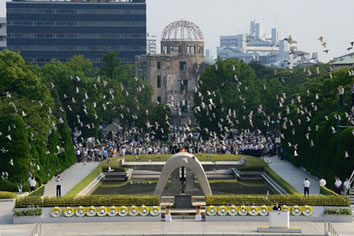 Day 9 - Himeji Castle and Kurashiki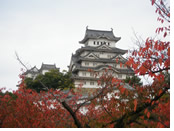 We will drive from Kyoto to Himeji Castle, considered the finest samurai castle still standing in Japan.
In the afternoon, we will visit Kurashiki, a historic town known for its restored warehouses lining picturesque canals.
From there we will make the short drive to Okayama, where we will spend the night.
Day 10 - Benesse Art Site on Naoshima Island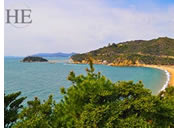 This morning we will take a train and ferry to the Benesse Art Site on Naoshima Island. We will spend the day exploring this amazing mecca of traditional and modern Japanese art.
According to the President of Benesse Art Site, "Because contemporary society is overflowing with products and information, I wanted to create a site removed from the noise of the city; a place where people could truly reflect on the meaning of living well."
Part museum, part park, part experiment, part hotel, Benesse offers everything from the unusual to the sublime. Charming giant sculptures, special architecture and quiet spaces make this site a once-in-a-lifetime experience.
One-stop is the Chichu Art Museum, which was designed by Takeo Ando as a work of art, built into a hillside. There are only 8 works of art on display, including Monet Water Lilies in a setting with only filtered natural light.
In the main village of Naoshima are several "Art Houses", each designed by an artist who has turned a house or decommissioned temple into a work of art.
Day 11 - Hiroshima Peace Park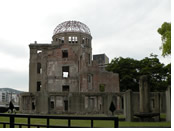 This morning, we'll take a short bullet train ride from Okayama to Hiroshima. Once there, we will transfer to our deluxe hotel for a 2-night stay.
In the afternoon, we will have a reflective tour of the Hiroshima Peace Memorial Park. We will see school children presenting "1000-crane" origami displays which have long symbolized hope and healing. Along the river is the Atomic Bomb Dome, an exhibition hall until the bomb fell. It is retained as a memorial to those who lost their lives on that fateful day. We will visit the Peace Park Museum at our own pace, as well as an origami museum.
Day 12 - Miyajima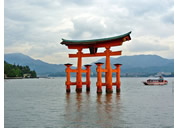 This day offers the contrasting setting of the region's natural beauty and religious heritage on nearby Miyajima Island. The island is most famous for the massive "torii" gate of the Itsukushima Shinto Shrine. At low tide, the gate is connected by mudflats to the rest of the island, but at high tide, the gate rises majestically out of the sea. The native population of small deer wanders around the entire village.
Time and weather permitting, we will take the Miyajima Ropeway up to Mount Misen, from which we can get panoramic views of the Inland Sea. Mount Misen is honored by devout Buddhists, since Kobo Daishi, founder of Koyasan, established a monastery there in 806 AD.
We will take a boat back to our hotel, and the evening is on our own.
Day 13 - Departure or Begin Koyasan Extension
This day is at leisure until time to transfer to Hiroshima Airport or the train station to start home.
Those with more time can join us for the Koyasan Monastery Extension.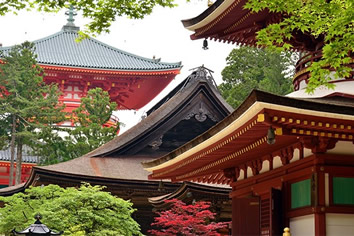 This extension follows the Himeji, Benesse and Hiroshima Extension.
Our visit to the sacred Buddhist mountain of Koyasan, begins with trains and a funicular from Hiroshima to Koyasan. We will drop our bags at the monastery where we will stay in comfortable rooms with tatami mats. In the afternoon, we will walk through Okunoin Cemetery to see the mausoleum of the founder of Shingon Buddhism, who died in 835 AD.
We'll have a special vegetarian dinner at our monastery, and in the morning, an invitation to observe ceremonies led by the monks of our temple. After breakfast, we will visit two of the most picturesque temple complexes of this sacred mountain setting, likely with autumn leaves at their peak!
After lunch at a Koyasan restaurant, we will return to Osaka for one night before flights home.