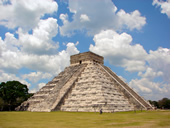 This January travel to the Yucatan Peninsula to be immersed in the history of Mayan civilization while exploring ancient temples. Join a fun gay group to climb the ruins, walk along an endless white sandy beach in Playa del Carmen, swim in a deep blue cenote, and learn about the Spanish conquest of this ancient land.
The Mayan civilization and all of its extraordinary accomplishments have been referenced by hundreds of scholars. Our gay trip features the history of the Mayans, their calendar, and their sophisticated system of mathematics. The fascinating culture and history of the Yucatan peninsula is eclipsed only by its rich coastal beauty. A colorful glimpse of ancient, colonial, and modern Mexico.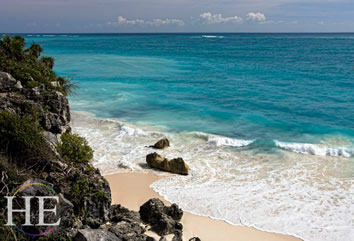 • Tour the ruins of ancient Mayan civilizations of Tulum, Uxmal, Chichen-itza (one of the New 7 Wonders of the World), and Ek Balam
• Meet descendants of the Maya, who are trying to preserve an ancient way of life in a developing country
• Swim in the clear waters of several Cenotes of the Yucatan
• Visit the churches and cathedrals of colonial cities, Merida and Valladolid
• Taste authentic regional cuisine featuring the freshest seafood, tamales, and spicy homemade salsas
• Snorkel near three islands off Holbox for birdwatching and pirate lore
• Lounge on the beach on the Caribbean shores of Playa del Carmen
• Taste authentic regional cuisine featuring the freshest seafood, tamales, and spicy homemade salsas.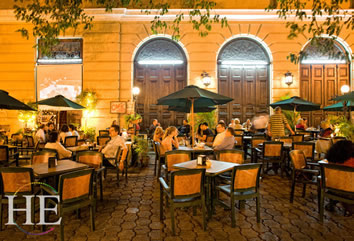 Day 1 - Welcome to the Riviera Maya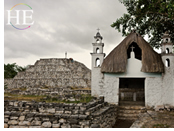 We'll fly into the Cancun International Airport and be met by a shuttle that whisks us south toward the Mayan Riviera, to our lovely resort on the coast.
For those arriving early in the day, there will be time to lounge on a cabana overlooking the craggy coast or take a dip in the pool.
Tonight we will enjoy an intimate welcome dinner together to kick off our journey.
Day 2 - Tulum and Coba – Mayan History on the beautiful Caribbean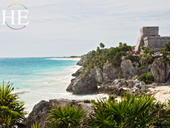 Each day of sightseeing and adventure begins after our included breakfast.
Today we will visit Tulum and have our first introduction to the fascinating history of the Mayans. One of the last Mayan cities to fall to the conquistadors, Tulum overlooks the Caribbean Sea and is noted for its high walls and strong defensive position atop great cliffs. We'll head inland to another famous Mayan site, Cobá, which may have housed 50,000 residents at its peak.
If you would like a more active day, we will rent a bike for you to explore this historic site.
This afternoon we suggest a disco nap, as tonight we are heading out for an exciting night of Cirque Du Soleil!
Day 3 - Mexican Folk Art, the Steps of Ek Balam, a Cenote Swim, and Valladolid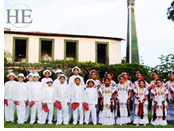 Today we begin our journey westward to Ek Balam, a Mayan archaeological site famed for its detailed stone carvings, intact stucco figures, and steep steps. We will have plenty of time to climb and explore several of the temples and other structures before we continue to Cenote Hubiku. There, we'll swim in a crystal clear pool in an underground cavern among stalactites and stalagmites!
Today's next adventure is a city tour of Valladolid, one of Mexico's "pueblos magicos" or "magic cities," designated by the country because of its natural beauty, cultural riches, and historical significance. We will marvel at the largest privately owned collection of Mexican Folk Art at the "Casa de Los Venados" or "House of the Deer."
We'll end our journey at tonight's lodging – the classical Sotuta de Peon Hacienda, dating back to the 18th century!
Day 4 - Sotuta de Peon Hacienda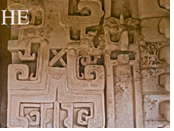 This morning we will the grounds of our Hacienda. This plantation grew wealthy from the cultivation of an agave family plant called henequen (once referred to as "green gold"). Henequen fibers were used to make rope for ships, farmers, and industry, and its nectar was used to make a tequila-like liqueur.
Later in the day, we will head to lovely Merida. Mérida has the highest percentage of indigenous persons of any large city in Mexico with about 60% of inhabitants being of Mayan descent. The evening will be free to explore this bustling city and dine independently.
Day 5 - Merida City Tour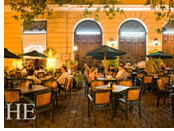 Today we will take in the sights of this historic capital city. We will have a tasty time on our lunchtime food tour, discovering what makes Yucatan gastronomy unique.
After lunch, we will explore the colorful architecture of the city that reflects Mayan, Spanish, and other European influences. We will see Merida's version of the Champs Elysees, the "Paseo de Montejo", and enjoy a traditional ride in a horse-drawn carriage. The evening will be free to explore this bustling city and dine independently.
Day 6 - Uxmal & Lol Tun Caves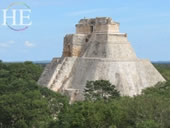 We'll rise early today to visit the breathtaking ruins of Uxmal. This large archeological site has a legendary tall temple, the "Pyramid of the Magician", a huge courtyard, and more. The structures are adorned with intricate geometric stone carvings and many sit atop opposite hills as well as nestled in the valley in between.
More adventure awaits at the impressive Lol Tun Caves, the largest cave complex on the Yucatan Peninsula. Archeologists have discovered human artifacts pre-dating the Mayan civilization, with animal remains going back to the time of mammoths!
Day 7 - Izamal – Magic Town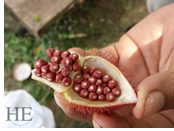 After breakfast, we will head to Izamal, the first city in Mexico to be named a "Magic town", in 2001. Founded in the mid 16th century, it is full of remains of an ancient Mayan city.
Here we will see the beautiful Convent of San Antonio de Padua, founded in 1549. We will also visit the historic building, the Pyramid Kinich Kakmo, which means "The Parrot of Fire, with Face of the Sun".
It is the largest pyramid in terms of surface area, on the Yucatan Peninsula.
Day 8 - Chichen Itza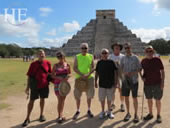 This morning we will head toward what is one of the most amazing sites on our tour, Chichen Itza, one of the New 7 Wonders of the World.
This site is a vast complex of temples and other intricate structures including an observatory. Local vendors line the shady walkways between temples and sell colorful hand-painted pottery, instruments, and textiles.
Afterward, we will embark on a 2-hour drive to Playa de Carmen.
Once we are checked into our hotel, we'll have time to stretch our legs walking along the beach or strolling the area. We will regroup for a lovely dinner together.
Day 9 - Playa del Carmen – Free Day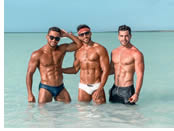 Today is a full day to relax in charming Playa del Carmen. Some will read by the pool, enjoy a relaxing massage, or stroll and shop in the village. Others may like to rent a golf cart and explore or take a horseback ride along the beach.
Playa del Carmen is a coastal resort town in Mexico, along the Yucatán Peninsula's Riviera Maya strip of Caribbean shoreline. In the state of Quintana Roo, it's known for its palm-lined beaches and coral reefs. Its Quinta Avenida pedestrian thoroughfare runs parallel to the beach, with blocks of shops, restaurants and nightspots ranging from laid-back bars to dance clubs
This evening we will meet up and enjoy a farewell dinner and remember our warm and colorful week together.
Day 10 - Departure
Today we will have breakfast and then transfer to Cancun Airport. We'll bid adios to beautiful Yucatan, Mexico!
Flights should be scheduled after 1 PM on the last day.