A Gay Mongolia Cultural Vistas Tour. The vast open steppes, deserts, and hills of Mongolia beckon us to explore their secrets on our gay Mongolian tour. During our tour, local nomadic people will show us what they are most proud of. This will include the unique design of their flexible gers (yurts), and their annual Naadam Festival of wrestling, archery, and horseback riding. We will also explore the land's ancient history through dinosaur fossils, Bronze Age petroglyphs, and wild horses.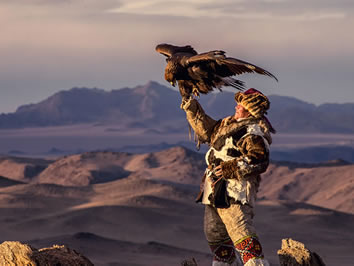 Sitting in the heart of Asia lies Mongolia, a vast area of grasslands (steppes), deserts, and hills that comprise the most sparsely populated country on earth. Since the soil in most of the country is not suitable for farming, the people long ago adapted to a nomadic lifestyle. They move between locations based on the seasons, adapting to warm summers and very cold winters. For living quarters, they perfected the design of gers (yurts) that can be moved with the family each season. With their adaptability to nature and prowess in horseback riding and archery, they have sometimes been formidable adversaries to their neighbors.
We start and end our tour in a hotel in Ulaanbaatar, where half the population lives. In between, we will enjoy very comfortable accommodations in gers from which we can enjoy views of the wide-open spaces and natural environment in this sparsely populated land. The most famous Mongolian was Chinggis Khan (Genghis Khan) who conquered much of Asia around 1200 AD, even establishing the Mongol Dynasty in China.
During our gay Mongolia tour, we will explore this diverse landscape, as well as immerse ourselves in the unique Mongolian culture.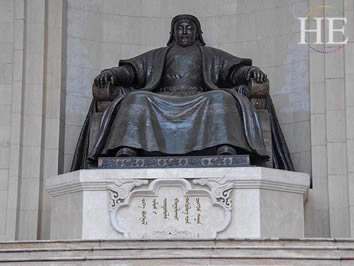 Day 1 - Arrival in Ulaanbaatar
Welcome to Mongolia! Our transfer driver will take us to our hotel to relax after our long flights.
We will have an informal meeting this evening with anyone whose flight arrives early enough to join us.
Day 2 - Exploring Ulaanbaatar
Today we will explore Mongolia's capital city of Ulaanbaatar, the country's only metropolitan center. We will visit the Gandan Buddhist Monastery in the morning and the National Museum of Mongolia in the afternoon.
This evening, we will enjoy our welcome dinner. We will see a traditional Mongolian folk concert with dance and traditional throat singing.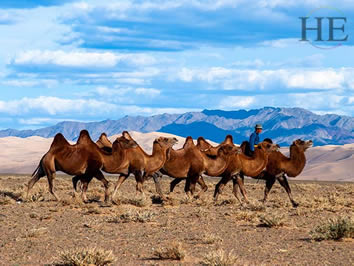 Day 3 - Gobi Desert & the Khongor Sand Dunes
After an early morning flight to Dalanzadgad in the South Gobi Desert, we will drive deep into the desert. After a couple of hours, you will undoubtedly notice the Khongor Sand Dunes (Khongoryn Els) from quite far off. These constantly shifting sand dunes tower as high as 300 feet above the surrounding land and stretch for almost 100 miles! They are called "singing dunes" because of the resonant sounds they make when strong gusts of wind shift sand across the slopes.
We will have a chance to climb on the dunes and make them sing by shifting the sand with our feet. Anyone interested can also see more of the area atop a two-humped Bactrian camel raised by a nearby nomadic family.
Next, we will finish our day with a hike up the sand dunes. Here we will watch the sunset shine its ever-changing colors on the sand. Then we will head to our ger camp for a well-deserved dinner.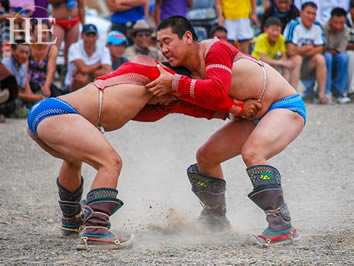 Day 4 - Mongolia's Naadam Festival
People in every part of Mongolia celebrate their national heritage with Naadam Festivals during the summer.
Today, we will enjoy a local Naadam festival organized for people who live in this part of the Gobi Desert. The Naadam Festival consists of three parts: horse races with young jockeys; wrestling by massive wrestlers competing to be the champion; and Mongolian archery.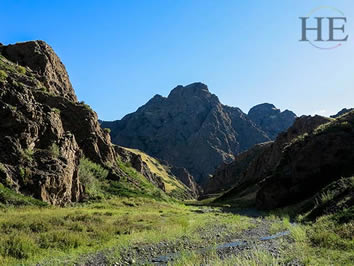 Day 5 - Yol Valley
After a relaxing morning, we will start back toward Dalanzadgad, stopping in the Yol Valley (Yolyn Am). It is as green and lush as the dunes were barren. The valley has a river running through it which remains partially frozen as late as June!
This unique eco-system contains a variety of wildlife, such as cute voles, the Altai snowcock, the Bighorn Argali Sheep, the wild ibex ram, wolves, and foxes. High above soars the Lammergeier vulture, for which the valley is named. There are even occasional reports of snow leopard tracks in the area.
We will take a leisurely walk through the valley, then check into our deluxe ger camp for the evening.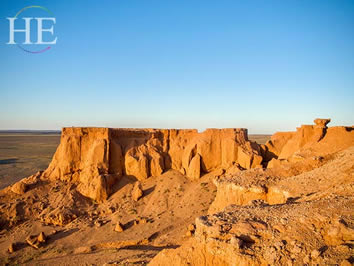 Day 6 - Flaming Cliffs & Khavtsgait
This morning we will take a day trip to Khavtsgait, an area that contains Bronze Age petroglyphs. From the parking lot, we will hike about 40 minutes uphill to reach these ancient carvings and enjoy views across the endless expanse of grass. (We will have a comfortable place to wait for anyone who is not comfortable with the hike.) Our guide will explain what has been learned about Bronze Age life in the Gobi Desert.
Next, we will visit the world-famous dinosaur fossils found in 1922 at the "Flaming Cliffs" (bayanzag in Mongolian). American explorer Roy Chapman Andrews, whom some say was the model for Indiana Jones, discovered not only intact dinosaur bones, but also the first dinosaur eggs ever to be discovered. The Flaming Cliffs, so aptly named, are red in color and almost seem to glow in the rising or setting sun. As you wander through here, keep your eyes peeled for geodes. Some fossils are still being discovered today! In the evening, we will head back to our ger camp for dinner.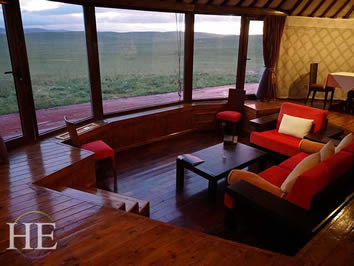 Day 7 - Luxury Ger Camp
This morning we will take a 90-minute flight back to the capital in central Mongolia.
From there we will drive west into the countryside and settle into our luxury ger camp, the HS Khaan Resort. The rest of the day will be free to enjoy the amenities of our resort.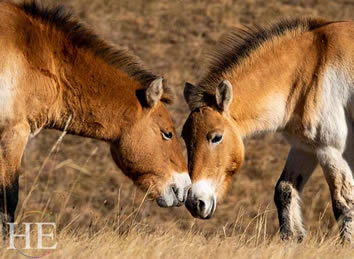 Day 8 - Khustai National Park
After breakfast, we will check out of the resort and take a short drive to Khustai National Park. This area was set aside to reintroduce the stocky, wild horses that are called Przewalski's Horse in the West. In the East, they are called Takhi in Mongolia, and their Mongolian population had almost been completely decimated. Luckily, about 50 of these horses survived in European zoos. The Takhi were reintroduced to Mongolia and now there is a herd of about 330 roaming around in their natural habitat! Most "wild horses" are descended from feral domesticated horses, but this breed has not been domesticated since the 4th Century BC.
After a stop at the visitor's center, we will have a guided driving and walking tour in the park to see these rare horses. We also hope to see other wild mammals such as roe deer and a variety of birds. Fortunately, hunting is strictly prohibited in this area, so we can enjoy nature untouched by man. In the evening, we will drive about three hours through the capital to our lodge by Gorkhi Terelj National Park.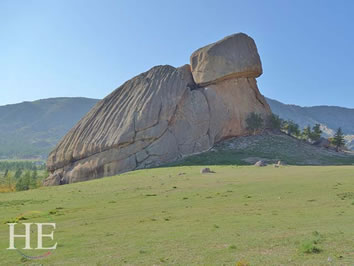 Day 9 - Gorkhi Terelj National Park
We will spend the day driving through the park to absorb the beautiful landscape, pausing for short treks to get a closer view of this unique environment. This park is at the southern-most tip of the Siberian Taiga boreal forest.
We will see unique rock formations, including the famous turtle rock which has an uncanny resemblance to a huge turtle. We will also climb 108 stone steps to the Ariyabal Buddhist temple, where Mongolian monks who practice Tibetan Buddhism gather to meditate and pray.
Afterward, we will offer short optional rides on mellow horses around the park, then return to our hotel for dinner.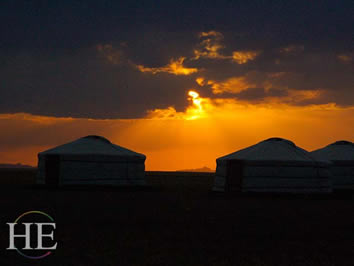 Day 10 - Nomadic Family Day
Today's highlight will be a visit with a local nomadic family. We will learn about life as a modern-day nomad as we are warmly welcomed into their ger (yurt).
Mongolians are renowned for their extraordinary hospitality, so be prepared for a large spread of local Mongolian delicacies as our Farewell Luncheon.
We will return to our Terelj hotel for a light dinner.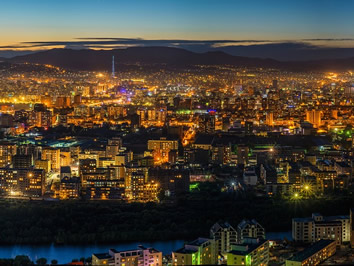 Day 11 - Back to the Capital
After a relaxing morning at our resort, we will return to Ulaanbaatar for our last night in Mongolia.
The afternoon will be on your own to get some souvenirs or explore more of UB.
After an informal dinner together, our guide will take anyone who is interested to a local gay bar.
Day 12 - Homeward Bound
Today we all start our journey home or to our next destination.
Transfers will be provided based on flight times. Bon, voyage!