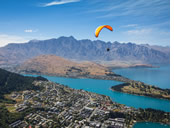 Our Gay Travel New Zealand Adventure happens in the adventure capital of the world! The variety and depth of natural beauty of this isolated South Pacific island group will impress and inspire you. Enjoy hiking trails and glaciers, kayaking, biking, canyoning, rafting, and bungy jumping, plus, of course, wonderful meals and excellent NZ wines!
New Zealand — particularly Queenstown and the South Island — is frequently called the adventure travel capital of the world. On this trip, you'll quickly see why. With our friendly gay and lesbian group, you'll enjoy not only the activities New Zealand offers, but its varied landscape and scenery.
Take the sparkling lakes of Italy and the deep-cut fjords of Norway, the snow-capped Alps of Switzerland and the glistening glaciers of Alaska, the aquamarine waters of Greece and the Highland hiking trails of Scotland: now pack it all onto one small island — and you'll be shocked by how much room is still left for sheep. That's New Zealand.
As a Wild Kiwi, you'll enjoy a new activity every day. Glacier hikes, sea kayaking, biking around vineyards and along rivers, canyoning through a natural waterpark of chutes, pools, waterfalls and slides, rainforest hikes, white andblackwater rafting, and even a bungy jump, are just a few of the activities that await you. After we play hard during the days, we enjoy fantastic meals and stay in wonderful lodges and inns each night.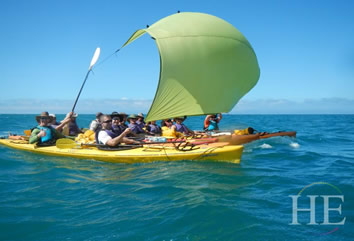 • Hike into primordial rainforests, past waterfalls, along the shores of Abel Tasman National Park, one of NZ's Great Walks, up a glacially active valley to and perhaps onto the Franz Josef Glacier, and later hike into the alpine region to view spectacular Rob Roy Glacier.
• Bike on a couple of days: enjoy a leisurely, full-day bike tour at the top of the South Island, and later, enjoy a peaceful, riverside ride in the morning to the bungy bridge near Queenstown.
• Black-water Raft: hike through an impressive cave system then jump in a tube and float down the river still carving unique passageways, under starry lights created by NZ glow worms.
• Luxuriate along the shores of Abel Tasman National Park, where you can choose daily to either kayak, hike or simply take the boat from lodge to lodge during our three days exploring the opalescent shores of Abel Tasman National Park.
• Slide, splash, leap, and rappel down a spectacular deep chasm, in the distinctly down-under sport known as canyoning.
• Explore Queenstown beauty – wandering on foot, by bike, whitewater raft, and bungy!
• Choose from many other adventures: mountain biking, jet boating, paragliding, horseback riding, vineyard tours, Lord of the Rings tours, & a spectacular Milford Sound day-trip by light aircraft, among others.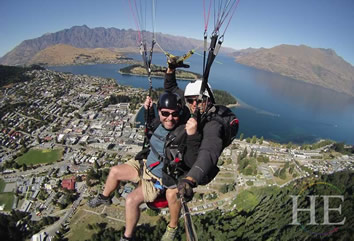 Day 1 - Sunny Nelson, New Zealand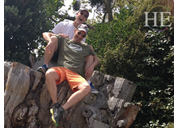 We begin in cheerful Nelson, at the northern tip of the South Island. This pleasant fishing port and crafts community gets more sunlight than any other spot in New Zealand, and offers a warm introduction to local hospitality during our two-night stay.
Linger over coffee at a sidewalk cafe. Browse in the galleries. Hikers will enjoy The Center of New Zealand Walk, which departs right from town with spectacular views of the bay. Or simply head for Nelson's long stretch of sandy beach, Tahunanui. There's nothing like a dose of sunlight to get over jet lag.
For our first evening, we've reserved tables at one of Nelson's top restaurants. This is an opportunity get to know a few of your fellow travelers over dinner and enjoy some of New Zealand's wonderful wine.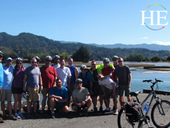 Who will be there? With our emphasis on active vacations and the outdoors, HE Travel trips draw people who are energetic and outgoing, who enjoy interacting with life and with each other. The majority of people on a typical trip are traveling alone but there are usually several couples as well. A majority of the group will most likely fall in the 30-to-55 age range but there will almost certainly be some who are older and quite possibly a few in their twenties.
While we have opportunities for you to enjoy multiple activities on this tour, there is no need for you to be experienced or advanced in any of them before arrival, nor is there an expectation that you participate in each and every one. While some members of our group will have experience, most won't, but everyone will enjoy the various options available throughout the trip. There are occasionally less-adventurous options available or perhaps you would prefer to have a quieter day of rest and relaxation at one of our overnight lodges or explore an area on your own. Of course, being in fairly good health and able to hike at least a few hours at a leisurely pace will enable you to more fully enjoy all that New Zealand has to offer and to recuperate in time for the next day's activities.
Day 2 - Biking through Vineyards and Orchards of the Motueka Valley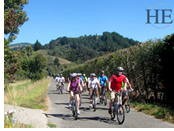 Our first adventure of the tour takes us biking through one of New Zealand's wine-producing regions outside of Nelson. You'll enjoy the pastoral setting with towering poplars, fruit trees, climbing hops, pastures of wildflowers, and verdant green forests – it's an amazing interplay of texture and light. Our local guides will lead us to some of their favorite vineyards, organic farms, and perhaps artisans, as we relax into our first full day in New Zealand. We'll be cycling about 20-25 miles, almost all of which is downhill, with an option for hills at the end. Then it's all rewarded over a glass of wine with an amazing view over Tasman Bay. On our return to Nelson, we'll receive a medium-sized duffel bag to pack gear into for our 3-day / 2-night adventure in Abel Tasman National Park that starts tomorrow. Our main luggage will be stored until we return to Nelson on the evening of Day 5.
Day 3 - Kayak or Hike along Opalescent Abel Tasman Bay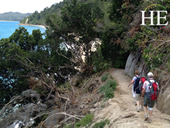 The next morning, we'll take a lighter load with us as we head for our three-day adventure along the aquamarine shores of nearby Abel Tasman National Park. Our days will be filled with sea-kayaking, hiking, and/or boating (let us know which you prefer) as we explore the coastal regions of the park. We'll enjoy two nights of lodging at comfortable sea-side inns overlooking the bay and meals of locally-sourced, organic ingredients. And don't forget the custom of a break for morning and afternoon tea! Our luggage will be forwarded each day while we carry only small items, snacks, and lunch on our backs (if hiking) or in our kayaks.
No one who visits this breathtaking park forgets the diverse scenery: native forests and streams, tree-fern-filled grottos, massive granite sea heads, and turquoise waters lapping at golden beaches. While kayaking or hiking through this wonderland, you'll also delight in the melody of New Zealand's native birds. We might spy little blue penguins coming ashore to nest or dolphins darting past the end of your paddle. Highlights always include the antics of New Zealand Fur seals and their pups if the prevailing winds allow us to see them in the Tonga Island Marine Reserve.
Most will likely kayak today (about 4.5 hours today, plus breaks). If you haven't kayaked before, don't worry, we use stable two-person sea kayaks. With a little instruction and practice, you'll soon be comfortable paddling the gentle waters of Tasman Bay. We paddle from Kaiteriteri or Marahau, gliding cove to cove. First, we pass Split-Apple Rock, then Apple Tree Cove, Watering Cove, and slide by the bird-song-filled Adele Island. We will have several stops en route, including lunch and perhaps a swim before we arrive at our lodge in Torrent Bay. There, our hosts will greet us with a warm Kiwi hello, fresh appetizers and a hot shower.
If you'd rather hike today, you'll enjoy a guided walk from Marahau across beaches and around headlands on New Zealand's famed Abel Tasman Track, often joining your fellow kayaking crew at one of the many beaches for lunch, before hiking down into Anchorage Bay and on to our lodge nearby. And if you grow tired and would rather relax on one of those pristine beaches instead of hike, you can usually do so and simply catch a later boat into the lodge.
Day 4 - Island-hopping in a Kayak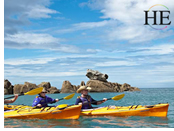 Grab a cuppa of coffee and wander out to the beach in front of our lodge, where you can watch the sunrise across Tasman Bay while keeping an eye out for rays as they scoot along the shallow water near the beach. Then a full, hearty breakfast is served at the lodge. Most of us will kayak again today, gliding past wind-sculpted islands and then onto the golden beach of a sparkling lagoon to look for starfish or perhaps explore the Tonga Arches that are carved deeply through the granite. Along the way, our guides will help us identify seabirds and will tell us of the Maori and early settler impact on the area. Don't be surprised if you see seals playing in the surf this afternoon as your kayak ripples through the gentle waves.
Our kayaking ends today at Onetahuti Beach, where we'll rejoin our hikers and together hike across Tonga Saddle and into tonight's lodge at Awaroa Inlet. Our lodge, Meadowbank, is a replica of the original large farmhouse built here by settlers, beautifully-sited, with a panoramic view of the estuary and sea. Expect about four hours of kayaking, plus 1.5 hours of hiking.
Hikers today will enjoy walking through the tea trees and native beech forests to rocky overlooks, picturesque waterfalls, and even across one of New Zealand's famous suspension bridges before rejoining the kayakers for the final walk across Tonga Saddle to our lodge at Awaroa.
Day 5 - Across Awaroa Estuary and into Totaranui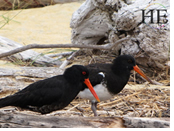 After breakfast, we pack our lunches and then hike a few hours across a magnificent estuary (tides permitting), through tree-fern grottos and across a few picturesque beaches until we arrive at Totaranui, where we relax and explore until catching our return boat ride early afternoon. Once on board, we enjoy a two-hour cruise past the dozens of coves and beaches that we kayaked and hiked by over the last two days. Late this afternoon, we'll return to our hotel in Nelson.
Day 6 - Rainforests, Cave-rafting, and Pancake Rocks on the Wild West Coast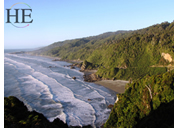 We depart Nelson this morning as we begin our journey to the Wild West Coast, which we'll explore over the next four days. We first follow the beautiful Buller River as it cuts a steep path through the mountains before bringing us to the Tasman Sea.
Along our route today we have a chance to try a unique underground adventure: blackwater rafting in the Nile River Cave System. After we're outfitted in designer wetsuits and gear, we'll plop ourselves in an inner tube and float on the gentle current through an ancient underground wonderland sculpted in limestone. Lighting our way is a galaxy of glow worms overhead. For those not quite sure about underground tubing, you can opt for a more sure-footed eco-tour through the magnificent calcite portions of the cave and the prehistoric valley it occupies.
We stay tonight at a small, craftsman inn overlooking the wild Tasman Sea and will have dinner at a fantastic sea-side restaurant.
Day 7 - From Rainforests to Glaciers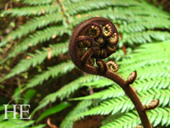 If time and weather allow, we'll stop for a short walk along the headlands overlooking the sea not too far from our accommodation and hopefully have another chance to see fur seals and pups.
Our next stop is at Punakaiki, famous for its blowholes and layered, wind- and water-eroded sea cliffs, locally known as pancake rocks. Nature has eroded these headlands into an outdoor gallery of artistic shapes, color, and shadow, softened by lush Nikau Palms. If tides and winds are right, the waves from the Tasman Sea crash fiercely into the cliffs, creating massive hissing geysers as water spews through the blowholes.
We'll stay in Punakaiki though late morning to give you an opportunity to explore the area on your own. We then follow the coast southward to the old mining and port town of Hokitika. Originally settled during the gold rush of the 1860s, Hokitika has undergone several transformations since those heady days. Today, one of the biggest local industries is carving jade (locally known as greenstone). You can watch the artisans at work in several shops. Another workshop produces handcrafted gold jewelry from the small nuggets that are still found locally.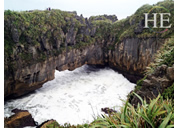 If there was ever any doubt that the South Island is lightly inhabited, these roads prove it. Even on the major west-coast road wasn't paved until 1995. Traffic is so light that most bridges can only handle cars in one direction at a time — and still there's never a wait. (Even more interesting is one bridge — still on the main road — where a one-lane bridge handles not only car traffic from both directions, but also a train!).
This area of the west coast is known for blustery storms, loads of rain, and temperate rainforests growing up the sides of the tallest mountain range in this part of the Pacific, the Southern Alps. As the moisture-laden winds from the Tasman Sea blow up the Alps, the water vapor cools, resulting in huge amounts of rain and snow fall. The large catchment areas at the top of the mountains create a bowl where layers and layers of snow piles high, pressing itself into dense blue ice. As the ice overfills the catchment area, it flows as a glacier down a steep valley, where it peters-out in the middle of a temperate rainforest, about 650 feet above sea level. It's an amazing sight to see these massive rivers of ice surrounded by tree ferns and green moss. There are two main glaciers here and we'll be stopping at one of them for the next two nights.
Day 8 - Hiking on Glaciers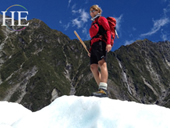 Most of us will enjoy a guided hike this morning, past smoothly carved cliffs, towering waterfalls, and up the glacial river valley to the face of the glacier. At the glacial terminus, a steady torrent of water gushes from a sub-surface river. We'll stop for morning tea to enjoy the view and hear how these mighty rivers of ice form and the force they impact on the terrain. Plus, you'll learn the meaning these glaciers have to the Maori and the importance they continue to have to the larger ecosystem. Those looking for more adventure can upgrade to a heli-hike, which includes a helicopter ride onto the glacier with a two-hour hike on the ice with a glacier guide.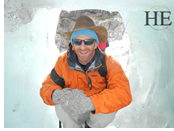 From a distance, the glaciers simply look like large, two-dimensional sheets of ice. Close up, they become an eerie icy world, full of tunnels disappearing into the glacier, serpentine rivers of chilled water, fantastic ice structures, and yawning crevasses. Occasional creaks and crunches remind us that as the glacier moves — some of the world's fastest, at speeds of up to 2 or 3 feet a day — new crevasses and formations continually appear and disappear.
Fox and Franz Josef Glaciers are among the few spots in the world where a glacier flows into a temperate rainforest. After exploring the glacier, those who want to explore the green world below can choose from several short hikes and perhaps a glow-worm hike in the forest that evening.
Day 9 - Wanaka – A Mountain Jewel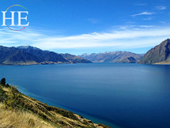 After a lovely breakfast at Lake Matheson, we leave the glaciers and drive farther down the west coast, cross Haast Pass to the east side of the Southern Alps and on into Wanaka, with stops enroute to see primordial swamps and forests, waterfalls, and vistas of huge, glacially-formed lakes, including Lake Wanaka and Lake Hawea.
We spend three nights in the quaint mountain village of Wanaka, enjoying a wealth of activities. Perched on Lake Wanaka, with Mount Aspiring National Park rising behind it, Wanaka offers sports on land, lakes and rivers, and in the air.
We'll arrive in time for a quick hike above our hotel to view the layout of the town, then we'll settle-in for a relaxing dinner. Afterwards, take a walk along the lakefront and through the quaint downtown, stopping at Kai Waka Pai or Cafe Paradiso for a nightcap.
Day 10 - An Alpine Jewel – Hiking to Rob Roy Glacier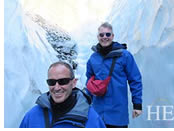 Today we take you to an alpine jewel in the Matukituki River valley, one of our guide's favorite alpine valleys in New Zealand. Less than half an hour from Wanaka, carved wide by ancient glaciers and framed by towering peaks deep in Mt Aspiring National Park, the lower portions of the valley pasture sheep, cattle, and imported Red Stag Deer, while the higher ridges sparkle with ice caps, remnant snow-pack, and small glaciers. A moderate hike of a few hours takes us just above treeline, where we will have spectacular views across to a hanging glacier clinging tightly to the steeps of Rob Roy Peak (8,550 feet). Rarely is such alpine scenery available without a multi-day trek and we are sure that you'll enjoy the dozens of waterfalls tumbling over the cliffs as it melts from the ice, including an 800-foot wonder, and occasionally tumbling small and large chunks of ice, calving off the glacier.
If you would prefer a lighter activity today, you can sign up for one of many other activities offered. Biking, wine tours, or even a full day of paragliding lessons on Mt. Iron, overlooking the lake, at a site known for its steady winds. Or have a relaxing wander around town, perhaps a hike or bike ride on a nearby trail then read a book on the shores of glacially-carved Lake Wanaka.
Day 11 - Wonders of Wanaka or a Flight to Milford Sound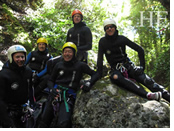 Today is a free day to allow you to choose your activity and enjoy more of this beautiful part of New Zealand. While biking, hiking, lake kayaking, and even rock climbing all on offer, many clients choose to have some downtime today to enjoy our wonderful lodge, get a massage, and remind themselves that this is, after all, a vacation.
If you are up for more Kiwi adventure, we suggest considering a flight across the peaks to the mighty fjord on the southwest coast, Milford Sound. Or if you have a strong attraction to adrenaline and one of the best activities offered in New Zealand, you can't miss a day of canyoning.
The small craft flight to Milford Sound is a 45-minute panorama of ice-fields, jagged peaks, and 800-foot waterfalls to what Rudyard Kipling described as the eighth wonder of the natural world. On arrival in the fjord, you board a medium-sized tourist boat and cruise near fur seals basking in the sun and under Mitre Peak rising a full mile above the water. You'll then fly back to Wanaka, usually arriving back by early afternoon. The flight is weather-dependent and if the weather doesn't cooperate today, you can try for Milford again when we're in Queenstown.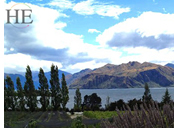 Alternatively, if you are reasonably fit and adventurous, then we strongly urge you to try a sport you may never have heard of: Canyoning (known in North America as canyoneering).
After a 40-minute hike up a fairly steep trail, you don a wetsuit, then step down to a crystal stream that over the millennia has carved its way deep into the bedrock. Now, you'll simply follow this stream and carved canyon winding steeply down the mountainside in a series of slots, pools, and all types of waterfalls.
There are the three basic canyoning techniques: jump, slide, rappel. Soon you've got the hang of them — or so you think. But in the natural environment of the canyon, every situation offers its own peculiarities.
Nature has created a water wonderland that outshines the best man-made water parks. Along the way, you can rest behind the waterfalls and take in this other worldly grotto of moss, ferns, and falling water that explodes sunrays into magical rainbows.
Day 12 - A Long Rubber Band – Bungy Jumping into Queenstown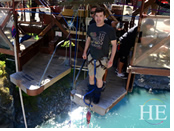 Early risers watch a sunrise illuminating the mountains of Mount Aspiring National Park before enjoying our last breakfast in Wanaka. Today's drive across historic Cadrona Pass brings us to a stunning perch on the Crown Range Saddle high above the Kawarau River valley overlooking Lake Wakatipu.
Once we've descended from the Crown Range Saddle, we arrive in another gold heritage town, Arrowtown. Here, we'll collect our bikes and enjoy a bike ride on the trails following the Arrow River down to our next adrenaline-rush activity: the most anticipated and talked-about Wild Kiwi event and also the briefest. The bungy jump lasts perhaps 30 seconds from the heart-stopping moment you step into thin air, until you've stopped bobbing up and down sufficiently to be hauled into the pick-up raft below. But the adrenaline will keep pumping for hours.
It's all deceptively easy. Walk onto the Kawarau suspension bridge, present your ticket, and sit down on the platform. The always hunky and friendly jumpmaster wraps a towel around both your ankles, ties a sturdy sling to it, and clips you to the bottom of a bungy cord (essentially a very long – and thick – rubber band, but if they called it that, nobody would sign up). Stand up, walk to the edge — and now it's up to you.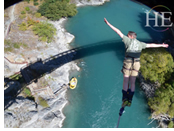 What's your style? A graceful swan dive is the classic exit. A camera captures the critical moment, and just within our group, we see quite a range. One steps off upright, his hands pressed in front of him as if in prayer; another scrunches up in sheer terror. Our 64-year-old steps off as nonchalantly as if going out to buy a loaf of bread. Two guys admit to having been firmly instructed by their mothers not to jump: one does it anyway; the other obeys Mom. (Our advice for future travelers: Don't tell Mom your plans until after the trip. That way, you can have fun without worrying her.)
Bungy jumping got its start right here at the Kawarau Suspension Bridge, outside Queenstown. A.J. Hackett no longer offers a free jump to anyone who will take the plunge nude; too many people accepted that promotional offer. But the 140-foot bungy jump is free for participants in our tour, clothed or naked.
However — to answer the most frequently-asked question about Wild Kiwi — no, you don't have to make the jump. It's free — but it's optional.
Our day is not yet over! We bike back to Arrowtown, enjoying some of the new bike trails criss-crossing the Wakatipu basin. After our bike ride, we pass into the acclaimed adventure capital of the Southern Hemisphere, Queenstown, our home for the next two nights.
This evening, a few of us will go out on the town and see what Queenstown has to offer. With its adventure activities during the summer and world-class skiing in the winter, there's a lot to look at and plenty of night clubs to visit. What an end to an exciting day!
Day 13 - Whitewater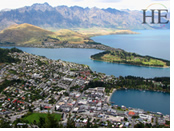 This morning is on your own to explore Queenstown. A good introduction to the area is the gondola ride to the top of Bob's Peak, 1400 feet above town. Sip a drink at the restaurant as you watch bungy jumpers hurl themselves from The Ledge, a precarious platform jutting into space, or paragliders sail above the lake.
Bungy jumping started in Queenstown, and every year some nut in Queenstown comes up with a new adrenaline sport. A few of these are activities that we're happy to skip. (If you want to roll down the mountain inside a giant inflatable ball called a Zorb, please reserve it yourself.)
Those who want excitement without sweating today can zoom within inches of jagged overhanging rocks on one of the famed Shotover Jet boats. These remarkable boats, powered by jet rather than propeller, can go through water a mere four inches deep, and the pilots take great delight in blasting full speed toward a looming boulder, then turning a full 180-degrees within a single boat length. Or take a calmer boat ride: the restored steamship TSS Earnslaw makes several trips across the lake each day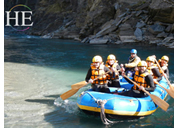 If you're a whitewater fan, this afternoon is a good time for whitewater rafting on Class-III and IV rapids. Based on river conditions and water levels, we'll head for one of two nearby rivers. The wild and untamed Shotover River takes us through six rapids, then we raft through 800 feet of darkness as we pass through the Oxenbridge Tunnel, an historic diversion tunnel built by goldminers. Or we'll raft the Kawarau, the largest commercially rafted river in New Zealand. Here we pass under the Chard vineyards, and through four sets of rapids. We'll paddle under the bungy jumpers on the Kawarau Bridge, culminating in the unforgettable Dog Leg Rapids. On the Kawarau, there are sometimes opportunities for cliff jumping, and to swim through smaller rapids.
This evening, we'll come together and celebrate one last time as we end our two-week vacation together at our closing dinner at one of Queenstown's finest restaurants.
Day 14 - Departure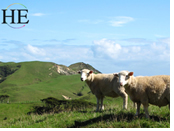 The hardest thing about our trips is saying goodbye to a wonderful group of new friends. As we make our way home from Queenstown, however, there's one thing you can be sure of: active vacations like this one draw a special type of person. We depart knowing that many of us will see one another yet again.
Please note that our tour starts on a Monday, which allows you to depart the US on Saturday evening and, after crossing the International Date Line, arrive into New Zealand early Monday morning.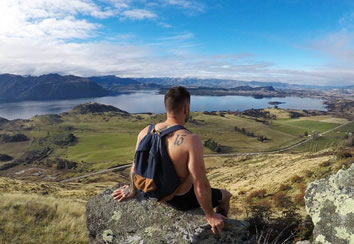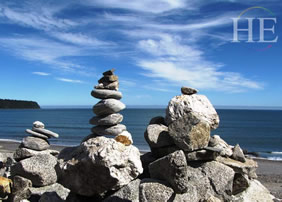 • All group ground transportation, starting in Nelson and finishing in Queenstown;
• All hotels and accommodations in double occupancy;
• HE Travel tour director accompanying the group from Nelson to Queenstown;
• 11 breakfasts, 5 lunches, and 6 dinners;
• Biking near Queenstown and also near Nelson;
• Kayaking or hiking and boating for 3 days at Abel Tasman National Park;
• Coastal hikes;
• Cave-tubing or cave hike to see glow worms;
• A valley eco-hike to Franz Josef glacier with guide and later to see Rob Roy Glacier;;
• Sightseeing visits to waterfalls, primordial forests, seal colonies, and vistas along our route around the island; and, of course, the famed bungy jump.
• HE Travel provides complimentary Medical & Evacuation Insurance for every US Resident on our group tours who does not have other coverage.
• Airfare from home to Nelson and from Queenstown to home;
• Airport transfers;
• Souvenirs, snacks, admissions, alcohol;
• Meals and beverages not listed here;
• Optional activities, such as whitewater rafting, upgrade from the valley eco-hike to Heli-hike on the glacier, and canyoning;
• Gratuities for tour director and local guides.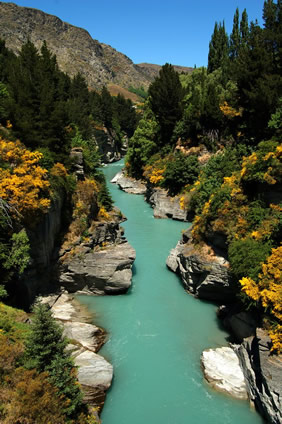 Where does the tour start and end?
This tour starts in Nelson (NSN) on the first day shown on our website and ends in Queenstown (ZQN) – both on the South Island of New Zealand.
Remember that all flights across the Pacific will cross the International Date Line. You will lose a day when flying southwest across the ocean, and regain that day on the way home. North American travelers who want to arrive in Nelson on Monday will need to depart home on Saturday. Your departure from New Zealand to North America on a Sunday afternoon will usually have you arriving on the US or Canadian West Coast earlier that same Sunday, a few hours before you left Auckland.
European travelers have a variety of options on Air New Zealand, Qantas, Etihad Airways, Emirates and other airlines.
What is the Activity Level of This Tour?
New Zealand is home to some of the most exciting adventure sports on the planet. Our Wild Kiwi adventure offers travelers the chance to experience unique settings while trying new adventures. Hiking, canyoning, water sports, and more are available on this trip. If you are in good physical shape and like a challenge, this trip is for you.
But don't be put off simply because some of the activities don't appeal to you. Nearly everyone is likely to join us for shorter hikes, biking, and kayaking (although you have the option to hike or just ride in a scheduled boat instead of kayak). On other days, we may break into two groups, depending on individual preferences, doing different activities. Or you may choose to have a quieter day, exploring on your own or perhaps enjoying a massage at the lodge. If you're still wondering, contact us and we're happy to discuss how we may be able to accommodate your or your partner's needs.
If you'd rather lay on the beach all week, and your boyfriend is trying to convince you to come on Wild Kiwi because he'd like to go, then maybe it's best if you just go your separate ways for this vacation and both have a great time.
And as for the bungy jump: Whether you do it or not, predicting who will take the plunge makes for some fun dinner conversations. And in the past, we've all guessed wrong about one or two members of the group. You'll enjoy watching others take the leap.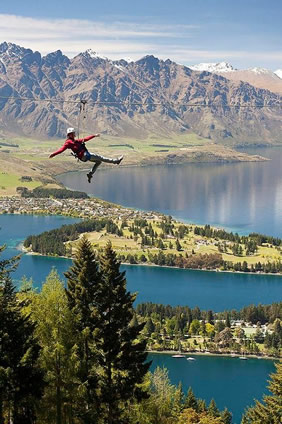 What if I am traveling alone?
So are most of the people who travel with us. You do not need to pay extra to travel by yourself. Prices are per-person, and the single supplement applies only if you'd like a room by yourself.
What's the weather like in New Zealand?
February and March are late summer and early fall in New Zealand, where the seasons are reversed from the northern hemisphere. Most days in February and March will continue to be in the 60s and low 70s, and you'll often be comfortable in shorts and t-shirt, but you'll also need a light jacket occasionally. There are likely to be times when you are glad for a sweatshirt and jeans in the mountains, especially if it rains. In Queenstown and Wanaka, days are likely to be pleasantly warm and clear, but temperatures may drop in the evening. You'll want a sweater when you go out for dinner.
On the west coast, we may have beautiful blue skies or we may encounter the rains that create those amazing glaciers and rain forests, but it just depends on the fronts that year. Because it's an island with irregular terrain, New Zealand has what's known as a maritime climate, where the weather can change rapidly. Be prepared for sun to turn to rain — and vice versa — during the course of a day.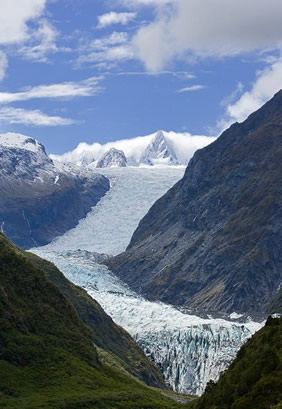 What's this 'canyoning' activity your tour shows?
Canyoning is a popular outdoor sport in Australia, New Zealand, France, and a few other countries, and only more recently in the southwestern United States. (Those who do practice it in North America generally use the term canyoneering.) Those who try this activity generally say it's the most exciting day of the trip.
Where will we stay?
In New Zealand, as on our other trips, we've sought out a variety of accommodations that are nice and comfortable, and give us a sense of the place we're visiting, often small, intimate, yet nice inns and lodges if available and friendly. On some tours, we may have a few nights in 2- and 3-bedroom luxury apartments or condos, since we find this arrangement offers more space and better opportunities to socialize. If we're in apartments, each unit has a living room. If you requesnt a single room, you'll have your own bedroom in a shared condo at these lodgings. Please note that if we are in luxury condos, in some cases two rooms may share a bathroom.
The official starting time is 6:00 pm on our official "start date". At that time we'll have our orientation, followed by dinner. It ends after breakfast on the last day. You can arrive earlier or depart later, but please note that (as of this writing) check-in time is 4:00 pm, and check-out time is 10:00 am, which is standard in New Zealand.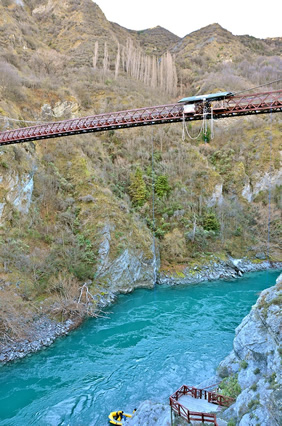 What flights are available to the South Island?
For North American travelers, the most direct route is to fly from home to Auckland, on the North Island of New Zealand, then connect to a flight to Nelson (NSN) on the South Island. You'll then fly home from Queenstown (ZQN) at the end of the trip. Several airlines have service into NZ, including Air New Zealand (United miles), United, American, and a few others if you travel through Australia or Tahiti (Qantas, Air Tahiti Nui). Air New Zealand, with flights from Houston, LA, and SFO, seems to have the best service in coach and premium economy.
As of this writing, Air New Zealand (NZ) has many daily flights from Auckland into our starting town of Nelson. And Air New Zealand and Qantas-owned Jetstar (JQ) fly many times daily from Queenstown to Auckland. If flying from or via Australia, there are also direct flights from Sydney and Melbourne to Auckland, Wellington, and Queenstown on Air New Zealand, Qantas and Jetstar.
Many travelers find that booking through our in-house flight specialist is very convenient. We have special rates with Air New Zealand that can save quite a bit on international airfare, especially for travelers who want to experience the exquisite Business Class service for which Air New Zealand is famous! (For couples, Air New Zealand also has an innovative section in coach where a couple can purchase the seat between them and raise the foot rests to make a platform!)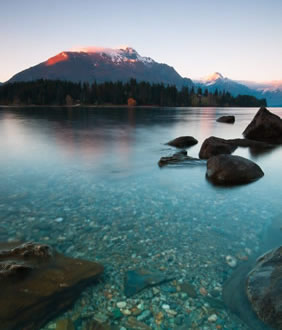 Do I need to rent a car, or arrange transportation in New Zealand?
No! From the time you arrive at the hotel where we start, until you leave on the last day, group transportation is included. It's very unlikely you'd want to rent a car at any point unless you are spending time on your own in the region before or after the tour.
How can I get information about train and bus travel within New Zealand?
If you have the time, NZ is a beautiful country to see from a train, bus or ferry. Nelson is not on a train line, with the nearest stops being Blenheim and Picton, about 100 miles away. And Queenstown is accessible only by coach, air, or car. However, there is good bus service both locally and long distance. The following websites give details about various ground travel options in New Zealand, including a TravelPass good for any number of days of ground travel (and sometimes with an added flight for the return trip).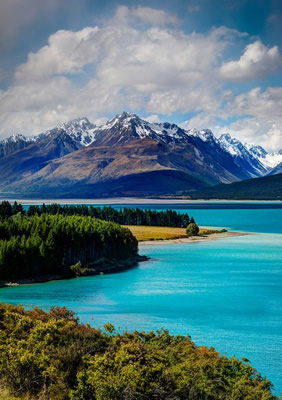 How much extra money should I budget for this trip?
The vast majority of your expenses are covered, including all transportation during the trip, accommodation, and many activities. All breakfasts and several lunches and dinners are also included. So apart from gifts and souvenirs, which vary greatly from one individual to another, your only expenses are likely to be as follows:
• Activities of your choice. Our philosophy is that if most people will enjoy a particular activity, we include it in the price. So on many days, you're covered. The overview of this trip, here on the web, tells what's included.
But if an activity is unlikely to appeal to everyone, we prefer to offer it as an option, so that you're not indirectly paying for something you don't do. Whether or not you take the options we offer, or expect to head off on your own some days, we'd suggest a budget of $200 to $400 for such activities. The spectacular but optional half-day flight to/from Milford on Day 5 will be about $400 if you choose to go (and weather allows).
As for that bungy jump: It's free, too. You don't have to do it — but we don't want you claiming you're going to skip it just to save money!
• Meals. Many meals are included. When they're not, you can have a good dinner for as little as $15-$20, or pay up to $40 for a gourmet dinner with wine. You can eat quite well and keep total meal costs to $150 to $250 with a little effort, or budget a bit more and indulge yourself.
• Activity guide gratuities. We use local guides for some activities. Some companies add a compulsory surcharge to their list price for "gratuities", which we think defeats the purpose. We've consistently had great guides on Wild Kiwi, and we've been happy to tip them for making our vacation special. Tips are at your discretion, but we expect you'll feel the same way, and should budget around $100 for tips for activity guides.
• HE Travel tour director. As on all of our tours, a professional tour director will be with you throughout the trip to make sure everything goes smoothly, and a gratuity will be appreciated.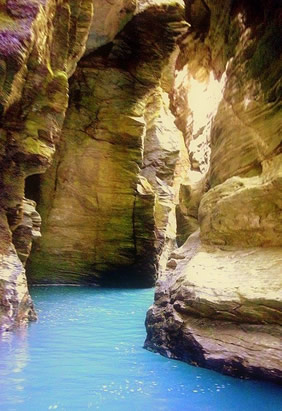 Should I schedule a side trip to Australia before or afterwards?
We've limited this trip to 14 days, because many people just can't get off from work for longer than that. But if you can stay longer, by all means, do so! We recommend spending your extra days in New Zealand.
Unless you've got at least 10 additional days, we recommend skipping Australia. It's not as close to New Zealand as you might think, with flights across the Tasman Sea taking three hours, and sometimes requiring a connection enroute. And Australia is huge, so it is better to save it for another visit.