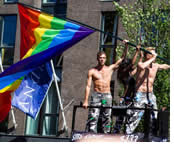 Gay Pride Amsterdam is one of the best and most fun prides in the world. Amsterdam Pride is a citywide gay festival held annually at the center of Amsterdam during the first weekend of August. The festival attracts several hundred-thousand visitors each year and is one of the largest publicly held annual events in the Netherlands. The peak of the festival is during the Canal Parade, a parade of boats of large variety. The Amsterdam Gay Pride usually spans a week of various activities for lesbian, gay, bisexual and transgender (LGBT) people, including exhibitions, cultural and sport events. There are also street parties in the streets where there's a concentration of gay bars.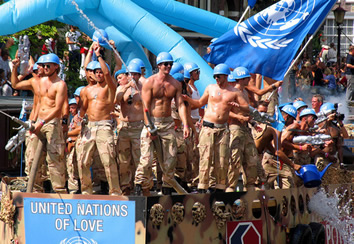 Day 1 - Friday, August 4, 2023
Amsterdam, Netherlands - Getting Ready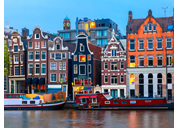 • Independent arrival to your hotel.
• Welcome drink and free time.
• At the hotel you will find your Public Transport Amsterdam Card valid for 72 hours.
• In the evening Meet & Greet with your LGBT Tour Leader at the hotel and welcome dinner to taste typical local specialties.
• Rest of the night free for party.
• Overnight at your hotel.
Rainbow Tips: We can provide you Private Transfers with special prices!
Rainbow Tips: Want to arrive earlier? Enquire about extra nights! *Subject to availability.
Day 2 - Saturday, August 5, 2023
Gaily Tour in Amsterdam & Amsterdam Canal Pride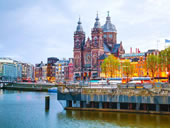 • Breakfast at the hotel.
• Together with your LGBT Friendly Tour Guide, you will discover the magic and the secrets of the city!
• Discover the vibrant city of Amsterdam together with our LGBT Friendly Tour Guide and explore some of its most famous symbols like the spectacular charming Jordaan District and the hidden Begijnhof.
• Learn more about the birth of the city on the river Amstel to the glorious Golden Age.
• Observe Amsterdam's Canals which became a UNESCO World Heritage in 2010 and they are formed by draining swampland to create a canal network of concentric arcs.
• Reach the breathtaking Dam Square, home to the Royal Palace and 15th-century Nieuwe Kerk where many Dutch naval heroes are buried.
• Did you ever heard about "HomoMunument" of Amsterdam? Discover the secrets behind this symbol for LGBT victims who lost their lives during World War II and many other stories linked to this precious city.
• Amsterdam has been the first country where same sex marriages became legal and in the roaring 80's and 90's, it turned into the LGBT capital of the world.
• Lunch on your own to taste local specialities.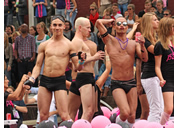 • In the afternoon be ready to celebrate!
• Get part of this amazing and peacefull battle for equal rights against any kind of discrimination.
• In the evening free time to delight your tongue with dinner.
• Afterwards dance the night away with your new friends at the official Gay Party for Canal Parade.
• Overnight at your hotel.
Rainbow Tips: We can provide you Exclusive Tickets for LGBT Discos with special prices!
Day 3 - Sunday, August 6, 2023
Gaily Excursion from Amsterdam to Zaanse Schans, Marken & Volendam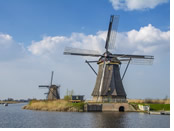 • Breakfast at the hotel.
• Departure towards Zaanse Schans, Volendam, and Marken for a windmill tour.
• Admire a classic line-up of authentic windmills, and watch a shoemaker fashion wooden clogs using traditional methods.
• Zaanse Schans is an historical heritage site that was established as a place to preserve windmills, artisan crafts and old Zaanse homes.
• This area is famous for its typical 18th and 19th Century architecture.
• View the live demonstrations of artisan activities like clump making.
• After our visit to Zaanse Schans, continue to Marken to see traditional fishing boats and visit a dairy for a demonstration and samples.
• Observe traditional clogs being made at a local shoemaker.
• Afterwards welcome to the picturesque fishermen's village of Volendam.
• Visitors from around the world head to Volendam to admire the small colourful houses, the boats in the harbour and the Volendammers in their traditional Dutch clothes.
• Our guide will take you on a short stroll to see the highlights that Volendam has to offer.
• After the visit free time for lunch to taste local specialties and afternoon for shopping and individual visits.
• Back to Amsterdam and finally take part to the farewell dinner at a local typical restaurant.
• Rest of the night free for party.
• Overnight at your hotel.
Rainbow Tips: Live the vibrant LGBT atmosphere in one of the many pubs like Club NYX or Club Roque.
Day 4 - Monday, August 7, 2023
Good Bye!
• Breakfast at the hotel.
• Independent departure.
Rainbow Tips: Want to stay longer? Enquire about extra nights! *Subject to availability.