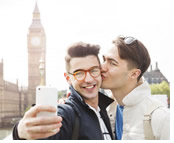 The UK is one of the best places to be gay thanks not only to laws protecting and promoting equality, but a fairly liberal-minded population. Saying that, there are definitely some cities that offer more for the gay traveler than others. Britain is one of the world's most welcoming nations when it comes to LGBT visitors. From loud and proud Pride festivals annually to hundreds of queer pubs and gay-friendly hotels, explore the highlights with our guides to the best LGBT destinations in United Kingdom.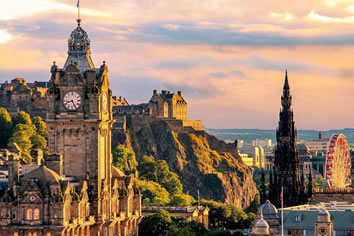 • Individual & Small Group suggested tour
• Featuring: London - Stonenhenge - Bath - Stratford Upon Avon - Liverpool - Manchester - Lake District - Edinburgh - Glasgow
• Get a glimpse into the royal and gay life in London
• Turn back time with the visit of Stonehenge
• Learn more about Shakespeare's Life in Stratford-upon-Avon
• Walk thourgh Liverpool, the city where The Beatles were born and rose to fame
• Explore Edinburgh, soaking in the Scottish city's Georgian charms
• Discover why Glasgow has been declared on of the friendliest cities in the world
• LGBT Friendly Tour Guide for Gaily Tours and Excursions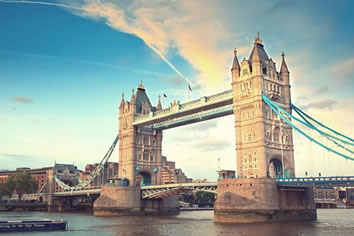 Day 1 - Welcome to London, United Kingdom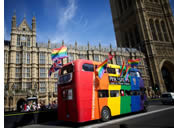 • Arrival transfer from airport to your hotel.
• Accommodation and free time for shopping and dinner.
• Overnight at your hotel.
Home to Europe's largest gay and lesbian population, London remains a hot spot for the discerning international gay traveller. And with more than 300 languages spoken (though you'll need just the one) and nearly a third of the population born outside of the country, you don't get much more international.
The capital of United Kingdom is famed for its diverse populations and welcoming attitude, and that's why for many people there's just no place like London. Soho and Vauxhall are the main areas for drinking and clubbing in London, although as a major tourist destination you'll feel comfortable and welcome wherever you go.
Day 2 - London Gay Tour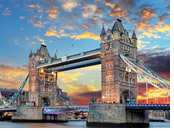 • Buffet Breakfast and be ready to admire the spectacular city of London with our Gay or Lesbian Tour guide.
• Start your tour by the shores of the Thames, where you will learn the history of the city that has become one of the most important financial districts of the world: City of London. You will then go deep into a semiprivate area with a hidden medieval Templar church. Step by step you will arrive to the feet of the imposing dome of St Paul's Cathedral that dominates the City, and we will walk through hundreds of businessmen and women until we reach the Bank of England surrounded by skyscrapers.
• Continue to monument to the history of the Great Fire, London Bridge, and finally reach the London Tower and Tower Bridge (entrance fee to the Tower included), a perfect ending that will make you see with a different look this special part of the great London.
• Lunch on your own.
• Afterwards enjoy an LGBT walking guided tour of the city, offering a unique and unusual view to the hidden parts of London that few people know about.
• Start your experience of Gay London in Soho district. This is also known for its LGBT vibe and it's where you'll find many of London's sex shops, burlesque shows and gay and lesbian bars. London is a city with 2000 years of history where some of the most influential people in the world have walked these streets and many have left a distinct footprint.
• On the Secret London LGBT Tour we will show you a side of London away from the usual tourist trail – we'll take you along gas lit alleyways, past old pubs and bookshops, remnants of sprawling mansions, unusual art and secret societies.
• Explore also the spectacular, where many gay and bisexual notables were interred include King William III and his boyfriend William Bentinck. Inside the Abbey you will also discover a small stained glass memorial, unveiled in Poets' Corner, dedicated to Oscar Fingal O'Flahertie Wilde, playwright and aesthete. The window, above the monument to Geoffrey Chaucer, was designed by Graham Jones and contains small lozenges within it which have been filled, or will be filled in the future, with names of poets and writers.
• Dinner on your own and free night for party. Overnight in London.
Rainbow Tips: London has a very open, vibrant and diverse gay scene with something for everyone. London has two main 'gay villages' located in Soho and Vauxhall.
Day 3 - London - Stonehenge - Bath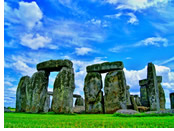 • Buffet Breakfast and departure to the circles of Stonehenge.
• Located in the middle of Salisbury Plain, Stonehenge is unique among stone circles and its construction still defies belief. The first stone was placed here 5000 years ago and the structure was finally completed 1400 years later.
• Lunch on your own.
• Continue to Bath's Georgian Crescents to find elegant stone buildings with terraces, crescents, and graceful squares. Visit the original 2000-year-old Roman Baths and Georgian Pump Room with its natural mineral water.
• Free time in the city of Bath to visit the ancient Roman Baths, the best preserved Roman Bath complex in Northern Europe.
• Dinner on your own and overnight at your hotel in Bath.
Day 4 - Bath - Cotswolds - Stratford-upon-Avon - Liverpool Gay Tour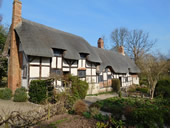 • Buffet Breakfast and departure towards north into the Heart of England through the villages of the Cotswolds, with its stone and thatch cottages, to the birthplace of Shakespeare, Stratford-upon-Avon, a charming market town. You will see Anne Hathaway's cottage, the school that William Shakespeare attended, and Shakespeare's birthplace.
• Enjoy time at leisure in this historic town, where the Bard's plays are still performed by the Royal Shakespeare Company.
• Lunch on your own.
• Then travel to lively Liverpool for a change of pace, where The Beatles were born and rose to fame.
• Together with your Gay or Lesbian guide, explore the notable sights made famous in song by the Beatles - Penny Lane and Strawberry Fields.
• Then view the legendary Cavern Club where the Beatles began their journey to fame and Liverpool's stunning Albert Dock complex, a reminder of Liverpool's history as a great and prosperous port.
• Dinner on your own and overnight in Liverpool.
Day 5 - Liverpool - Manchester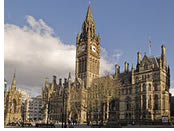 • Buffet Breakfast and free time in the morning.
• In the late morning, departure by Train to Manchester. Lunch on your own. Afterwards accommodation at your hotel.
• You will then meet your LGBT Friendly Tour Guide for an extraordinary walking tour of the city. Manchester has a thriving LGBT scene, centred around the world famous Canal Street – home of "The Village". A beacon of celebration in the city, the Gay Village is a must for any visitor to Manchester.
• Be ready to admire the major highlights of Manchester such as the own Hall, John Ryland's Library, Royal Exchange Theatre and the Cathedral.
• Dinner on your own. Overnight at your hotel in Manchester.
Rainbow Tips: With a combination of bars, clubs, restaurants and green spaces set alongside a long stretch of the Rochdale Canal, Manchester's Gay Village has something to suit all tastes.
Day 6 - Manchester - Lake District - Moffat - Edinburgh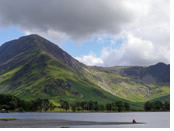 • Buffet Breakfast and departure to Moffat and Edinburgh.
• Travel along the shores of Windermere, the largest lake in England at the heart of the rolling hills of the picturesque Lake District, stopping for tea and fresh-baked scones at a local farmhouse.
• Continue towards the charming village of Grasmere, the 19th century home of the poet William Wordsworth.
• Lunch on your own.
• Next, cross into Scotland at the border town of Gretna Green, famous for its "runaway" weddings, and past Moffat, known for its high quality wool products.
• Arrive in Edinburgh, Scotland's capital city, with its exquisite Georgian and Victorian architecture and winding medieval streets. During your stay, discover the city's rich heritage and historic buildings. Its Old and New Town are listed as UNESCO World Heritage Sites.
Steeped in history, progressive, quirky and knows how to throw one hell of a party, Gay Edinburgh is a rising star on gay travelers radars. Edinburgh truly has something for everyone, and if queer travelers can draw themselves away from the all-night parties of the infamous 'Pink Triangle', they will find internationally renown art galleries, picturesque nature, creative design stores, hipster coffee shops (frequented by even cuter Scottish guys and girls). And, of course, plenty of historic streets, panoramic views, and architectural gems!
• Free time. Dinner on your own and overnight at your hotel in Edinburgh.
Day 7 - Edinburgh Gay Tour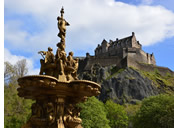 • Buffet Breakfast and together with your LGBT Friendly Tour Guide, explore the amazing city of Edinburgh.
• Admire the Scottish Parliament, Holyrood Palace, the Museum of Scotland, the Royal Mile, and Princes Street.
• Lunch on your own.
• In the afternoon take a look to Edinburgh Castle, where you can see The Crown Room, Royal Palace, St. Margaret's Chapel, and much more!
• Rest of day day free for shopping.
• Dinner in your own. Overnight at your hotel in Edinburgh.
Rainbow Tips: Edinburgh has a vibrant gay scene "the Pink Triangle," centred around the top of Leith walk, just off Princes Street, Edinburgh's main thoroughfare.
Day 8 - Edinburgh - Glasgow - Edinburgh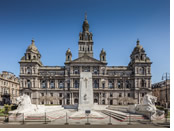 • Buffet Breakfast and departure by train to Glasgow for a full day Gaily Excursion.
• Once an industrial engine of the Empire, post industrial Glasgow has re-invented itself and is undergoing a massive regeneration. The shipyards have been replaced by some of the most exciting architecture in the UK. The Victorian centre contains some of the best shopping outside London.
• Glasgow's museums and art galleries add to its rich cultural life making this one of the most exciting cities in Britain.
• Enjoy your walking tour with your local LGBT Friendly Tour Guide.
• Lunch on your own. Afternoon free for individual visits and shopping.
• Back to Edinburgh by train.
• Dinner in your own. Overnight at your hotel in Edinburgh.
Day 9 - Edinburgh Departure
• Breakfast in the hotel and transfer to the Edinburgh airport.