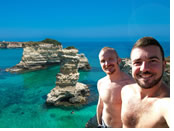 Join us on an exclusive Gay Yoga Retreat in the southernmost tip of Italy, known as Puglia. The Puglia Gay Yoga Retreat is a full week in a typical Masseria (farmstead) set within acres of olive groves and nearby to stunning beaches. The farmstead is close to Lecce, known as the 'Florence of the South'. Set among acres and acres of ancient Roman Olive Groves as far as the eye can see, this magical and tranquil place is the perfect spot to relax and tune out from the noise of our constant fast paced lives!
The Puglia Gay Yoga Retreat is designed in such a way that you can either choose this week to improve your practice and spend the rest of your time in a place that is totally restorative and meditational or you can engage in an array of optional activities to discover the magical surroundings. For those who want the practice and a chance to see and do some amazing things, there is an array of add-ons including cycling, trekking, massage services, sight-seeing and dining out.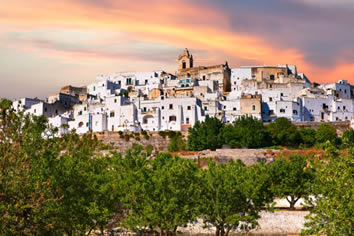 Bike rentals are available, allowing you to visit amazing beaches, explore the quaint towns and villages, and ride through the natural landscape at your own pace.
Primarily we will focus on yoga! No matter what your level, the Puglia Gay Yoga Retreat ensures you are in safe hands. Our Hatha-Vinyasa based dynamic yoga sessions will keep you feeling invigorated and transformed. You will be led by our fun, fantastic and experienced Yoga Instructor: Riccardo. We will start each day with a strengthening based Hatha-Vinyasa flow and evenings will be more calming and restorative.
For those really looking for the mind, body, spirit experience: look no further. Our Puglia Gay Yoga Retreat offers the perfect solution. The exclusive Masseria we have carefully selected offers great services: its equipment features a swimming pool, bar, restaurant, wifi and on-site massage services. We will also spend all dinners altogether in typical restaurants enjoying local food: please do let us you're your dietary requirements so we can tailor the meals accordingly.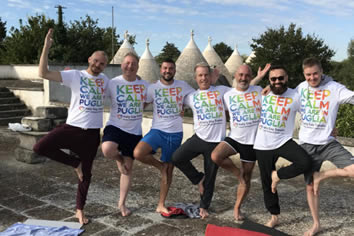 • Yoga retreat set in a magical location near Lecce, the Florence of the South
• Accommodation with full use of a typical Masseria
• Morning Vinyasa/Ashtanga flow yoga (90 minutes)
• Evening Restorative Yoga (90 minutes) working on all chakras
• Learn with an experienced teacher with international experience
• Stunning cycling/trekking through Salento, the South-easterner area of Italy
• Meet like-minded individuals and share experiences
• Aperitif on Opening evening (alcoholic and non-alcoholic)
• All Breakfasts and Dinners included
• Holistic and Sports Massage services available
• An array of optional activities including cycling, hiking, sightseeing and relax on the beach
• Make new friends from all over the world: great group atmosphere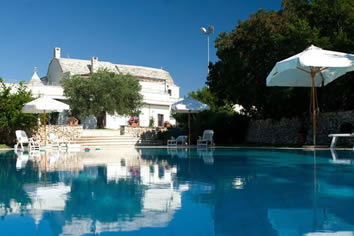 Day 1
Welcome Puglia, Italy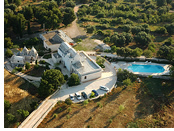 Make your way over to the Masseria (Farmstead). Welcome to Masseria Stali! Close to Lecce and hidden within acres and acres of ancient olive groves, this is the perfect spot to forget about your troubles, clear your mind and just relax. Upon arrival you will be greeted and shown your room as well as given a tour of the facilities that are at your disposal for the duration of your stay. If the weather is good why not take a splash in the pool?
In the evening, when the group is altogether, join us for an aperitif, alcoholic or non-alcoholic as you prefer. This will be the perfect opportunity to get to know your fellow yogis as well as your hosts. You will also get to meet your Yoga Instructor Riccardo. Remember: this is like a home for one week so please make yourself at home.
Day 2 - 7
Daily Program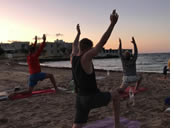 Typically the days on the Gay Yoga Retreat start with an early morning session of Yoga. We will meet either on the rooftop overlooking the olive grove or outside in the grounds of the estate. Each yoga session will be tailored and there will be a mix of familiar poses as well as introducing more challenging ones, depending on your experience. Don't be too worried about your level, Riccardo is here to help and the classes are designed for everyone to progress.
A hearty breakfast will follow the morning yoga session! We cater for all so please let us know your dietary requirements!
Between breakfast and the early evening yoga class you will have the opportunity to do as much as you like or as little as you like! The Masseria is fully equipped with a bar, Restaurant, Swimming pool, quiet areas and Wi-fi. You can either stay in the Masseria and focus on meditation or you can rent a bike and explore the nearby towns and landscape of Puglia.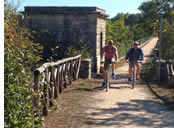 There is also an array of activities that we can organise for you, these include:
• Guided Cycling/trekking of the area
• Massage treatments (sports/holistic/deep tissue)
• Cooking classes. Learn the ways to cook the typical regional dishes
• Wine Tasting experiences
• Visit to local olive groves with olive oil / Local Delicacies Tasting sessions
• Guided tours to the nearby cities including Otranto, Lecce, Nardo', Gallipoli and others
Evening classes will be from 18:00 to 19:30 and will be in the form of the restorative and calming Yoga.
Optional Day Trip to Alberobello and Polignano a Mare
We are happy to offer a guided trip to visit Alberobello and Polignano a Mare. You will have the opportunity to discover two beautiful sites belonging to the UNESCO World Heritage List: Alberobello and its worldwide well known trulli; and Matera, described as the most outstanding, intact example of a troglodyte settlement in the Mediterranean region.
Cost: €75 per person, light lunch included
Other Optional extras
• Private Yoga classes @ €75 for 75 minutes
• Sports/Holistic massage @ €65 for 60 minutes
We have designed this exclusive Gay Yoga Retreat for flexibility to ensure that everyone has the best experience.
Day 8 - Saturday
See you soon!
After breakfast, we all say goodbye (no tears hopefully) to this Gay Yoga retreat! And hope that we see you the next time.