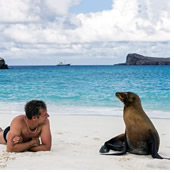 Celebrate the Pride month 2024 on board the catamaran Treasure of Galapagos. Imagine swimming among sharks, walking alongside giant tortoises, sea lions, blue-footed boobies and dazzling yourself with unique landscapes in the world; to understand it you should only visit the legendary and enchanting Galapagos Islands in Ecuador. All-gay cruise through the Galapagos Archipelago is a unique experience that you won't easily forget. There is always a motive to celebrate!
Ecuador, a small country located in South America; with the Pacific Coast, the Amazon Basin, the Andes Highlands packed into its small area, plus the Galapagos Islands off the coast, its boast a little of everything the continent has to offer – like South America in miniature. In Ecuador, your encounter with nature will be memorable. Whatever place you choose to visit; the four worlds await you with landscapes that you cannot stop photographing. In the Coast you will find beautiful beaches, in the Andes you will walk along paths where several animal species inhabit, in the Amazon you can know the exotic of the jungle and in Galapagos you will be enchanted with its landscapes.
Wherever you go, you can connect your body and mind with a free and wonderful nature. We invite you to be part of this landscape full of colors.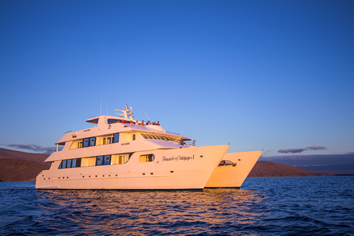 A once in a lifetime naturalist cruise:
It is not uncommon for dolphins to escort our catamaran, or for frigate birds to glide for hours above the Sun Deck, which offers you an excellent lookout for whale watching as well.
Leisure time in an inviting private ambiance:
Your impressive cabin resembles a floating hotel room with an ample bathroom, private balcony, ample storage space, soft carpeting and regular beds (20m2).
All the comfort you need within easy reach:
Whirlpool with jets on the Sun Deck. Spacious solarium and shaded terraces with deck chairs. Cozy living room with a library, TV and DVD player and board games.
Delicious food:
to make your mouth water: Our professional cook and kitchen staff will treat you to a substantial breakfast, and mouth-watering warm lunches and dinners, all served in abundant buffet style.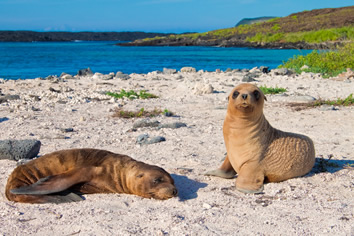 The archipelago, considered an earthly paradise with 13 major islands, 5 medium islands and 215 islets, is the home of marine species and exotic birds. This conglomerate of life can be admired up close as you discover dreamy natural scenarios. There is no other place like it in the world, so in the Galapagos Islands you will experience unique and unrepeatable experiences.
The Galapagos Islands is a destination for nature and adventure lovers. The mix of activities allow to our visitors discover the Galápagos (in land and sea) through guided hiking, snorkeling, kayak, dry – wet landings, dinghy-rides, relaxing, close-up encounter with wildlife and photography. And for the cruise' nights a special group activity with the touch of Nomadic!
Our up to 16 passengers all-gay cruise will make your nature and cruise experience more intimate with a personalize service, and we look forward having you on board!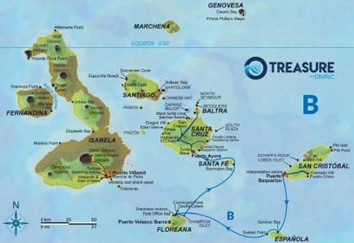 Our classic 4-night route to the southeast Galapagos Islands anchors at the most paradisiacal bays and lovely beaches. Some of these oldest islands are true crown jewels where you can become an eye-witness of evolution. Several (sub) species have had enough time to transform into emblematic figureheads, which differ from island to island. Moreover, the open water passages take 4-6 hours instead of long overnight navigations; our stable catamaran mostly floats at sheltered anchorages, which helps you get a restful sleep.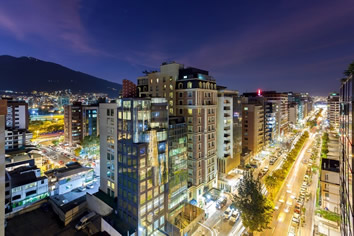 Day 1 - Arrive in Quito, or Guayaquil, Ecuador
Arrive a Quito or Guayaquil. Our representative will be waiting for you and transfer to hotel selected. Overnight.
Hotel in Quito - Le Parc, Beyond Stars Hotel, 4+*
An experience full of comfort and relaxation, combining gourmet cuisine, a superb location and designer suites. Discover the magic of a 4-star hotel in Quito with personalized service, free Wi-Fi, a Business Corner, airport transfers, and all just a few yards from La Carolina Park and the Quicentro mall.
Hotel in Guayaquil - Hilton Colon Hotel, 5*
We're four kilometers from José Joaquín de Olmedo International Airport, which connects you to the Galapagos Islands. Within a 10-minute drive, reach Malecón 2000 – the city's waterfront boardwalk with shops, gardens, and historical monuments. Our hotel has an outdoor pool with a swim-up bar and a spa featuring a sauna, steam bath, and treatment rooms.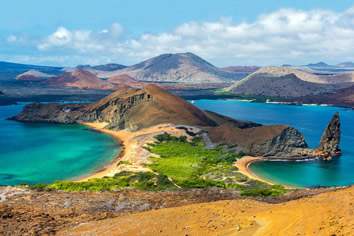 Day 2 - Arrive at San Cristobal, Galapagos
Breakfast (or box breakfast). Transfer to Quito or Guayaquil Airport.
Morning flight to San Cristobal Airport (SCY). Upon arrival at San Cristobal Airport, travelers pass through an airport inspection point to insure that no foreign plants or animals are introduced to the islands, as well as to pay the park entrance fee of $100 (unless it has been prepaid). A guide will meet you, help you collect your luggage, and escort you on a short bus ride to the harbor.
PM - Colorado Hill (San Cristobal)
Colorado Hill Tortoises Protection and Growing Center, located at 40 minutes approximately by bus to the south east of the island. This center was built to improve the status of the population of the island tortoises. The center includes a large corral, a Visitors center, breeding center and an interpretative trail. Along this trail is possible to see different species of native and endemic plants as well birds as the San Cristobal Mockingbird, Yellow Warblers, and many species of finches and the Galapagos flycatcher.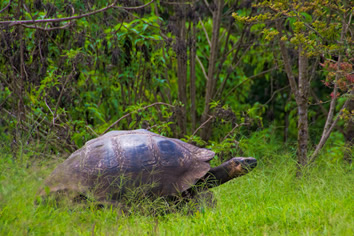 Day 3 - Espanola, Galapagos
AM - Gardner Bay (Española)
Located on the north-eastern coast of Hood, Gardner Bay provides an excellent beach for relaxing, swimming, snorkeling, kayaking, and the opportunity to observe sea lions. Here we can also observe sharks in the crystal clear ocean waters.
PM - Suarez Point (Española)
This rocky land spot sustains one of the most impressive and varied colonies of sea birds in the Galapagos. Along its southern shore, high cliffs rise up from the sea affording the visitor spectacular views of soaring birds and of the blow whole where water spouts up to 50-75 feet into the air according to the intensity of the surf.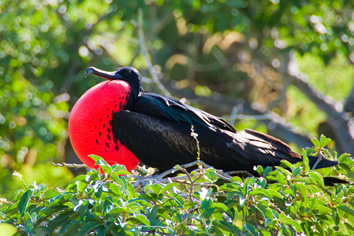 Day 4 - Floreana, Galapagos
AM - Post Office Bay - Baroness lookout (Floreana)
Historically, this site is the location of a wooden barrel that was placed in the 18th century by the crew of a whaling ship. The letters found inside the barrel would be picked up and delivered by sailors returning home. There was no postage fee, and, surprisingly, this mailbox and its honor system are still in use today. Although the letters are no longer important messages from sailors to their loved ones, thousands of them are left by tourists nowadays and many of them still make it to their destination. Apart from being the Post Office Barrel, this site was the landing area for some of the first colonists. It is said that Baroness Eloisa von Wagner loved this place and spent several hours watching the horizon. Within walking distance (30 m) are the ruins of what is known as her house.
PM - Cormorant Point - Champion Islet (Floreana)
This site offers probably the best Flamingo lagoon in the Galapagos; it is also one of the largest in the islands. It's situated between two tuff lava cones that give the area a special atmosphere. There are various species of shorebirds to observe besides flamingos; the most frequent are common stilts, white- checked pintail ducks and other migratory birds. It is very interesting to see the two distinct beaches: "The Green Beach" (due to its high percentage of olivine crystals in the sand) and the "Flour Sand Beach" which is made up of coral.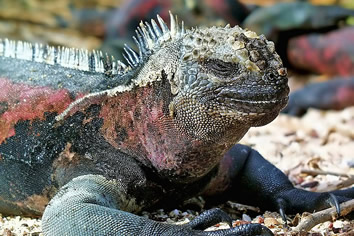 Day 5 - Santa Fe, Galapagos
AM - Santa Fe
Located in the southeastern part of the Galapagos, this island was formed from an uplift instead than a volcanic origin, this is why is mostly flat. There are some theories which assure this could be the oldest island in the Archipelago. Santa Fe is the home of a number of endemic species like the Galapagos Hawk, Galapagos snake, Galapagos mockingbird, rice rats and one of the two species of lands Iguanas of the islands. After disembarkation in the beautiful and clear waters you will be in contact with one of the many sea lion colonies. Along the trail many salt bushes can be seen as well giant Prickly pear cactus, gigantism is a characteristic of oceanic islands.
PM - El Chato (Santa Cruz)
Santa Cruz also offers excellent opportunities for viewing wild tortoises, both roaming through pastures in the agricultural zone and in the Tortoise Reserve, which is accessible from Santa Rosa or Salasaca. Several farms serve food and allow visitors to explore their grounds in search of tortoises. Descending through the agricultural zone into the Transition Zone where the Tortoise Reserve is located, the introduced vegetation of the farmlands is replaced by native vegetation. The pond at El Chato is surrounded by forest where short-eared owls, Darwin's finches, Vermilion Flycatchers, Yellow Warblers, Galapagos Rails, and Paint-billed Crakes can be seen. As the visitor walks into the forests overgrown with lichens, ferns, and other epiphytes, it is time to listen carefully for the sound of heavy footsteps and the sound of shrubs being slowly crushed as the tortoises make their way through the brush.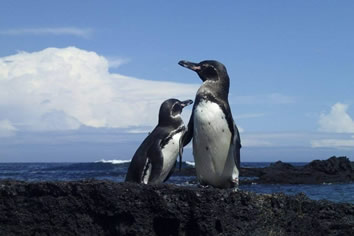 Day 6 - Santa Cruz, Galapagos
AM - Twin Craters (Santa Cruz)
The Twin Craters are found on either side of the road leading to Puerto Ayora. These impressive formations are not really volcanic craters and were formed by magma domes, which hardened on the outside while the lava continued flowing inside, leaving huge and empty magma chambers that eventually collapsed, leaving two large holes. The craters lie within a lush scalesia cloud forest, a high-altitude plant species that are endemic to the Galapagos. This area is also home to the carpenter finch, which uses tools to search for food. There may also be opportunities to see the vermillion flycatcher, a small red-breasted bird.
Transfer out to Baltra Airport (GPS)
Assisted by the naturalist guide and some crewmembers, the dinghy will bring you and your luggage to Baltra Airport, where we will take the shuttle back to the airport.
Return flight to mainland Ecuador (Quito or Guayaquil). Airport transfer and overnight in hotel.
Day 7 - Departure
Breakfast in hotel and departure.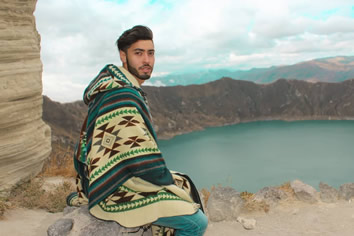 A little more of Ecuador!
Ecuador is a paradise everywhere you look at it. Let yourself be amazed by its culture expressed majestically in its churches, buildings, heritage cities; discover the Andes, well-conserved colonial haciendas, adventure, indigenous markets, Amazon rainforest, cloud forest, tradition, gastronomy. We understand that every person in the world is unique and different therefore our team creates their travel dreams according with it. If you are planning your trip, you can't leave the essential details of your stay for the end. Find out more about every aspect necessary to make your adventure in Ecuador a pleasant one. We will assist you with your additional tours in Ecuador, just let us know your plans and we tailor made the perfect holiday for you.
- Colonial Cities & Gastronomic Tours.
- Indigenous Markets (Ancestral Cultures).
- Haciendas and Horseback riding in the Andes.
- Rainforest Amazon programs (lodge or by river cruise).
- Discover the Cloud Forest of Mashpi.
- Adventure: trekking, diving, biking, canopy, and rafting.