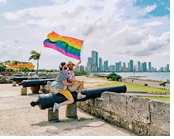 Cartagena de Indias is the undisputed queen of the Caribbean coast, a historic city of superbly preserved beauty lying within an impressive 13km of centuries-old colonial stone walls. Cartagena's Old Town is a Unesco World Heritage Site – a maze of cobbled alleys, balconies covered in bougainvillea, and massive churches that cast their shadows across leafy plazas. A city that welcomes everyone and seizes you in its captivating grip, Cartagena has developed a reputation as one of the Caribbean's most gay-friendly destinations. Join us in Cartagena for annual Cartagena Gay Fest - Love & Friendship Party!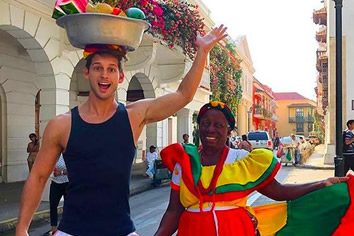 Day 1 - Thursday, September 16, 2021
Arrive Cartagena, Colombia & Masquerade & Costume Party
Arrival in Cartagena de Indias, Colombia.
• Upon arrival at Rafael Núñez International Airport (CTG) transfer to your hotel in Cartagena.
• Welcome at the hotel with cocktail and accreditation to the event. Check-in time to hotel rooms from 03:00 PM.
• Free day to enjoy the beaches, accompany us to recreational activities or rest from the trip.
• On the opening night of our annual event "Cartagena Gay Fest". Presentation of the participants and the animation team. General information about the program.
• "Masquerade & Costume Party" includes half a bottle of rum or national brandy per person, and for sure you will not want to go to bed alone!
Meals Included: Dinner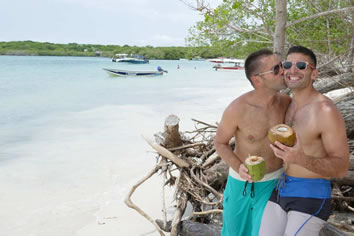 Day 2 - Friday, September 17, 2021
Rosario Islands National Natural Park & Fiesta de la Toga
• At 08:00 AM meet at the La Bodeguita Pier to go on an excursion to the Rosario Islands National Natural Park, a well-known group of small islands, where we will find the necessary conditions for a delicious day of Sun and Beach.
• This tour includes: a yacht tour knowing several of the 27 islands of this National Park, visiting the Oceanarium with tickets included and where we will meet various marine species and show with dolphins.
• Add an aphrodisiac typical sea lunch and recreational activities on a private beach.
• Return to Cartagena by the end of the afternoon.
At Night: "Fiesta de la Toga" including half a bottle of rum or national brandy per person. You just have to wear the toga, and we will take care of the rest.
Meals Included: Breakfast, Lunch & Dinner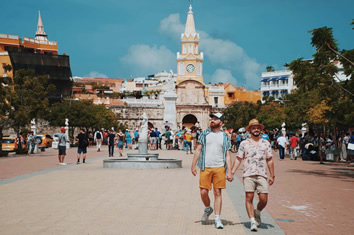 Day 3 - Saturday, September 18, 2021
Cartagena City Tour & Gay Night Party
• Today give yourself free time to rest, enjoy the beach, our recreational activities and surprise contests.
• At 3 PM Cartagena Chiva Rumbera City Tour, visiting the Getsemaní neighborhood, Castillo de San Felipe de Barajas, Clock Tower, Plaza de los Coches, Portal de los Dulces and panoramic tour of India Catalina, Pegasos Pier and Convention Center. This tour will last approximately 4 hours.
At Night: "Gay Night Party". Get ready for the best action & auction party of your vacation, with the best DJs, Gogos Show, Parades, free memberships to the Gay Friendly Travel Club, prizes and many surprises. Party tonight until dawn.
Meals Included: Breakfast & Dinner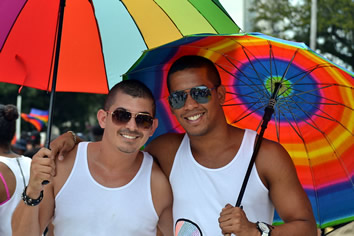 Day 4 - Sunday, September 19, 2021
Mr. Gay Cartagena & Departure
• Relax & recreational activities and awards for attendees in different categories.
• Parade, Election and Awards of Mr. Gay Cartagena, Miss Lesbian Cartagena & Mrs. Transx Cartagena.
• Farewell so that you exchange contacts and live the latest adventures of your Cartagena Gay Fest accompanied by some farewell cocktails.
• Check-Out of the rooms at 1 PM.
• The transfer service to the Rafael Núñez airport (CTG) will operate from 12 noon until 5 PM hours with departures every 30 minutes.
• End of our services
We suggest to extend your trip for three nights / four days to: Bogotá, Medellín, Cali, Amazonas, Orinoquía, Eje Cafetero, etc.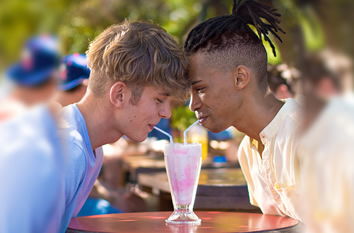 The capital of Colombia is the cosmopolitan heart of the country, where cobbled backstreets meet towering feats of contemporary architecture. Bogota is a densely populated urban sprawl nestled amongst some of the most impressive mountain ranges in the world and boasting a deeply embedded and fascinating culture.
Modern Bogota is known for its rich cultural heritage, fantastic culinary scene and burgeoning arts districts.
The gay scene in Bogota is largely focused around the upmarket and recently regenerated area of Chapinero. The district is home to more than 100 gay bars, clubs and shops and evidence of the city's vibrant LGBT+ community can be seen throughout. Bogota is becoming increasingly known as a hub of gay culture and community in South America and gay travelers are flocking to experience all that this unique and diverse city has to offer.