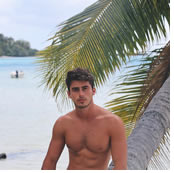 Sail through the South Pacific aboard this boutique all-gay cruise. Alongside up to 46 like-minded gay men, you'll depart from Tahiti, visiting five of the country's most beloved islands: Bora Bora, Huahine, Taha'a, Raiatea, and Mo'orea. On each island, you can expect countless once-in-a-lifetime activities to choose from. For example, you could spend your morning snorkeling indigo lagoons and your afternoon 4X4ing through banana groves. For the culturally inclined, enjoy optional private tours of ancient marae (temples) and local villages. And heck, don't neglect our vessel's many amenities including kayak and SUP rentals. Snorkel, kayak, 4X4, and sail your way through French Polynesia on this gorgeous gay cruise!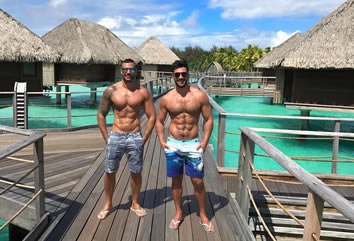 Sailing round-trip from Papeete port, Tahiti, uncover the world-famous Society islands of French Polynesia by small ship. Bora Bora, Taha'a, Moorea, Huahine, Raiatea - islands sculpted by sky-piercing, moss-green peaks and lined with vivid turquoise lagoons. Island hopping allows you to see every landscape, from geometric ridges strung with waterfalls on the high islands to flat, desert-like atolls where lagoons far outsize the landmass. There are many sides to the Islands of Tahiti, yet they are all connected by Mana. Mana is a life force and spirit that surrounds us. You can see it. Touch it. Taste it. Feel it. And from the moment you arrive, you will understand why locals say the islands are embraced by Mana.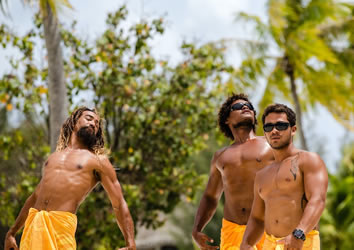 • Sail Tahiti and the Pearls of French Polynesia with up to 46 other gay men
• Snorkel crystal clear waters, get up-close to rays, sharks, and schools of jewel-toned fish
• Sail into Bora Bora's shimmering lagoon, with Mount Otemanu rising proudly at the center
• Explore ancient marae (temples) on private walking tours
• 4X4 through banana, watermelon, and coconut groves, on a French Polynesian cultural tour
• Kayak Faaroa River with an expert guide leading the way and pointing out local flora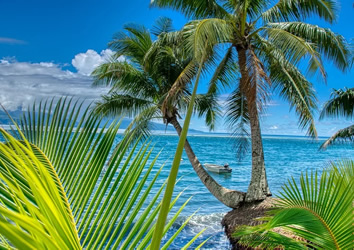 Day 1 - Papeete, Tahiti
La Orana! Welcome to Pape'ete
, the capital of French Polynesia. This colourful and chaotic city is located on the country's largest island, Tahiti.
We'll get acquainted over our 12PM Welcome Meeting and lunch, then we'll board the picturesque Panorama II, our home for the next eight days.
After a welcome briefing and safety drill we'll enjoy included cocktails and dinner while setting sail for Bora Bora. Midway we'll drop anchor and overnight at sea.
Accommodation: Variety Cruises Panorama II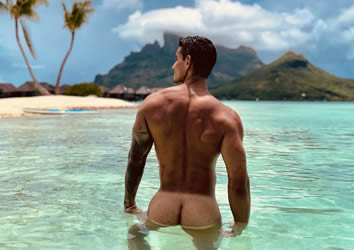 Day 2 - Bora Bora
Rise and shine! We'll set sail early this morning so we have ample time to explore the incomparable turquoise waters of Bora Bora. Have your camera ready as we sail into the turquoise Bora Bora lagoon where Mount Otemanu will greet us.
After lunch we'll take a small boat from Vaitape pier for a scenic lagoon and reef excursion before stopping at a shallow spot. Here we'll snorkel among the island's docile sting-rays and black tip reef sharks—or just enjoy the views from the comfort of the boat.
We'll then visit an underwater coral garden where we'll glimpse multicoloured clams, shoals, and schools of jewel-toned fish.
Dinner will be served back on the ship.
Accommodation: Variety Cruises Panorama II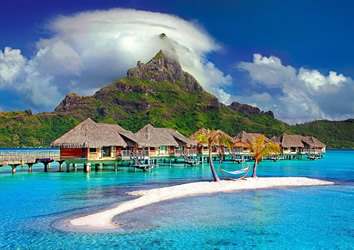 Day 3 - Bora Bora & Huahine
After breakfast, you'll have two optional excursions to choose from:
4WD Tour:
4WD across the island's wild interior, visiting the island's archeological treasures, historic WW2 sites, and spectacular vantage points.
Tahitian Cultural Tour:
take an open-air truck with individual cushioned bucket seats on a leisurely Tahitian cultural tour. You'll witness how the popular "pareo" is made, learn about "tupa" crabs, taste locally grown fruits and hear about relics left behind by the U.S. military.
After lunch, we wish Bora Bora nana (goodbye) and set sail for Huahine.
Later in the day we'll be at sea for a few hours, so feel free to enjoy some of the ship's amenities and features including the gorgeous sun deck or the quiet library.
We'll drop anchor in Huahine's lagoon late in the evening and enjoy dinner here.
Accommodation: Variety Cruises Panorama II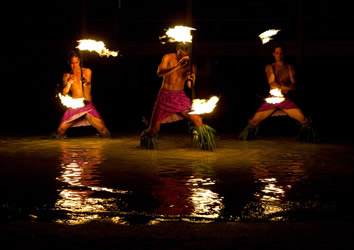 Day 4 - Huahine
Huahine was once the home of Tahitian royalty. Today, it is considered the cradle of Polynesian culture. The island maintains the largest concentration of ancient marae (temples) in French Polynesia, some of which may date back to the original ancestors of the Tahitians—the Lapita people—around 700 AD.
To make the most of this tropical oasis, we've arranged an included full day 4X4 tour around the island. We'll visit Fare, Maeva, an archaeological site, and—most importantly—the sacred blue-eyed eels of Faie.
Later in the day we'll transfer to a boat and enjoy a picnic at a motu (reef islet).
Dinner will be back on board.
Accommodation: Variety Cruises Panorama II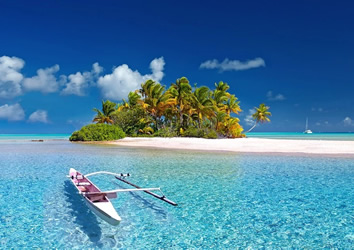 Day 5 - Taha'a
Good morning! Early this morning we set sail for Taha'a, which shares a magnificent lagoon with Raiatea.
The fertile island is covered with banana, watermelon, and coconut groves and colourful flowers. It also acts as a natural greenhouse for the treasured Tahitian vanilla orchid.
We've planned another exciting 4X4 tour to best enjoy the island's breathtaking views of Ha'amene Bay. It includes visits to a pearl farm and a traditional vanilla plantation.
After lunch flipper-up for an afternoon of snorkeling near a gorgeous motu (reef islet).
Dinner and overnight in Taha'a's calm lagoon.
Accommodation: Variety Cruises Panorama II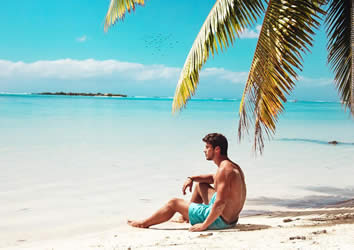 Day 6 - Raiatea
This morning's sail is short and sweet as we glide over to nearby Raiatea, the homeland of ancient Polynesians. Raiatea roughly translates to "Faraway Heaven" and/or "Sky with Soft Light". It's here you'll choose between two included activities, depending on how active you're feeling.
Highlights of Raiatea Bus Tour:
Discover both modern and ancient Raiatea. You'll visit the island's main town of Uturoa, swerve up Mount Temehani, and spot the endemic and extremely rare flower, Tiae Apetahi. When the morning light touches this flower's petals, it opens with a gentle crackling sound. After making our way through the verdant island and stopping at numerous vantage points, you'll arrive in the UNESCO-listed open-air temple of Taputapuatea.
Faaroa River Kayaking Tour:
If you prefer to make a splash, join our guide on an ambitious kayaking tour. We'll navigate the fjord-like Faaroa River with its engulfing gorge and scenic riverbanks clad in lush jungle foliage. Our guide will point out the island's diverse bird life as well as some of the more colourful plants including wild hibiscus (purau) trees.
NOTE: This is an active tour including two hours of unassisted paddling. All participants must know how to swim.
Tonight we'll enjoy another fantastic dinner onboard and overnight in Raiatea lagoon.
Accommodation: Variety Cruises Panorama II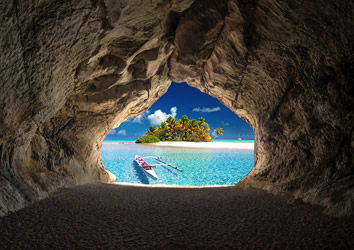 Day 7 - Mo'orea
For our last full day together, we'll sail to magnificent Mo'orea.
This lovely but looming island is believed to be the inspiration for the mythical Bali Hai from James Michener's Tales of the South Pacific. Eight gargantuan mountain peaks soar above the lagoon, creating a distinct silhouette visible from the western coast of Tahiti.
Upon arrival we'll dive into the Mo'orea lagoon's indigo waters on our included snorkel safari. We'll visit a number of snorkelling spots, spotting rays, reef sharks, and myriad colourful fish.
Our last night aboard will be celebrated with a Captain's Farewell Dinner.
Accommodation: Variety Cruises Panorama II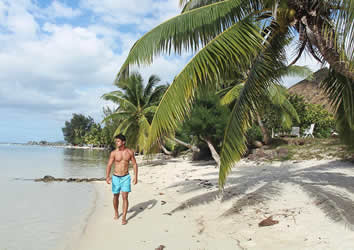 Day 8 - Papeete, Tahiti
Early this morning we'll sail back to Tahiti, disembarking between 9AM and 10AM.
Your trip includes a complimentary departure transfer which will be confirmed by your group leader. It can either transfer you to the airport or a hotel to continue
your time in Tahiti on your own.
Thank you for joining our French Polynesia: Tahiti Gay Cruise. Nana for now!