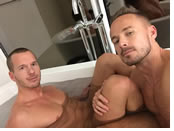 Fall in Love Again! For the honeymooners, we have planned for you the most unforgettable trip of a lifetime. Travel to Santorini on a romantic cruise and spectacular views. Enjoy an elegant breakfast along the sea in Mykono and take a swim in the sea in the blue waters. Take in all the sites and smells in the mysterious city of Athens.
Greece has something even more important to offer to gay travelers: a distinctive and unique gay scene and mentality, which is different to every other country around the world.
Other island silhouettes on the horizon, a transparent sea lapping a sand or pebble shore, a congenial beach bar a few steps away... for many visitors, these are the essentials of a holiday in the Greek islands. Venture further inland, however, and you will find atmospheric villages and monasteries, world-class museums and a laid-back lifestyle pursued mostly in public.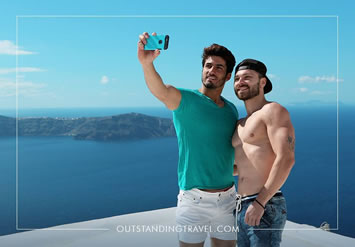 Day 1 - Athens / Santorini, Greece
Welcome to Greece! Upon arrival at Athens, Eleftherios Venizelos, International Airport, you will take the connecting flight to Santorini.
Santorini is a picture perfect island with amazing sunsets, wonderful volcanic views that will captivate you and unsurpassed natural beauty attracting travelers from all over the world.
As soon as you arrive you will be welcomed by OUTstanding Travel representative who will transfer you to your hotel.
In the evening you can have dinner in one of the caldera-rimmed restaurants while watching the famous Santorini sunset, a unique once in a lifetime experience.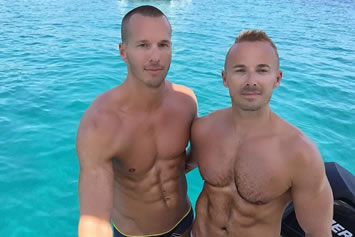 Day 2 - Santorini, Greece
After your breakfast start a 5 hour catamaran cruise along the caldera. What better way to explore Santorini than from the water?
Sail the Caldera and visit the Hot Springs, see towering volcanic cliffs, swim, snorkel, and dine on delicious gourmet meals. Enjoy linen service, lunch and dinner while anchored in a private bay that offers a spectacular caldera view.
You will embark on catamarans that will sail you to the Red and White beaches, hot springs, past the volcano and to explore private bays for swimming and snorkeling.
Depart from Vlihada Marina sailing past the Ancient City of Akrotiri to the Red and White Beaches. Sail past the Indian Head Mountain and Venetian Lighthouse into the picturesque Caldera. You will visit private bays for swimming and snorkeling. After the Hot Springs, a delicious BBQ lunch is prepared in a beautiful secluded bay. After lunch, you then sail past the Volcanic Islands and Aspronisi before heading back to Vlihada Marina.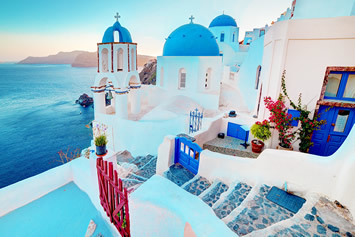 Day 3 - Santorini, Greece
Enjoy a day at leisure on this magnificent island, spend the day exploring Santorini's towns, beaches and visiting its wineries. Indications tell us that viticulture and vine processes on the island of Santorini go back 3500 years, from 1700 B.C., in the form of pips that were found during excavations at Akrotiri and also pot engravings depicting grapes. Today Santorini constitutes one of the best organized wine-tourist destination with visitable wineries, excellent restaurants and wine tasting. Megalohori is a great place to visit by ATV as it has 4 great wineries: Gavalas Vineyard, Antoniou, Boutari, and Canava Roussos. Also, there is the famous Santos Winery in nearby Pyrgos.
Or you may enjoy this day at leisure on Santorini sitting by the pool, relaxing with a cocktail, dreaming of blue seas. Or, if you are feeling energetic, walk to Santorini's capital, Fera, with its shops, museums, tavernas & nightlife. Hop a taxi back to your hotel after a night of dancing.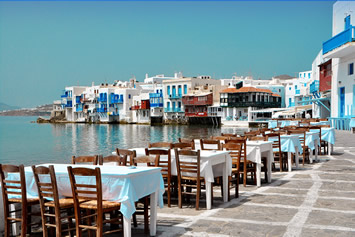 Day 4 - Mykonos, Greece
Enjoy your delicious breakfast, check out and you will be transferred to the port to catch the hydrofoil to Mykonos.
Upon arrival in Mykonos you will be welcomed by OUTstanding Travel representative and get transferred to your hotel, where you will spend four nights in a wonderful setting with elegant atmosphere and friendly staff.
Leisure time to take advantage of and relax at the hotel pool or get acquainted with the town reflecting Greek authenticity combined with upscale elegance.
Have a nice dinner and a couple of cocktails in one of the lively bars, the night is young and you can have fun.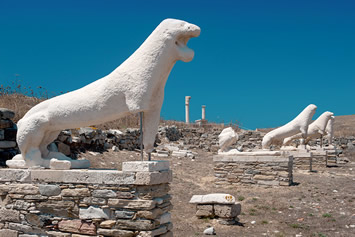 Day 5 - Mykonos - Delos Tour
The best way to witness the grandeur of ancient Greece in the Cyclades is visiting Delos, one of the most magnificent archaeological sites you will ever visit.
After having breakfast, you will be transferred to the old port of Mykonos by local representative to set off for you half day tour of Delos, which is only 30 minutes from Mykonos.
Once you arrive on the island our English speaking guide will show you around and explain everything this religious and trading center of the past.
Return to Mykonos late afternoon and leisure time to enjoy a nice meal or go shopping downtown in the wonderful boutiques and designer shops competing with these in world capitals.
Mykonos is all about having fun and is has a well-known energy-filled gay scene that will thrill you.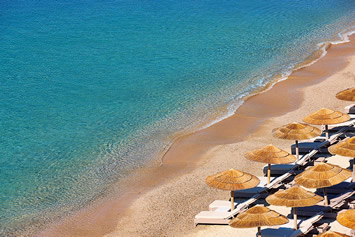 Day 6 - Mykonos, Greece
Day at leisure in Mykonos to enjoy this unique island.
Mykonos Island is a wonderful kaleidoscope of cosmopolitan shops, rocking bars, quaint windmills, great beaches, homey taverns and hidden churches all set against a brilliant blue backdrop. And it's not just the water that sparkles in the sun on Mykonos, but also the marble streets and beautiful white cubist buildings that characterize the island's architecture.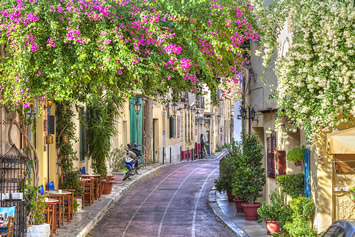 Day 7 - Athens, Greece
After breakfast you will be transferred to the port for your return trip to Athens.
Upon arrival in Athens, you will be taken to your central Athens hotel where you will be meet with OUTstanding Travel Representative and enjoy a gay tour of Athens.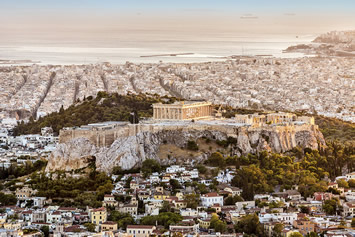 Day 8 - Athens - Athens Tour
After your delicious breakfast, you will be met by your guide at your hotel for your walking tour of Athens.
The tour begins with the House of the Greek Parliament, the Monument to the Unknown Soldier and watch the changing of the guards. Continue towards the National Gardens and on to the beautiful neoclassical Zappeion Hall, and you will view both Zeus and Hadrian's Arch. From there you walk towards the Acropolis through the beautiful pedestrian walk way of Dionysiou Areopagitou and pass by the Melina statue.
Enter the Acropolis from the south slope to avoid the crowds & also to visit the Dionysus sanctuary and Dionysus Theatre built in the 5th century BC. As you begin to ascend the sacred hill enjoy a breathtaking view of the city below. Your guide will give you a detailed explanation of the glorious monuments of the Acropolis such as, the Parthenon, the Erectheion, the Propylaia, the Nike Temple, the Agrippa Monument & the surrounding monuments such as the Herodes Atticus Odeon, the Ancient Agora, the Observatory as well as the Philopappos, Mars & Pnyx Hills.
Onto the Acropolis Museum - which is a must see.
In the afternoon after the end of the tour you will be end at your hotel and you have free time to relax. You can also hop on the tram and visit the coastal suburbs of Athens with the great restaurants and elegant bars ideal for upscale night-time entertainment.
Day 9 - Athens, Greece / Departure
After breakfast, check out of your hotel and transfer to Athens, Eleftherios Venizelos International Airport, for your flight back home with everlasting memories of Greece!
Goodbye and Antío and see you soon.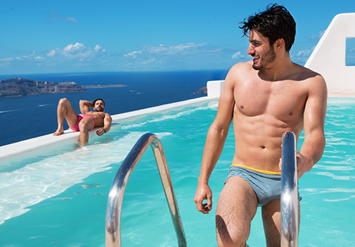 Select from 3 different Santorini, Mykonos & Athens hotel combinations.
Andronis Luxury Suites, Santorini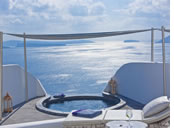 Get the celebrity treatment with world-class service at Andronis Luxury Suites
. This property is 18 minutes walk from the beach. Nestled in the Caldera cliff with a view of the volcano, the surrounding islands and the Aegean Sea, this hotel combines classic luxury with modern minimal style.
A healthy and natural lifestyle defines Andronis Luxury Suites. The concept extends from the massage room and luxury spa to the Mediterranean restaurant. Savour cuisine that is freshly prepared using only bio-organic ingredients.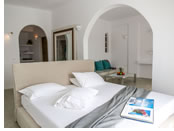 Andronis Suites are carved into the cliff, creating an authentic and charming base for your stay. The design of the suites combines traditional Cycladic and contemporary style. Relax in the atmosphere of your elegant suite, complete with a hot tub and views across the island.
Andronis Suites' convenient location allows you to be close to the crowds of Oia, whilst still enjoying peace and seclusion. Traditionally built within the jigsaw of houses in Oia (pronounced Ee-ah in Greek), the Luxury suites provide the understated oasis of elegance you're looking for to relax, unwind and enjoy your once in a lifetime trip to Santorini.
Myconian Imperial Hotel, Mykonos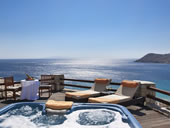 The 5-star Myconian Imperial Resort & Thalasso Spa Centre boasts stunning views of the Aegean Sea and a private beach area. It includes spa facilities, gourmet cuisine, hot tub and 3 swimming pools.
A luxury hotel with all the grace and none of the airs, this prominent member of Leading Hotels of the World is a long-time Mykonos visitors favourite. Superb thalasso spa centre and several gourmet restaurants – including Japanese cuisine – complement an enviable position just above the magnificent beach of Elia, with spectacular views from every vantage point, light-filled public areas, and luxuriously spacious rooms with such exclusive features as private infinity pools and outdoor jacuzzis. Caring and friendly staff are committed to providing highly personalized services.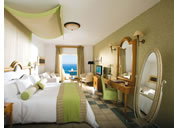 The elegant guest rooms at the Royal Myconian Resort have seating areas, LCD TVs and DVD/CD players, while rooms and suites with private pools or hot tub are also available. Maid service is provided twice each day.
A rich American breakfast is offered at Meltemi. Fine Mediterranean dishes are served at the Celebrities a la carte restaurant. Guests also have the choice of 2 cocktail bars and a beach bar.
NJV Athens Plaza Hotel, Athens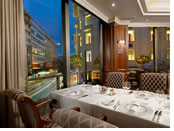 Stay at the luxurious NJV Athens Plaza, conveniently located in the heart of Athens in the historic Syntagma Square, and very close to the world-famous Acropolis. With over 30 years of rich history, the NJV Athens Plaza Hotel
welcomes guests from across the globe to experience hospitality excellence at its finest.
The NJV Athens Plaza Classic rooms are spacious and elegantly decorated. Many guest rooms face Syntagma Square, the Acropolis and Stadiou Street. All of the rooms are soundproofed and feature free WiFi.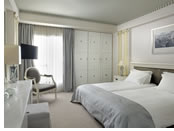 The Parliament gourmet restaurant specialises in Mediterranean cuisine, and enjoys a view to Stadiou Street. The Plaza Lounges offer an excellent variety of coffees and desserts. In the intimate wood-panelled surroundings of the Explorer's Lounge, guests can enjoy the atmosphere of old Athenian clubs, while sipping cocktails and tasting snacks. A breakfast and happy-hour drinks are available.
Dedicated to providing an unparalleled level of service, the NJV Athens Plaza Hotel features contemporary rooms and suites, with unique view to the Acropolis, pedestrian & classy Voukourestiou as well as Stadiou streets.
Andronis Luxury Suites in Santorini (Premier suite), Myconian Imperial Hotel in Mykonos (Deluxe room), NJV Athens Plaza Hotel in Athens (City View room)
Double Occupancy: from €2,990 EUR per person
Private Single Room: from €4,720 EUR
Astra Suites, Santorini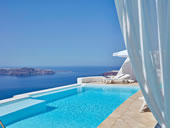 Perched atop the most stunning volcanic cliffs of Santorini, resembling a quaint Cycladic village, discover the Astra Suites hotel
of peaceful Imerovigli village in Santorini, Greece! Breathtaking panoramic views of the mysterious caldera, a sleeping volcano, and the endless blue Aegean sea, Astra Suites is now listed in the Top 25 Hotels of the World.
Relax on your luxurious suite's balcony, some featuring your very own private heated swimming pool or jacuzzi for the ultimate in romance, with our extraordinary service and amenities designed to spoil you! Enjoy our stunning infinity pool area and pool bar, and partake in our restorative spa delights, delectable gourmet cuisine and unique honeymoon treats, and we're quite sure you may never want to leave!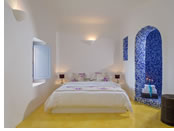 Due to its positioning right in the middle of the 30 Km long Caldera cliff, Imerovigli will serve as the best base for your excursions to the top beaches of the island. Another big plus is that both the capital Fira and the atmospheric settlement of Oia at the northernmost peak of the moon–shaped island of Santorini, are easily accessible.
Rooms are all high ceilings, arty ornaments and candles perched on every available surface; add in the giant his 'n' hers shower, a four-poster bed and an outrageously comfortable sofa in the lounge area and you have a ready-made excuse for permanent room service.
Petasos Beach Resort & Spa, Mykonos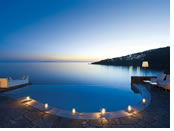 The luxurious newly renovated Petasos Beach Resort in Mykonos, stands majestically on a private peninsula offering great class, impeccable taste in seductive luxury, and stunning sea views of the Aegean for unique privacy and relaxation.
This property is 2 minutes walk from the beach. Petasos Beach stands on a private peninsula between Platis Yialos and Psarou Beach. It offers a 500 square-metre spa & wellness centre, a fitness centre and 2-level swimming pool with waterfall.
The Aqua Marine Spa offers revitalizing and thalasso-therapy treatments, as well as honeymoon packages.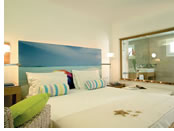 The luxuriously renovated Petasos Beach combines aesthetically perfect premises with breathtaking nature. Its innovatively designed rooms offer stunning views of the Aegean Sea.
All accommodations are equipped with Wi-Fi internet access. Deluxe and superior rooms also feature a spa bath and steam cabin.
Guests can enjoy cocktail drinks in the pool restaurant or use the recreational facilities of the hotel.
NEW Hotel, Athens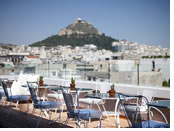 This brand new design hotel stands in a prominent central city location, 200 m from Syntagma Square. With free Wi-Fi throughout the property, New Hotel
houses a Mediterranean restaurant and a fitness area.
Designed by award-winning Brazilian designers the Campana Brothers, 79-room and non-smoking New Hotel is a member of Design Hotels of the world. The New Hotel was formerly the Olympic Palace Hotel and while strikingly modern in design today, original features have been retained, including the 1940s black marble staircase.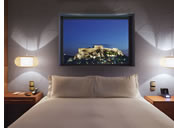 Rooms feature floor to ceiling windows, bamboo floors and tables.The impressive bathrooms have solid brass washbasins. LCD TVs are standard.
New Hotel is walking distance of the main sights; the Roman ruins of Plaka, the Acropolis and its new museum, the stylish cafe and boutique shopping district of Kolonaki, and the business zone.
Each of the hotel's 79 rooms and suites lets guests feel like they're a part of the vivid in-room installations. This theme even pervades the bathrooms, where blocky, sharp-edged washbasins based on the shape of diamonds reach into spaces normally left unused.
Astra Suites in Santorini (Studio), Petasos Beach Hotel in Mykonos (Classic room), NEW Hotel in Athens (Standard room)
Double Occupancy: from €2,470 EUR per person
Private Single Room: from €3,790 EUR
Cliff Side Suites, Santorini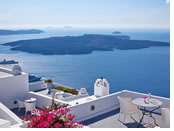 Cliff Side Suites are newly renovated and refurbished as they stand on the natural rim where the most enchanting and fascinating sunset of the world is happening. Cliff Side Suites
pay great respect to the Aegean architectural style and the complex promotes the design and comfort of locality along with a blissful merge of pleasant colors. The white of the walls is combined perfectly with the colors on the doors and the windows creating a magic environment to stay and feel Santorini's higher state of style and hospitality.
Cliff Side Suites are carefully designed and tastefully decorated for every kind of visitor that wants to experience the real Santorinian accommodation in Cliff Side Suites. Spacy and comfortable rooms can accommodate you and your special one.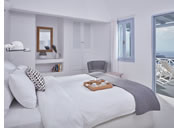 Days and nights in Cliff Side Suites can be full of experiences, but still peaceful when it comes to relaxation. Enjoy your breakfast in the fascinating breakfast room, and then lie at the on-the-edge-of-the-rim swimming pool with views to the Caldera and feel the vibrations of the sun as you are finding the true meaning of your holidays, the happiness of being in one of the best places in Santorini. If you seek more of total calmness then all spa services including outdoor heated jacuzi and massage bed will be at your service.
Pelican Bay Art Hotel, Mykonos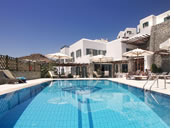 This property is 4 minutes walk from the beach. Inspired by the beauty of the Cyclades' landscape, Art Hotel Pelican Bay offers elegant accommodation with an outdoor pool. Free Wi-Fi is offered.
Pelican Bay is located in Platis Yialos, only 300 m from the famous beach and public bus stop, 4 km away from the airport and the centre of the town of Mykonos and port.
All rooms are soundproofed and have a balcony or terrace with left side sea view.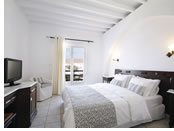 The fully air conditioned lobby lounge provides a satellite TV with five major languages' cable channels. A laptop computer is available for guests to use.
Art Hotel Pelican Bay offers stylish and artistic settings, excellent services, luxury rooms with taste and unique decoration. Shuttle services are provided upon charge.
Cypria Hotel, Athens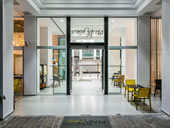 The Athens Cypria Hotel
is a friendly, quiet and cozy 4 Star property. Ideally situated in the heart of Athens approximately 150 meters from Syntagma Square offers a fine base for exploring all the city's attractions.
One of the most well-known shopping places in the city, Ermou Street, is adjacent to the hotel, whereas the old town of Plaka and Acropolis are just a few minutes walk away. Psiry area, the most well-known place in Athens for night entertainment, is also within easy walking distance, where Greek Restaurants and Taverns, Bars and Theatres are found.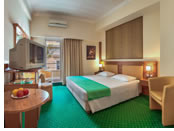 The hotel consists of 115 rooms which have been specially designed to ensure guest personal comfort and relaxation. Most of them have balconies and some with a view to Acropolis.
The rooms are equipped with air-condition / heating, fully stocked mini-bar (consumption charged), high speed internet access (free of charge), satellite TV, electronically locked safe-box (free of charge), direct dial telephone, radio and hairdryer.
The American buffet breakfast is served in the breakfast room at 7 a.m. till 10.30 a.m with freshly prepared hot and cold breakfast selections.
Cliff Side Suites in Santorini (Superior room), Pelican Bay Art Hotel in Mykonos (Standard SSV room), Cypria Hotel in Athens (Standard room)
Double Occupancy: from €2,220 EUR per person
Private Single Room: from €3,190 EUR