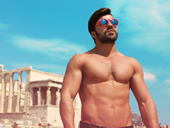 Let us take you on a fabulous adventure to one of the world's hottest gay destinations. Gay holidays in Greece can mean a lot of things. Long nights in the amazing gay bars of Athens, sunbathing at Elia Beach in Mykonos (one of the most famous gay beaches in the world), romantic honeymoons on alternative islands, gastronomic experiences and adventurous walks in some of the most beautiful and breathtaking landscapes of the Mediterranean.
Greece has something even more important to offer to gay travelers: a distinctive and unique gay scene and mentality, which is different to every other country around the world.
Other island silhouettes on the horizon, a transparent sea lapping a sand or pebble shore, a congenial beach bar a few steps away... for many visitors, these are the essentials of a holiday in the Greek islands. Venture further inland, however, and you will find atmospheric villages and monasteries, world-class museums and a laid-back lifestyle pursued mostly in public.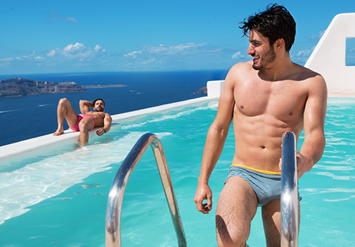 Day 1 - Athens, Greece
Welcome to Greece! Upon arrival at Athens, Eleftherios Venizelos International Airport, you will be greeted by an OUTstanding Travel Representative, who will assist with your luggage and escort you to your hotel in Athens.
Check-in to your hotel in downtown Athens, the birthplace of western civilization, once hailed as the Paris of the Mediterranean, is now a bustling modern city, a colorful tapestry of eastern and western influences, full of outdoor cafes, pedestrian streets, parks and gardens, street bazaars, dilapidated mansions and ancient ruins.
Enjoy the rest of the day at leisure.
We suggest an evening at the Plaka, where you'll find typical Greek taverns.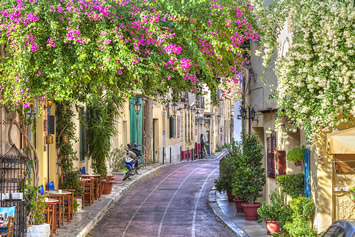 Day 2 - Athens – Athens tour
After your delicious breakfast, you will be met by your guide at your hotel for a walking tour of Athens.
The tour begins with the House of the Greek Parliament, the Monument to the Unknown Soldier and watch the changing of the guards. Continue towards the National Gardens and on to the beautiful neoclassical Zappeion Hall, and you will view both Zeus and Hadrian's Arch. From there you walk towards the Acropolis through the beautiful pedestrian walk way of Dionysiou Areopagitou and pass by the Melina statue.
Enter the Acropolis from the south slope to avoid the crowds & visit the Dionysus sanctuary and Dionysus Theatre built in the 5th century BC. As you begin to ascend the sacred hill enjoy a breathtaking view of the city below. Your guide will give you a detailed explanation of the glorious monuments of the Acropolis such as, the Parthenon, the Erectheion, the Propylaia, the Nike Temple, the Agrippa Monument & the surrounding monuments such as the Herodes Atticus Odeon, the Ancient Agora, the Observatory as well as the Philopappos, Mars & Pnyx Hills.
Onto the Acropolis Museum - which is a must see.
In the afternoon meet an OUTstanding Travel representative and party through the vibrant gay scene of Athens.
Overnight in Athens.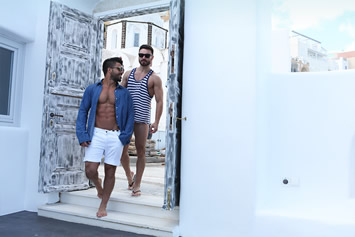 Day 3 - Mykonos, Greece
Eat a delicious breakfast and check out of your hotel. Transfer to the port or the airport of Athens for your trip to Mykonos.
Upon arrival in Mykonos you will be welcomed by an OUTstanding Travel representative and you will transfer to your hotel, where you will spend four nights in a wonderful setting with an elegant atmosphere and friendly staff.
Leisure time to relax at the hotel pool or get acquainted with the town reflecting Greek authenticity combined with upscale elegance.
Have a nice dinner and a couple of cocktails in one of the lively bars that the town has to offer.
The night is young, so an OUTstanding representative will meet you at your hotel to take you on an approximate 2 hour pub crawl to experience the vibrant and exciting nightlife of Mykonos (drinks are not included).
After all Mykonos is a renowned gay friendly island, so you will have all the time in the world to have exciting nights out and a great time all day long.
Overnight Mykonos.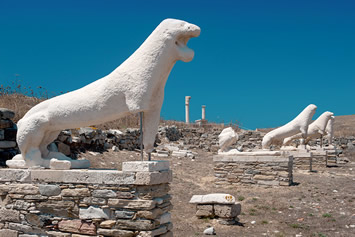 Day 4 - Mykonos – Delos Tour
In the morning you will be taken to the old port and after a 30 minute boat ride you will arrive at Delos. Witness one of the major archaeological sites in Greece, the island of Delos.
This Island is believed to be the renowned birthplace of Artemis and Apollo and also a trading and religious center of antiquity. Our English speaking guide will introduce you to this magnificent open air museum and explain every single detail.
The cruise ends midafternoon when you will return back to Mykonos and have rest of the day at leisure. You can wander around Mykonos Town for some shopping in one of the designer shops and boutiques, or you can relax in one of the waterfront cafes.
Overnight Mykonos.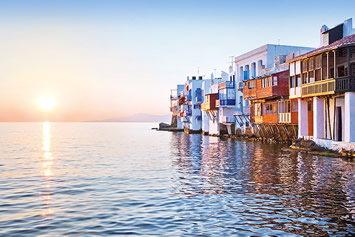 Day 5 - Mykonos, Greece
Leisure day to enjoy the sea and the sun or spend your time as you wish. Mykonos is known for one of the Islands with the best beaches where you can soak up the sun and feel free to enjoy yourself. In the upbeat beach bars you can mingle with fabulous people from around the world.
The most famous beaches are those of Paradise or Super Paradise. Paradise and Super Paradise both have beach side clubs which you can dance the day away while making new friends.
You may like to have a meal in one of the beach bars or perhaps go back to Mykonos downtown for a stroll and a cold frappe.
If you like to explore the Mykonos gay nightlife scene once again, go out and simply have fun!
Overnight Mykonos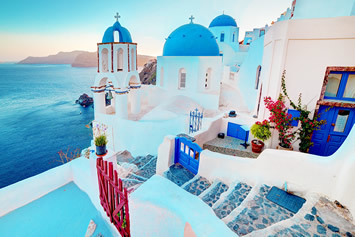 Day 6 - Santorini, Greece
Enjoy your breakfast and after checking out, your transfer will pick you up and take you to the hydrofoil to Santorini.
Santorini is a picture perfect island with amazing sunsets, wonderful volcanic views that will captivate you and unsurpassed natural beauty attracting travelers from all over the world.
As soon as you arrive you will be welcomed by an OUTstanding Travel representative who will transfer you to your hotel.
In the evening you can have dinner in one of the caldera-rimmed restaurants while watching the famous Santorini sunset, a unique once in a lifetime experience.
Overnight Santorini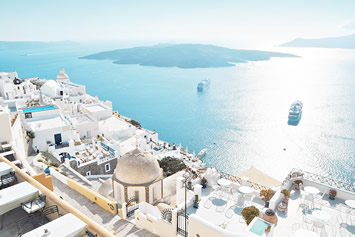 Day 7 - Santorini, Greece
Santorini is the place to be when it comes to relaxation in a soothing environment. Wind down in your room taking in the spectacular views or take a dip in the pool and let yourself go into a rejuvenating atmosphere and mode. Those of you who wish to travel around a bit there are wonderful beaches in the south east coast of Santorini, such as the well-organized black beache's of Perissa and Kamari.
You can also wander around the capital of Fira and enjoy some shopping or sightseeing.
We will be happy to arrange a boat trip to the volcano and the volcanic islets of the caldera or a trip to Oia, to watch the amazing sunset. In the evening, enjoy some dinner at one of the romantic and delicious restaurants around Santorini.
Overnight Santorini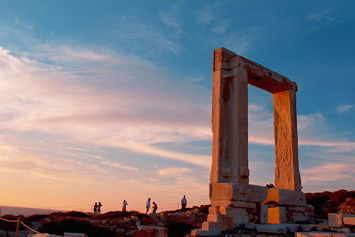 Day 8 - Naxos, Greece
Enjoy your delicious breakfast and afterwards check out of your hotel and meet your transfer who will take you to the port to catch the hydrofoil to Naxos.
The Greek city of Naxos is steeped in mythological mystique and ancient history. The purported home of Dionysus, the Greek god of wine, is fringed with glorious beaches, collisions of turquoise waters and sapphire horizons.
Upon arrival you will be welcomed by an OUTstanding Travel representative and who will accompany you to your hotel.
As soon as dusk has turned into night, Chora is transformed into a center of fun for all tastes. Lose yourself in the labyrinth of small streets with restaurants and bars in the Old Town or watch the moon while sitting at a seaside bar along the port's promenade.
Overnight Naxos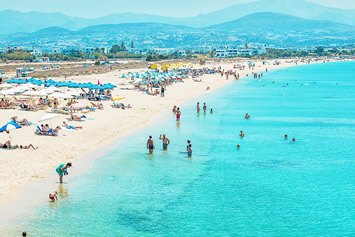 Day 9 - Naxos, Greece
Leisure day to enjoy the sea and the sun or spend your time as you wish.
Naxos is a beach lover's paradise with a stretch of sandy beaches hroughout the island. The most popular of course, are those that are closest to town, those that are best for windsurfing and water sports. Most are accessible by local buses. Of course, there are many more secret coves and those that are accessible by sea that are worthy of exploration. Local buses to the beaches are available throughout the summer.
The rich culinary heritage of Naxos is apparent throughout the island, from the traditional dishes that are served during the holidays to the daily fare served in restaurants. The island is also known for its gastronomy and vast agricultural life produces products such as potatoes, meat, cheese and the unique-to-the-region kitro liqueur.
In the evening indulge in the delights of the island's rich culinary heritage.
Overnight Naxos
Day 10 - Naxos, Greece / Departure
After breakfast, check out of your hotel and transfer to either Naxos Airport or Naxos port for your deomstic flight or ferry to Athens (flight and ferry not included). Hope you enjoyed your time and have everlasting memories of Greece.
Goodbye and Antío :)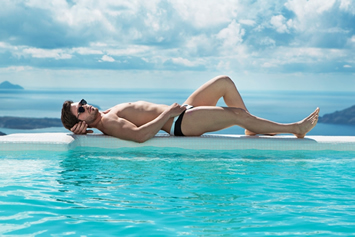 Select from 3 different Athens, Mykonos, Santorini & Naxos hotel combinations.
Royal Olympic Hotel, Athens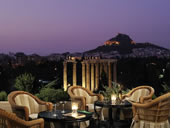 Royal Olympic Hotel
is a family run five star property in the center of Athens. The hotel lays just in front of the famous Temple of Zeus and National Garden. Royal Olympic is underneath the Acropolis and only 2 minutes walk to the new Acropolis Museum.
Royal Olympic is very elegantly decorated art hotel and more important very well looked after in every detail. One of the aspects hotel gives particular attention to, it is very personal hotel and as much environmentally friendly as possible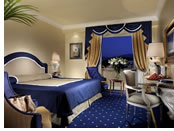 Roof Garden Restaurant - Bar opened recently offering the ultimate dinning and wining experience in front of the most spectacular view in Athens. Famous chef will be delighted to guide you through the secret paths of Greek cuisine while enjoying the unforgettable view.
Ultra high speed Wi Fi is offered Complimentary throughout the hotel. The nice atmosphere, the personal yet discreet service and the noticable positive energy make you feel comfortable and happy on your holidays in Athens.
Royal Myconian Hotel, Mykonos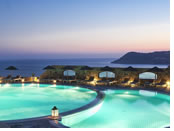 Royal Myconian Hotel & Thalasso Center is among the leading luxury hotels in Mykonos. Set in a secluded bay near Mykonos Town, overlooking its own sandy beach offering a serene and sophisticated escape. Overlooking its private sandy beach, the luxurious Royal Myconian Resort boasts elegant rooms with spectacular views of the Aegean and extensive spa facilities. Guests are offered a free thalassotherapy session each day.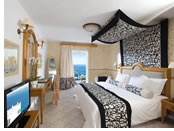 The elegant guest rooms at the Royal Myconian Resort have seating areas, LCD TVs and DVD/CD players, while rooms and suites with private pools or hot tub are also available. Maid service is provided twice each day.
A rich buffet breakfast is served each morning at Elia Restaurant. Ambrosia a la carte restaurant proposes fine Mediterranean flavours and offers breathtaking views of the pools and the sea. Refreshing cocktails are served at the 3 on-site bars dotted around the pools.
Astra Suites, Santorini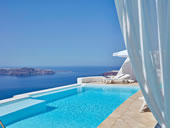 Perched atop the most stunning volcanic cliffs of Santorini, resembling a quaint Cycladic village, discover the Astra Suites hotel
of peaceful Imerovigli village in Santorini, Greece! Breathtaking panoramic views of the mysterious caldera, a sleeping volcano, and the endless blue Aegean sea, Astra Suites is now listed in the Top 25 Hotels of the World.
Relax on your luxurious suite's balcony, some featuring your very own private heated swimming pool or jacuzzi for the ultimate in romance, with our extraordinary service and amenities designed to spoil you! Enjoy our stunning infinity pool area and pool bar, and partake in our restorative spa delights, delectable gourmet cuisine and unique honeymoon treats, and we're quite sure you may never want to leave!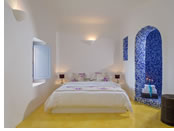 Due to its positioning right in the middle of the 30 Km long Caldera cliff, Imerovigli will serve as the best base for your excursions to the top beaches of the island. Another big plus is that both the capital Fira and the atmospheric settlement of Oia at the northernmost peak of the moon–shaped island of Santorini, are easily accessible.
Rooms are all high ceilings, arty ornaments and candles perched on every available surface; add in the giant his 'n' hers shower, a four-poster bed and an outrageously comfortable sofa in the lounge area and you have a ready-made excuse for permanent room service.
Naxos Island Hotel, Naxos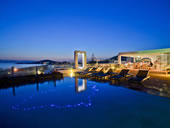 Naxos Island Hotel is a brand new 5 star boutique hotel in Naxos Island, Agios Prokopios Beach. Naxos Island Hotel is contructed in traditional Cycladic style. The hotel is a miniature of Naxos Island where each room retains the feautures of a village and it is made of marble, emery and plaster. In addition each rooms presents one village with information and photos.
Just a few metres from Agios Prokopios Beach, the 5-star Naxos Island Hotel features a rooftop pool with a restaurant, enjoying panoramic views of the Aegean Sea. It offers a wellness centre with hot tub and free Wi-Fi throughout.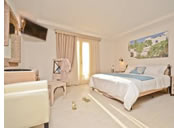 This beautiful 5 Star boutique hotel offers magnificent rooms, some of them with seaview from the balconies, or rooms with a balcony to the small garden, and some of them with veranda and a private jacuzzi. It offers also gym, two spa, beauty treatments & various types of massage, massage rooms, restaurant, aquarium on the breakfast area with sea water and fishes from the sea around Naxos Island, roof swimming pool, roof bar restaurant, newsagent, hairdresser salon, fish spa, private parking, conference room and 24 hours reception service.
Royal Olympic Hotel in Athens (Deluxe room), Royal Myconian Hotel in Mykonos (Deluxe room), Astra Suites in Santorini (Studio room), Naxos Island Hotel in Naxos (Standard room)
Double Occupancy: from €2,580 EUR per person
Private Single Room: from €3,755 EUR
Fresh Hotel, Athens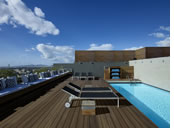 Athens' heartbeat is pumping in and around Fresh Hotel
. An urban resort with unconventional atmosphere and totally personalised service, offering you the true sense of hospitality. A stylish hotel with minimal lines and vibrant colours, that create an absolutely cool environment surrounding you with the unforgettable feeling of calmness.
Situated in the centre of Athens, within walking distance to Monastiraki and Plaka, this design hotel offers luxurious, minimalist rooms, in vivid colours. Most units feature balconies, some with a Zen garden.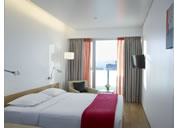 Fresh Hotel's stylish rooms feature furnishings and fittings by designers such as Philip Starck and Artemide. The spacious rooms are soundproofed and equipped with LCD satellite TVs and free Wi-Fi access. Toiletries and slippers are standard.
Hotel Fresh's wellness options include a sauna, a state-of-the-art fitness centre and hammam. On the rooftop, the outdoor swimming pool offers views to the Parthenon and the city.
Guests can enjoy a full breakfast buffet each morning in Magenta Restaurant. The Rooftop Air Lounge Bar-Restaurant serves Mediteranean specialities in an informal environment and offers skyline views by the pool with the Acropolis in view.
Petasos Beach Resort & Spa, Mykonos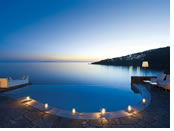 The luxurious newly renovated Petasos Beach Resort in Mykonos, stands majestically on a private peninsula offering great class, impeccable taste in seductive luxury, and stunning sea views of the Aegean for unique privacy and relaxation.
This property is 2 minutes walk from the beach. Petasos Beach stands on a private peninsula between Platis Yialos and Psarou Beach. It offers a 500 square-metre spa & wellness centre, a fitness centre and 2-level swimming pool with waterfall.
The Aqua Marine Spa offers revitalizing and thalasso-therapy treatments, as well as honeymoon packages.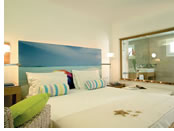 The luxuriously renovated Petasos Beach combines aesthetically perfect premises with breathtaking nature. Its innovatively designed rooms offer stunning views of the Aegean Sea.
All accommodations are equipped with Wi-Fi internet access. Deluxe and superior rooms also feature a spa bath and steam cabin.
Guests can enjoy cocktail drinks in the pool restaurant or use the recreational facilities of the hotel.
Andromeda Villas, Santorini

The elegant Andromeda Villas
are situated in scenic Imerovigli, 300 m above the dramatic Caldera. A swimming pool with views to the Caldera, sun terraces with complimentary sun beds and sunshades, lounging areas with hot tubs are all featured.
The location is ideal to explore the island and its unique beauties. A great number of exquisite restaurants, bars and shops can be found nearby. The capital of the island, Fira, is only 2 km away.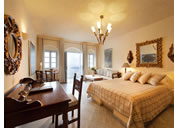 The traditionally styled rooms and suites are characterized by simple elegance, yet equipped with all modern amenities.
Your dining and drinking options at Andromeda Villas include the breakfast room, restaurant, dinner restaurant, and outdoor café and pool bar.
Guests may relax in the sun terrace by the pool, enjoying breathtaking views to the caldera and the Aegean Sea. Moreover, an outdoor café and a pool bar are at guest's disposal.
Lagos Mare Hotel, Naxos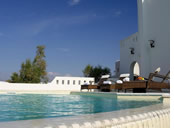 Experience absolute comfort and undiminished personal care in the chic ambiance of Lagos Mare Hotel
in Naxos. Discover the elegance of the Lagos Mare 4-star hotel in Naxos and experience an unparalleled stay with the special attention you deserve in a truly splendid environment designed to cater to our eclectic guests' particular needs.
This property is 4 minutes walk from the beach. This high class, elegant hotel is ideally situated a 7-minute walk from the endless sandy beach of Agios Prokopios. It offers a restaurant serving Greek and Mediterranean cuisine, a beauty spa and fitness centre, along with several swimming pools.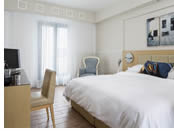 Lagos Mare features stylish rooms with refined furniture, sophisticated décor and balconies with a stunning view of the sea or the pool. Enjoy the green surroundings, comfort and simplicity of this hotel: a residence with a touch of elegance. Free Wi-Fi is provided throughout the hotel.
The 1924, the new restaurant of the Lagos Mare Hotel, with the renowned, award-winner chef, Dimitris Skarmoutsos, proposes gastronomic creations inspired by original Naxian cuisine.
Fresh Hotel in Athens (standard room), Petasos Beach Resort in Mykonos (Classic room), Andromeda Villas in Santorini (Suprior room), Lagos Mare Hotel in Naxos (Standard room)
Double Occupancy: from €2,370 EUR per person
Private Single Room: from €3,210 EUR
Hermes Hotel, Athens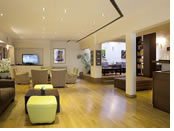 Hermes hotel
is a very modern boutique 3 star hotel in a top location! Situated at the exceptional and renowned region of Plaka, just few minutes walk from Syntagma and Monastiraki square. The Acropolis, Ancient Agora, Roman Forum, Parliament, museums, shopping area of Plaka, Ermou street and the Athens Cathedral are all on your door step from the hotel. Syntagma Metro station is 2 min walk, with direct access to the airport.
It offers a spacious lounge and a roof garden. Free Wi-Fi is available throughout.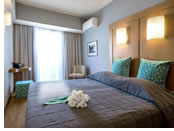 The air-conditioned rooms have modern furnishings, wooden floors and bright colours. Each is equipped with a satellite TV, mini fridge and safe. Free toiletries and a hairdryer are provided in the marble bathroom. Some rooms have a balcony, while others have a large window.
A rich American buffet is offered each morning at Hermes Hotel. Drinks are served at the lobby bar, which also features a 42'' TV set, books and table games. A great variety of Greek taverns are found in the surrounding area.
Pelican Bay Art Hotel, Mykonos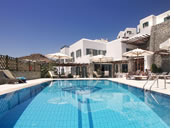 This property is 4 minutes walk from the beach. Inspired by the beauty of the Cyclades' landscape, Art Hotel Pelican Bay offers elegant accommodation with an outdoor pool. Free Wi-Fi is offered.
Pelican Bay is located in Platis Yialos, only 300 m from the famous beach and public bus stop, 4 km away from the airport and the centre of the town of Mykonos and port.
All rooms are soundproofed and have a balcony or terrace with left side sea view.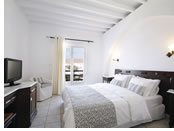 The fully air conditioned lobby lounge provides a satellite TV with five major languages' cable channels. A laptop computer is available for guests to use.
Art Hotel Pelican Bay offers stylish and artistic settings, excellent services, luxury rooms with taste and unique decoration. Shuttle services are provided upon charge.
Kalisti Fira Hotel & Suites, Santorini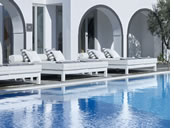 In the heart of Fira, the scenic capital town of Santorini, Kalisti Hotel & Suites
is centrally located to facilitate your every desire. Just steps away from the breath-taking caldera, vibrant nightlife, award-winning restaurants, inspiring museums and lively art scene, Kalisti Hotel & Suites helps you relax and find the perfect lodging to enjoy the most of Santorini.
The Cycladic-style Kalisti Hotel & Suites features modern facilities with deluxe services. Set amid a 2,500m² garden, the family-run hotel offers a pool with sun-lounger terrace, and an outdoor hot tub.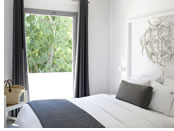 The tastefully decorated rooms and suites at Kalisti come with free WiFi and satellite TV. En suite bathrooms are stocked with a hairdryer, slippers and free toiletries. A minibar comes standard. Views over the garden pool or sea are offered.
Pergola bar, located in the blossomed garden, serves snacks, drinks and cocktails. The Rosemary Restaurant serves delicious Mediterranean and international cuisine in a romantic setting by the pool. A buffet breakfast enriched with local delicacies is prepared daily, while local wine is offered upon arrival.
Liana Hotel, Naxos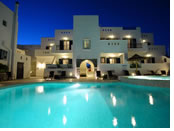 Hotel Liana
is located in Agios Prokopios, on one of Naxos most famous beaches. It's a long beach of distinctive beauty, well known for its crystal clear water and its golden sand. The hotel is positioned in front of the beach and right next to all resort amenities, commanding stunning sea views
Offering spacious and stylish accommodation and personal service, Hotel Liana gives the ultimate holidays choice. The combination of white and blue is the characteristic of the Cycladic architecture which defines the exterior and interior areas of the hotel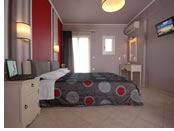 Liana Hotel is comprised of spacious and fully equipped rooms, providing guests with comfortable and enjoyable accommodation.
The swimming pool forms a focal point, a wonderful garden spreads in front of the resort, planted with trees and flower bushes. The hotel is ideal for your holidays on Naxos Island, offering high quality services and amenities in a comfortable, peaceful and warm environment and above all right next to the beach.
Hermes Hotel in Athens (Standard room), Pelican Bay Art Hotel in Mykonos (Standard SSV room), Kalisti Fira Hotel in Santorini (Classic room), Liana Hotel in Naxos (Studio room)
Double Occupancy: from €2,180 EUR per person
Private Single Room: from €2,995 EUR