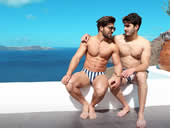 Where luxury meets Paradise! Start off with an elegant upscale dining experience with a spectacular view of the sea. Take a guided tour of the magnificent architectural sites in Mykonos and enjoy the luxurious beaches by day and gay-friendly bars by night. Take a journey to discover a fascinating world where glamour meets simplicity Mykonos is the #4 gay travel destination in Europe, where sexy meets class and galmour. If you're looking for the Ibiza of Greece or a place to relax in the warm sun, this prime destination is the mecca for all things beautiful and gay.
Mykonos has a gay-friendly ambience where you can feel comfortable letting lose with that special someone. You can find a plethora of restaurants, bars, nightclubs and beaches fully accommodating gay travelers. Every summer, thousands of gays flock to the white island to meet singles, enjoy the company of friends or to have a romantic getaway.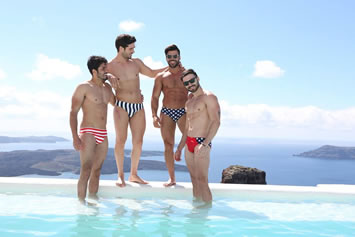 Day 1 - Athens, Greece
Welcome to Greece! Upon arrival at Athens, Eleftherios Venizelos International Airport, you will be greeted by an OUTstanding Travel Representative, who will assist you with your luggage and escort you to your private transfer.
Check-in to your hotel in downtown Athens, the birthplace of western civilization, once hailed as the Paris of the Mediterranean, is now a bustling modern city, a colorful tapestry of eastern and western influences, full of outdoor cafes, pedestrian streets, parks and gardens, street bazaars, dilapidated mansions and ancient ruins.
It is suggested to enjoy an evening at leisure at the Plaka where you will find typical Greek taverns.
Overnight in Athens.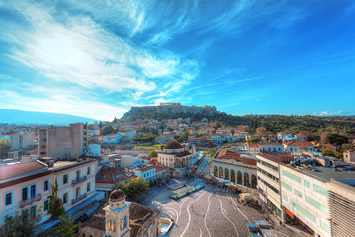 Day 2 - Mykonos
Eat a delicious breakfast and check out of your hotel. Transfer to the port or the airport of Athens for your trip to Mykonos.
Upon arrival in Mykonos you will be welcomed by an OUTstanding Travel representative and you will transfer to your hotel, where you will spend four nights in a wonderful setting with an elegant atmosphere and friendly staff.
Leisure time to relax at the hotel pool or get acquainted with the town reflecting Greek authenticity combined with upscale elegance.
Have a nice dinner and a couple of cocktails in one of the lively bars that the town has to offer.
The night is young, so an OUTstanding representative will meet you at your hotel to take you on an approximate 2 hour pub crawl to experience the vibrant and exciting nightlife of Mykonos (drinks are not included).
Overnight Mykonos.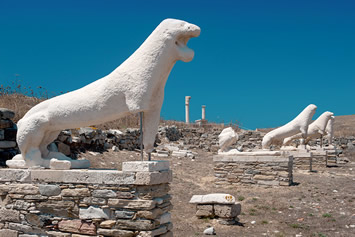 Day 3 - Mykonos - Delos Tour
In the morning you will be taken to the old port and after a 30 minute boat ride you will arrive at Delos. Witness one of the major archaeological sites in Greece, the island of Delos.
This Island is believed to be the renowned birthplace of Artemis and Apollo and also a trading and religious center of antiquity. Our English speaking guide will introduce you to this magnificent open air museum and explain every single detail.
The cruise ends midafternoon when you will return back to Mykonos and have rest of the day at leisure. You can wander around Mykonos Town for some shopping in one of the designer shops and boutiques, or you can relax in one of the waterfront cafes.
Overnight Mykonos.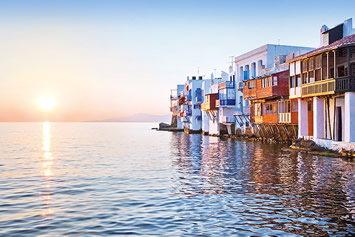 Day 4 - Mykonos
Leisure day to enjoy the sea and the sun or spend your time as you wish.
Mykonos is known for one of the Islands with the best beaches where you can soak up the sun and feel free to enjoy yourself. In the upbeat beach bars you can mingle with fabulous people from around the world.
The most famous beaches are those of Paradise or Super Paradise. Paradise and Super Paradise both have beach side clubs which you can dance the day away while making new friends. You may like to have a meal in one of the beach bars or perhaps go back to Mykonos downtown for a stroll and a cold frappe.
If you like to explore the Mykonos gay nightlife scene once again, go out and simply have fun!
Overnight Mykonos.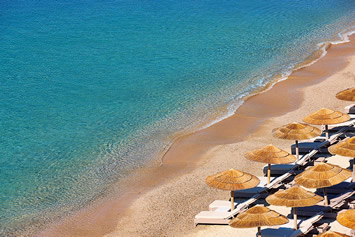 Day 5 - Mykonos, Greece
There are plenty more beaches to discover with crystal blue water, waterfront tavernas and café, water sports facilities and many more.
Ornos Beach to the north of the town is a nice quiet sandy beach, yet if you are looking for one of the more gay friendly beaches, Elia is your best bet. It is definitely worth a visit if you would like to relax away from masses.
It is your last night in Mykonos so make the most of it. Dining, wining and having fun is a Myconian moto, so party the night away.
Overnight Mykonos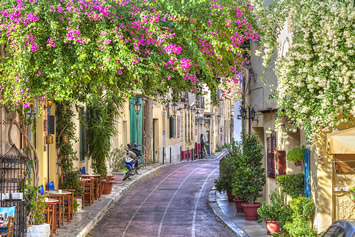 Day 6 - Athens, Greece
This is the last day of your Greek island vacation in Mykonos.
After breakfast transfer to the port of Mykonos for your ferry boat to Athens. Upon arrival, an OUTstanding representative will take you to your central Athens hotel where you will be spending the evening.
You can make the most of your last day in Greece and go back to the old quarter of Plaka for dinner and fununder the Acropolis.
Overnight in Athens.
Day 7 - Athens Departure
After breakfast, check out of your hotel and transfer to Athens, Eleftherios Venizelos International Airport, for your flight back home with everlasting memories of Greece! Goodbye and Antío :)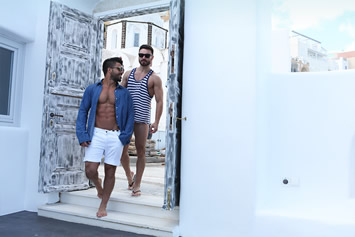 Select from 3 different Athens & Mykonos hotel combinations.
NJV Athens Plaza Hotel, Athens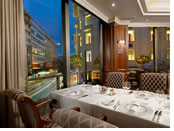 Stay at the luxurious NJV Athens Plaza, conveniently located in the heart of Athens in the historic Syntagma Square, and very close to the world-famous Acropolis. With over 30 years of rich history, the NJV Athens Plaza Hotel
welcomes guests from across the globe to experience hospitality excellence at its finest.
The NJV Athens Plaza Classic rooms are spacious and elegantly decorated. Many guest rooms face Syntagma Square, the Acropolis and Stadiou Street. All of the rooms are soundproofed and feature free WiFi.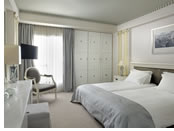 The Parliament gourmet restaurant specialises in Mediterranean cuisine, and enjoys a view to Stadiou Street. The Plaza Lounges offer an excellent variety of coffees and desserts. In the intimate wood-panelled surroundings of the Explorer's Lounge, guests can enjoy the atmosphere of old Athenian clubs, while sipping cocktails and tasting snacks. A breakfast and happy-hour drinks are available.
Dedicated to providing an unparalleled level of service, the NJV Athens Plaza Hotel features contemporary rooms and suites, with unique view to the Acropolis, pedestrian & classy Voukourestiou as well as Stadiou streets.
Royal Myconian Hotel, Mykonos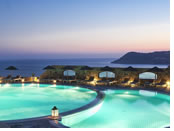 Royal Myconian Hotel & Thalasso Center is among the leading luxury hotels in Mykonos. Set in a secluded bay near Mykonos Town, overlooking its own sandy beach offering a serene and sophisticated escape. Overlooking its private sandy beach, the luxurious Royal Myconian Resort boasts elegant rooms with spectacular views of the Aegean and extensive spa facilities. Guests are offered a free thalassotherapy session each day.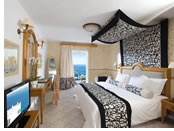 The elegant guest rooms at the Royal Myconian Resort have seating areas, LCD TVs and DVD/CD players, while rooms and suites with private pools or hot tub are also available. Maid service is provided twice each day.
A rich buffet breakfast is served each morning at Elia Restaurant. Ambrosia a la carte restaurant proposes fine Mediterranean flavours and offers breathtaking views of the pools and the sea. Refreshing cocktails are served at the 3 on-site bars dotted around the pools.
NJV Athens Plaza Hotel in Athens (City View room), Royal Myconian Hotel in Mykonos (Deluxe room)
Double Occupancy: from €1,640 EUR per person
Private Single Room: from €2,710 EUR
NEW Hotel, Athens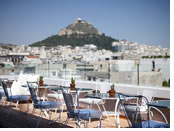 This brand new design hotel stands in a prominent central city location, 200 m from Syntagma Square. With free Wi-Fi throughout the property, New Hotel
houses a Mediterranean restaurant and a fitness area.
Designed by award-winning Brazilian designers the Campana Brothers, 79-room and non-smoking New Hotel is a member of Design Hotels of the world. The New Hotel was formerly the Olympic Palace Hotel and while strikingly modern in design today, original features have been retained, including the 1940s black marble staircase.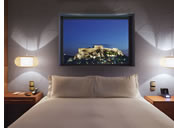 Rooms feature floor to ceiling windows, bamboo floors and tables.The impressive bathrooms have solid brass washbasins. LCD TVs are standard.
New Hotel is walking distance of the main sights; the Roman ruins of Plaka, the Acropolis and its new museum, the stylish cafe and boutique shopping district of Kolonaki, and the business zone.
Each of the hotel's 79 rooms and suites lets guests feel like they're a part of the vivid in-room installations. This theme even pervades the bathrooms, where blocky, sharp-edged washbasins based on the shape of diamonds reach into spaces normally left unused.
Petasos Beach Resort & Spa, Mykonos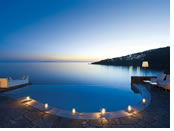 The luxurious newly renovated Petasos Beach Resort in Mykonos, stands majestically on a private peninsula offering great class, impeccable taste in seductive luxury, and stunning sea views of the Aegean for unique privacy and relaxation.
This property is 2 minutes walk from the beach. Petasos Beach stands on a private peninsula between Platis Yialos and Psarou Beach. It offers a 500 square-metre spa & wellness centre, a fitness centre and 2-level swimming pool with waterfall.
The Aqua Marine Spa offers revitalizing and thalasso-therapy treatments, as well as honeymoon packages.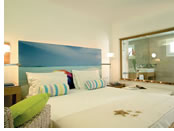 The luxuriously renovated Petasos Beach combines aesthetically perfect premises with breathtaking nature. Its innovatively designed rooms offer stunning views of the Aegean Sea.
All accommodations are equipped with Wi-Fi internet access. Deluxe and superior rooms also feature a spa bath and steam cabin.
Guests can enjoy cocktail drinks in the pool restaurant or use the recreational facilities of the hotel.
NEW Hotel in Athens (Standard room), Petasos Beach Resort in Mykonos (Classic room)
Double Occupancy: from €1,510 EUR per person
Private Single Room: from €2,450 EUR
Cypria Hotel, Athens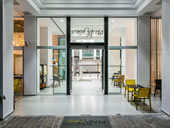 The Athens Cypria Hotel
is a friendly, quiet and cozy 4 Star property. Ideally situated in the heart of Athens approximately 150 meters from Syntagma Square offers a fine base for exploring all the city's attractions.
One of the most well-known shopping places in the city, Ermou Street, is adjacent to the hotel, whereas the old town of Plaka and Acropolis are just a few minutes walk away. Psiry area, the most well-known place in Athens for night entertainment, is also within easy walking distance, where Greek Restaurants and Taverns, Bars and Theatres are found.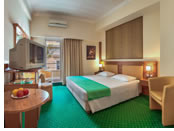 The hotel consists of 115 rooms which have been specially designed to ensure guest personal comfort and relaxation. Most of them have balconies and some with a view to Acropolis.
The rooms are equipped with air-condition / heating, fully stocked mini-bar (consumption charged), high speed internet access (free of charge), satellite TV, electronically locked safe-box (free of charge), direct dial telephone, radio and hairdryer.
The American buffet breakfast is served in the breakfast room at 7 a.m. till 10.30 a.m with freshly prepared hot and cold breakfast selections.
Pelican Bay Art Hotel, Mykonos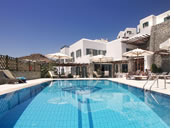 This property is 4 minutes walk from the beach. Inspired by the beauty of the Cyclades' landscape, Art Hotel Pelican Bay offers elegant accommodation with an outdoor pool. Free Wi-Fi is offered.
Pelican Bay is located in Platis Yialos, only 300 m from the famous beach and public bus stop, 4 km away from the airport and the centre of the town of Mykonos and port.
All rooms are soundproofed and have a balcony or terrace with left side sea view.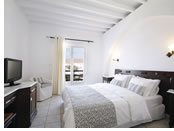 The fully air conditioned lobby lounge provides a satellite TV with five major languages' cable channels. A laptop computer is available for guests to use.
Art Hotel Pelican Bay offers stylish and artistic settings, excellent services, luxury rooms with taste and unique decoration. Shuttle services are provided upon charge.
Cypria Hotel in Athens (Standard room), Pelican Bay Art Hotel in Mykonos (Standard SSV room)
Double Occupancy: from €1,350 EUR per person
Private Single Room: from €2,050 EUR