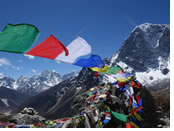 This is a strikingly beautiful way to reach Everest Base Camp and get the best views in the Khumbu region. It's not the quickest route to Base Camp and you'll avoid the hordes and reach the heart of Sherpa country. You'll climb Gokyo Ri and cross the Cho la pass both of which offer superb views of Everest and Lhotse. In the Gokyo valley you'll also be able to see Cho Oyu and look across to Makulu.
Thatís four of the world's fourteen 8000m peaks spotted in one trip! We'll trek past famous monasteries at Dingboche and stay in small local 'hotels' called tea houses whilst porters will carry your main bags.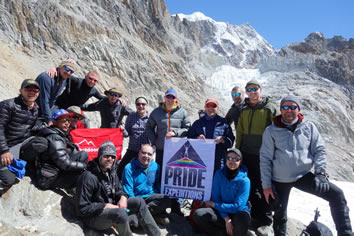 The Gokyo route is slightly longer than the standard route. This enables significantly better acclimatisation, resulting in a much higher rate of success.
The hardest days are generally at altitudes over 5000 metres but by allowing ourselves to acclimatise gradually we will be making it perfectly achievable for people who walk regularly.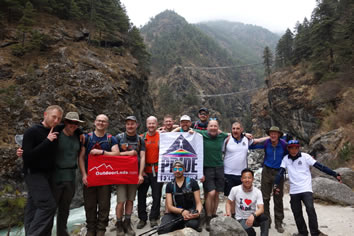 Day 1
Arrive in Kathmandu, Nepal (you're welcome to arrive earlier if desired).
Day 2
The Monkey Temple and Durbar Square tour.
Day 3
Lukla (2840m) to Phakding (2620m) - approximately 4 hours walking.
Day 4
Phakding to Namche Bazaar (3440m) - approximately 6 hours walking.
Day 5
Acclimatisation day in Namche Bazaar. Walk to the Edmund Hillary Museum.
Day 6
Namche Bazaar to Dole (4200m) - approximately 5 hours walking.
Day 7
Dole to Machhermo (4470m) - approximately 6 hours walking.
Day 8
Machermo to Gokyo (4790m) - approximately 6 hours walking.
Day 9
Gokyo to Dragnag with ascent of Gokyo Ri (5360m).
Day 10
Dragnag over the Cho la Pass (5330m) to Dzonglha (4830m) - approximately 9 hours - a tough day!
Day 11
Dzongla to Lobuche (4910m) - approximately 5 hours walking.
Day 12
Lobuche to Gorakshep (5140m) to Everest Base Camp (5364m) - approximately 8 hours walking.
Day 13
Gorakshep to Dingboche (4410m) - approximately 7 hours of descent.
Day 14
Dingboche to Tangboche (3860m) - approximately 4 hours walking.
Day 15
Tangboche to Namche Bazaar - approximately 5 hours walking.
Day 16
Namche Bazaar to Lukla - approximately 7 hours walking.
Day 17
Fly back to Kathmandu.
Day 18
Visit to the Royal city of Patan.
Day 19
Fly home (you're welcome to spend a few extra days in Nepal)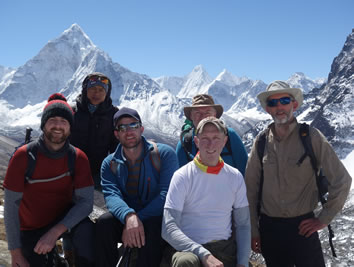 In order to get the best views on this route you will be trekking up Kala Pattar behind Everest Base Camp to see Everest from close up.
The route heads up to Dingboche and Tengboche from the Sherpa capital of Namche Bazaar. Once you have reached Everest Base Camp and ascended Kala Pattar it follows a similar route back to Namche Bazaar via Pheriche.
This route is shorter and easier than the Gokyo valley route. You will be trekking for twelve days.
Ample time is built into the itinerary to allow you to acclimatise well. Days four and seven will be acclimatisation days where you will stay at the same village for two nights and do short day walks to see local sights.