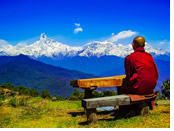 Our Explore Nepal gay expedition tour offers a little bit of everything neatly packaged into a two week expedition. We will trek for seven days from the outskirts of the Kathmandu Valley into the Langtang region. The trek starts at Sundarija and enters the Shivapuria National Park before crossing the Lauribina pass at 4,610m. We then spend some time enjoying the beautiful scenery and tranquility of the sacred Gorsaikunda lakes before descending to the next phase of the expedition. Two days rafting on the Trisuli river and a canoe safari in Chitwan National Park.
See the most thrilling locations Nepal has to offer with minimal time spent on long journeys. The trekking is achievable for fit and active people and no prior rafting experience is required. We have space for just twelve people on this trip which includes all activities and accommodation whilst in Nepal. This price doesnít include international flights or visas, insurance and alcoholic drinks.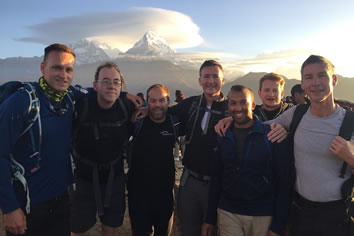 The price for this once in a lifetime gay expedition trip includes all accommodation during our time in Nepal and all transfers including to and from the airport on arrival and departure. It also includes a welcome meal and farewell meal and all food whilst we are white water rafting and on safari. It also includes an internal flight from Chitwan back to Kathmandu at the end. International flights from your home to Kathmandu are not included in the price. You will need to organize these yourself.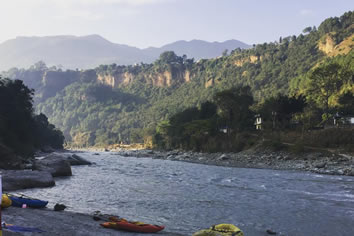 Day 1 - Arrive in Kathmandu, Nepal
Today you will be welcomed at the airport and transferred to your accommodation in Kathmandu approximately half an hourís drive from the airport. Please do not arrive too late, we have an early start on day two and will be going for a welcome meal in Kathmandu at 8 pm.
Day 2 - Early morning transfer to Sundarija
(2215m 6hrs trekking)
Early morning transfer to Sundarija which is approximately 2hrs drive. We will trek through Shivapuri National Park to Chisipani (2215m) 6hr trek with day bags - porters will carry your main bag.
Day 3 - Trek from Chisipani to Kutumsang
(2130m 6hrs trekking)
Chisipani to Kutumsang (2130m) 6hrs trekking
Day 4 - Trek from Kutumsang to Mangengoth
(3390m 6hrs trekking)
Kutumsang to Mangengoth (3390m) 6hrs trekking
Day 5 - Trek from Mangengoth to Ghopte
(3530m 6hrs trekking)
Mangengoth to Ghopte (3530m) 6 hrs trekking/p>
Day 6 - Trek from Ghopte to Gorsaikunda
(4480m 6hrs trekking)
Ghopte to Gorsaikunda lakes hut (4480m) This is the highest altitude day of the trek. We will cross the Lauribina pass at (4610m) and have spectacular views of the sacred lakes.
Day 7 - Trek from Gorsaikunda lakes to Chundenbari
(3330m 4hrs trekking)
Gorsaikunda lakes to Chundenbari (3330m) an easier day descending to lower levels 4 hrs trekking
Day 8 - Trek from Chundenbari to Dhunche
(1960m)
Chundenbari to Dhunche (1960m) a four descent to the large village where we will finish our trek.
Day 9 - Trisuli River Rafting
A four hour drive to the start of the white water rafting. We will continue on rafts down the Trisuli river to overnight in a raft camp on the river banks (the camp has showers and toilets)
We will stop for lunch by the river and the rafting is mostly on grade 3 with one section of grade 4 rapids. You do not need prior rafting experience.
Day 10 - Trisuli River Rafting / Chitwan
(5hrs rafting)
We will raft about 5 hours in total today with a lunch stop in between. Expect a succession of grade 2 and 3 rapids.
At the end of the rafting a coach will take us to Chitwan on the flat Terai of Nepal. We will stay in a safari hotel with a swimming pool as it can be very hot down here.
Day 11 - Chitwan National Park Safari
This morning you can either choose to relax by the pool or go on a jeep or elephant safari, this is an additional cost and is optional.
In the afternoon we will go for a canoe safari on the Chitwan river and see crocodiles and hopefully some rhinos and elephants. We will also do a short walk to the elephant breeding centre where working elephants are bred from use in Nepal.
Day 12 - Fly back to Kathmandu
Fly back to Kathmandu.
Today we fly from Chitwan back to Kathmandu. You will have time for some last minute souvenir shopping and afterward, we will have a farewell dinner in Thamel.
Day 13 - Free Day in Kathmandu
Today is a spare day to allow you to rest and relax and to get a Covid PCR test should they still be required to depart Nepal. You can choose to go on a temple tour or just relax and have a massage.
Day 14 - Kathmandu Departure
Youíll be transferred back to the airport according to your flight schedule. You are welcome to stay longer in Nepal!