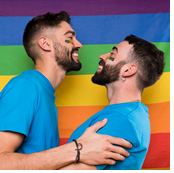 Gay-Friendly Malta Hosts EuroPride Valletta 2023! Malta, at the crossroad between Europe, Africa and the Middle East, has always attracted visitors and settlers with different cultures, visions and languages. Diversity is part of the Maltese DNA and they are proud of the achievements of Malta being an LGBTIQ+-friendly place over the past decades. In fact, for the last seven years, Malta has been ranked #1 on the Rainbow Europe Map & Index! The EuroPride 2023 March will take place on Saturday, September 16th in the streets of Valletta, the Capital City.
But Malta also has so much more to offer to visitors and guests to islands! With 300 days of sunshine per year, beautiful beaches and hidden bays, countless cultural landmarks (three of them being UNESCO World Heritage sites) from over 7,000 years of history and great places for social events and a vibrant nightlife, Malta is the perfect gay leisure, and culture destination.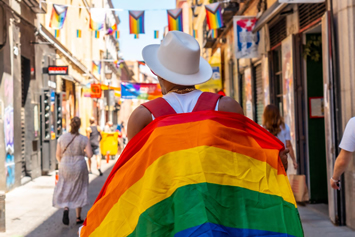 The main part of EuroPride Valletta 2023 will be Pride Week that will kick-off with the opening ceremony on Thursday 7th September 2023 and conclude on Sunday 17th September 2023, with the Pride March and Concert taking place on Saturday 16th September 2023. Additionally the Pride Week will include a variety of events coordinated by ARC with the involvement of other NGOs, individuals and partner organizations
EuroPride 2023 will be partnering with different artists and performers to offer a cultural & artistic program of various genres, including exhibitions, theatre, cabaret shows, film and literary arts throughout the week. Emphasis of the program will be on offering a platform to LGBTIQ+ artists such as drag, burlesque, theatre and other forms of performing arts.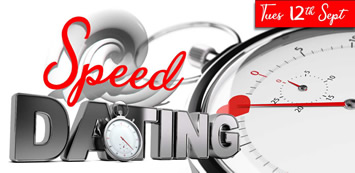 Whats happening on the party scene during EuroPride 2023? Listed below are some of the main parties and events been held during the EuroPride 2023 and organised by the best local event organisers.
Tuesday, September 12, 2023
Rushed Love & Soul mate searching

Venue: Exclusive location (TBA)
Ticket price: € 30 per person
More info to come...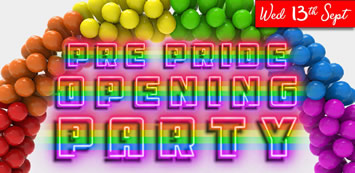 Tuesday, September 12, 2023
Pre-Pride Opening Party

Venue: Triton Foutains (Valletta Pride Village)
Ticket details are coming soon!
More info to come...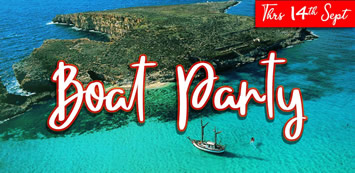 Thursday, September 14, 2023
Boat Party

Venue: Turkish Gullet
Ticket price: € 89 per person
More info to come...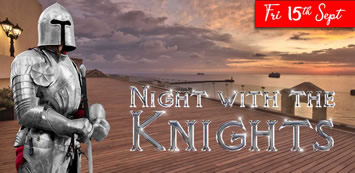 Friday, September 15, 2023
Night with the Knights Party

Venue: Secret location (TBA)
Ticket price: € 59 per person
More info to come...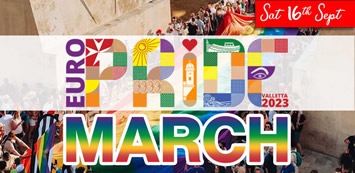 Saturday, September 16, 2023
EuroPride Valletta 2023 March

Venue: Valletta, Malta
More info to come...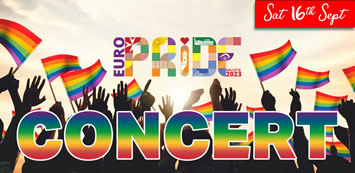 Saturday, September 16, 2023
EuroPrideValletta 2023 Concert

Venue: Valletta, Malta
More info to come...
Saturday, September 16, 2023
Euro Pride Valletta 2023 Grand After Party

Venue: Sky Club (St Julians/Paceveille)
Ticket price: € 45 per person; VIP ticket: € 60 per person
This will be a unique and unforgettable party. Malta Pride Experiences will be working with the legendary "WE Party" event organisers to give you an experience that will be discussed for many years.
The biggest sound and lights show specially coordinated by WE Party. WE Party resident DJ, Go-Go dancers and many more surprises to come.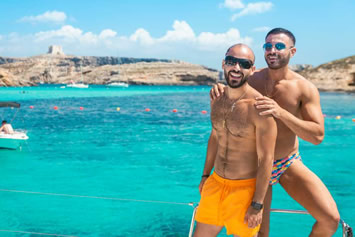 Malta is a small island nation jam-packed with fun things to do. Well known for multiple historic sites, it was the place ruled by the Romans, Moors, Knights of Saint John, French and British. With numerous fortresses and other incredible temples you'll also find a vast subterranean complex of halls and burial chambers.
As well as a dazzling cultural heritage, Malta is a year-round destination. As well as being a progressive place, Malta is great for culture and history buffs. It contains some of Europe's most ancient archeological sites. Malta has been ruled by many different empires and it has many layers to explore. From the Knights of Malta to Caravaggio, Malta may be small but it's played an outsized role in history. As Malta is small you can see many of the islands' highlights in one trip.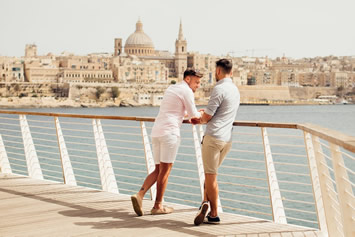 Majestic Valletta

Half-day €57 per person
Our guided tour through the vibrant streets of Valletta will allow you to discover the beauty and charm of the fortified city built by the Knights in 1566. The Order of St. John ruled over the islands for 268 years and left a unique cultural legacy of which Valletta is the prime example.
We first enjoy a breath-taking view of the Grand Harbour from the Upper Barracca Gardens. Then we visit St. John's Co-Cathedral, including the Caravaggio masterpieces in the Oratory. The Co-Cathedral houses one of the most beautiful marble inlaid floors in the world.
Going down Republic Street you will walk past the Grand Masters' Palace and the recently restored St. George's Square before watching the Malta Experience, an audio-visual show where Malta's history throughout the centuries is brought back to life.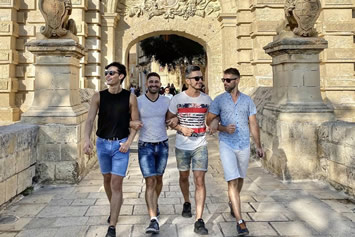 Medieval Mdina

Half-day (morning) €57 per person
Walk the streets of this medieval town today known as the 'silent city' whilst your guide unravels its rich history. Be shown its secretive narrow winding streets to discover its dwarfed doorways, till you reach the city's bastions from where a stunning almost 360 degrees panoramic view of the island can be seen.
The tour continues with a visit to the Dingli cliffs, known as the highest cliffs on the island. From here you can look out to the island of Filfla. Our final stop will be to the botanic gardens of San Anton, these originally being walled gardens for a palace which once served as a leisure residence for the Grand Master. A truly relaxing half day excursion in and around the old capital of Malta.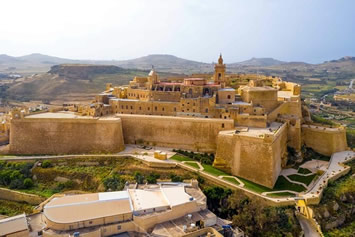 Discover Gozo

Full-day €74 per person
After a short twenty-minute ferry crossing, you will reach Mgarr harbour, which immediately sets the pace for Gozo's unique atmosphere.
Your guide will lead you around the Megalithic temples of Ggantija, the oldest free-standing monuments in the world, pre-dating the Pyramids of Egypt.
This will be followed by visits to the medieval citadel in Victoria and the fjord-like bay at Xlendi and Dwejra. Gozo is well known for its crafts, mainly handmade lace and knitted garments. Visitors cannot fail to be impressed by the island's lush countryside, its serene atmosphere, and how different it is from the larger island of Malta.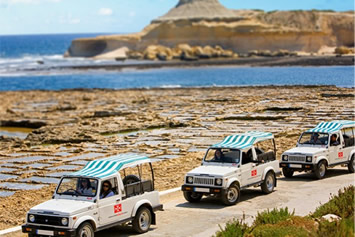 Gozo Jeep Safari

Full-day €159 per person
What better way to discover the island of Gozo than to take a Jeep Safari and enjoy an action-packed full-day excursion with us. An early start to our day will bring us to the Jeep Safari terminal after enjoying a relaxing drive along our lovely coast road. After a 20-minute crossing to Gozo by ferry, we start our safari by exploring the magical island of Calypso by visiting magnificent areas that not many locals know exist.
Our professional Jeep Safari chauffeurs will make sure that this exciting day is packed with sights and scenery to leave a lasting impression on this wonderful island that seems to have defied time. We also have a swim stop scheduled in the program just to add to the fun together with a large selection of typical Maltese specialties that we offer with our superb lunch at midday.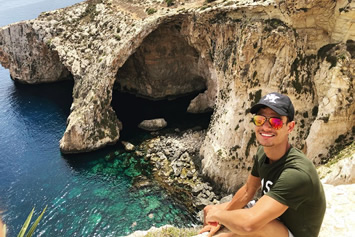 Blue Grotto and Marsaxlokk

Half-day (morning) €45 per person
The magnificent Blue Grotto and the lively fishing village of Marsaxlokk are two of Malta's most popular attractions and this morning tour from Valletta visits both. Set sail on a small boat cruise around the stunning sea caves, then head to Marsaxlokk to browse the market and admire the colorful 'luzzu' fishing boats.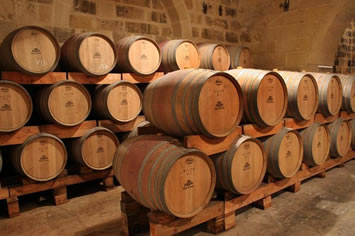 The Three Cities and Wine Tasting

Half-day (morning) €50 per person
Visit Malta's 'Three Cities,' on a half-day of Cospicua, Vittoriosa, and Senglea, then sample Maltese wine at a local winery. You'll drive past the double-fortified harbor city of Cospicua, then stretch your legs on a walking tour through Vittoriosa, which has a long history of sailors, merchants, and warfare. Soak up the fascinating atmosphere of the area, following winding streets past a series of historic landmarks, with an experienced guide to lead the way and share stories. Find out how the island city of Senglea resisted the 1565 Great Siege of Malta, and why it was eventually joined to Conspicua by a land bridge.
Following your time in the Three Cities, continue to Marsovin Cellars, where you'll learn about local grape cultivation and winemaking. Taste Maltese wine alongside a selection of savory snacks such as local-style bread and cheese, the perfect introduction to Maltese cuisine.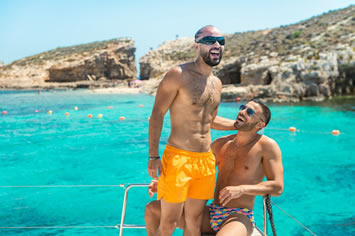 Round Malta Cruise & Blue Lagoon

Half-day €55 per person
The Round Malta cruise is a perfect way to see Malta's entire coastline and visit Comino's famous Blue Lagoon. Departures are from Sliema on board the state of the art, eco-friendly, 33 meter, iSeeMalta catamaran boat.
Sit outdoors or indoors in air-conditioned comfort. Admire the breath-taking sights of the Maltese coast, its panoramic cliffs, coves, inlets and sandy beaches as you cruise past Valletta, the entrance to Grand Harbour, Marsascala Bay, St Thomas Bay, Island Bay, St Peter's Pool, Delimara Point, Marsaxlokk Bay, Blue Grotto, Dingli Cliffs, Filfla and Anchor Bay towards Comino.
We drop anchor in the magical crystal clear waters of the beautiful Blue Lagoon in Comino. You will have 2 hours free time in Comino to swim, sunbathe, relax or discover the island independently. A light snack and drink is served on board before completing the circumnavigation of Malta back to Sliema.
Looking for the top gay beaches in Malta to enjoy some fun in the sun? Sorry to disappoint you, but there are no designated gay beaches in Malta. However, all Malta beaches can be considered to be gay friendly. Furthermore, there are a few particular beaches towards which gay people tend to gravitate so, although unofficial, they are the places to go to.
Most of the sandy beaches are located in the north of the island, but rocky beaches should not be underrated, since they offer excellent snorkeling opportunities, with great visibility even in the height of summer. Several Malta beaches have acquired a Blue Flag status, which guarantees a level of safety and service. Secluded beaches are hard to get to, but worth the effort.
In fact, if any Malta beaches could be considered gay beaches, it is the secluded ones that tend to attract the gay community. Nudists also gravitate towards these beaches, although nudism is illegal and carries hefty fines.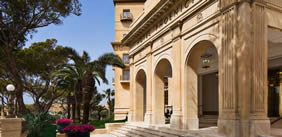 The Phoenicia Malta Hotel, 5* (Valletta)
0.2 km from Valletta Gate (3 mins walking distance)
The Phoenicia, is surrounded by gorgeous, landscaped gardens in the little piece of paradise, which is Malta. Both a landmark and a luxury retreat, beloved by islanders and cherished by visitors, we are proud to be celebrated as Malta's most iconic hotel. Located in a superb spot, just outside the vibrant capital of Valletta on the edge of the city's 16th Century bastions, The Phoenicia has long been regarded as a national treasure.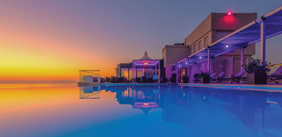 AX The Palace Malta Hotel, 5* (Sliema)
8.2 km from Valletta Gate (16 -35 mins driving distance)
The Palace – a 5-star luxury hotel in the heart of Sliema. Situated in a prime location, this hotel offers the best of both worlds, a city lifestyle as well as panoramic views of the Mediterranean Sea. From lavish AX Designer Collection suites to comfortable and contemporary rooms, AX The Palace Malta has it all.
Corinthia St George's Bay Malta Hotel, 5* (St Julians)
9.7 km from Valletta Gate (18 - 30 mins driving distance)
Corinthia, St George's Bay... a place where the pursuit of happiness is top priority. A monument to the slow delights of island life, where the welcome is as warm as the sun-baked terraces. Here, the pace of real-life melts away as swimming pools, restaurants and water sports vie for your attention.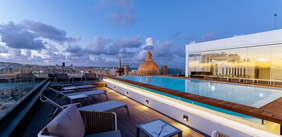 The Embassy Valletta Hotel, 4+* (Valletta)
0.5 km from Valletta Gate (6 mins walking distance)
Located at the very centre of Valletta, on the doorstep of the legendary Strait Street. The Embassy Valletta Hotel stands on the site where one of the first hotels in Malta welcomed guests in the 1800s. The location is as strategically important now as it was then, between the quaint yet vibrant Strait Street and the most important avenue in Valletta, Republic Street.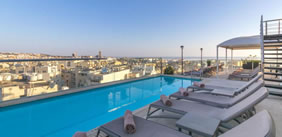 AX The Victoria Hotel, 4* (Sliema)
7.4 km from Valletta Gate (16 - 30 mins driving distance)
AX The Victoria Hotel presents a classical 5-star experience in a 4-star accommodation. Considered to be one of the best hotels in the heart of Sliema, the hotel can be characterised as modern, yet fully honouring the Victorian style. Whether you're looking for a romantic getaway, or planning a vacation in Malta with friends, you will always receive high-class service and a welcoming smile at AX The Victoria Hotel.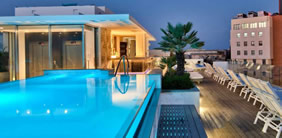 Valentina Hotel, 4* (St Julians)
8 km from Valletta Gate (16 - 30 mins driving distance)
With a sophisticated blend of contemporary style and modern flair, the Hotel Valentina is luxuriously finished superior boutique hotel. The Hotel is situated in the renowned area of St. Julian's, Malta's entertainment hub, and just minutes away from the national casino, public beaches, night clubs and restaurants, yet it is situated in a quiet residential area.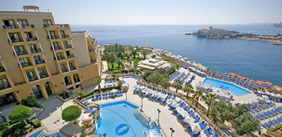 Marina Hotel Corinthia Beach Resort, 4* (St Julians)
9.1 km from Valletta Gate (18 - 30 mins driving distance)
Ideally located at the edge of the sparkling Mediterranean, the Marina Hotel Corinthia Beach Resort is the perfect retreat for an island holiday. Overlooking the striking St George's Bay and just moments from St Julian's, Malta's cosmopolitan hub, the hotel is conveniently located for exploring this sun-drenched island's many attractions.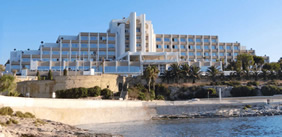 Salini Resort, 4+* (St Paul's Bay)
16.7 km from Valletta Gate (18 - 30 mins driving distance)
The Salini Resort commands spectacular views of Salini Bay. This hotel is decorated to high standards with much attention to detail. The palette of colours for the décor is inspired by the natural, earthy tones of the beautiful Mediterranean scenery, capturing the spirit of the Mediterranean. The Salini Resort is truly a haven away from the hustle and bustle and a stay in the hotel is guaranteed to leave you energised and refreshed.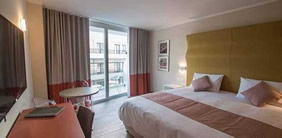 Seaview Hotel, 4*, Adults Only, (Qawra)
16.8 km from Valletta Gate (26 - 45 mins driving distance)
The Seaview Hotel is a new Four Star Qawra Hotel set in a unique location, just on the seaside promenade of Qawra. The hotel directly overlooks the bay and island of St. Paul, ensuring guests enjoy wide panoramic sea views and unique sunsets.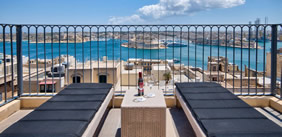 66 Saint Paul's Malta Hotel & Spa, 4+*, Boutique, (Valletta)
0.6 km from Valletta Gate (7 mins walking distance)
66 Saint Paul's is set in a recently restored and modernised 17th century palazzo, located in Malta's capital city of Valletta. This beautiful property offers, personalised service and luxurious accommodation, in an architectural gem of a building.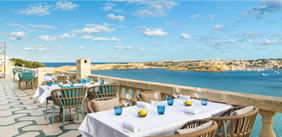 Iniala Harbour House Hotel, 5*, Boutique, (Valletta)
0.7 km from Valletta Gate (9 mins walking distance)
Located on St Barbara Bastion overlooking the spectacular Grand Harbour, Iniala Harbour House has brought an unprecedented level of luxury and experiential travel to the Maltese Islands. The hotel offers uniquely designed rooms and suites, outstanding facilities, world-class cuisine and a dedicated team that are always at hand to ensure your wishes are fulfilled and your expectations are far exceeded.
Rosselli AX Privilege Hotel, 5*, Boutique, (Valletta)
0.8 km from Valletta Gate (10 mins walking distance)
Rosselli - AX Privilege, 5-star boutique luxury accommodation in the heart of Malta's baroque capital city, Valletta. A haven of style, sophistication, and serenity in an exquisitely restored heritage building, Rosselli – AX Privilege offers 25 unique designer rooms and suites set in a building that's steeped in Valletta's history and the legacy of the Knights of the Order of St John.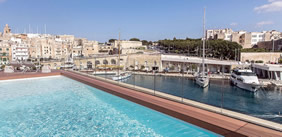 Cugó Gran Macina Grand Harbour Hotel, 5*, Boutique, (3 Cities)
8.6 km from Valletta Gate (14 - 28 mins driving distance)
The Cugó Gran Macina Grand Harbour is truly a hotel with a difference. Historical fortress walls contrast with modern interior design and bespoke luxury fittings. The Hotel offers a swimming pool, tucked discreetly on the rooftop of the annex building with a terrace looking out across the water to Vittoriosa and Cospicua.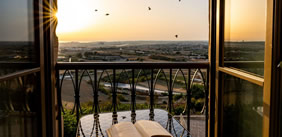 The Xara Palace Relais & Chateaux Hotel, 5*, Boutique, (Mdina)
12.3 km from Valletta Gate (20 - 35 mins driving distance)
The Xara Palace Boutique Hotel is a unique 17th-century palace hidden away in the medieval fortified city of Mdina, the old capital of Malta. Perched on centuries-old bastions, surrounded by stunning baroque architecture, The Xara Palace Relais & Châteaux, with its luxurious accommodation and award-winning haute cuisine, is truly a haven in which to pause and be pampered.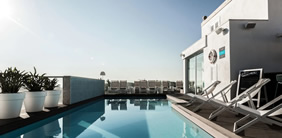 Juliani Hotel, 4*, Boutique, (St.Julian's)
8 km from Valletta Gate (16 - 30 mins driving distance)
Hotel Juliani is located in the heart of Spinola Bay, St.Julian's, which is renowned to be Malta's primary entertainment district. The hotel maintains a peaceful and relaxing ambience, ensuring guests a restful stay while simultaneously being within walking distance of many restaurants, night clubs and bars in the area.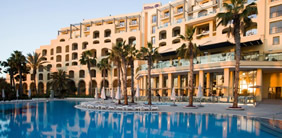 Hilton Malta Hotel, 5*, (St. Julian's)
8 km from Valletta Gate (16 -30 mins driving distance)
Set on the seafront in Saint Julian's, the Hilton Malta is a luxury 5-star hotel offering panoramic views of the Mediterranean Sea and a modern décor. On site you will find a spa with indoor swimming pool, 4 seasonal outdoor pools. The spacious rooms at Hotel Hilton Malta feature a large balcony overlooking the sea or Portomaso marina. All rooms are air-conditioned and feature Wi-Fi access, a tea/coffee maker, and a satellite LCD TV.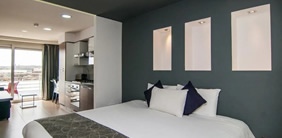 Pebbles Boutique Aparthotel, 3*, Boutique, (Sliema)
7.8 km from Valletta Gate (15 -30 mins driving distance)
Located on the Strand in Sliema, is boutique hotel offering modern in-room amenities and stylish design, which is further complemented with breathtaking views and unparalleled service. Completely renovated and refurbished, Pebbles Boutique Aparthotel features spacious, air-conditioned rooms with elegant & refined furnishings, multi-language plasma TV and free WIFI in all rooms and common areas.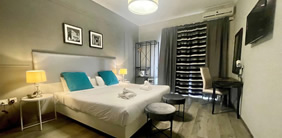 Sliema Marina Hotel, 3*, (Sliema)
7.8 km from Valletta Gate (15 -30 mins driving distance)
Sliema Marina is located right on the seafront in Sliema, just stepsfrom the ferry port to Valletta and bus terminal, and close to The Point Shopping Centre and all its shops, bars and restaurants. Guest rooms feature flat screen TV, free WiFi, air conditioning. Some include a fridge. The hotel has a nice sun terrace with a hydrotherapy pool. Breakfast can be enjoyed in the rooftop dining room with views of the harbour.