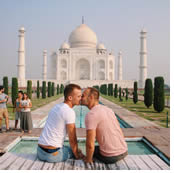 From north to south and east to west, India is more like a world than a single country. The people are diverse, the languages varied, the customs and religious rites distinctive, and the landscape dramatic. There are architectural and cultural wonders around every corner. Visiting India is like attending an ongoing festival, with vivid colors, sights, sounds and aromas. Because of India's vastness and diversity, Toto Tours concentrates each adventure in one distinct region so that tour participants can better absorb its beauty and character. This particular adventure focuses on the northern Indian state of Rajasthan, comprising about 10% of India's total landmass. It is the largest Indian state by area and the seventh largest by population.
The western side of Rajasthan comprises the beautiful Thar Desert. Once a year, the desert sands around Jaisalmer come alive with a dazzling, colorful festival amidst the sand dunes. The festival goes on for three days and enables you to experience the rich and varied Rajasthani folk culture. Tall, handsome Rajasthani men and beautiful women dressed in their best and brightest costumes dance and sing ballads of valor, romance and tragedy, while traditional musicians attempt to outdo each other showing off their musical superiority.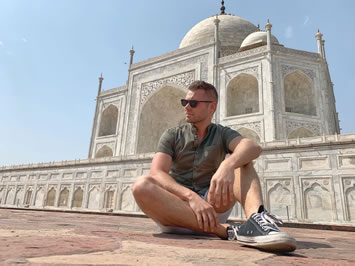 The high point of the festival is definitely the synchronized movements of camels pinwheeling, dancing, threading the needle and bowing to the audience! All the things you're used to seeing horses do at a military tattoo in the United Kingdom. But camels? Unbelievable! Other highlights include puppeteers, acrobats, camel races, camel polo, traditional processions, camel mounted bands, folk dances, and simply mingling with the excited crowds of local participants where you yourself are considered by them to be a star attraction!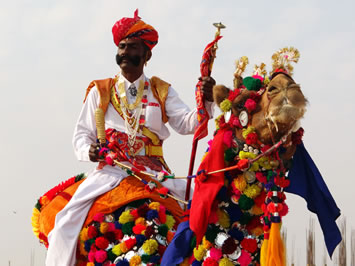 In addition to the spectacular Desert Festival in Jaisalmer we also take in the classic highlights of India, from Old and New Delhi to the resplendent Taj Mahal in Agra and the huge and palatial hill forts in Jaipur and Jodhpur, ending in romantic Udaipur. Because this tour includes so many amazing highlights, it is perfect for first-time visitors to India. You'll be hooked! But no matter how many times you have visited the Taj Mahal and the Amber Fort, they never cease to amaze and delight. Don't miss this thrilling adventure in Incredible India!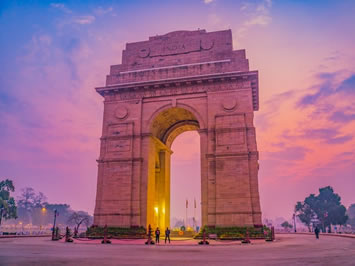 Day 1 - Friday, January 27, 2023
Arrive in Delhi – Welcome to India
Delhi is the capital, and third largest city of India. Delhi is actually twin cities comprised of Old Delhi and New Delhi. Old Delhi was the capital of India during Muslim rule from the 12th to the 19th century. New Delhi was established in 1911 by King George V who, feeling Calcutta was too remote, wanted a new capital for the Indian Empire. Delhi is a kaleidoscope that promises everything for a tourist—historic sites, divine retreats, heritage, tourism, theme parks, museums, gardens, galleries, film festivals, great shopping, temples and more.
Please time your arrival into Delhi at the Indira Gandhi International Airport (DEL) at any convenient time today. Touring does not commence until tomorrow, but your hotel room will be available for check-in any time after 3pm today. You will be personally greeted at the International Airport upon arrival, presented with a fresh flower garland, and transferred to our hotel to enjoy some restful sleep after the long flight. As flights typically arrive very late, no meals are included today. Our time in Delhi is short, so we encourage you to consider arriving a day or two early to make the most of your visit to this city. We will be happy to assist with an extended hotel stay and private sightseeing upon request.
Hotel: The LaLiT New Delhi Hotel
, New Delhi, 5*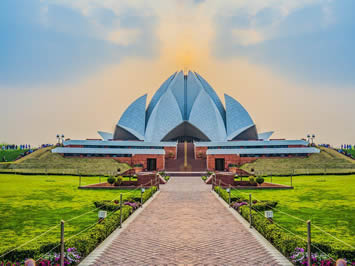 Day 2 - Saturday, January 28, 2023
Delhi Sightseeing / Welcome Dinner
Sleep in a bit this morning, and after breakfast we have a civilized 10am start for our tour of Old and New Delhi. In the midst of the old walled city stands the great Jama Masjid, the principal mosque of the city, built in 1656 CE by the Mughal Emperor Shah Jahan. It is the largest and best-known mosque in India. After visiting the mosque, take a rickshaw ride through Chandi Chowk, the old marketplace and now a picturesque bazaar, ending at the entrance to the Red Fort, built in the year 1648 by Shah Jahan.
In New Delhi visit Raj Ghat, the memorial to the Father of the Nation, Mahatma Gandhi, and the site of his cremation on 31 January 1948. See the India Gate, the massive memorial built in 1931 to commemorate the Indian soldiers who died in World War I & the Afghan Wars. The President's House, official residence of the President of India, was known until 1950 as the Viceroy's House and served as the residence of the Governor-General of British India.
After lunch, drive to Qutub Minar, built in the year 1206. It is the tallest brick minaret in the world and an important example of Indo-Islamic Architecture. Adjacent to the site of Qutub Minar is the Jamali-Kamali Mosque and Tomb, which is of special significance to gay travelers. Jamali was a popular Sufi who became court poet and enjoyed the patronage of the Mughal rulers, Babur and his son Humayun. His poetry mirrored Persian mysticism of the times. Kamali was Jamali's disciple and his lover, according to the oral stories and traditions. It is seen that even though they were both males, as signified by a symbolic pen box on each of their graves, their graves are placed in a manner that implies that they were lovers.
Following a full and exciting day of touring, we return to the hotel. This evening, our group gathers in the hotel bar for cocktails and introductions all around, followed by our Welcome Dinner at Chore Bizarre Restaurant. Overnight in Delhi.
Meals: Breakfast, Lunch, Welcome Cocktail & Dinner
Hotel: The LaLiT New Delhi Hotel
, New Delhi, 5*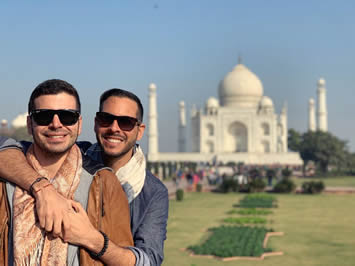 Day 3 - Sunday, January 29, 2023
Agra Fort / Taj Mahal
Following an early breakfast we make the 4-hour drive to Agra, where we check into our hotel and enjoy lunch. Founded in 1475, Agra was at its peak of glory during the Mughal reigns of Akbar, Jehangir and Shah Jahan. Akbar made it the center of art, culture, commerce and learning and Shah Jahan brought it to full bloom. In the afternoon, proceed to the Agra Fort, situated around the bend of the Yamuna River. From the towers of the fort you can see the nearby Taj Mahal.
Before sunset, we drive to the romantic Taj Mahal. This architectural marvel was built by Shah Jahan in 1630 for his queen Mumtaz Mahal to enshrine her mortal remains. It is a perfectly proportioned masterpiece fashioned from white marble that stands as a testament to the skill of 20,000 craftsmen brought together from Persia, Turkey, France and Italy, and who took 17 years to complete this 'Love Poem in Marble.'
After our beautiful sunset visit to the Taj, we return to the hotel where we enjoy dinner together at the hotel's rooftop restaurant. Overnight in Agra.
Meals: Breakfast
Hotel: Crystal Sarovar Premiere Hotel
, Agra, 5*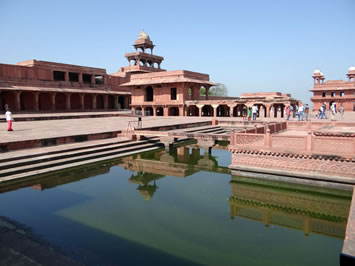 Day 4 - Monday, January 30, 2023
Fatehpur Sikri / Jaipur
After breakfast we check out of our hotel and begin the drive to Jaipur, stopping on the way to visit Fatehpur Sikri, one of the finest examples of Mughal architectural splendor at its height. Built during the second half of the 16th century by the Emperor Akbar, Fatehpur Sikri (the City of Victory) was the capital of the Mughal Empire for only some 10 years before an extreme drought made it impossible to continue living there. The complex of monuments and temples, all in a uniform architectural style, includes one of the largest mosques in India. The site is about 450 years old, yet today its pristine red sandstone buildings are as perfect as when they were first chiselled. We continue on to Jaipur, arriving in the late afternoon. The remainder of the evening is free to relax, and dinner is included at the hotel. Overnight in Jaipur.
Meals: Breakfast, Lunch & Dinner
Hotel: ITC Rajputana Hotel
, Jaipur, 5*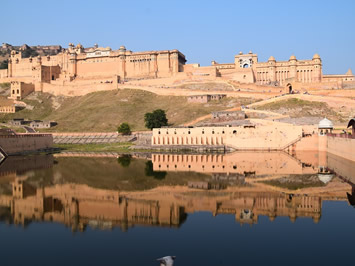 Day 5 - Tuesday, January 31, 2023
Amber Fort / Jaipur City
After breakfast, we commence a festive day of sightseeing, beginning with a brief photography stop at Hawa Mahal, the Palace of Winds. At the Amber Fort, we enjoy the thrill of riding on an elephant up to the main entrance. Amber is a classic, romantic Rajasthani Fort Palace, with a rustic exterior and a lavish interior. Miniatures painted on the walls depict hunting and war scenes as well as festivals. Precious stones and mirrors are embedded into the plaster. Inside the Fort visit the Jag Mandir or the Hall of Victory.
Later we tour the city of Jaipur, visiting the Maharaja's City Palace, which has been converted in part into a museum although a portion is still used by the Royal Family of Jaipur. The Armory houses an impressive array of ancient weaponry, including pistols, blunderbusses, flintlocks, swords, rifles and daggers. On the first floor is the Textile and Costume Museum, displaying fine examples of fabrics and costumes from all over India.
Continue the city tour visiting Jantar Mantar, the largest stone and marble crafted astronomical observatory in the world, built by Jai Singh from 1728 to 1734. We finish our tour with a walk through the busy lanes of the city. Overnight in Jaipur.
Meals: Breakfast, Lunch & Dinner
Hotel: ITC Rajputana Hotel
, Jaipur, 5*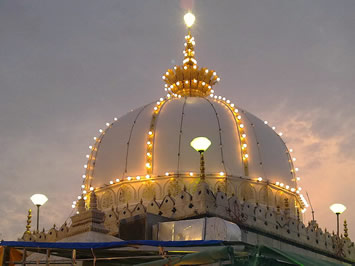 Day 6 - Wednesday, February 1, 2023
Ajmer / Pushkar
We depart this morning on the scenic drive through the heart of Rajasthan to Pushkar, stopping for lunch along the way. Eight miles before reaching Pushkar, we come to Ajmer, one of the oldest cities in Rajasthan situated right in the heart of the state. In Ajmer we visit the famous tomb of the Sufi Saint Moinuddin Chishti. For the Muslims of south Asia, this shrine is second in importance only to Mecca and Medina. Akbar himself used to make an annual pilgrimage from Agra to visit this holy site.
Arriving in Pushkar, we check in at our hotel and relax for a bit before commencing an exploration of this holy place on foot. This traveller-friendly town clings to the side of Pushkar Lake where we encounter many bathing ghats and temples. For Hindus, Pushkar is an important pilgrimage center, and we'll see remarkable Sadhus on their spiritual search. The most famous landmark is the Brahma Temple, said to be one of the few temples in the world dedicated to this deity. It's marked by red spire, and over the entrance gateway is the symbol of Brahma, who is said to have personally chosen Pushkar as the location for this holy place.
Meals: Breakfast, Lunch & Dinner
Hotel: Jagat Palace Hotel, Pushkar, 3*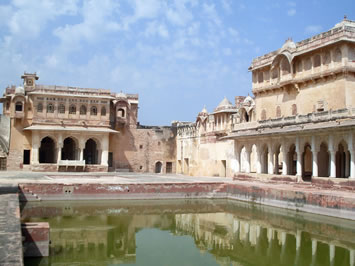 Day 7 - Thursday, February 2, 2023
Nagaur / Khimsar
Today we make the 100-mile drive to Khimsar, where we have the thrill of spending the night in the 15th century Khimsar Fort. Along the way we visit Nagaur, an ancient, heavily fortified desert city famous for its fine bullocks. At the Fort of Nagaur, enter ruined walls and see ancient palaces decorated with fine wall paintings. After lunch in Nagaur, we continue to Khimsar.
At Erfoud we visit the impressive fossil quarry where you can collect souvenirs that are millions of years old. At Tinghir we visit Ksar Khorbat Museum and enjoy lunch.
Perched on the edge of the Great Indian Thar Desert in rural Rajasthan lies Khimsar Fort, an ancient heritage home which built by Rao Karamsi (the 8th prince of Rao Jodha who founded Jodhpur) in the year 1523. A new ladies' residence was built in the mid-18th century when the royal family moved in. It has finely carved windows in stone grills which provided viewing opportunities for women, who were not allowed to mingle freely with men. Although this fort is also our hotel, a section of it remains the residence of the royal family. Exploring the battle-scarred walls, the surrounding moat, and the ancient buildings cannons will take you back to Khimsar Fort's glorious past.
Meals: Breakfast, Lunch & Dinner
Hotel: Welcomhotel by ITC Hotels, Fort & Dunes
, Khimsar, 4*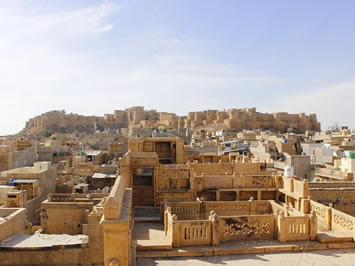 Day 8 - Friday, February 3, 2023
Jaisalmer
After breakfast we continue into the desert with Jaisalmer as our destination. Jaisalmer is straight out of an Arabian Nights fable, conjuring up a dramatic picture of the magic and the brilliance of the desert. Towering over the scene on a high hill is the formidable 12th century Jaisalmer Fort. Within the Fort are colorful markets, beautiful Jain temples, and well-preserved havelis (mansions) which were built by wealthy merchants of Jaisalmer.
The citadel, founded in 1156, is truly a golden fantasy in the Thar Desert. In medieval times, its prosperity was due to its location on the main camel trade route linking India to Egypt, Arabia, Persia, Africa and the West. The Bhatti Rajput rulers lined their coffers with gains from traditional taxes on passing caravans and sometimes through illicit gains by rustling cattle. The storied grandeur and prosperity of this citadel is apparent as we approach from afar. Check in to our hotel by late-afternoon and the remainder of the day is free at leisure. Overnight in Jaisalmer.
Meals: Breakfast, Lunch & Dinner
Hotel: Rang Mahal Hotel
, Jaisalmer, 4*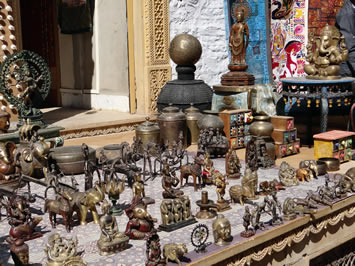 Day 9 - Saturday, February 4, 2023
Touring Jaisalmer
After breakfast enjoy a full day of touring in Jaisalmer. Visit the Fort, perched 250 feet above the town on the triangular-shaped Trikuta Hill. It is enclosed by a 30-foot high wall with 99 bastions. Take a walk through the narrow streets within the Fort which are sometimes blocked by the odd goat or cow. Around 1,000 townspeople live in tiny houses inside the Fort. These homes often feature beautiful carvings on doors and balconies. We also visit the 17th century Salim Singh Haveli, which looks like a great ocean liner, with a narrow base and wider top. It has a beautifully arched roof topped with blue cupolas, and brackets in the form of peacocks.
After lunch we tour the ornate Nathumal Haveli, built in 1885 for the prime minister. It has a highly decorative façade, partly carved out of rock, with an attractive front door guarded by two elephants. See also Patwon Haveli, a group of houses built for five brothers in 1805. They are possibly the finest houses in town, with fine murals and carved pillars.
In the late afternoon we take a camel ride into the sand dunes to enjoy a desert sunset, followed by dinner. Overnight in Jaisalmer.
Meals: Breakfast
Hotel: Rang Mahal Hotel
, Jaisalmer, 4*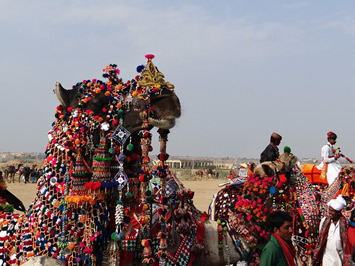 Day 10 - Sunday, February 5, 2023
Jaisalmer Desert Festival
The Desert Festival is an extravaganza of color, music, dance and celebration. Fire dancers sway to traditional tunes, villagers compete in a turban tying competition, judges rule on who has the best (longest) upcurled moustache, and there is even a "Mr. Desert Contest" as part of the fun. Festival highlights include snake charmers, puppeteers, acrobats, and various folk performers. Camels, the lifeline of the desert, play a primary role in the festival. Proud moustachioed villagers, dressed in their ethnic costumes, sit astride their picturesquely caparisoned camels to join in the camel dances and competitions of camel acrobatics, camel races and decor, camel polo, tug of war and the like.
The grand finale is the camel tattoo featuring the historic Bikaner Camel Corps. It is part of the Border Security Force guarding the border with Pakistan. While primarily employed for ceremonial purposes, it is one of the few camel cavalry units still retained by present-day armed forces. You simply won't believe your eyes as you watch these colorfully caparisoned animals drill in tight formation under the guidance of their handsome, ceremoniously attired corpsmen. This will be a day to remember forever, with photo opportunities that will be the envy of all your friends. Overnight in Jaisalmer.
Meals: Breakfast & Dinner
Hotel: Rang Mahal Hotel
, Jaisalmer, 4*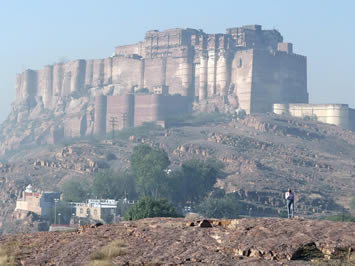 Day 11 - Monday, February 6, 2023
Mehrangarh Fort / Jodphur
This morning we drive into the heart of the Thar Desert, stopping at the mid-way point to visit the fort town of Pokran. Our route is dotted by Bishnoi villages—communities that follow a religious movement devoted to eco-friendly principles and wildlife protection. After a lunch stop, we arrive in Jodphur and check in at our hotel.
In the afternoon we visit the awe-inspiring, 15th century Mehrangarh Fort, perched majestically on a high hill and dominating the skyline. Enter through gates which bear the evocative handprints of the Sati queens, women of the royal harem who took their own lives when their men were defeated in battle. The fort has a series of spectacular palaces, each decorated with exquisite engravings, lattice and mirror work. Of particular note is the museum that exhibits a magnificent collection of royal memorabilia. Nearby we stop to admire the graceful cenotaph at Jaswant Thada.
Dinner tonight will be at an open-air restaurant with a varied cuisine and barbeque in a lively ambiance, accompanied by live dance and music performances. Overnight in Jodphur.
Meals: Breakfast, Lunch & Dinner
Hotel: WelcomHeritage Bal Samand Lake Palace Hotel
, Jodphur, 4*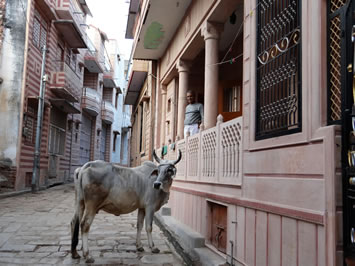 Day 12 - Tuesday, February 7, 2023
Narlai
After breakfast we drive to Narlai, an enchanting village located amidst dramatic boulders and ancient temples. Our Heritage Hotel, The Rawla, lies at a foot of a stupendous 350-foot single rock granite hill. Maharaja and Rani Swaroop Singh and their sons oversaw the careful restoration of this 15th century home of Marwar nobility. The ambience is a special blend of aesthetics and comfort that envelop the senses.
This evening we explore nearby villages, including bustling bazaars and temples. At one particular temple there is a miraculous flame that has burned for centuries, producing saffron instead of soot! Wishes made here are said to come true.
Meals: Breakfast, Lunch & Dinner
Hotel: Rawla Narlai Heritage Hotel
, Narlai, 4*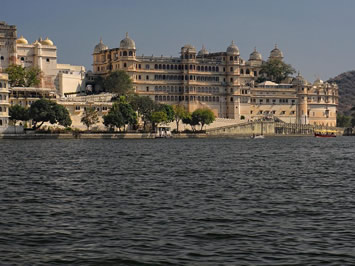 Day 13 - Wednesday, February 8, 2023
Ranakpur Jain Temples / Udaipur
After breakfast at the hotel, we commence the colorful drive to Udaipur. Along the way we stop to visit the gorgeous Jain Temples at Ranakpur. They were built in the 15th century and are situated in a lovely valley on the western side of the Aravali Range. This site is amongst the five holiest places of the Jain community, and is exceptional in beauty. The main temple is supported by over 1444 intricately carved marble pillars, none of which is identical to another. Not to be missed in this temple is one carved out of a single stone with 108 heads of snakes and numerous tails. We enjoy lunch at Maharani Bagh (Mango Orchard of the Maharaja of Jodhpur) near the temples and then continue our drive to Udaipur.
Often called the Venice of India, Udaipur is a city of lakes, palaces and gardens. There is no place in India which appeals more to the imagination of poets and painters, travelers and writers, than Udaipur, the lovely lakeside capital of Mewar. The city's inherent romance and beauty, along with its remarkable past, bristling with episodes of heroism and splendor, continue to enthrall visitors. Udaipur is also called the City of Dawn because it looms up like a vision in white, surrounded by hills and mountains, and set on the edge of three lakes which give way to a fertile plain. It is bewitching in all its details - narrow streets lined by vivid colored stalls, gardens, temples and palaces - every feature mirrored in the placid blue waters of Lake Pichola.
We check in at our hotel upon arrival. Before sunset we board a boat for a cruise on Lake Pichola. Enjoy the sights and sounds of the evening, and people coming to the bathing ghats to cleanse themselves after a long day of work. We will disembark at the stunning Jagmandir Palace for dinner. The menu has a wide variety of options. This meal is not included, an you will pay directly for what you order. After dinner we continue by boat to the hotel for our first overnight in Udaipur.
Meals: Breakfast & Lunch
Hotel: LaLiT Laxmi Vilas Palace Hotel
, Udaipur, 5*
Day 14 - Thursday, February 9, 2023
Udaipur
After breakfast, visit the City Palace, the largest Palace complex in the area, and the Museum of Rajasthan. The City Palace is a blend of stern Rajput military architecture on the outside and lavish Mughal-inspired decorative art on the inside. Set on a hill overlooking Lake Pichhola, it is enormous, and made up of at least four separate inter-connecting palaces built over a period of nearly 3 centuries. The palace museum contains a wonderful collection of old Rajput weaponry. Also visit the Crystal Gallery.
In the afternoon, visit studios of artists who create famous miniature paintings. Afterwards, you will have some independent time to stroll the quaint city and take a walk through the colorful Bapu Bazaar. It is easy to walk about independently just outside the city palace gates for a real experience of the local culture beyond the typical tourist shops.
After our free time for lunch, we depart to Bagor Ki Haveli, overlooking Lake Pichola in the old part of the city. It is a gorgeous 18th century haveli that has been converted into a museum showcasing Mewar art and architecture. First, we'll visit the art gallery, featuring fine examples of Mewar contemporary and folk art, and an eclectic selection of world-famous monuments lovingly carved out of polystyrene.
Next, some pre-dinner entertainment! This haveli puts on one of the best folk dance shows in Rajasthan – Dharohar Dance. For an hour, performers dance to Rajasthani folk music wearing bright coloured ethnic costumes. The dances are varied and demonstrate the tradition and culture of Rajasthani folklore. After the show we celebrate the successful conclusion of our grand adventure with a Royal Repast. Overnight in Udaipur.
Meals: Breakfast & Farewell Dinner
Hotel: LaLiT Laxmi Vilas Palace Hotel
, Udaipur, 5*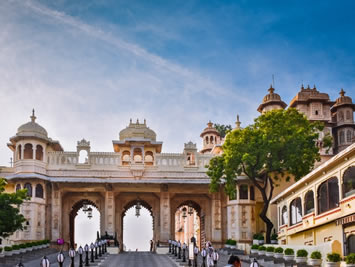 Day 15 - Friday, February 10, 2023
Return to Delhi / Departure
Enjoy a free morning prior to departure. After lunch (not included) we leave the hotel and drive to the airport for our flight to Delhi (departs at 3:20pm, arrives 4:45pm). We have reserved day rooms at an airport hotel which are available for our use until 9pm. Most international flights depart in the late evening or very early morning. After a brief rest and preparations for our homeward journey, we check out and transfer to the airport for our international flights.
Meals: Breakfast
Hotel: Pride Plaza Hotel Aerocity Hotel
, New Delhi, 5*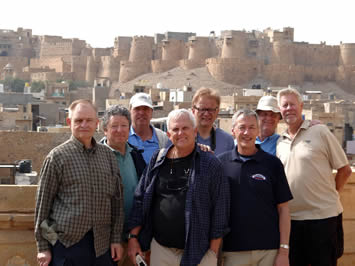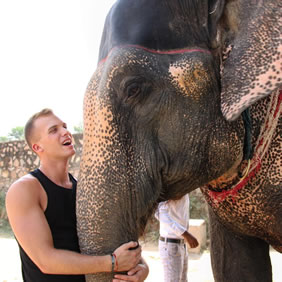 • The wonders of Old and New Delhi
• Stunning Taj Mahal in Agra
• Impressive Fortress in Agra
• Architectural splendor of Fatehpur Sikri
• Ride an elephant to the massive Amber Fort in Jaipur
• Royal Palace in Jaipur
• Holy Places of Ajmer and Pushkar
• Stay at the Historic Heritage Hotel: Khimsar Fort
• Medieval citadel of Jaisalmer
• Pageantry of the Desert Festival
• Majestic Mehrangarh Fort in Jodhpur
• Enchanting village of Narlai, staying in the home of Marwar nobility
• Immaculately preserved Jain Temples at Ranakpur
• Udaipur, the "Venice of India," with its stunning Lake Palace
• Boat trip on Lake Pichola in Udaipur
• Beautiful presentations of Rajasthani dance and costumes
• Dazzling art and delicious cuisine
• Spectacular stays in several Heritage Palace / Fort Hotels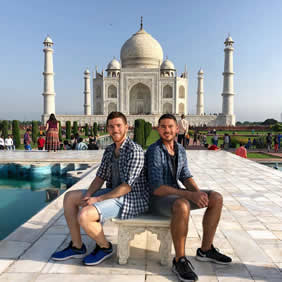 • 14 nights hotel accommodations & Day room:
- 2 nights at The LaLiT New Delhi Hotel
in New Delhi;
- 1 night at Crystal Sarovar Premiere Hotel
in Agra
- 2 nights at ITC Rajputana Hotel
in Jaipur
- 1 night at Jagat Palace Hotel in Pushkar
- 1 night at Welcomhotel by ITC Hotels, Fort & Dunes
in Khimsar
- 3 nights at Rang Mahal Hotel
in Jaisalmer
- 1 night at WelcomHeritage Bal Samand Lake Palace Hotel
in Jodphur
- 1 night at Rawla Narlai Heritage Hotel
in Narlai
- 2 nights at LaLiT Laxmi Vilas Palace Hotel
, Udaipur
- Day room at Pride Plaza Hotel Aerocity Hotel
in New Delhi
• Private greeting and transfer to hotel upon arrival;
• Full time tour leader;
• Full time English-speaking guide;
• Private vehicle and driver;
• Airfare from Udaipur to Delhi at the conclusion of the tour;
• Hotel breakfasts daily plus Welcome & Farewell Dinners and other meals as specified in the itinerary;
• Bottled mineral water during sightseeing excursions and long drives;
• Sightseeing activities and entrances as listed in the itinerary;
• Fully guided and escorted tour.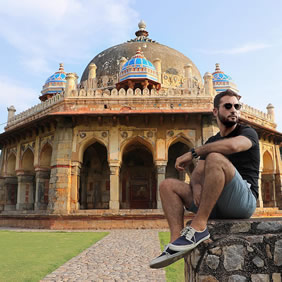 • International round-trip airfare in and out of New Delhi (DEL);
• Ground transportation for sightseeing on your own (taxis, local guides, etc.);
• Meals and optional activities not specifically listed in the itinerary;
• Camera fees; alcoholic beverages; Travel Insurance; laundry, telephone calls, faxes, or any other expenses of a personal nature.
• Tips to drivers and guides and other conveyance attendants are not included; tipping guidelines for our group tips will be provided prior to departure.
The LaLiT New Delhi Hotel
, New Delhi
Set at the vibrant heart of the Connaught Place commercial district, within 2 miles of major attractions such as the India Gate and Red Fort, the uber-chic Lalit New Delhi is one of the finest luxury hotels New Delhi has to offer — both for leisure and executive travellers.
Whether you're in the city to relax, work, or explore, the Lalit New Delhi promises a quality of facilities unrivalled by other New Delhi hotels.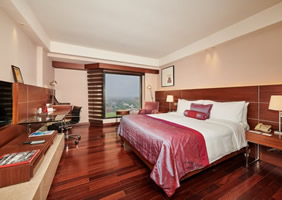 Indulge yourself at the award-winning spa, socialise at the sophisticated nightclub, and take your pick from an outstanding selection of top-class dining options, including an acclaimed, rooftop Mediterranean restaurant.
The 461 contemporary rooms and suites are beautifully appointed and feature glass-enclosed bathrooms, bespoke artwork and warm wood floors, as well as minibars, work desks and all the luxurious comforts and facilities you'd expect at one of the best hotels in New Delhi.
Crystal Sarovar Premiere Hotel
, Agra
Offering free WiFi, Crystal Sarovar Premiere Agra is located in the Taj Ganj district in Agra 1.2 mi from The Taj Mahal.
The rooms include a flat-screen TV with satellite channels and a safety deposit box. Some rooms feature a seating area to relax in after a busy day. You will find an electric kettle, mini bar and a desk in the room. Rooms include a private bathroom equipped with free toiletries.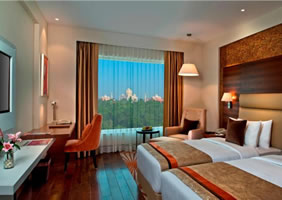 Crystal Sarovar Premiere Agra features of a 24-hour front desk and express check in/check out services. A tour desk and concierge services are also available.
Guests can enjoy a meal at the on-site restaurant. The property also offers breakfast in the room and packed lunches. Guests can relax and enjoy drinks with good music at the on site bar.
ITC Rajputana Hotel
, Jaipur
Located 500 m away from Jaipur's city center, ITC Rajputana offers modern air-conditioned rooms and free private parking. It features an outdoor swimming pool, spa and 5 food and beverage options.
Rooms with marble or wooden flooring feature a mini-bar, coffee/tea maker and flat-screen TV. The spacious suites offer views of the surrounding area.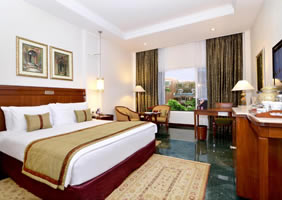 Guests can relax with a swim or enjoy the various treatments at the spa. A steam room, sauna and fitness center are also available. Other guest facilities include a 24-hour front desk, a business center and hair salon.
Peshawri serves North-Western Frontier cuisine, while Jal Mahal offers a buffet spread of Indian and International dishes. The 24-hour coffee shop, The Jaipur Pavilion has a menu of Indian, Chinese and continental dishes. There is also a lobby bar and poolside lounge.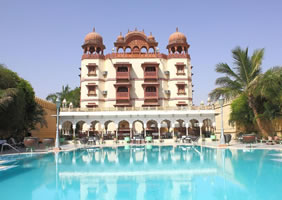 Jagat Palace Hotel, Pushkar
Jagat Palace is located in the Pushkar city. Marwar bus stand is just 2 kms from here and Pushkar railway station is 1.9 mi away.
Offering an outdoor swimming pool, a spa and wellness center and a massage parlor, Jagat Palace, featuring a heritage look and is within 4.8 mi from the popular attractions like the Brahma Temple, the Pushkar Lake and the Apteshwar Mahadev Temple. Free WiFi access is available throughout the property.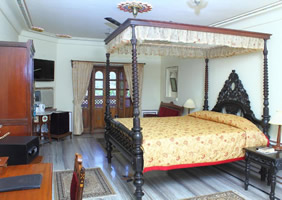 Each well-decorated air-conditioned room here will provide you with a satellite TV, seating area and a balcony. There is also an electric kettle and mini-bar. Featuring a shower, private bathroom also comes with a bath or shower and a hairdryer. You can enjoy city view and pool view from the room.
Dining options include Umaid Mahal and Samdar Mahal, vegetarian restaurants that serve Indian, regional, continental and Chinese cuisine. Room service is available only for limited hours.
Welcomhotel by ITC Hotels, Fort & Dunes
, Khimsar
Offering a year-round outdoor swimming pool and terrace, Welcomhotel by ITC Hotels, Fort & Dunes, Khimsar is set in Khimsar in the Rajasthan Region. Guests can enjoy the on-site restaurant. Free private parking is available on site.
Every room at this hotel is air conditioned and has a TV. You will find a kettle in the room. All rooms are equipped with a private bathroom.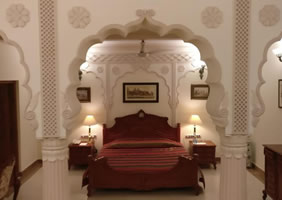 There is a 24-hour front desk, a business center, gift shop, and shops at the property. You can play tennis and table tennis at the hotel.
The hotel also offers car hire. The dry cleaning, ironing service and laundry facilities are available at a surcharge.
Rang Mahal Hotel
, Jaisalmer
Offering an outdoor swimming pool, a fitness center and a spa and wellness center, Hotel Rang Mahal features a heritage look and decor. It is 0.6 mi from Nakki Lake Free, Sunset Point and Dilwara Temple. Free WiFi is available throughout the property.
Each modern air-conditioned room here will provide you with a cable TV and a mini-bar. There is also an electric kettle. Featuring a shower, private bathroom also comes with a hairdryer and free toiletries.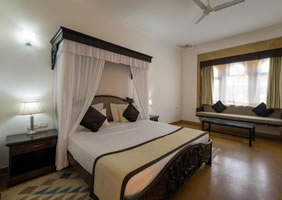 At Hotel Rang Mahal you will find a 24-hour front desk and a garden. Other facilities offered at the property include tour desk, meeting facilities and luggage storage. The property offers free parking.
The on-site restaurant serves Indian, Chinese, continental and regional fare. Refreshing beverages can be enjoyed at the bar. 24-hour room service is available for private dining.
WelcomHeritage Bal Samand Lake Palace Hotel
, Jodphur
Five kilometres away from the city centre of mesmerizing Blue City of Jodhpur, lay a lake of mythical proportions known by the name Balsamand Lake.
In recent years, the exquisite palace has been transformed into one of the best heritage hotels in Jodhpur - WelcomHeritage Bal Samand Lake Palace. It now stands as a testament of old-world charm and modern muse fused together. One gets transcended into a fairy-tale once they step into this majestic Palace set amidst 60 acres of private estate frilled with fruit orchards, manicured lawns, and flower gardens.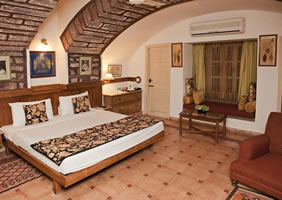 Guests can enjoy the on-site restaurant.
Every room comes with a flat-screen TV offering satellite channels. Certain rooms have a seating area where you can relax. Some rooms feature views of the lake or garden. For your comfort, you will find bath robes and slippers.
Rawla Narlai Heritage Hotel
, Narlai
This unique gem is tucked away amidst the Aravali's beckoning guests from far and wide. The 17th century 'Country Manor', has been painstakingly restored to its original magnificence and caters to an exclusive clientele in its resurrected avatar of an uber-chic boutique getaway.
Offering a seasonal outdoor pool and views of the mountains, Hotel Rawla Narlai is located in Narlai in the Rajasthan Region, 30 mi from Kumbhalgarh.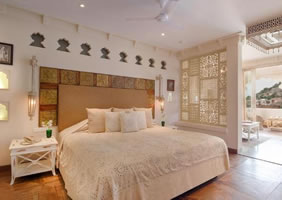 Guests can enjoy the on-site restaurant. Free WiFi is provided throughout the property and free private parking is available on site.
While your appetite for the 'Rawla Narlai' escapade may never be satiated, we assure you a variety of cuisine ranging from the local delicacies to international dishes. From curating dining experiences as per your liking, the choice of location and the choice of cuisine, we remain at your service.
LaLiT Laxmi Vilas Palace Hotel
, Udaipur
Built by His Highness Maharana Fateh Singh in 1911, The LaLiT Laxmi Vilas Palace Udaipur is an epitome of the culture and historical heritage of the princely state of Rajasthan. Overlooking the Fateh Sagar Lake, with the majestic Aravalli hills in its backdrop, this beautiful heritage palace glows with royal elegance that greets every guest in its luxury ambiance with great hospitality.
It features 55 well appointed, spacious rooms and suites all of which offer captivating views of the lake, valley or Udaipur skyline.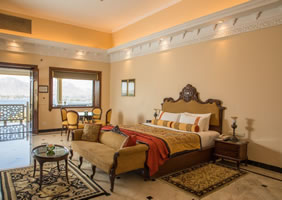 The LaLiT Laxmi Vilas Palace showcases traditional and contemporary cuisines served with regal flair and panache. For a one-of-a-kind dining experience, arrangements can be made for a private dinner in the Maharana Courtyard, where the King himself once presided over court proceedings.
Befitting its status among the city's top palace hotels, The LaLiT Laxmi Vilas Palace Udaipur offers a wide range of indulgence for travellers.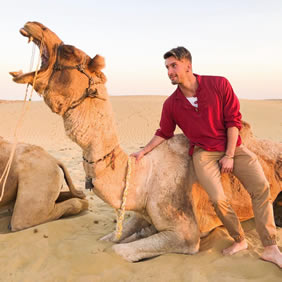 Entry Requirements
For U.S. citizens, a valid passport and a visa for travel to India are required. Your passport needs to have six more months of validity from the date of entry. You must enter with either a paper visa, or an e-tourist visa. The e-tourist visa is easy to obtain at this website.
Immunizations & Health
As of February 14, 2022, all international travelers arriving in India must upload either a negative RT-PCR report taken within 72 hours of the start of their journey or a certificate of completion of a full primary series of COVID-19 vaccinations. Go to this website and submit a self-declaration form at least 72 hours prior to departure for India. Additional testing on entry/quarantine may apply based on random testing upon arrival. No other immunizations are required, but the U.S. Center for Disease Control strongly recommends the following inoculations: tetanus, hepatitis A & B, typhoid, and Japanese encephalitis. Please check out their website for complete details. You should only drink boiled or bottled water in India. Avoid cut salads, raw vegetables and fruits without skin everywhere except in hotel restaurants.
Exit Requirements
Your airport departure tax will be included in the cost of your international airline ticket. Please check the requirements for entry to your final destination. For example, the United States currently requires a negative antigen test taken within 24 hours of arrival in the US. We will help to organize this at the right time prior to departure. After receiving the test results you can file a Passenger Disclosure and Attestation Form with your airline (or this can be done at the airport at check-in).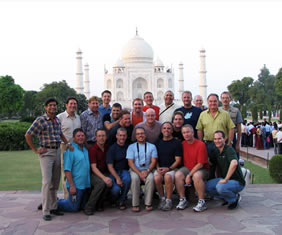 Making Travel Arrangements to India
Arrive and depart from Indira Gandhi International Airport in New Delhi, India. The airport code is DEL. Hotel services are paid beginning at 3pm on January 27, 2023, so keep that in mind as you plan your arrival. If you land at 1am on that day, you will probably want to book an additional night so that your room is ready for you when you reach the hotel. Schedule your departure from the same airport late at night on Friday, February 10, 2023. You have hotel services until 9pm that night. If your flight doesn't leave until sometime on February 11, we can arrange a late check-out for an additional fee.
What to Bring
The months of January and February are still warm but generally cooler than it would be at other times of the year. Temperatures will range between 50 to 80 Degrees F, depending on our location. Please pack light and limit yourself to no more than one suitcase and a carry-on bag. Pack medications in your carry-on just in case your suitcase doesn't arrive when you do. We suggest leaving expensive jewelry at home!
Money Matters
The currency unit in India is the Rupee (INR). As of April 25, 2022, the interbank exchange rate was 76 INR to the U.S. $1.00. ATMs are readily available in the major cities, and offer the best exchange rate for obtaining local currency. Credit cards are also widely accepted in establishments catering to tourists.
Tipping Guidelines:
Tipping is customary and expected of foreign tourists by service providers in India. We will give group tips at appropriate times throughout the tour, and guidelines concerning this will be sent to you prior to departure.