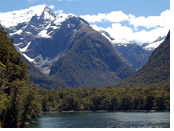 We invite you to experience the best that New Zealand has to offer. We take you from cosmopolitan Auckland, to a taste of Maori culture in Rotorua, the peaceful and majestic beauty of Fjordland and Doubtful Sound, to the capital of adventure activities in Queenstown. Join Toto Tours in this amazing wonderland, as we discover the magic of New Zealand and celebrate our 30th Anniversary!
The islands of New Zealand were forged relatively recently from the cauldron of the Earth's molten core, as volcanoes rose from the sea, creating a spectacular landscape of mountains, coastlines, fjords and lakes. Few countries encompass such contrasts in geography and culture as New Zealand. Famous writers have called New Zealand the "eighth wonder of the world" and "probably the most beautiful place on earth," and most first-time visitors often agree. It is so wild and pristine that film director Peter Jackson chose it to be the dramatic setting for his film versions of Tolkien's Middle Earth saga: "The Hobbit" and "The Lord of the Rings."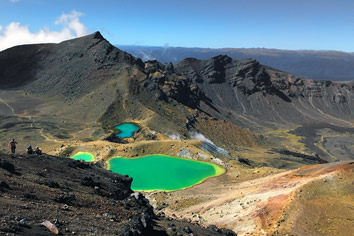 • Bay of Islands *
• Waitangi Treaty Grounds *
• Swim with Dolphins *
• Auckland
• Tiritiri Matangi Island Bird Sanctuary
• Hobbiton
• Waitomo Glow-Worm Caves
• Rotorua Cultural and Thermal Tour
• North Island Lake District
• Wellington
• WETA Workshop tour
• Kiwi-Spotting Night Walk
• Ferry to South Island
• Nelson
• Abel Tasman National Park
• Punakaiki Pancake Rocks
• Southern Alps
• Franz Josef Glacier Heli-Flight and Landing
• Wanaka
• Queenstown
• Earnslaw Steamer Lake Cruise
• Farmlife and Sheep-Shearing Demonstration
• Fjordland National Park
• Cruise on Doubtful Sound
• Dart River Jetboat Adventure
* Optional pre-tour, March 10 – 14, 2020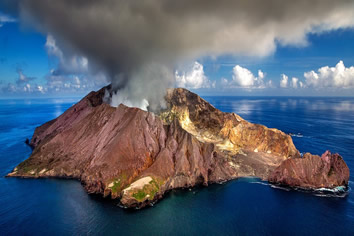 The enchanting Bay of Islands region, north of Auckland, is something that must be seen. If you can spare a few additional days before the main tour begins, you won't want to miss this exciting prelude to the main tour.
Day 01 - Tuesday, March 10, 2020
Arrive in Auckland, New Zealand / Welcome Dinner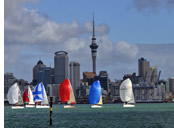 Arrive in Auckland and settle into our historic hotel. Join your fellow travelers for a welcome dinner this evening.
Auckland and surrounding suburbs have a population of approximately 1.5 million. It is New Zealand's largest city and spreads generously over a narrow isthmus between the Pacific Ocean and Tasman Sea. Over 60 extinct volcanic cones and craters characterize the landscape, while an endless procession of sails in the harbor is typical of the relaxed way of life here. Auckland was the state capital until 1865 and is today the economic center of New Zealand. Overnight in Auckland.
Meals: Welcome Dinner
Hotel: Heritage Hotel
, Auckland, 4.5*
Day 02 - Wednesday, March 11, 2020
Bay of Islands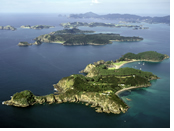 Head to the Bay of Islands via Matakana this morning. The Matakana Coast and its flourishing wineries is a favorite destination for wine and food lovers.
We stop to explore Sculptureum Gardens and Galleries - six galleries display works from around the world, themed glass art, figurative works, works from recycled materials, works of animals, modern abstract works in plastic and other materials. The gardens burst with colorful plantings, prehistoric rocks, and panels that display reflections in writing on Gardens, Inspiration, Wisdom, Art and Music. Share a delicious "Trust the Chef" lunch at Rothko before heading further north to Paihia, Bay of Islands. With its clear blue waters, abundant marine wildlife and myriad of islands, the beautiful Bay of Islands is New Zealand's finest maritime playground and one of New Zealand's leading holiday destinations. Overnight in Paihia.
Meals: Breakfast & Lunch
Hotel: Paihia Pacific Resort Hotel
, Paihia, 3.5*
Day 03 - Thursday, March 12, 2020
Maori Culture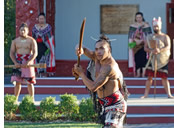 Pick up a paddle to gain insight into Maori tribal customs, rituals and traditions as you work together to move your Waka (Maori war canoe) up the Haruru River this morning.
Explore the Waitangi Treaty Grounds this afternoon. Located on the north side of the Waitangi River, 3km north-west of Paihia, Waitangi holds special significance in New Zealand's history. It was here on 6 February 1840 that New Zealand's founding bicultural document, the Treaty of Waitangi, was signed between some of the northern Maori chiefs and Captain William Hobson, representing Queen Victoria of Britain. Overnight in Paihia.
Meals: Breakfast
Hotel: Paihia Pacific Resort Hotel
, Paihia, 3.5*
Day 04 - Friday, March 13, 2020
Dolphin Cruise and Swim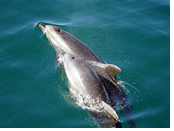 Take to the water again this morning on a cruise for viewing dolphins. Encounter these intelligent and playful mammals in their natural environment. You may even have an opportunity to swim with them in the warm waters of the winterless north (conditions permitting).
This afternoon we return to Auckland and our hotel there. Overnight in Auckland.
Meals: Breakfast
Hotel: Heritage Hotel
, Auckland, 4.5*
Day 05 - Saturday, March 14, 2020
Meet Group for Main Tour
You will have the morning and afternoon entirely free to explore Auckland on your own. During the day, your fellow travelers on the Main Tour will be arriving at various times. We gather in the hotel bar for cocktail hour and the main tour begins.
Meals: Breakfast
Day 1 - Saturday, March 14, 2020
Arrive in Auckland, New Zealand / Welcome Dinner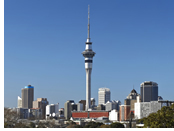 If you are not participating in the optional pre-tour extension, make your flight arrangements to arrive in Auckland, New Zealand by mid-day. We can arrange an additional night at our hotel if you wish to arrive a day early (on the 13th).
Join your fellow travelers for a welcome drink in the hotel bar this evening before heading out to our Welcome Dinner. Auckland is one of the few cities in the world to have harbors on two separate bodies of water. The central part of the urban area of Auckland covers a narrow isthmus between the Tasman Sea, and the Pacific Ocean. Auckland's amazing geography and warm, humid climate has inspired a lifestyle that is regularly ranked in the world's top ten. Overnight in Auckland.
Hotel: Heritage Hotel
, Auckland, 4.5*
Day 2 - Sunday, March 15, 2020
Tiritiri Matangi Island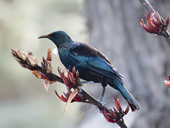 Board a ferry to Tiritiri Matangi Island, home to one of New Zealand's bird sanctuaries. Learn about conservation efforts here while seeking out endangered bird and reptile species, including the flightless takahe and the tuatara.
This evening, enjoy free time to discover Auckland, known as the "city of sails" for the many sailboats that teem in its harbor. Overnight in Auckland.
Meals: Breakfast & Lunch
Hotel: Heritage Hotel
, Auckland, 4.5*
Day 3 - Monday, March 16, 2020
Hobbiton / Waitomo / Rotorua

Travel to Rotorua via Hobbiton and Waitomo. Tucked away on a picturesque private farm, enjoy a guided tour of the Hobbiton Movie Set. The set was completely rebuilt for The Hobbit and remains as it was seen in the The Lord of the Rings film trilogy. Have a cool drink in The Green Dragon Inn before tucking in to a themed banquet in the Marquee.
Continue to Waitomo and explore an otherworldly cave system illuminated by the turquoise light of thousands of tiny glowworms.
Continue to Rotorua, a city built on geothermal landscapes, and visit a traditional Maori meeting house in Whakarewarewa village to take part in a Maori mihi whakatau welcome ritual. Upon arriving, local Tuhourangi guide Karen Walmsley, whose family has been hosting visitors since 1886, will provide the group with her unique insights about the daily life of the village. Karen guides the group on Maori protocol as they take part in a "whakatau" welcome ritual at a traditional meeting house, followed by a light meal. Overnight in Rotorua.
Meals: Breakfast, Lunch & Dinner
Accommodation: Sudima Lake Hotel
, Rotorua, 4*
Day 4 - Tuesday, March 17, 2020
Lake District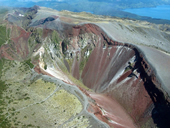 Karen joins the group again this morning to visit the North Island's stunning Lakes District, which boasts 18 sparkling lakes and three major rivers. Spend the day exploring the Lake Tarawera area with Karen. Lake Tarawera, whose name means "Burnt Spear," is one of the largest lakes in New Zealand. The lake was home to many small Maori villages and mission settlements until Mt. Tarawera erupted in 1886. Legend has it that a "waka wairua" (phantom canoe) appeared on the lake as a portent of death a few days prior to the eruption. Learn about the history of the Tuhourangi people and their relationship to this unique environment.
Weather permitting, disembark at Te Rata Bay and take a walk in the warm waters and shores of Hot Water Beach. Overnight in Rotorua.
Meals: Breakfast, Lunch & Dinner
Accommodation: Sudima Lake Hotel
, Rotorua, 4*
Day 5 - Wednesday, March 18, 2020
Wellington Flight / WETA Workshop Tour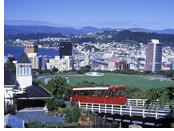 This morning fly to Wellington, New Zealand's charming capital city. Visit the famous WETA Workshop, the special effects group behind several blockbuster movies, including The Lord of the Rings trilogy. Take a behind-the-scenes tour of their design studio and participate in a hands-on demonstration of the creative process used to develop their props.
In the afternoon enjoy time at leisure. We recommend a visit to the "must-see" for visitors to Wellington - Te Papa, the country's bold and innovative national museum.
After dinner, we search for kiwis during a guided after-dark walk at Zealandia, an important mainland wildlife sanctuary whose innovative predator-proof fence was the first of its kind. Overnight in Wellington.
Meals: Breakfast & Dinner
Hotel: Bay Plaza Hotel
, Wellington, 3.5*
Day 6 - Thursday, March 19, 2020
South Island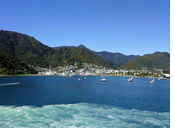 This morning feed your curiosity with a tour of the Wellington Museum, full of weird and wonderful tales that make Wellington the colorful city it is today. Hear the legend behind the iconic Beehive design and learn about the little coffee house that defied the Wellington City Council. Finish with a great cup of coffee and a delicious treat to get a taste of Wellington's vibrant café culture. This afternoon appreciate spectacular vistas as we ferry across the Cook Strait to the port of Picton on the South Island. Continue to Nelson, a picturesque seaside town that often records the highest annual sunshine hours in New Zealand. The town offers a unique blend of culture and heritage, landscape and leisure, art and crafts and fine wine. Overnight in Nelson.
Meals: Breakfast & Dinner
Hotel: Trailways Hotel
, Nelson, 4.5*
Day 7 - Friday, March 20, 2020
Abel Tasman National Park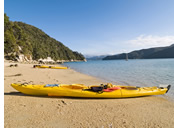 We set off this morning to the magnificent Abel Tasman National Park, one of New Zealand's smallest National Parks and most treasured gems. Native forest reaches almost to the waterline, where it meets golden beaches and rocky headlands. Walking and hiking are superb with scenic tracks leading around the coast.
Sea kayaking is a great way to explore Abel Tasman National Park as you can get close to wildlife such as dolphins, seals and penguins – we've arranged for you to both walk and kayak the park today. Overnight in Nelson.
Meals: Breakfast & Lunch
Hotel: Trailways Hotel
, Nelson, 4.5*
Day 8 - Saturday, March 21, 2020
Punakaiki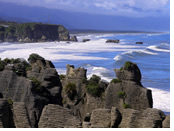 This morning we visit to the World of Wearable Art and Collectable Cars Museum. View a stunning selection of more than 60 wearable art garments, alongside more than 140 veteran, vintage and classic cars. The Museum showcases two very distinct collections that collide in a celebration of design, innovation and wonder.
We head to Punakaiki, with its dramatic coastal scenery. This small town is most famous for the Pancake Rocks and their impressive blowholes. Overnight in Punakaiki.
Meals: Breakfast & Dinner
Hotel: Punakaiki Resort
, Punakaiki, 4*
Day 9 - Sunday, March 22, 2020
Southern Alps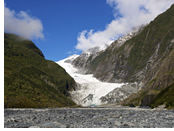 We set off for Franz Josef, a tranquil village nestled among the native forest of the West Coast and overlooked by the massive peaks of the Southern Alps. Not to be missed here is the famous Franz Josef Glacier, which we discover with a scenic helicopter flight which lands us on the Glacier. Along with its twin, the Fox Glacier, Franz Josef is the most low-lying glacier of its type in the world.
This afternoon we take a behind the scenes tour of the West Coast Wildlife Centre. Here you can learn about the region and New Zealand's rarest kiwi, the Rowi. This evening we recommend the Glacier Hot pools. Pop in for a relaxing soak in the public pools or pre-book a private pool for the ultimate experience (own arrangements). Overnight at Franz Josef Glacier.
Meals: Breakfast & Dinner
Hotel: Scenic Hotel Franz Josef Glacier
, Franz Josef, 5*
Day 10 - Monday, March 23, 2020
Wanaka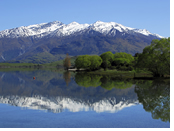 Today we head to Wanaka, taking the scenic route through Haast Pass with many opportunities to stop for photographs and shorts walks en route.
This afternoon we take a cruise on Lake Wanaka. We'll go ashore on remote Mou Waho Island, a predator-free nature reserve that is home to the rare flightless buff weka, a curious, even friendly, bird that has been extinct on the mainland since 1920. A guided bush walk to the top of the island reveals a hidden lake on the summit, a very photogenic spot where we'll have High Tea serenaded by birdsongs with the panorama of the Southern Alps displayed before us. Overnight in Wanaka.
Meals: Breakfast & Lunch
Hotel: Wanaka Hotel
, Wanaka, 3*
Day 11 - Tuesday, March 24, 2020
Queenstown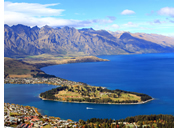 Enjoy a leisurely morning with breakfast and late-morning hotel check-out. This afternoon, we travel along the spectacular Crown Range Road, with vistas of Lake Wakatipu and the Remarkables Range unfolding as we travel through to Queenstown, adventure capital of New Zealand!
This evening board TSS Earnslaw, believed to be the oldest working coal-fired passenger steamship in the southern hemisphere, to cruise across stunning Lake Wakatipu to Walter Peak High Country Farm. Disembark at Walter Peak to meander through the lakeside gardens to Colonel's Homestead where we are seated for dinner.
Afterwards, we join an entertaining farm experience which gives an insight into life in the New Zealand high country including a sheep shearing demonstration. The night-time cruise home is magical. Join in the camaraderie of a sing-a-long with the ship's pianist. Overnight in Queenstown.
Meals: Breakfast & Dinner
Hotel: Novotel Lakeside Hotel
, Queenstown, 4*
Day 12 - Wednesday, March 25, 2020
Fjordland

Journey into Fjordland National Park for a wilderness cruise through magnificent Doubtful Sound.
As we navigate these pristine waters, take in the majesty of the fiords and their surrounding cliffs, blanketed in lush forest and sprinkled with waterfalls. Keep your eyes peeled for dolphins and fur seals!
Meals: Breakfast & Lunch
Hotel: Novotel Lakeside Hotel
, Queenstown, 4*
Day 13 - Thursday, March 26, 2020
Lakes / Jetboat Cruise / Farewell Dinner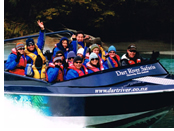 On your final full day in New Zealand, venture into the undulating landscapes of the Southern Lakes District and experience the tranquility of Lake Wakatipu's cerulean waters. After taking in the spectacular surrounding landscapes along the way, arrive at the lakeside village of Glenorchy.
We continue to historic Kinloch Lodge to enjoy lunch on the grounds. After lunch we board a jetboat for a spectacular journey deep into the heart of the world-renowned Mount Aspiring National Park. Experience a unique combination of breath-taking scenery and an exhilarating ride as we follow the braided, glacier-fed river by jet boat. Your skipper shares stories about the area's rich history, the Greenstone trail and Maori legends. We'll also tie up the boat to walk amongst the ancient beech tree forests.
Return to Queenstown and celebrate your time in New Zealand with a festive farewell dinner.
Meals: Breakfast, Lunch & Dinner
Hotel: Novotel Lakeside Hotel
, Queenstown, 4*
Day 14 - Friday, March 27, 2020
New Zealand Departure
The tour officially ends after breakfast this morning. We provide transfers to the airport for your return flight today. If you wish to extend your stay in Queenstown, please let us know on your reservation form so that we can keep your room available for another night.
Meals: Breakfast