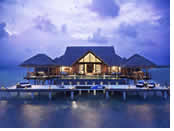 Maldives Add-On Trip
The perfect add-on to our India vacation
View our India Luxury Trip,
March 10 - 20, 2022
Our Maldives add-on options are a fabulous addition to our Zoom India trip and the quintessential picture of paradise. With private beaches, luxurious villas, and decadent dining options, this is a destination that embodies all things luxury.
The blissful islands serve as the perfect location to kick-off a vacation or to wind down before returning home following a full-itinerary trip. Whether you choose to go before or after, scuba dive or spend your day lazing in the sun, your trip is not complete without a taste of the Maldives.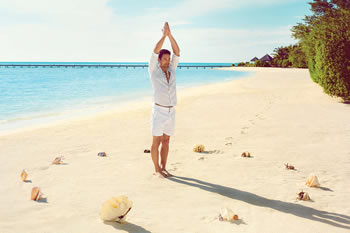 • Accommodations at the most highly acclaimed Resort in the Maldives, the Taj Exotica Resort and Spa
(or W Maldives Resort
).
• A selection of gourmet dining options as well as a poolside bar and Equator-Bar with stunning sunset views
• Fresh, catch-of-the-day meals prepared by award winning chefs
• Private, beach-side dining under the stars
• Pampering spa services and yoga at the luxurious Jiva Grande Spa, an oasis of privacy
• Refreshing, outdoor infinity pool
• In-house Ayurvedaa Physician
• Exclusive location on Emboodhu Finolhu, one of the largest lagoons in Maldives
• 24-hour speedboat service
• Scuba Diving
• Snorkeling
• Parasailing
• Packages range from room- only to added breakfast to full board, based on your desires.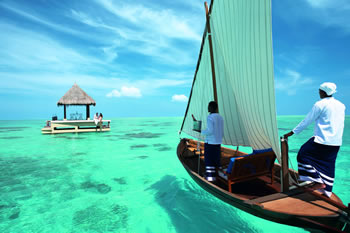 The Taj Exotica Resort & Spa
Escape the frenetic pace and chaos of everyday life, in to luxury's very own lap at Taj Exotica Resort & Spa, Maldives
. Away from the sparkling lights of Male, this hotel is spread across the Emboodhu Finolhu island in the middle of one of the largest lagoons in Maldives.
Renowned for its rich flora and fauna, this tropical isle, also known as the Three Coconut Isle, is situated amidst the coral reefs. A 15-minute speedboat ride from the airport brings you to the idyllic resort surrounded by the azure waters of the Indian Ocean.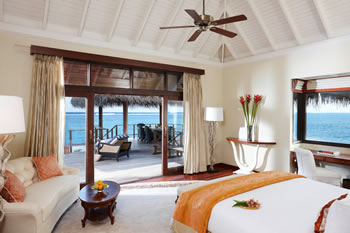 Set delicately over the lagoon, this postcard-perfect getaway offers 64 sea-view villas and suites that are luxurious and lavish; yet maintain a fine balance with nature. Our world-famous, award-winning presidential suite is, arguably, the most beautiful place on earth.
At Taj Exotica Maldives
, you are on Taj Time, where doing nothing is an art form. Time stands still—and yet there is never a dull moment. Within this oasis of calm set in paradise, lounge by the infinity pool or at your private beach, laze in a hammock over the blue waters and just lay below the stars at night. Go on a wildlife-spotting walk. Pure bliss.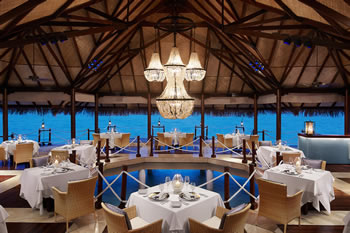 Savour the best from the culinary world with carefully selected ingredients sourced both locally and globally to please your palate. Enjoy the freshest of seafood at Deep End or choose from the extensive carefully crafted menu at 24 Degrees, where you experience a performance of art assembled on your plate at the theatrical Teppanyaki kitchen. Sip leisurely on your cocktails at the Equator Bar as you take in the awe-inspiring views of fiery Indian Ocean sunsets. Needless to say, each of our restaurants offers a spectacular and unbelievably romantic ocean experience.
Enjoy sumptuous in-room and private dining experiences. And be pampered by our world-renowned butlers, who would be happy to arrange a whole range of water sports including snorkelling and scuba diving.
Come, create a lifetime of memories every moment in this haven of tranquillity.