Loire Valley France All-Gay River Cruise 2024
7 nights from Bordeaux to Nantes, France
May 22 – 29, 2024
CroisiEurope Cruises MS Loire Princesse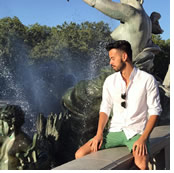 An all-inclusive, France Loire Valley all-gay cruise & 2 pre-cruise nights in Bordeaux. We embark on a cruise on the Royal Loire River whose beauty is legendary. Visit Nantes and The Machines of the Isle of Nantes, a gallery that recreates the imaginary world of the famous writer Jules Verne. Soak up the magical castles of the Loire such as Brissac, the highest castle in France whose monumental facades rise up from its large landscaped park and so much more…
Discover Saint-Nazaire and admire its shipyard and the Escal'Atlantic which immerses you in the world of steamships from the beginnings of their gigantic construction to life on board.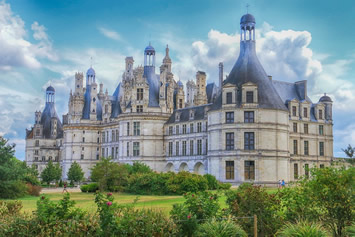 Your LGBT+, all-inclusive, guaranteed full ship charter adventure begins on land with two nights in Bordeaux, the world's largest urban World Heritage Site, cradling half the city (18 sq km) in its Unesco-listed treasure chest. From the elegant symmetry of place de la Bourse, palaces strung with stone-sculpted mascarons (faces), to tree-shaded boulevards laced with hôtels particuliers (mansions) built for 18th-century wine merchants, Bordeaux architecture is world-class.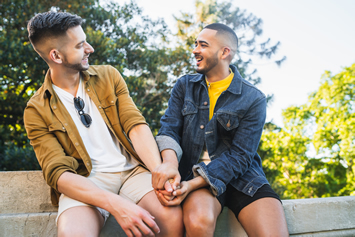 Loire Valley All-Gay River Cruise Highlights
• Two nights in a 5-star hotel in central Bordeaux
• Welcome reception
• Guided tour of Bordeaux
• Five nights on board the 4-Star Croisi Europe Loire Princesse
• See the Machines de l'Île
• Join Muscadet Wine Route and Clisson, a charming medieval town
• Take an optional Helicopter ride (additional cost to be booked in advance)
• Upgraded open bar including wine, beer, spirits, soft drinks, mineral, water, coffee & tea (excluding Champanges and wines from the wine list)
• See Saint Nazaire and its shipyard, the embodiment of French pride
• Visit Brissac castle for wine tasting in the cellars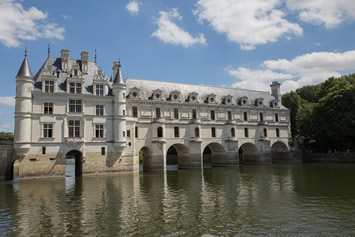 Loire Valley Gay River Cruise Inclusions
• Guaranteed all-LGBT+ charter
• 2 nights hotel accommodation in Bordeaux including daily buffet breakfast
• Welcome reception in Bordeaux
• Transfer from the hotel in Bordeaux to the ship
• Five nights on board the 4-Star CroisiEurope Loire Princesse
• Wine & Beer with lunch and dinner
• Complimentary upgraded beer, wine, spirits and non-alcoholic beverages throughout the cruise
• Superb Dining: all meals included during your cruise
• Complimentary shore excursions offered daily
• Brand g signature entertainment
• Transfers from the Loire Princesse to Nantes Atlantique Airport (NTE) or Train Station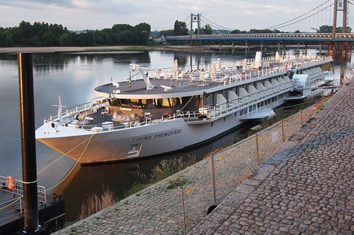 Your Ship - Loire Princesse
The design of this ship is exclusive to CroisiEurope since it is the first French ship to sail on the Loire, the last "wild river" in France. Built in 2015 in Saint-Nazaire, its specificity lies in its side paddle wheels and shallow-draft. The noble burgundy and pearly colors mingle with copper elements, which give a prestigious character to the interior decoration.
T A "royal" atmosphere to discover the Loire châteaux from the water. A nod to the famous "inexplosibles" that once crisscrossed the Loire: a large fireplace is located in the middle of the lounge.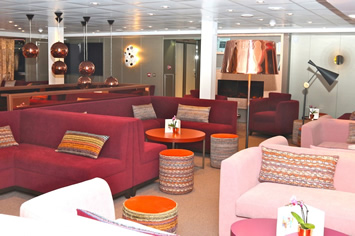 The welcoming public spaces have large window areas and the cabins on the upper deck have terraces with outdoor furniture. All meals during the cruise are served in the restaurant on the main deck. Onboard fun, music and dancing happen in the lounge / bar on the upper deck, where a cozy patio also provides great landscape views.
The sun deck has deck chairs and sun loungers ideal for relaxing. In the reception area you can admire the mechanism of the paddle wheels during navigation.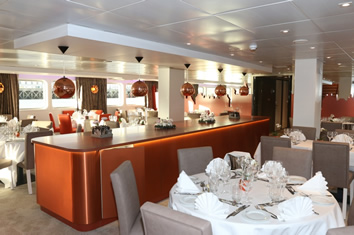 Restaurant
Located on the main deck, the restaurant is where all meals are served during your cruise. It seats all guests at tables which vary in size with a panoramic view. The atmosphere is casual but elegant.
Lounge Bar With Dancefloor
The lounge tastefully decorated, is located at the front of the ship and offers panoramic views. Cocktails and games, dancing, and other forms of entertainment all happen here.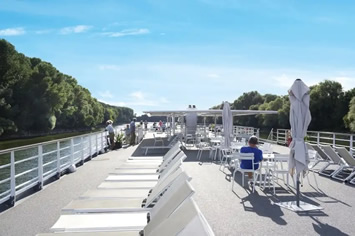 Sun Deck
Take advantage of the sun deck to relax! It is equipped with chairs and deckchairs, allowing you to cool off while enjoying a panoramic view of the magnificent landscapes.
Fitness
Start your day by joining us for a morning fitness class on the sun deck.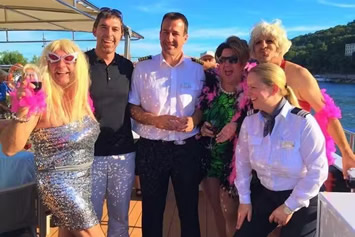 Entertainment
On a Brand g European river cruise, every night is opening night. Our cruises always include two featured acts (occasionally three) who provide nightly entertainment throughout the cruise.
Although the focus of our cruises is mainly on sightseeing and socializing, we do like to mix in a bit of frivolity as well. With that in mind, we're planning a couple of themed deck parties during the cruise. If you should choose to participate great, if you'd rather just be a voyeur that is totally fine as well.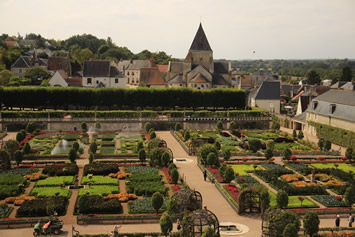 Frequently Asked Questions
When should I schedule my flights or train?
Arrivals:
You should schedule your arrival to Bordeaux on or before May 22, 2024 by air or train. Your first event will be a welcome cocktail reception at approximately 5:30pm on May 22nd.
Departures:
You should schedule your train from Gar de Nantes or flight from Nantes Atlantique Airport, France (NTE) to depart anytime on May 29th. All guests to disembark by 10:00am.
What arrival and departure transfers are included?
Arrival transfers are provided from the Bordeaux Airport (BOD), or train station to the host hotel.
Departure transfers are provided from the ship to Gar de Nantes (train station) or Nantes Atlantique Airport, France (NTE).
If you extend your stay at in Nantes, you will be provided with a transfer from the ship to that hotel. You will then need to arrange your own transfer to the airport.
Contact our team to ensure arrangements outside of these arrival and departure transfers will be included. Booked guests should provide their arrival and departure details 45 days prior to the trip to ensure transfer availability.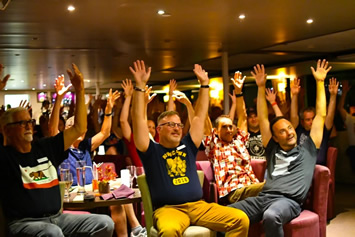 What should I expect on the included shore excursions?
Excursions during your travel program are mostly in groups of 25 people led by expert English speaking local guides. Utilizing wireless audio guides enables you to hear every word of your travel guide at absolutely all times. It provides maximum flexibility and convenience without missing a moment of fascinating commentary and is compatible with hearing aids.
What if I have dietary requirements?
We will make every effort to accommodate special dietary requests. Please inform our office at least 45 days prior to departure of these requests.
Will there be smoking areas?
The comfort and safety of our guests is our first priority. Smoking is not permitted in the suites or enclosed, public areas on board. There is a designated smoking area on the Sun Deck. Land properties will have designated smoking areas.
Is there a dress code?
You are on vacation and the last thing we want to impose is a dress code. We will however appreciate you wearing more than a thong or mankini at dinner and in the bar/performance area. Be as dressed up or down as you see fit as long as you are comfortable and dress appropriately for changeable weather.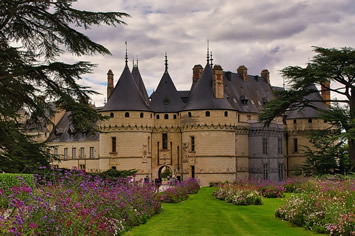 What are pre-paid gratuities?
Gratuities are customary expressions of appreciation for a job well done. It is our goal to ensure that the service you receive is as wonderful as the sites you visit. Gratuities for the included portions of this program have been pre-paid. At your own discretion you may choose to provide additional tips.
What are the passport and visa requirements?
Citizens of most countries are required to have a valid passport, which expires at least 3 months after the last day of your travels in The European Union, however, some European countries require 6 months validity. Please check for your specific entry requirements.

Visas are not currently required for US citizens enter The European Union. However, if you are not a member of the European Union, you may be required to register for ETIAS visa waiver. For more information and to apply visit the ETIAS website.
Citizens of all other countries should check with the European Union consulate in their home country to verify entry requirements.