Brussels, Moselle & Rhine Rivers All-Gay Cruise 2023
9 nights from Brussels, Belgium to Amsterdam, Netherlands
July 28 – August 06, 2023
Lüftner Cruises Amadeus Queen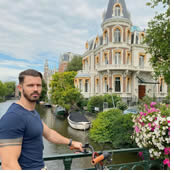 Moselle & Rhine all-gay river cruise featuring 2 pre-cruise nights in Brussels and ending in Amsterdam during Pride! Explore the undiscovered beauty of Europe as we begin in Brussels, the legendary center of European democracy, a beautiful capital full of history and tradition. Sail from beautiful Trier to Bernkastel, Cochem and Coblenz before reaching Bonn, Colon and Dusseldorf before disembarking in the metropolis that is Amsterdam.
Brand g Vacations & Happy Gay Travel is proud to offer a unique river cruise experience unlike any you'll find on the rivers of Europe today. With this all-LGBT+ full cruise charter on the Amadeus Queen, you will be pampered by a crew of forty in an atmosphere of total relaxation. We've created an itinerary that includes four countries; Belgium, Luxemburg, Germany and The Netherlands.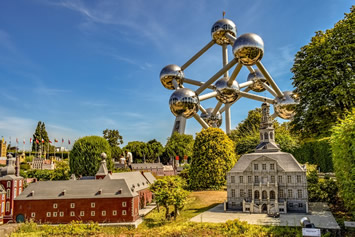 The romantic Moselle winds through an enchanting landscape of castles, picture-book villages and terraced slate hillsides that form one of the world's richest wine regions. With a settled history that predates the Romans, it is yours to discover on our Moselle river cruise.
The Moselle River meets the Rhine at Koblenz, Germany. On the way, it weaves and twists from France, forms a natural boundary between Luxembourg and Germany and follows a sinewy path past breathtaking vistas of sloping vineyards. The Holy Roman Empire had one of its major capitals here, the magnificent city of Trier, and tidy villages emerged on its fertile shores to produce what would become some of the world's most loved wines.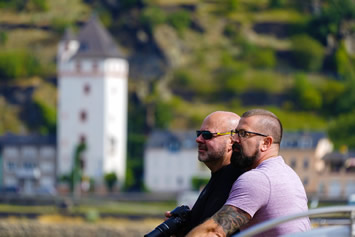 Raise a glass of Riesling to our acclaimed Rhine River cruise through Germany and The Netherlands. See how the Rhine, Main and Moselle river systems unfold to create a spellbinding display of storybook villages, Dutch windmills, German vineyards and Gothic cities.
A Rhine River cruise takes you into the heart of Middle Europe, where stately castles, fairytale villages and cultural centers have long been witnesses to history. The river's banks are brimming with historic treasures, natural beauty and vibrant capitals.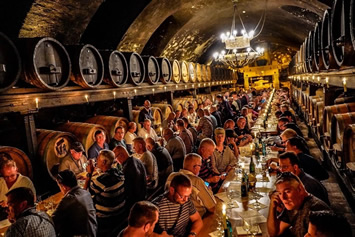 Brussels, Moselle & Rhine Rivers Gay Cruise Highlights
• Explores Brussels the capital city of modern European democracy and enjoy a group dining experience
• See the ancient German health resort of Cochem situated in the Mosselle wine valley
• Explore Koblenz one of the most beautiful cities in Germany
• Visit the charming cultural city of Bonn
• Walk the ancient gothic city of Cologne
• See historical Dusseldorf
• See the Amsterdam waterways and villages of Amsterdam as well as the city.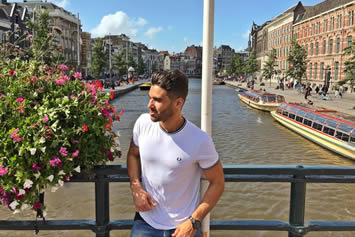 Brussels, Moselle & Rhine Rivers Gay Cruise Inclusions
• Guaranteed all-LGBT+ charter
• Two nights in historic Brussels
• Half day guided tour including the highlights of Brussels
• 7 nights cruise accommodation
• Daytime cruising through the Moselle and Rhine Rivers
• Complimentary shore excursions offered daily including tours of Bonn, Colon and Dusseldorf
• Complimentary beer, wine, spirits and non-alcoholic beverages throughout the cruise
• Superb Dining: all meals included during your cruise
• Complimentary shore excursions offered daily
• Brand g signature entertainment
• Arrival and Departure airport transfers in Brussels and Amsterdam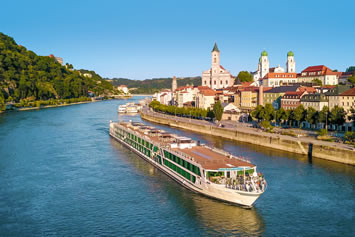 Your Ship - Amadeus Queen
The Amadeus Queen is the 15th river cruise ship of the Austrian ship operator, Luftner Cruises. Similar to its predecessors, this ship continues with the company's orientation to high quality river cruises in Europe.
This vessel follows the award-winning model of the AMADEUS Silver ships but offers even further innovative developments. The popular concept of spaciousness has been maintained. This includes not only generous public areas but also spacious cabins: 12 large suites impress with an outdoor balcony and a cozy reading corner whilst the 69 standard cabins mainly have panoramic window fronts which can be automatically lowered and luxurious bathrooms.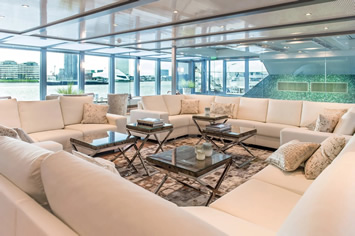 The on-board highlight is the indoor pool, the roof of which can be opened in fine weather. In the evenings, this area may also be used for informative talks, functions and cinema showings.
All deluxe cabins and suites are equipped with comfortable, spacious bathrooms, an infotainment system, a flat screen television, a telephone, a cabin safe, a minibar and individually adjustable air conditioning. The suites also have an accessible outdoor balcony with a seating area.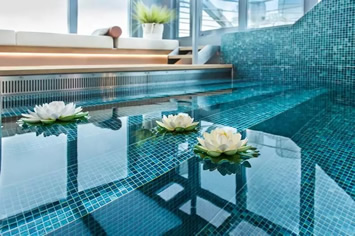 Indoor Pool
The new on-board highlight is the indoor pool, the roof of which can be opened in fine weather. In the evenings, this area may also be used for informative talks, functions and cinema showings.
River Terrace
The ship's exclusive "River Terrace" open-air lounge is in the bow and its specially designed glazing provides an incomparable view of the passing riverside scenery while simultaneously providing protection against wind and rain.
AMADEUS Club
The AMADEUS Club is the perfect place in which to share the pleasures of the day with a glass of wine in the evening and relax to the gentle sounds of jazz or classics.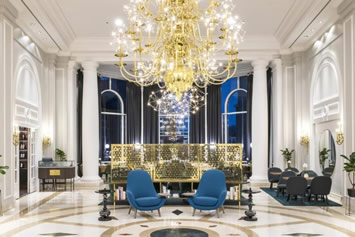 Hilton Brussels Grand Place Hotel
Featuring chandelier-lit interiors, Hilton Brussels Grand Place
is next to Brussels Central railway station and three blocks from the iconic Grand Place. The hotel is within 10 minutes of Square Brussels Convention Center and the Place Royale's museum district. Enjoy creative Belgian cuisine at Sentro restaurant onsite.
Offering city views, all rooms are air-conditioned and feature free Wi-Fi, LCD TV, minibar, coffee and tea facilities.
At Sentro À Table Avec Vincent Masson, guests can savour culinary creations inspired by artists and craftsmen who will exhibit their work in the hotel.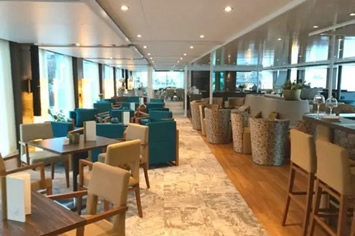 Frequently Asked Questions
When should I schedule my flights?
Arrivals: You should schedule your flight to arrive in Brussels, Belgium (BRU) on or before July 28th, 2023. Your first event will be a welcome cocktail reception at approximately 5:30pm.
Departures: You should schedule your departure from Amsterdam Airport (AMS) anytime on August 6th, 2023.
The ship is docked in Amsterdam overnight from the 5th, and therefore you may disembark as early as necessary to catch a morning flight. All guests to disembark by 10:00am.
What arrival and departure transfers are included?
Arrival transfers are provided from the Brussels (BRU) to the Host Hotel.
Departure transfers are provided from the ship to the Amsterdam Airport (AMS).
If you extend your stay at our host property in Amsterdam, you will be provided with a departure transfer from the ship to the hotel.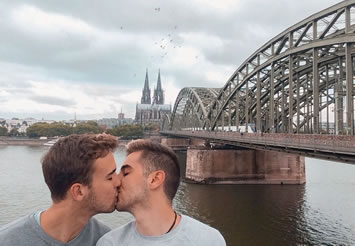 What should I expect on the included shore excursions?
Excursions during your travel program are mostly in groups of 25 people led by expert English speaking local guides. Utilizing wireless audio guides enables you to hear every word of your travel guide at absolutely all times. It provides maximum flexibility and convenience without missing a moment of fascinating commentary and is compatible with hearing aids.
What if I have dietary requirements?
We will make every effort to accommodate special dietary requests. Please inform us at least 45 days prior to departure of these requests.
Is there a dress code?
You are on vacation as the last thing we want to impose is a dress code. We will however appreciate you wearing more than a thong or mankini at dinner and in the bar/performance area. Be as dressed up or down as you see fit as long as you are comfortable and dress appropriately for changeable weather.
Will there be smoking areas?
The comfort and safety of our guests is our first priority. Smoking is not permitted in the suites or enclosed, public areas on board. There is a designated smoking area on the Sun Deck. Land properties will have designated smoking areas.
What weather can I expect from this trip?
Europe is at the peak of the summer heat. The days can reach the mid 90s and the evenings are in generally in the 70s. On the river can make it feel a little cooler, so don't forget a shawl or light jacket.