October 13–25, 2022
Uniworld Boutique River Cruises R.V. Mekong Jewel
We invite you to join Brand g Vacations from October 13 – 25, 2022 for an all-inclusive, 13-day All-LGBT journey, exploring the highlights of Cambodia and Vietnam, featuring the Temples of Angkor Wat and the mighty Mekong River.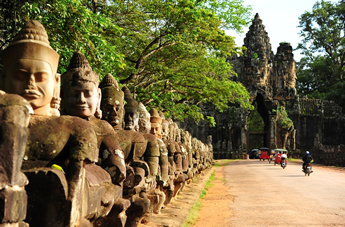 There can be no more striking cultural contrast than the one between bustling Vietnam and the tranquil Cambodia. From the diverse countryside of Cambodia to the Mekong Delta, so rich in human life and endeavor, you'll discover two countries, two cultures, and two ways of life linked by one river, the Mekong.
Join Brand g on a comprehensive 13-day journey through the heart of Vietnam and Cambodia featuring a seven-night cruise charter along the mighty Mekong River. Cruise aboard the new, all-suite, luxurious Mekong Jewel, specially built to ply the Mekong River from Kampong Cham, Cambodia to Ho Chi Minh City. Embracing an elegant French-colonial design similar to the many homes that once lined the streets of old Saigon, she boasts spacious suites from 258 square feet up to an expansive 584 square feet in size. From here, you will enjoy all the wonders the Mekong has to offer in sophisticated, yet comfortable style.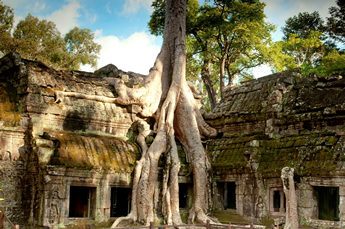 With never more than 24 guests per expert guide, you will enjoy enriching lectures, a comprehensive series of well-planned excursions, and most meals and beverages! Also included is a three-night stay in Siem Reap including an in-depth visit to the UNESCO World Heritage site of Angkor Wat, and a two-night stay in bustling Ho Chi Minh City (formerly Saigon), each featuring five-star, centrally-located hotels.
As a traveler of Brand g Vacations, you'll also enjoy complimentary beverages, locally-produced beer, alcoholic beverages, and soft drinks as well as house wines with dinner. Dine on European cuisine and regional specialties infused with flavors from Asia's celebrated culinary tradition.
An optional pre-program four-night extension is available, featuring a two-night cruise on the famed UNESCO World Heritage site of Ha Long Bay. Also included is two nights and touring in historic Hanoi.
With just 34 custom-designed suites, space is limited, so contact your travel professional or Brand g Vacations today!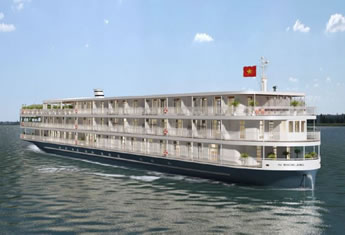 The Ship
Reminiscent in design of the French, colonial-era, manor homes that once lined the streets of old Saigon, the 34-suite/68-passenger Mekong Jewel lends a sophisticated, yet comfortable, ambiance while cruising the mighty Mekong River. Around every corner, guests will enjoy a blend of timeless elegance and modern luxuries as they experience the sights and sounds of a landscape that forever changes its visitors.
Debuting on January 3, 2020, the Mekong Jewel is the newest and most luxurious ship on the Mekong river. This all-suite ship will include two dining venues: one main restaurant and an al fresco eatery on the upper deck. The Mekong Jewel replace the Mekong Navigator and is constructed with sustainable, eco-friendly materials, and will feature a swimming pool, spa, sauna and steam room, gym, hair salon, nail bar, two lounges and a library.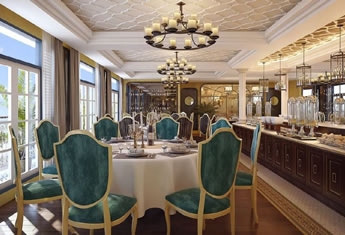 Le Marche Dining Room
A tribute to the incredibly flavorful cruising of Southeast Asia, Le Marche will take you on a gastronomic journey of the fresh herbs, fruits, and vegetables that fill the local markets. Gests will also enjoy a variety of western dishes, thoughtfully prepared to provide an array of choices throughout their experience on board. This casually elegant venue will over signature dishes accompanies by complimentary wine in a single, open, dinner seating. Breakfasts and lunches offer sumptuous buffets with extensive choices.
Le Salon Lounge
The Lounge on the Sun Deck is a convivial place to join friends and compare notes and photos of the day's excursions in a spacious and inviting, climate-controlled atmosphere, while enjoying the complimentary local spirits, local beer, coffee, tea, soft drinks, and bottled water. (Premium spirits and wines are available for purchase in the Lounge and on the Sun Deck.)
Movies and documentaries related to the destination are shown in the afternoon, and local entertainment is provided on selected evenings.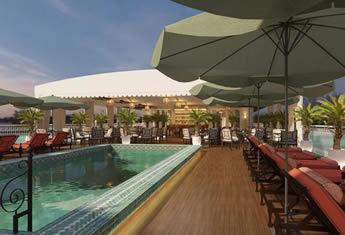 La Biblioteque
Staying in contact with family and friends is easier on board the RV Mekong Jewel. Located on the Sun Deck, La Biblioteque Library and Internet Lounge is equipped with computers and WiFi, as well as a selection of books written by authors enchanted by their time in Indochina.
Observation Deck
The Observation Deck on the Mekong Jewel is the perfect place to awaken with a fresh cup of coffee, relax with a good book, or watch the sun set with an evening cocktail. This area of the Sun Deck offers chaise lounges and comfortable, shaded, seating areas, where staff ar always available to offer a cool beverage.
La Vie Spa & Fitness Center
The fitness center on board the RV Mekong Jewel offers modern exercise equipment to guests who wish to work off the scrumptious desserts from last night's dinner.
La Vie Spa offers a variety of traditional massages, wraps, and aromatherapies, in two private, relaxing spa rooms on the Sun Deck.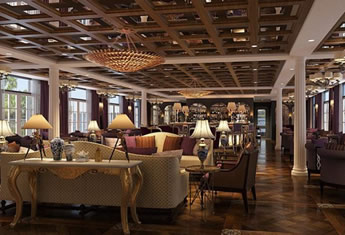 Ship Accommodations
Accommodations on board the Mekong Jewel provide all the comfort and convenience of a five-star hotel, without denying you the thrills of complete immersion in the Mekong River experience. Spacious, well-appointed suites offer individual climate control, daily housekeeping with turn-down service, the finest bed linens and duvets, luxuriously soft robes and slippers, all-natural, therapeutic bath amenities, and much more.
• Premium mattresses and pillow menu
• Luxurious, 500-thread-count linens and duvet
• Flat-screen satellite TV
• In-room electronic safe
• Minibar
• Generous closet space and under bed storage
• Daily housekeeping and turn-down service
• Complimentary bottled water replenished daily
• Complimentary wireless Internet in all public areas, when available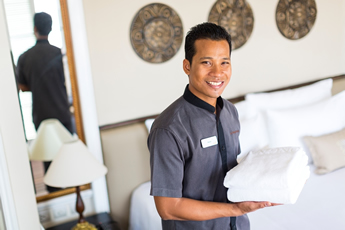 Land Accommodations
Victoria Angkor Resort & Spa
- Siem Reap, Cambodia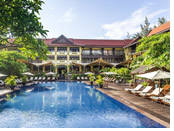 The five-star Victoria Angkor Resort & Spa provides a sense of serenity with the nostalgic comfort and elegant refinement of the French Art de Vivre in the heart of Siem Reap. Conveniently located in the heart of Siem Reap, in close proximity to the Angkor Archeological Area, the quaint Old Market, and the dynamic night markets, Victoria Angkor has been designed in total harmony with its natural surroundings. All accommodations have wooden floors, colonial style furnishings, and original artifacts, adding a warm touch of local culture, and open onto large balconies overlooking the saltwater pool set in lush, tropical gardens.
The Reverie Saigon Hotel
– Ho Chi Minh City, Vietnam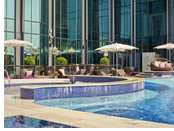 The Reverie Saigon has debuted as the most spectacularly extravagant hotel in Vietnam and as the one and only member property of The Leading Hotels of the World in all of Ho Chi Minh City.
Taking pride of place on the topmost floors of the landmark Times Square Building in prestigious District 1, the much-lauded hotel presents world-class hospitality with its impeccable service and its unique celebration of haute Italian design and inimitable luxury.
Transcending expectations of place to a modern day exploration of fanciful splendor, the sky-high Reverie Saigon offers an incomparable perspective on the city with its spectacular views.
InterContinental Hanoi Westlake
- Hanoi, Vietnam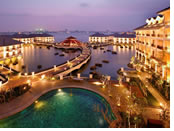 The InterContinental Hanoi Westlake is located on the peaceful waters of the largest lake in the city, just minutes from the Old Quarter, the hotel offers a welcome haven from the bustling city center. Each Lotus Suite features a private balcony with a superb view of West Lake. Spacious air-conditioned rooms feature contemporary Vietnamese decor and flat-screen TVs. Free Wi-Fi is available in public areas. Benefits also include dedicated check-in and check-out service at the Club InterContinental® Lounge and twilight canapés and cocktails from 05:00PM - 07:00PM and complimentary late check-out till 4:00 PM.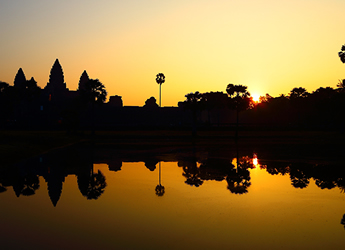 FAQ - Preparations for the trip
Suggested Attire
Aboard the Mekong Jewel, attire is casual and comfortable during the day, with resort-style clothing, and comfortable, but sturdy, footwear for excursions. Evening wear consists of open-neck shirts, trousers, skirt, or similar attire. Footwear is always required in all public areas, and when navigating stairs on board.
Onboard Account & Currency
The official currency of Vietnam is the Vietnamese dong. It is advisable to exchange at least a small amount of money into Vietnamese dong on arrival, especially for purchasing items from small, local merchants and restaurants, and for taxis, which typically do not accept other currencies. Some large merchants and restaurants will accept US dollars. ATMs in Vietnam only provide Vietnamese dong. The official currency of Cambodia is the Cambodian riel. However, most monetary transactions, including withdrawing cash from ATMs and banks may be in US dollars. Should you be due change in an amount less than US $1, you will be given riel; otherwise, US dollars are given.
Visa and MasterCard are widely accepted in both countries by many merchants. You may find, however, that some are reluctant to take credit cards for small purchases because of the fees associated with the transaction. Therefore, we suggest that you carry some cash, whether local currency or US dollars. Aside from the international hotel chains, American Express is not widely accepted in this part of the world.
You may exchange currency at banks, currency exchanges, or hotels, all with very similar rates. Please note that both currency exchanges and ATMs charge fees. You are advised to inquire as to the currency exchange fee before making the exchange; ATMs will require you to accept the charge before proceeding to dispense cash.
The official currency on board the Mekong Jewel is the US dollar. During the cruise, we operate on a cashless system, with all purchases billed to your onboard account. At the end of the cruise, bills may be settled in cash with US dollars or by credit card with Visa, MasterCard or American Express. The Mekong Jewel does not provide a currency exchange service, nor is there an ATM on board. It is advisable to bring crisp, new, undamaged bills, as tears and obvious wear may cause banks and local businesses to refuse them. In Phnom Penh, about halfway through the cruise, you will find multiple options for obtaining US dollars at both Cambodian and international banks, ATMs, and wire services. ATMs are widely available in Vietnam, as well, but will only provide Vietnamese dong.
Dietary Requirements
Our culinary team will make every effort to accommodate special dietary requests. Please inform our office at least 60 days prior to departure of these requests.
Electricity
The voltage in both Vietnam and Cambodia is officially 220/50Hz. To use any electrical product from the US that is not dual voltage, you will need an electrical converter. The Mekong Jewel has multi-configuration outlets, which accommodate most Western plugs. We recommend bringing an adapter for use in the hotels. Because the voltage may fluctuate at times, we also recommend unplugging your devices when not in use or when leaving them unattended.
Insect Precautions
While you can expect to encounter insects during your trip, most are relatively harmless. Switching off lights when exiting your room or suite, and ensuring that glass or screen doors or windows are closed at all times will minimize the number of insects allowed into your room. On the fast-moving river, mosquitoes are rarely seen while sailing. If planning to be outside in the early morning or evening hours, applying an insect repellent to exposed skin is recommended.
Shore Excursions
Excursions are led by expert guides, and guests are divided into groups. Electronic listening devices are complimentary to all guests in order to ensure that guests are able to hear their guides, without disturbing nearby wildlife.
Smoking
The comfort and safety of our guests is our first priority. Smoking is not permitted in the suites or enclosed, public areas on board. There is a designated smoking area on the Sun Deck.
Visitors on Board/Security
Only guests who possess tickets for passage are allowed on board. Security services are provided on board to ensure everyone's safety throughout the journey.
Gratuities
Gratuities are customary expressions of appreciation for a job well done. It is our goal to ensure that the service you receive is as wonderful as the sites you visit. Gratuities for the included portions of this program have been pre-paid. At your own discretion you may choose to provide additional tips.
Water
Please do not drink the tap water while on board or on shore, or use it for brushing your teeth. The ship's water supply comes from the river after passing through a sterilization process. This water is suitable for showers and baths, but should not be consumed. Complimentary bottled water for drinking and brushing teeth is provided on board, as well as during excursions. Ice on board the ship is also made from bottled water.
Etiquette
Many of the local customs in Vietnam and Cambodia differ greatly from Western culture. In many temples, and on the grounds of the National Palace in Phnom Penh, it is required that all guests cover their knees and shoulders when entering the grounds. Shoes will need to be removed when entering some buildings. Our itinerary takes us into areas where locals are simply living their daily lives. Should you wish to take a photo of locals, please request their permission first (simply pointing to your camera and allowing them to nod is sufficient). Monks wearing saffron robes will be encountered in numerous places in Cambodia.
What are the passport and visa requirements?
A passport, which is valid for six months after your last date of travel, is required for this trip.
Visa Requirements – citizens of almost every country require tourist visas to enter Vietnam and Cambodia. You'll need to obtain your Cambodian and Vietnam visas in advance.