Costa Diadema
Ship Facts
Gross Tonnage: 132,500
Length: 306 m
Beam: 37.2 m
Draught: 8.35 m
Cruising Speed: 20 knots
Guests: 3,724
Crew: 1,253
Decks: 14
Inaugurated: 2014
Registry: Italy
Norwegian Fjords Gay & Bears Group Cruise 2024
7 nights from/to Copenhagen, Denmark, or
7 nights from/to Kiel, Germany
June 08 – 15, 2024 (from/to Copenhagen, Denmark), or
June 07 – 14, 2024 (from/to Kiel, Germany)
Costa Cruises Costa Diadema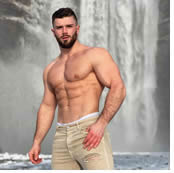 Experience Norway's unspoiled nature from Scandinavia's gay capital. Norwegian Fjords gay & bears cruise for sure will amaze with spectacular scenery and unique sights, a Fjord cruise is an experience like no other. Travelling along the western coast of Norway the landscape varies from picturesque to breath-taking. Prepare to be enthralled at the scenery that accompanies these deep water fjords; narrow inlets that have been cut from millions of years of ancient glacier activity.
Are you undecided about where to go on your cruise and want a vacation away from all the commotion? A cruise to the Norwegian Fjords is what you are looking for: a spectacle of nature between fairy tale and poetry. Protected by UNESCO World Heritage, the Norwegian Fjords are a masterpiece of mother nature: sea inlets that sneak into the coast, sometimes for several miles, flooding the valleys that were once occupied by glaciers.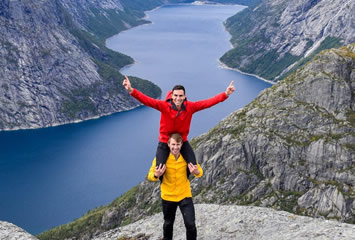 Using the beautiful, gay friendly city of Copengagen as our jumping off point to the western fjords, as we sail towards the towns of Bergen, Geiranger, and Stavanger many of the fjords we sail through are just wide enough for a cruise ship. You will be shocked at how close you can get to these natural rock ledges on our Fjord cruise.
Fjord cruise is made for nature lovers. In addition to the fjords, you will also get very close to the flora and fauna of Norway. Norway boasts colourful and rare birds such as the Puffin, White-winged Redstart, Arctic Loon and Waldrapp amongst others. You may even get to see whales, porpoises or seals on your travels. Perhaps best of all are the people of Norway, who are always warm and friendly to visitors of their incredible country.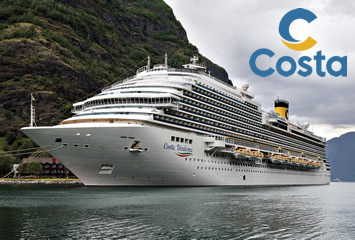 Welcome on board Costa Diadema
During the day and in the evening, you will be spoiled with choices for activities; from walks at sunset, to performances and theater shows where international artists will perform.
• 11 Swimming pools and hot tubs
• 8 Restaurants and snack bars
• 11 Bars and Lounges
• Theatre, casino, gym and spa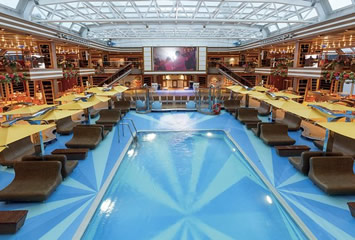 Care for an aperitif? The Aperol Spritz Bar is waiting for you! And after dinner? A games room to bring out the kid in you, or an excellent beer in a real German pub.
And for moments of pure relaxation there is a great Spa at your disposal where you can enjoy a massage and look at the sea, a real treat!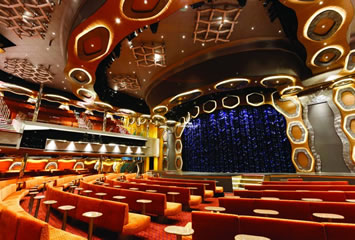 On board, itís always showtime
Every evening at the theatre, spectacular shows await you: musicals, comedy shows, acrobats, games and much more... there is something for everyone!
Experience the excitement of the baize table, the on-board casino: try your luck at the slot machines or blackjack and the intoxicating thrill of the roulette wheel!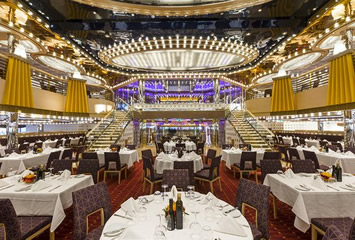 For a different type of experience, spend a night in an Oriental-style soft environment. In Teppanyaki Restaurant you can observe the craftsmanship of Japanese chefs.
Enjoy pizza&mozzarella with selected ingredients and traditional cooking recipes in Pummid'Oro Pizzeria. A creamy homemade ice cream or some delicious chocolate praline? No one can resist the delicacies of the Ice Cream Shop Amarillo.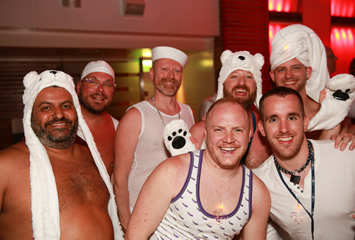 Only for Gays & Bears!
How many?
Our Norwegian Fjords cruise in 2016 was one of the biggest Bear Cruises. Will it be the same in 2024? We really do not have a crystal ball. We work hard but the rest depends exclusively on you. Yes, you! We want you as a new recruit.
Pre/Post-cruise
Copenhagen is undoubtedly the LGBTQ+ capital of the Nordic countries and we plan to have a full program of activities in Denmarkís capital with host hotel, tours, parties, and get-togethers.
Bear Parties
White party, HotíníSexy party or Costume Party are just examples of private parties we have had on previous cruises. Letís dance!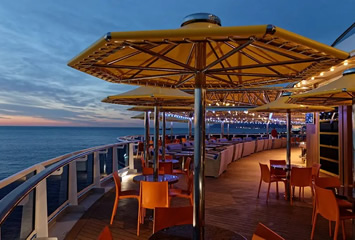 My Drinks
Norway has the highest prices of alcohol in Europe. Some cruise lines too. Not with our package MyDrinks! Enjoy a totally carefree and all-inclusive holiday during your cruise.
• Heineken draught beer
• A selection of wines by the glass
• Soft drinks like Coca-Cola and 7UP
• Aperol Spritz, aperitifs and mocktails
• Cocktails like Mojito, G&T or Bacardi Breezer
• Bitter liqueurs and spirits
• Vergnano coffees and teas
• San Benedetto water 0.5L bottles, 1 per person per day.
MyDrinks Package: additional € 250 per person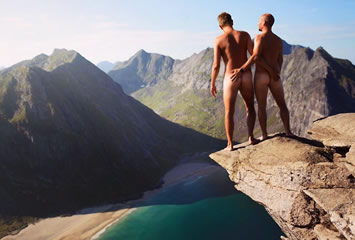 My Tours Pack
Bergen
Is this the tour we have always dreamt of? A sightseeing tour, a boat, with a sauna! To relax, to swim, to meet new friends. Only for us. For 2 hours. Combined perfectly with a walking tour.
Geiranger
After quietly experiencing the majestic Geirangerfjord from our ship, itís time for some adrenaline! We will cruise the fjord on a speed RIB (Rigid Inflatable Boat) boat safari. Letís gooooo!
Stavanger
A sustainable 3h electric cruise to Lysefjord. Best spots include the Preikestolen, climbed by Tom Cruise in Mission Impossible 6, and Hengjane waterfall, where you are so close that can get your face sprayed!
Kiel / LŁbeck
Hansa Park is the only seaside theme park in Germany. A unique mix of nature, parkland, award-winning rides, and Hanseatic myths and legends. Alternative tour: LŁbeck, the Hanseatic Queen City, founded in the 12th century.
My Tours Pack: 4-Tour Pack additional 399Ä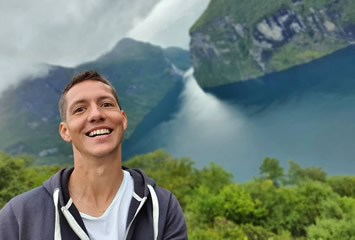 Norwegian Fjords
Gay & Bears Cruise 2024
Itinerary


Date

Port

Arrive

Depart

08 Jun
Copenhagen, Denmark
6 PM
09 Jun

Fun Day at Sea!

10 Jun
Bergen, Norway
8 AM
6 PM
11 Jun
Hellesylt, Norway
9 AM
11 AM
11 Jun
Geiranger, Norway
1 PM
6 PM
12 Jun
Stavanger, Norway
12 PM
9 PM
13 Jun

Fun Day at Sea!

14 Jun
Kiel, Germany
8 AM
8 PM
15 Jun
Copenhagen, Denmark
9 AM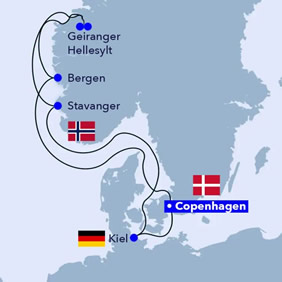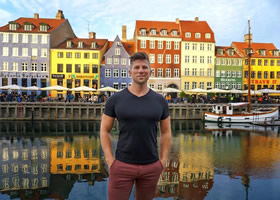 Day 1 - Copenhagen, Denmark
Copenhagen is a very liberal, prosperous city that boasts a high standard of living. It might not have the kinetic energy of London or Berlin but thatís what makes it so charming: life is less stressful in Copenhagen It has many canals, a strong cycling culture, a welcoming gay scene, and by some measures, itís the happiest city on earth. You need about three days to get to know Copenhagen fully.
• Set Sail 6pm • Welcome cocktail • Bear Dinner • Welcome Party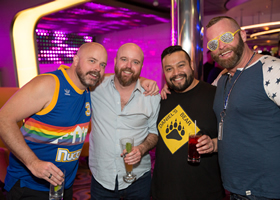 Day 2 - Fun Day at Sea!
An 'at sea' day is your chance to explore all the amazing activities the ship has to offer, including doing nothing at all. Relax in the Spa, take in a show at the theatre, or experience any of the incredible dining venues. There's so much to do the difficulty will be choosing what to do next! Whether you seek an adrenaline rush or total tranquility, our ships have it all. Melt away land-based stress with a spa massage, build a scrapbook of memories or simply relax poolside.
• Breakfast • Lazy Bears Solarium • Lunch • Dinner • Party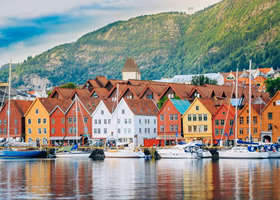 Day 3 - Bergen, Norway
On your Norway cruise, the bustling city of Bergen will welcome you with open arms and plenty of fresh seafood. Norwayís beauty shines brighter than ever in Bergen, where colorful wooden buildings line every street. From the historic wharf called the Bryggen to the neighboring fjords just waiting to be explored, a day in port from a fjord cruise in Bergen makes for a fun mix of city and seclusion, outdoor adventure and arts and culture.
• Breakfast • Morning Bear Tour • Lunch • Dinner • Party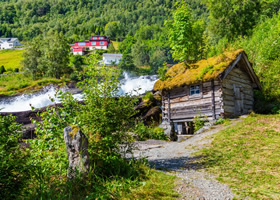 Day 4 - Hellesylt, Norway
This small village is at the western end of the Geirangerfjord. Although it also welcomes cruise ships, Hellesylt tends to enjoy a more sedate atmosphere than its famous brother, Geiranger. The Norway fjords and wildlife, waterfalls and clear lakes are what we discover stopping at Hellesylt.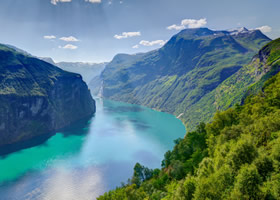 Day 4 - Geiranger, Norway
The Geiranger cruise port will take you to some of the most impressive scenery in Norway. When you think of a Norwegian Fjords cruise, the scenery found by sailing to the Geiranger cruise port is what usually comes to mind. Geiranger is located near Geirangerfjord, which is the only Norwegian fjord thatís a UNESCO World Heritage Site and is the reason most people visit here. While the village of Geiranger is small and quaint, itís the natural scenery sprawling out beyond the town.
• Breakfast • Hellesylt (9-11 h) • Geiranger (13-18 h) • Lunch • Dinner • Party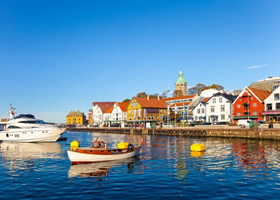 Day 5 - Stavanger, Norway
Stavanger is a Norwegian city located in the Jśren district of Norway, which is the countryís largest flat lowland, and provides a striking contrast to nearby Lysefjord. Stavanger cruise passengers can experience a variety of activities while in port. You can take off on thrilling outdoor journeys, relax on scenic boat rides, explore shops and world-class restaurants in town, and wander through historic neighborhoods and streets.
• Breakfast • Morning Bear Tour • Lunch • Dinner • Party
Day 6 - Fun Day at Sea!
While at sea, take the time to recharge before the next adventure. Lounge by the pool, be spoiled at the spa, taste the delicacies or explore the venues on-board, until we arrive at the next amazing destination.
• Breakfast • Lazy Bears Solarium • Lunch • Dinner • Party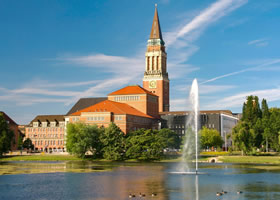 Day 7 - Kiel, Germany
Kiel's identity has always been linked to the sea. While the city was officially founded in 1242 CE, it had been used as a port long before. Hidden at the end of a long, protective fjord, Kiel is a natural refuge for ships and their weary sailors. The seafood found here is some of the freshest in Germany, and charming fish houses welcome travelers with a plate of smoked delicacies and a glass of cold beer. When it's time to unwind, long stretches of white sand beaches await along the Kiel Fjord, where there's enough space for beachcombers to find a spot to themselves.
• Breakfast • Morning Bear Tour • Lunch • Dinner • Party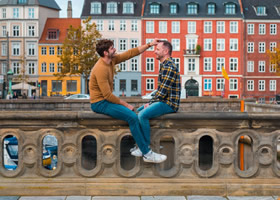 Day 8 - Copenhagen, Denmark
The city of Copenhagen is spread across two large islands, called Zealand and Amager, and connected to southern Sweden via the ÷resund Bridge. When your Copenhagen cruise ship docks, youíll arrive at a vibrant, cosmopolitan city with a bustling harbor, renowned restaurants, and gorgeous historical architecture.
• Breakfast • Airport and City center transfer*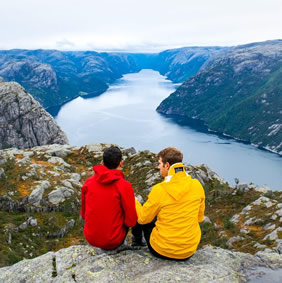 Guests: 3,724 • Gross Tonnage: 132,500 • Length: 306 m • Beam: 37.2 m • Cruising Speed: 20 knots • Inaugurated: 2014 • Registry: Italy

Norwegian Fjords Gay & Bears Group Cruise 2024 Rates

Interior Stateroom
Size: Approximately 155 sq ft. Two twin beds that convert to a queen, a private bath with shower, telephone, television, hairdryer, safe deposit box, and minibar. Classic Cabins are located on the first decks of the ship. They offer more affordable prices for each cabin type, providing all the comforts of a standard class cabin and the freedom to enjoy all the services and facilities available on the ship.
€ 1,399

€ 999

Oceanview Stateroom
Size: Approximately 191 sq ft. With large windows to admire the view, or simply enjoy the first rays of morning sunshine. Two twin beds that convert to a queen, a private bath with shower, telephone, television, hairdryer, safe deposit box, and minibar. Classic Cabins are located on the first decks of the ship. They offer more affordable prices for each cabin type, providing all the comforts of a standard class cabin and the freedom to enjoy all the services and facilities available on the ship. Some staterooms have an obstructed view.
€ 1,699

€ 1,149

Balcony Stateroom
Size: Approximately 220 sq ft. including balcony An ocean view with balcony, two twin beds that convert to a queen, a private bath with shower, telephone, television, hairdryer, safe deposit box, and minibar. Classic Cabins are located on the first decks of the ship. They offer more affordable prices for each cabin type, providing all the comforts of a standard class cabin and the freedom to enjoy all the services and facilities available on the ship. Some may have an obstructed view.
€ 2,099

€ 1,499

Suite
Square Footage: 337 sq ft (including balcony). Suites have large panoramic windows with glass doors that lead to your spacious private veranda, two twin beds most of which convert to a queen-sized bed, accommodating closet space, a private bathroom with whirlpool tub and shower, as well as an expanded sitting area with desk, vanity, drawer space, and sofa bed. Each stateroom also has its own interactive television with satellite, thermostat controlled air-conditioning, direct-dial telephone, hair dryer, mini bar, individual safe.
€ 5,299

€ 2,699

All prices are per person, occupancy selected, and include all meals, accommodations and entertainment!

Taxes & charges of €150pp, Gratuities of €84 pp (payable on board) and optional insurance are additional.

MyDrinks Beverage Package
€250 per person
(Beverage package needs to be booked for all the passengers in the cabin)

My Tours Pack
€399 per person

First deposit of € 500 per person (€700 for Singles) is required upon booking. Full payment is due 100 days prior to departure.

Optional shore excursions will be offered.

Prices are cruise only and DO NOT INCLUDE return airfare! Please ask for airfare add-ons back to your home city.

Fares are subject to availability and may change without prior notice.

Also included are the traditional Bears cruise activities, subject to minimum participation.

Please ask for further details.

Special Airfares








Pre-Cruise Hotels







Post-Cruise Hotels