Norwegian Jade
Ship Facts
Gross Tonnage: 93,558
Length: 965 feet
Beam: 125 feet
Draft: 27 feet
Guests: 2,402
Crew: 1,037
Decks: 15
Refurbished: 2017
Registry: Bahamas

Greek Isles & Turkey Gay Daddy Cruise 2022
7 nights from/to Athens (Piraeus), Greece
October 09 – 16, 2022
NCL Norwegian Jade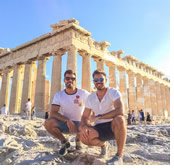 Come join our intimate and super-friendly group of Gay Daddies, bears, admirers and friends for a special seven-night cruise around Greece & Turkey aboard the Norwegian Jade
. Get set for out-of-this-world adventures on your fabulous Mediterranean cruise. Imagine awe-inspiring treasures in Ephesus, clear blue waters off Santorini and feel the privilege that is visiting the grounds of The Hagia Sophia, now an enchanting museum, and considered to be the single greatest architectural achievement of the Byzantine Empire in Istanbul.
Visit the most popular & gayest island in the Cyclades, Mykonos, and witness the blue-domed churches that are a key pillar in the majestic facade of Greece. Stroll along whitewashed villages clinging to the sides of the sea cliffs of Santorini. Whatever you choose to do, be assured that these are 7 days you'll cherish for a lifetime, all aboard Norwegian Jade.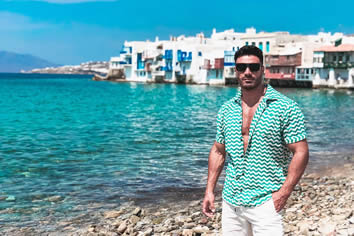 Take a holiday, cruise to Greece, and experience the beauty and magnificence of the Mediterranean for an unforgettable vacation. Explore the mainland and witness ancient history, or travel to the Greek Isles for rich culture and picturesque sun-drenched beaches of the once-powerful empire. Historic ruins, Greek Gods and relaxation await you on your Greek Cruise with Norwegian.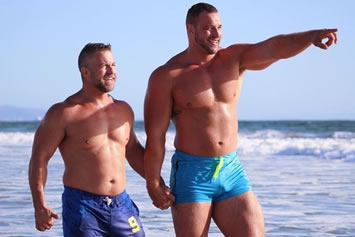 Discover the vast beauty, endless activity, and rich culture of Greece on a Greek Island cruise. Only Norwegian Cruise Line offers more choices of what to do and see, and more freedom to do it your way. That's the beauty of Norwegian's freedom and flexibility. Unpack once and journey from city to city. Enjoy everything that Greece has to offer then return to the cruise ship to a variety of on board activities, one-of-a-kind entertainment, and dining options. Dress up for a romantic evening or enjoy a casual dining experience with your friends. Do what makes you happy with no restrictive timetables, ever. Because your holiday is exactly that - yours.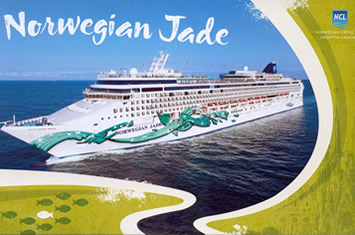 Your Ship - Norwegian Jade
Cruise Critic
gives the Norwegian Jade
four stars out of five and says the service on board is "some of the best we've had at sea." They further rave about on board entertainment that includes a "phenomenal Cirque du Soleil-type performance that included acrobats, aerialists, dancing and magic." They conclude that the Jade—renovated just a few years ago—"holds its own among some of the newer, larger and more flashy ships."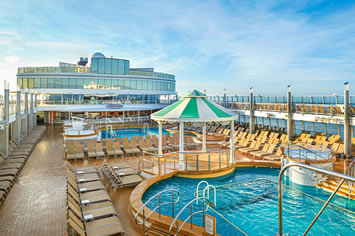 Your dream vacation awaits on Norwegian Jade. Sail on a Mediterranean cruise and explore castles, cathedrals, romantic islands, and sophisticated cities. As you cruise from port to port along stunning coastlines, we'll keep you entertained day and night with exciting nightclubs, award-winning restaurants, a grand casino, swimming pools, a pampering spa and so much more. There's tonnes of fun for everyone to enjoy the adventure of a lifetime. It's no wonder Norwegian are the World Travel Award winner for "Europe's Leading Cruise Line" 13 years in a row.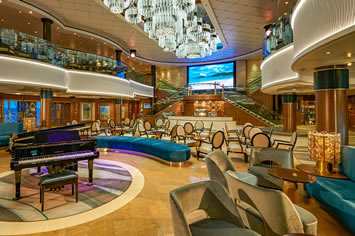 After extensive upgrades, Norwegian Jade returns to the fleet with new venues, modern décor and design, and refurbished staterooms. Enjoy O'Sheehan's Neighbourhood Bar & Grill, a 24 hour pub serving up your favourite comfort foods. Stop by The Pit Stop, a new concept that combines poolside fun and fare. Or dance the night away in the new Bliss Ultra Lounge. Get ready to journey to the Mediterranean on the beautifully enhanced Norwegian Jade.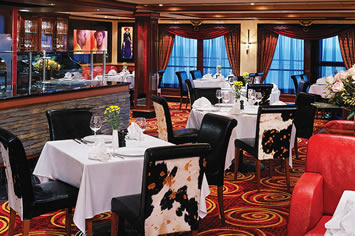 Dining on Norwegian Jade
Serving a wide variety of culinary delights to please every palate, our complimentary dining options include three main dining rooms, a help-yourself buffet and a variety of casual cafés, grills and on-the-go choices. Plus, our Main Dining Rooms offer a menu that changes daily, Chefs Signature Dishes and carefully selected wine recommendations, guaranteeing a different culinary adventure with every visit.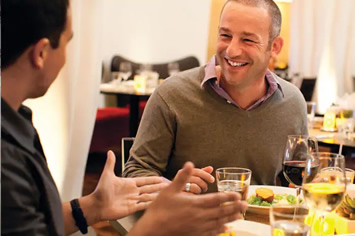 Sit down to a multicourse meal with a great bottle of wine. Or grab a burger hot off the grill. Go French, Italian, Brazilian, Asian - you name it. With more than 16 dining options, your taste buds will always be in for a thrill.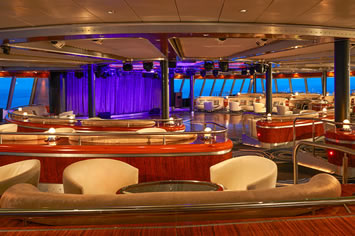 Bars & Lounges on Norwegian Jade
With so many bars and lounges to discover, finding your favourite may take a few days. Try a new vintage to pair with another amazing ocean sunset. Let our talented bartenders shake things up with one of their signature cocktails or choose to kick back with good beer and great conversations. Whether you're hanging with old friends or making new ones, there's always an opportunity to mix it up.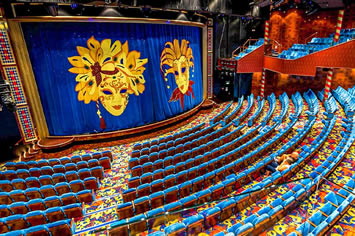 Entertainment on Norwegian Jade
When it comes to entertainment on Norwegian Jade, there's never a dull moment. Enjoy a magical evening with our magician and comedy show. Get mesmerised by the awe-inspiring acrobatics in Elements. Blazing Boots is a dazzling full scale production show that is part rock concert and all fun. Or don your best white attire and dance the night away at our White Hot Party. It's showtime. All the time.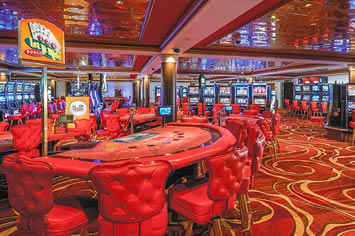 Exclusive extras for our group only
• Pre-cruise private Facebook page—start meeting and connecting with your cruise mates online long before you even leave home.
• Cruise Eve Dinner—meet your fellow travelers face-to-face, get a jump start on your vacation and a taste of your host city the night before we sail.
• Welcome Aboard Party (with free drinks!)—come meet your fellow Daddies and friends in a warm, welcoming, and casual atmosphere. Play our fun mingling/get-to-know-you activity, and start forging friendships that will last a lifetime.
• Free Welcome Aboard Gifts including a lanyard for your sailing card...and then some surprises!
• Specially reserved group dining in the main restaurant—you'll always have a seat for dinner, surrounded by a bunch of Daddy Cruise friends.
• Onboard Host/Cruise Director—I'll be there to make sure you have a great vacation. Our colleagues will resolve any issues that may arise, answer questions, and help you enjoy your cruise to the utmost. We'll coordinate and host activities and parties each day—all of which are optional (it's your vacation: pick and choose what you want to be a part of).
• Exclusive excursions just for our group (additional fee applies)—including at least one Impact Activity where we connect with local people while performing a helpful service for the community.
• Special Daddy group activities on board (card games, trivia contests, happy hours, parties, and more)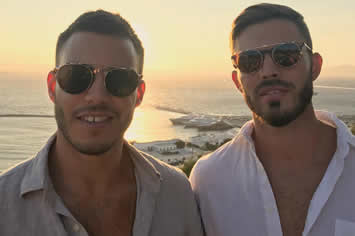 Greek Isles & Turkey Gay Daddy Cruise 2022 Itinerary


Date

Port

Arrive

Depart

09 Oct
Athens (Piraeus), Greece
5 PM
10 Oct
Kusadasi (Ephesus), Turkey
6:30 AM
12:30 PM
11 Oct
Istanbul, Turkey
7 AM
6 PM
12 Oct
Volos, Greece
12 PM
9 PM

13 Oct

Mykonos, Greece
8 AM
7 PM
14 Oct
Rhodes, Greece
7 AM
6 PM

15 Oct

Santorini, Greece
8 AM
9:30 PM
16 Oct
Athens (Piraeus), Greece
6 AM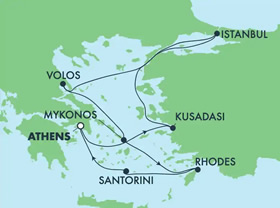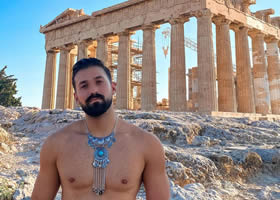 Day 1 - Athens (Piraeus), Greece
This is the cradle of civilization, the oldest city in Europe. Athens
not only is this city home to the Acropolis and some of the most important architectural structures and archaeological finds in the Western world, It is also a very modern city, an urban amalgam of extraordinary art, culture, cuisine and shopping.
As we sail from the Glorious City (also City of the Violet Crown), we'll gather for a hosted Daddy Cruise Party where you'll meet your fellow cruisers and start making new friends right away. You can toast the sun as it sets over numerous islands we'll pass in the Aegean Sea.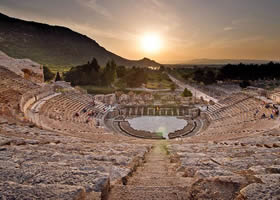 Day 2 - Kusadasi (Ephesus), Turkey
Once a Roman provincial capital, Ephesus is home to several of Christianity's holiest sites. Walk ancient Roman ruins including the Odeum, the Celsus Library, the Temple of Hadrian, the Fountain of Trajan and the Great Theater. The theater seated 25,000 and is the site where St. Paul preached to the Ephesians. Not a historian? Carpet weaving is a cottage industry in Turkey and here you can observe the different stages of the carpet making process. (and perhaps find the perfect one to bring home with you!)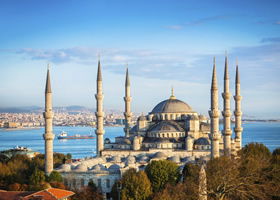 Day 3 - Istanbul, Turkey
Istanbul rises from the Bosphorus, a vision of minarets and domes sparkling in the light. Istanbul is a true crossroad, the only city on Earth to span two continents. This meeting place of Europe and Asia, of Christian and Muslim, is one of the great adventures a traveler encounters. Formerly Constantinople, and Byzantium, it was the capital of the Ottoman and Byzantine Empires. The history alone will astound you. Here you can browse the stalls of the world's largest bazaar, explore ancient mosques and churches, and gaze at the stunning jewels in the Topkapi Palace. So much to see and do, you'll definitely want to plan your day well!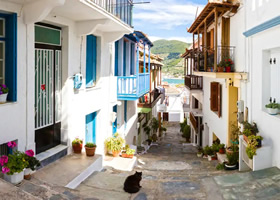 Day 4 - Volos, Greece
Step into the bustling city of Volos, one of Greece's largest cities and top tourist destinations. Located at the northern end of the Pagasitikos Gulf, this city embodies living like a local to the fullest. From riveting archaeological sites, to historical and mesmerizing museums, to shopping on Ermou Street and learning about its mythical background, you'll leave Volos feeling like a true Greek. And for all the foodies at heart, indulge in mouthwatering recipes originating from the Pelion mountain villages.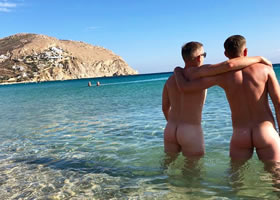 Day 5 - Mykonos, Greece
On to the Greek Isles! Widely recognized as a gay haven, Mykonos boasts hip boutiques, Little Venice and windmills. A stroll around town shopping, or a trip to the beach are in order here. Also visit the Aegean Maritime Museum, Delos Museum (featuring artifacts from the early Archaic period through the Roman Imperial times), or the Panagia Tourliani Monastery. Add a reputation for beautiful beaches and you'll understand why Mykonos is the most popular island in the Cyclades.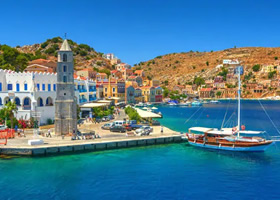 Day 6 - Rhodes, Greece
One of Greece's most beautiful islands, Rhodes has long played a major role in history. Lying just twelve miles off the coast of Turkey, the island straddles the sea-lanes linking Egypt, Southern Europe and the Holy Land. Rhodes Town bears witness to that long history. The ancient city features a classical stadium and the ruins of the Temple of Apollo. The "old" city is a walled town with medieval buildings and streets harking back to the days of the Crusades. The new town is a Mecca of luxury resorts lining the island's picturesque Mandaraki Harbor. The Colossus of Rhodes, one of the Seven Wonders of the Ancient World, is reputed to have once stood guard over the harbor. Today, the bronze statues of a stag and doe top the two columns marking the harbor entrance.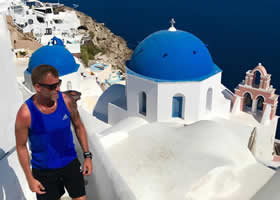 Day 7 - Santorini, Greece
Greece's most beautiful island, and arguably one of the most beautiful spots on earth, Santorini is a must-see, for sure! Here, whitewashed buildings cling to vertiginous cliffs that plunge into the turquoise sea. Picturesque architecture, cobblestone lanes and a host of welcoming cafes, shops and blue-domed churches will charm and delight you. The vistas, from almost anywhere, are unforgettable.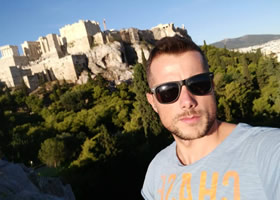 Day 8 - Athens (Piraeus), Greece
Your cruise ends today, but your vacation doesn't have to end yet. Stick around for a few days and explore Athens
with us! We offer an optional four-day Greek holiday including hotels, tours, meals and more. Yes, see ancient Athens, modern Athens, and gay Athens with some of your newly-made best friends!