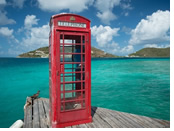 A luxury Gay Nude Sail Exclusive Cruise that starts and ends in Tortola, British Virgin Islands. With beautiful islands, a lively party atmosphere and genuine Caribbean welcome from locals, these islands are popular for good reason. A BVI naked gay sailing cruise allows you to enjoy what is arguably one of the best sailing destinations in the world. With year-round balmy temperatures, lush green hillsides and dazzling white sandy beaches, the BVI is a near-perfect nude vacation destination. An unique Nude Gay Sailing vacation with 10 gay guys on a luxury catamarans!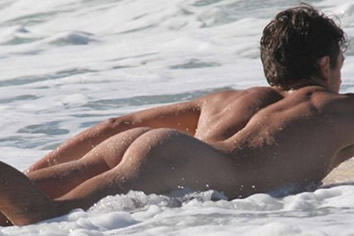 When it comes to things to do in the British Virgin Islands, there's just so much to see, snorkel, dive and swim. The geological wonder known as The Baths is a spectacular sight, with towering granite boulders strewn across the beach to form a labyrinth of paths leading to hidden pools and grottos. This is an idyllic backdrop for your vacation photographs.
During your British Virgin Islands Gay Nude Sail cruise, we sail to the Caves, the Indians, Fallen Jerusalem or Monkey Point to see tropical aquatic life by snorkel. We will hop between uninhabited islands, resorts and beachside villages, dining at waterside restaurants and shopping at local boutiques.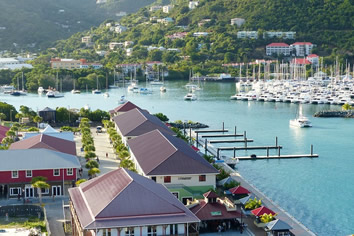 If the weather is calm, we will make the 11-mile sail from North Sound to experience an entirely different landscape at the "sunken island" of Anegada, with its highest point at only 28 feet. The lobster dinners here are not to be missed. The British Virgin Islands are also known for some of the best beach bars in the world, including the Soggy Dollar Bar and Foxy's on Jost Van Dyke. Whether you want to relax or meet the locals, the BVIs offer choice and well-equipped marinas.
A British Virgin Islands itinerary is extremely flexible. The cruising ground presents myriad opportunities for enjoyment. It's possible to go wherever the wind dictates, then pick up a mooring or drop the hook at a secluded anchorage to pass the hours snorkeling, swimming, sunbathing, reading, or walking on the beach. British Virgin Islands cruising itinerary blends the best of both worlds: secluded anchorages and beautiful sunsets, with a bit of laid-back fun partying in the beachside bars.
This cruise is on a large luxury 40 feet catamaran. This week is a "nude gay only" cruise, meaning you can stay nude on the frontdeck in the sun and swim nude if you like, the second week is clothing optional gay cruise. The catamaran has four double cabins with private bathroom and two small single cabins in the front.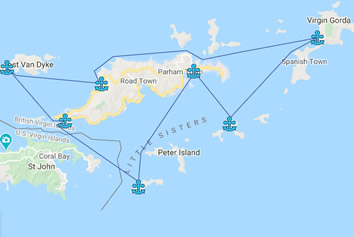 Day 1 - Boarding on Scrub Island
Just take your luggage from the belt at the airport and start enjoying the nice outdoors and the great temperature of the tropics. Boarding starts at 5.30 PM. See travel information for details.
Day 2 - Cooper Island
Cooper Island, is a beautiful island with a protected anchorage at Manchioneel Bay, and plenty of activities to offer. Ashore, Cooper Island Beach Club is the main attraction – a small resort with restaurant, rum bar, coffee shop, boutique, and lovely outdoor lounge area. The beach bar and lounge face west, making this the perfect place for enjoying a cocktail while watching a stunning Caribbean sunset. The beach and calm waters make Manchioneel Bay well-suited for water sports, and nearby Cistern Point offers excellent snorkeling and turtle watching.
Day 3 - Virgin Gorda
Venture toward the island of Virgin Gorda, home of the world-famous Baths. The Baths are as pristine as ever, including the famous pathway leading through the giant boulders to Devil's Bay. Top of the Baths Restaurant is open with its delightful panoramic views. There are also some restaurants open nearby that can be accessed by dinghy or taxi, including the all new Snapper's Bar & Grill, and Coco Maya which is a 10-minute walk from Spanish Town. Coco Maya is a great spot to relax with a cocktail and meal. After departing The famous Baths, we head for the North Sound of Virgin Gorda, an excellent overnight anchorage. Leverick Bay has moorings and a restaurant open for lunch and dinner. There is also a market here, where we can purchase ice and other provisions.
Day 4 - Anegada
Get underway early and enjoy a scenic cruise to Anegada, a charter-favorite that remains just as charming as the last time you visited. Sparsely populated and rural, Anegada is 11 miles long, low, and flat, quite unlike any of the other islands in the BVI. The balmy trade winds gently sweep across its sandy shores, swaying the palms and rustling through the boughs of the pines. In the center of the island is a series of salt ponds, beautiful and teeming with birds. A flock of pink Caribbean flamingos live on the ponds not far from the anchorages on the western end.Take a taxi or scooter rental to Cow Wreck Beach Bar, where the locals are always friendly and beaches are world-class. Don't miss the nearby gift shops. Visit beautiful Loblolly Bay for excellent snorkeling, and stop at Big Bamboo for a cocktail or snack.
Day 5 - Trellis Bay
Trellis Bay welcomes you with a distinctly local vibe complete with Aragorn's Studio artisan market. The Trellis Bay Market is open for basic provisions, ice and water. Across the channel from Trellis Bay, Marina Cay offers moorings and an outdoor patio lunch. You may also visit Scrub Island Resort for a selection of restaurants and resort amenities.
Nearby, White Bay on Guana Island is another excellent overnight anchorage option. By day, snorkel at Monkey Point and enjoy an on board luncheon. Relocate to White Bay and pick up a mooring to enjoy the solitude and a spectacular sunset. Guana Island is private, but you are free to walk the pristine white sand beach up to the high-water mark.
Day 6 - Jost Van Dyke
Just to the north and west of Tortola, the heights of Jost Van Dyke rise majestically from a turquoise sea. With a population of a little more than 200, the island's character is distinctly rural. No British Virgin Islands vacation is complete without a visit to Jost Van Dyke, which harbors some of our favorite seaside establishments. Great Harbour is an excellent overnight anchorage and is home to the famous Foxy's Tamarind Bar & Restaurant. Foxy's boutique is open and stocked with souvenirs. A short walk from Foxy's is Cool Breeze cafe, offering Wi-Fi along with breakfast and lunch. Further down the beach, Corsair's offers a full menu throughout the day. White Bay, just a short cruise from Great Harbour, is a popular day anchorage offering a beautiful beach and snorkeling along the reef. A wide selection of restaurants and bars line the beach, including the famous Soggy Dollar Bar, Hendo's Hideout, Gertrude's, Seddy's One Love, and more.
Day 7 - Norman Island
Norman Island, with its popular anchorage "The Bight", lies on the east side of Flanagan Passage with St. John in the U.S. Virgin Islands just across from it to the west. Hilly, scenic, and popular for its superior snorkeling locations, Norman Island is a highly-recommended stop. Enjoy drinks and dining at Pirate's Bight Restaurant, serving appetizers, salads, entrees and cocktails including Pirate's "Irma Punch". You can enjoy snorkeling at both The Indians and The Caves.
Day 8 - Tortola
After a tropical breakfast we have a short sail back to Tortola, back to the Marina. Here you say goodbye to the skipper, cook and your fellow sailors. You can combine this great trip with a few days in a hotel on the beach; ask us for tips and locations.
This itinerary is subject to change. Local circumstances such as weather may influence the itinerary.