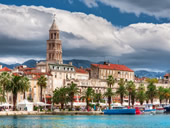 This Gay Sail Exclusive luxury all-inclusive clothing optional gay sailing cruise let you discover the most beautiful islands and ancient picturesque villages of Croatia and of course the World Heritage cities of Dubrovnik and Split (Trogir). During your gay sailing adventure you are taken care by our X-clusive Sailing hosting team (skipper and co-skipper/ cook) and they take you, and a group of up to 10 gay guests, on a large and very luxurious 40 feet Lagoon catamaran with all comforts. Let our gay skipper guide you over the Adriatic seas.
On the Exclusive gay sailing cruise you will be spoiled with a rich breakfast, varied lunch, soft drinks, coffee and tea, and after each sailing day with an afternoon aperitif and snack. And if you also want to learn sailing, navigate and knot tying during your vacationyou beside realxing, sunbathing and swimming ? That is possible of course! You can select one or two weeks sailing, both weeks have a different route and we visit other islands.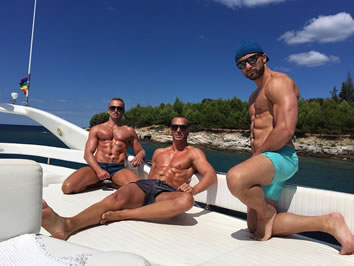 Day 1 - Dubrovnik
Free day in Dubrovnik, Hop on and hop off for guests that choose the one week cruise. Boarding for the new guests starts at 5 pm.
Day 2 - Mljet
The next morning we leave for the island of Mljet, this time we call on Sobra the main port of the island. On our way we have plenty of bays to choose from and pick one for a lunch stop and a swim.
Day 3 - Korcula
Today we sail along the impressive coast line of Peljesac towards the narrow Peljesac channel. Our destination is Korcula, one of the best preserved medieval towns of the Mediterranean and the birthplace of Marco Polo. The ancient heart of the city lies on a peninsula.
Day 4 - Lastavo
The green island of Lastavo is surrounded by islets. Lastavo is an island of rare beauty and spectacular natural bays. Skrivena Luka (The Hidden Port) is one of the most beautiful coves on the island of Lastavo. The view from the meteorological station on the peak is amazing.
Day 5 - Vis
The next day we sail to the island Vis, which has fifty-four bays and coves. Stopping in one of the many bays for a swim and lunch break, before we sail in to town.
Day 6 - Brac
The big ferry's and other boats reveal that we are getting closer to Split. The island of Brac is our last stop before we dock. This is one of the biggest islands. It has a very deep cove with the town Milna. This charming village is where we spend the night.
Day 7 - Split (Trogir)
Sipan On our way back to Split (Trogir) we have a final dive in the warm water in one of the bays.
Day 8 - Split (Trogir)
Time to say goodbye to the Skipper and your new friends.
This itinerary is subject to change. Local circumstances such as weather may influence the itinerary..