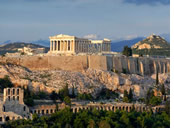 A wonderful Nude Gay Sailing Cruise in Greece in the Saronic Gulf of Greece. If you are looking for a nude gay sailing vacation that's packed with terrific conditions, beautiful landscapes, historically significant ancient ruins, secluded islands, vibrant nightlife, a warm culture and terrific cuisine, this is the one! You will be surrounded by the beautiful bays and coves of the Saronic Gulf, with quiet villages and busy tourist destinations, historic sites and scenic beaches. The unique character of this region is reflected in the architecture of the homes and villages, as well as the castles, monasteries and churches perched high on the hilltops. We sail with two spacious Bavaria 56 yachts, so all together a group of 22 naked gay guys!
This naked gay sailing holiday that starts in Athens and you can join one or two weeks. Both weeks have a distinct itinerary with different ports, bays and islands. The first week we will visit among other the picturesque Island of Poros, the amazing Island of Hydra where are no cars but only donkey's for transport and we will visit the old city of Monemvasia. The second week we sail from Spetses Island, visiting the great city of Navplion, the Island of Aegina with is famous temple and the world famous Epidaurus amphitheater on our way back to Athens. Let our Gay skipper guide you over the Greek seas.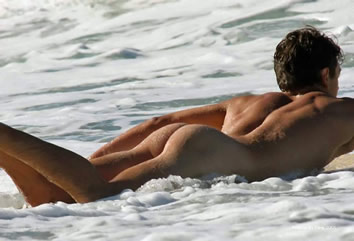 Day 1 - Spetses
Day off in Spetses. It is possible to hop on or off for those guys who join just for one week. Spetses is a beautiful Island, you can go to the beach, rent a (motor) bike, do some shopping, whatever you like. Boarding starts at 5 pm for the new guests.
Day 2 - Navplion
Navplion is our next destination, a nice old city whose architecture has derived from the days when Greece was ruled by the Venetians.
Day 3 - Astrous
Astrous: a small fishing village where you can eat great fresh fish!
Day 4 - Ermioni
The following day we'll go to the surprisingly nice harbor of Ermioni, or if the weather is nice, we can stay overnight in some bay of an uninhabited island, where we can have a barbecue on the beach.
Day 5 - Perdika
Perdika, a small village on the Island of Aegina. From here you can visit the famous temple of Aphaea.
Day 6 - Epidavros
The last harbor we usually call at is Epidavros, a small, natural harbor on the Peloponnese. Here you can visit a world famous amphitheater, renowned for its wonderful acoustics. If you like to sing, this is your chance.
Day 7 - Athens
From Epidaurus we sail back to Athens. We will have in dinner in the historical neighborhood of Athens: Plaka and if you like, visit the Gay bars and clubs after dinner.
Day 8 - Athens
Disembark after breakfast.
This itinerary is subject to change. Local circumstances such as weather may influence the itinerary.