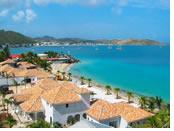 A luxury Nude gay sailing cruise that starts and ends in St. Martin. White sandy beaches with palm trees and tropical sun. Snorkeling and diving between coral reefs and exhilarating sailing between tropical islands. An unique Gay Sailing vacation with 20 Gay guys. Let our Gay skipper guide you over the Caribbean seas, and discover the beautiful Islands of St. Martin, St. Barth and Anguilla!
This cruise is on two large luxury 40 feet catamarans, this one is a nude gay sailing cruise week. Week before is "clothes optional" gay sailing cruise. Both catamarans have 4 double cabins and two smaller single cabins in the front. Two double cabins have a double bed, the other two have two single beds. You can book the double cabins as a couple or if you are single you share a cabin with two single beds. If you are single and you don't like to share a cabin, we have two smaller single cabins in the front, only accessible from the deck. For the layout see bottom of this page. Both catamarans have a generator, air conditioning, fans in every room and a safe.
This cruise is including the service of a gay skipper and gay cook, breakfast, lunch, harbor fees, taxes, gasoline, end cleaning. Not included: Dinner, drinks, custom- and national park fees.
We will sail with two catamarans at the same time, so twenty gay guys all together.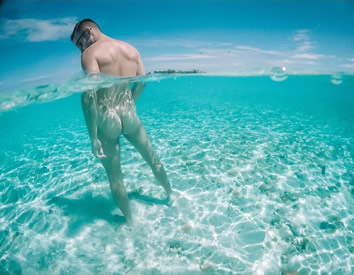 Day 1 - St. Martin
This trip starts in St. Martin, the French part. Just take your luggage from the belt at the airport and in less than one hour you are already on board the yacht. Enjoying the nice outdoors and the great temperature of the tropics. Boarding starts at 5.30 PM.
Day 2 - Gustavia, St. Barth
After a lovely breakfast we are leaving and crossing several bridges. Than it is off to St. Barth's with under way an anchor stop for lunch at the beautiful small Island of Ile Fourchue. We will have an overnight stop in the bay of Gustavia town, dinner in town.
Day 3 - Gustavia / Anse du Columbier, St. Barth
Gustavia is the little main town of St. Barth. Here you find the Pradas and Gucchis in tropical settings, shoppers paradise! After you can set yourself on a nice terrace and have lunch while you watch the other shoppers passing by. In the afternoon we sail to Anse du Columbier. Scuba diving in search for sea turtles and rays, are they there? Before sunset there is a great hike you can make. Through tropical vegetation a path leads to the North side of St. Barths. Here the coast is rough and the bay has big waves, where you see experienced surfers show their prowess. BBQ at night!
Day 4 - Grand Casse, St. Martin
Today we have a great sailing trip to Grand Casse, a beautiful bay at the North West side of Saint Martin. Here are plenty of bars and restaurants and some great beaches to spent the afternoon. On Tuesday night there is a local market and the Caribbean Carnaval!
Day 5 - Road Bay, Anguilla
We set sail to Anguilla. Dropping anchor Road Bay. This superb bay has crystal clear water and a pearl white beach. A nice swim and in the evening great local food ashore in the local restaurant Ripples.
Day 6 - Prickly Pear Cays / Sandy Island / Crocus Bay
Before breakfast a dive in the warm water, what a great way to start the day! Sailing through the reefs to Prickly Pear Cays, between the reefs you see beautiful fishes. Scuba diving! On the way back we drop anchor in front of Sandy Island, great place for lunch. At night we stay in Crocus Bay, dinner in the famous restaurant D' Avida.
Day 7 - Anse Marcel Bay, Saint Martin
Another great sailing day, with full wind in the sails we blow past Anguilla towards Anse Marcel bay, Saint Martin. During this exhilarating sail we tow a fishing rod, with a big chance to catch some tuna! Anse Marcel lies in the northwest of St. Martin Island, a great place to stay for the night.
Day 8 - Marina Fort Saint Louis, St.Martin
After a tropical breakfast we have a short sail back to Marigot, this time to Marina Fort Saint Louis. Here you say goodbye to the skipper, cook and your fellow sailors. You can combine this great trip with a few days in a hotel on the beach; ask us for tips and locations.
This itinerary is subject to change. Local circumstances such as weather may influence the itinerary.