The Dalmatian Dream 2023
Croatia Gay Cruise & Tour
August 3–15, 2023
Katarina Line MV Aurelia
13 days from Split to Dubrovnik, Croatia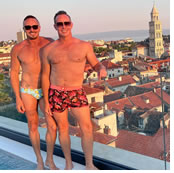 From Split, the majestic capital of Dalmatia, to the stunning natural beauty of Krka National Park and the jaw-droppingly beautiful Dalmatian islands – this country has it all. We invite you to join us as we cruise the Adriatic on our superyacht and experience everything Croatia has to offer. Dropping anchor for swim stops in secluded bays, visiting fascinating cities, gorgeous national parks and drinking cocktails at sunset whilst dining on some of Europe's most exquisite food.
Culminating in a luxurious, chilled, vacation at one of Dubrovnik's finest hotels. You'll leave Croatia chilled, bronzed, relaxed and in love with the country and all it has to offer. There will be no better vacation!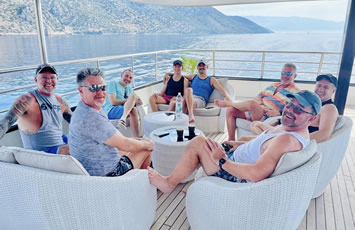 What You Get in The Price
• Daily cooked breakfast, plus 7 three-course lunches and 2 dinners onboard the ship.
• Plus an additional Welcome Reception in Split and Highlight Farewell Dinner in Dubrovnik.
*(All included dinners off the ship also include all drinks)
• Onboard drinks package: includes local Croatian beers, local wines, local spirits and soft drinks.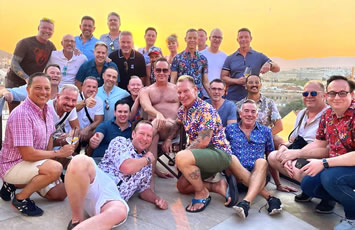 • A local Travel Director and our representative for the duration of the holiday.
• All excursions are included – no hidden costs
• Wifi included onboard the ship and at each hotel
• EXCLUSIVE: 3 Nights at the 5 Star Rixos Premium Resort in Dubrovnik.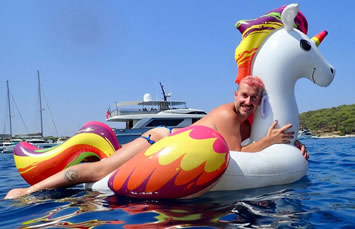 Exclusive Dalmatian Dream Gay Holidays Bonuses
• EXCLUSIVE: All gay charter. Relax – you're amongst friends.
• EXCLUSIVE: Unique itinerary taking in 4 UNESCO World Heritage Listed Sites and 2 spectacular National Parks..
• EXCLUSIVE: 2 onboard dance parties: Kaftana and 70's T-Dance
• EXCLUSIVE: Entry, sun lounge and umbrella at Coral Beach Club in Dubrovnik.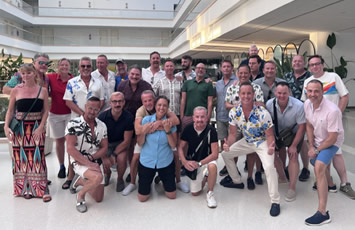 • EXCLUSIVE: All-inclusive local alcoholic and non-alcoholic drinks package whilst onboard*.
• EXCLUSIVE INCLUDED EXCURSIONS: Zip lining or white water rafting on the Cetina River, Tuk Tuk tour of Zadar with winery visit, tour Krka National Park, military bunker tour of Vis plus wine tasting, visit to the Blue Cave in Biševo, Oyster tasting in Mali Ston, walking tours in Split, Hvar, and Dubrovnik.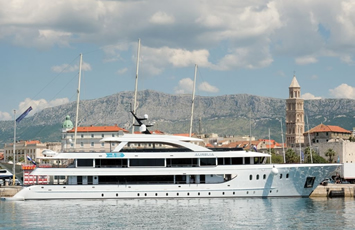 Your Ship - MV Aurelia
Spending a week on a superyacht cruising the Croatian Islands sounds terrible doesn't it! How will you ever manage? We have personally chosen, what we believe, to be the most beautiful ship for you.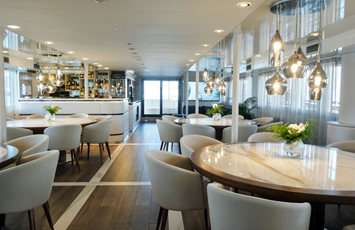 The MV Aurelia was launched in 2021 and oozes glamour – she's glitzy, she's gorgeous and perfect for the gays! She has 19 cabins in total and you can choose between an Upper Deck cabin, that comes with a private balcony (2 chairs and a small table), one of 2 Main Deck Cabins which have three large windows that flood the cabin with natural light.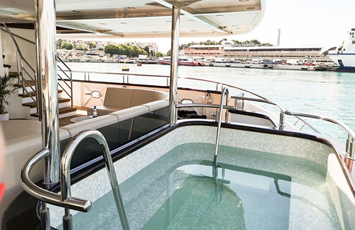 A below-deck cabin with two porthole windows and a window in the bathroom. The below-deck cabins are slightly larger than the balcony cabins and are the quietest and coolest as they are below the water level. All cabins can be made up as twins or doubles.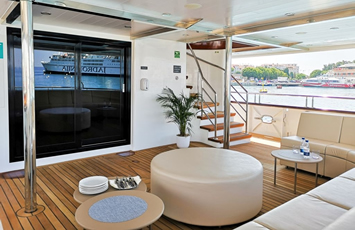 Onboard you will find a sun deck that has enough sun lounges for you all to work on your tans, plus a jacuzzi that you can take a dip in when you're not swimming at some ridiculously stunning location.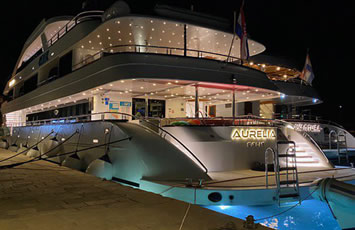 There is also a restaurant, bar and outdoor lounge area on the main deck, which will be the perfect place to sip on an Aperol Spritz. There's also a refreshing plunge pool located at the rear of the lower deck.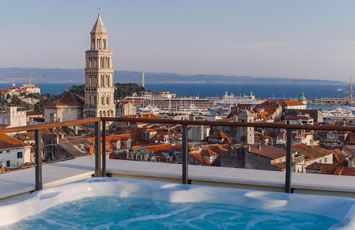 Your Hotel in Split - Hotel Cornaro
The unbeatable central location of this hotel, its ancient historical surroundings, and its stunning luxurious interior have all combined to make this the most popular hotel in the city centre.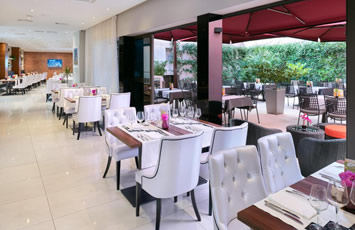 You'll be situated right at the entrance of Roman Emperor Diocletian's Palace, (a UNESCO World Heritage listed site), and only moments away from the Riva – Split's famous waterfront promenade. What we love about this hotel is the rooftop bar and pool with incredible 360-degree views – perfect for a sunset cocktail.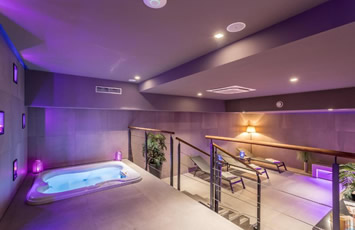 It's the combination of personal touch, our remarkable staff, exceptional location and property full of charm that creates an exquisite and authentic Cornaro experience based upon local traditions and hospitality.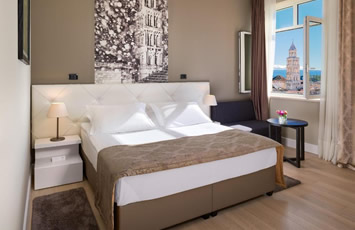 All rooms and suites include a flat-screen TV with satellite channels, air-conditioning, a seating area, mini bar and city views. The bathrooms are fitted with walk-in showers.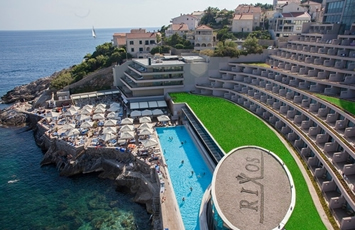 Your Hotel in Dubrovnik - Rixos Premium Dubrovnik Hotel
We've saved the best for last! For our grand finalé we have three nights of unadulterated luxury at the 5 star, uber glamorous, Hotel Rixos Premium. This hotel will take your breath away. You'll love the stunning sea view rooms where you can sit out on your balcony and take in the views over the Adriatic Sea.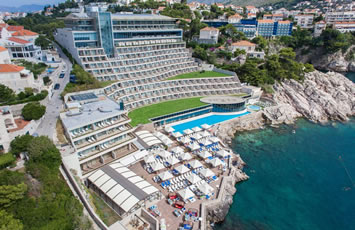 Spend your days lounging by the pool, swimming in the sea, indulging in spa treatments or you can even stroll back into Dubrovnik's old town. The most important thing to do is relax and be pampered!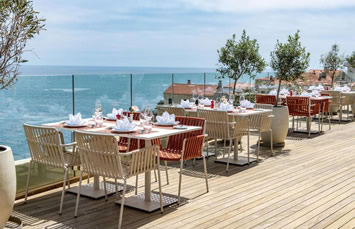 With its impressive exterior design that cascades down to the sea, the hotel represents the ultimate blend of modern architecture and luxurious, sophisticated interior design. Contemporary and comforting accommodation, stylish bars and restaurants, an international team of chefs, a luxurious beach area.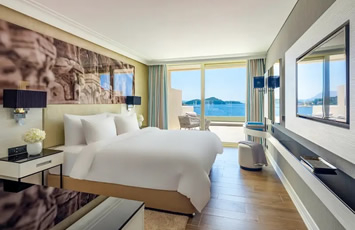 A serene Anjana Spa, spread over 2000m˛ and the only casino in the town make Rixos Premium Dubrovnik the perfect destination resort. Rixos Premium Dubrovnik is 1.5 kilometres from the historic Old Town and 23 kilometres from Dubrovnik Airport.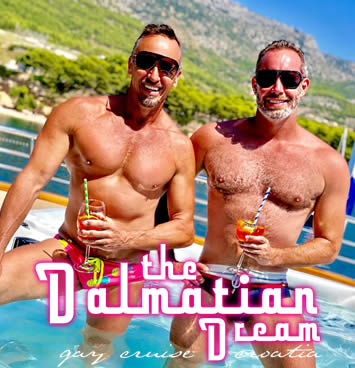 The Dalmatian Dream 2023
All-Gay Cruise & Tour Itinerary


Date

Port

Arrive

Depart

03 Aug

Split, Croatia
04 Aug
Split, Croatia

05 Aug

Split / Primosten

06 Aug

Primosten / Kornati / Telascica
07 Aug
Telascica / Zadar

08 Aug

Krka Waterfalls / Sibenik

09 Aug

Sibenik / Vis
10 Aug
Vis / Bisevo (Blue Cave) / Hvar

11 Aug

Hvar / Bol / Milna
12 Aug
Split / Mali Ston / Dubrovnik

13 Aug

Dubrovnik, Croatia
14 Aug
Dubrovnik, Croatia

15 Aug

Dubrovnik / Departure

Itinerary may be subject to change.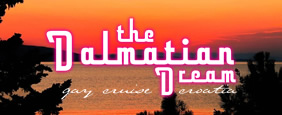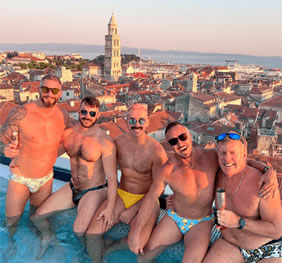 Day 1 - Thursday, August 3, 2023
Welcome to Split, Croatia
We welcome you to Croatia and the Dalmatian Dream! Our stunning hotel, Cornaro Hotel, Split, overlooking Diocletian's Palace is the perfect base to start exploring Split. This afternoon, join us at the rooftop bar and pool where you can meet your new cruise buddies before we head into town for our Welcome Reception.
Meals Included: Dinner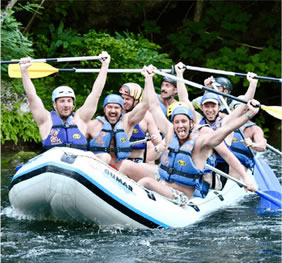 Day 2 - Friday, August 4, 2023
Split, Croatia
After breakfast we start the morning with an included walking tour of this fascinating city. Highlights include Roman Emperor Diocletian's Palace and the Golden Gate. You then have a full day and night to explore this historic, UNESCO World Heritage listed city, and its surrounds. For those of you who feel adventurous, and would like to see some more, you have the choice of either white water rafting down the Cetina River, or zip lining an incredible 2km's above the river canyon – both are adrenalin pumping experiences you'll never forget – which one will you choose?
Meals Included: Breakfast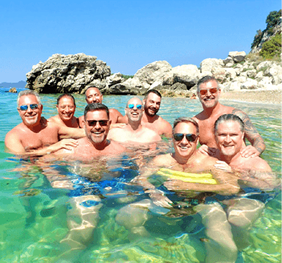 Day 3 - Saturday, August 5, 2023
Split to Primošten
After another sumptuous breakfast you'll have time this morning for some last-minute shopping before we board our superyacht at 12 pm. Head to the bar, grab a drink and make your way to the upper deck as we sail out of Split harbour towards Northern Dalmatia. Lunch will be served in the dining room before we make the first of many swim stops during our weeklong cruise.
In the late afternoon we'll dock in the resort town of Primošten, which is often described as Croatia's prettiest town. The rest of the afternoon and evening are yours to stroll through the old town and dine at one of the local taverns by the beach. And for those of you who love to party, Aurora – Croatia's largest outdoor nightclub, is located here.
Meals Included: Breakfast & Lunch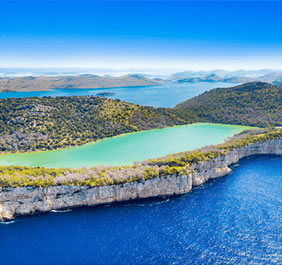 Day 4 - Sunday, August 6, 2023
Primošten – Kornati / Telašcica
Today we'll continue sailing north through the stunning Kornati Archipelago which is made up of 140 islands. With its natural beauty, numerous coves and crystal-clear blue waters, it's easy to see why this part of Croatia has been designated a national park. We'll visit the iconic island of Telašcica whose dramatic coastline needs to be seen to be believed. This evening we'll dock in a secluded bay and hold our inaugural Kaftan party as the sunsets over the iconic white cliffs.
Meals Included: Breakfast, Lunch & Dinner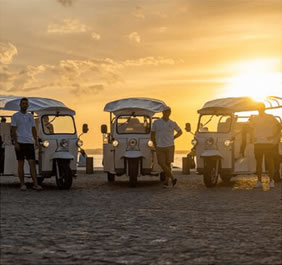 Day 5 - Monday, August 7, 2023
Telašcica – Zadar
Was Alfred Hitchcock right when he said, "Zadar has the most beautiful sunsets in the world?" Find out the city's stories and secrets from your private driver as you tour the city in a convoy of TukTuk's where you'll take in the main sights. We'll finish the tour with tastings at Degarra Winery before returning you to the ship where you'll have the evening to continue exploring.
Meals Included: Breakfast & Lunch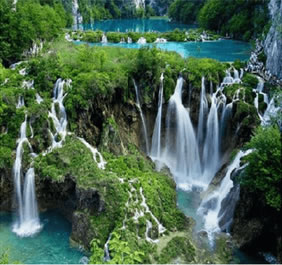 Day 6 - Tuesday, August 8, 2023
Krka Waterfalls / Šibenik
This morning we sail from Zadar to Skradin where we'll transfer onto a smaller boat and sail up the stunning Krka River to the entrance of the Krka National Park, famous for its spectacular cascading waterfalls – one of the most photographed and beautiful sights in Croatia. Later we'll rejoin the ship for a late lunch as we sail towards the medieval city of Šibenik where you'll have the evening free to dine at a local restaurant. You'll be spoilt for choice as it's a foodie's paradise. Be sure to try their local prosciutto – they're famous for it!
Meals Included: Breakfast & Lunch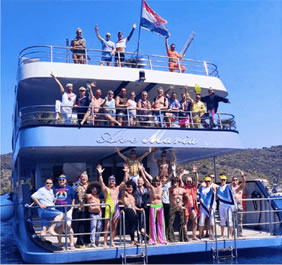 Day 7 - Wednesday, August 9, 2023
Šibenik – Vis
Today we continue towards the gorgeous island of Vis which was the setting for the movie Mamma Mia 2. This afternoon we drop anchor, and all gather on the pool deck for our 70's inspired Tea Dance – let's show the other boats how we like to party!
On arrival in Vis, we'll learn about the strategic role the island played in the military defence of Croatia as we tour their underground bunkers. One of the bunkers is now a wine cellar for Lipanovic winery, where we will be able to taste the best wines Dalmatia has to offer
Meals Included: Breakfast, Lunch & Dinner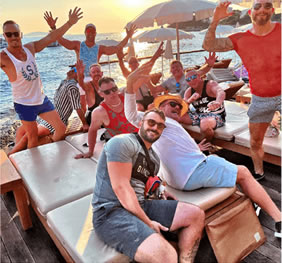 Day 8 - Thursday, August 10, 2023
Vis – Biševo (Blue Cave) / Hvar
This morning we set sail and cruise towards the little island of Biševo, to visit the magical Blue Cave (weather permitting) – a magnificent natural phenomenon where, once inside, the water turns a spectacular electric blue.
Our next destination is the uber-cool town of Hvar, where every night is a Saturday night! It's long been a favourite destination of the international jet set and for party people from around the world, so tonight we are going to shake it up! We'll arrive at Hvar in the afternoon where we've arranged a walking tour of this extraordinary town. It's then time to change into your dancing shoes as we watch the sunset from the legendary Hula Hula Bar before catching a water taxi to the world-famous Carpe Diem nightclub.
Meals Included: Breakfast & Lunch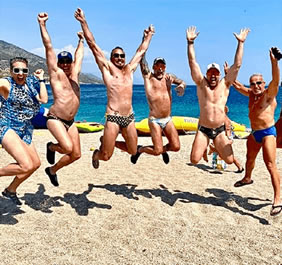 Day 9 - Friday, August 11, 2023
Hvar – Bol – Milna
When you wake up, a beautiful breakfast will be waiting on deck for you, as we sail towards the town of Bol, which is located on the island of Brac. Bol is known for its famous Zlatni Rat beach (Golden Horn), a natural phenomenon that makes this one of the most "instagrammed" beaches in the world. Spend the day swimming, sunning and relaxing or enjoying the numerous water sports that are available there.
This evening the captain invites you to join him onboard for our Farewell Captain's Dinner as we sail towards the island of Milna where we will overnight.
Meals Included: Breakfast & Dinner
Day 10 - Saturday, August 12, 2023
Split – Mali Ston – Dubrovnik
After an early breakfast we say goodbye to our ship and board our luxury coach as we drive to Dubrovnik – the true pearl of the Adriatic. On the way we'll stop at Mali Ston – considered to be one of the best oyster producing areas in Europe. Our guided tour of this beautiful area will end in a delicious oyster tasting.
Later this afternoon we'll check into our stunning 5-star luxury resort hotel - Rixos Premium Dubrovnik. Cocktails by the pool anyone? This evening we'll head into the old town and check out Milk, Dubrovnik's pumping gay bar.
Meals Included: Breakfast & Lunch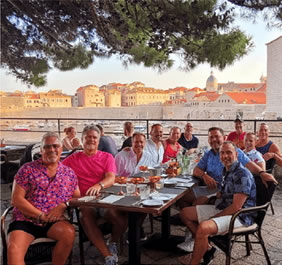 Day 11 - Sunday, August 13, 2023
Dubrovnik, Croatia
This morning, after a relaxed breakfast, join our included guided tour of Dubrovnik which includes a cable car ride up Mount Srd for spectacular views and the opportunity to visit the Croatian War of Independence Museum.
This afternoon we'll take a short drive to Coral Beach Club, where the chilled tunes will be pumping and the cocktails flowing. We've got you a bed and umbrella booked by the waterfront – all you need to do is relax and top up your tan.
Meals Included: Breakfast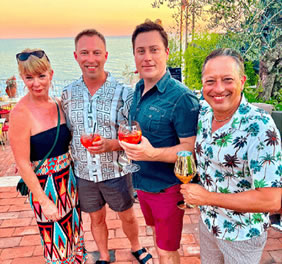 Day 12 - Monday, August 14, 2023
Dubrovnik, Croatia
A final free day to just relax and enjoy – why not spoil yourself and book a waterfront cabana at the hotel and a treatment at the spa? Tonight, it's time to say goodbye to new friends and toast great memories at our Farewell Party at Fratellos Prosecco Bar.
Meals Included: Breakfast & Dinner
Day 13 - Tuesday, August 15, 2023
Dubrovnik, Croatia / Departure
Our Dalmatian Dream Gay Cruise & Tour comes to an end after breakfast this morning.
Meals Included: Breakfast