Amsterdam Pride 2024 All-Gay Europe River Cruise
11 days from Nuremberg, Germany to Amsterdam, Netherlands
July 26 – August 05, 2024
CroisiEurope Cruises MS Douce France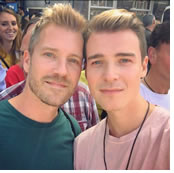 Come OUTbound with us and show the world your pride as we experience Europe's biggest and most fabulous pride event, Pride Amsterdam! Cruise with us from Nuremberg, one of the most historically significant cities in Europe, before sailing along the Danube through the best of Germany. Discover the charming town of Rothenburg and learn the incredible history of Miltenberg before touring the Gothic Cologne Cathedral. Finally, we'll arrive in Amsterdam in time for the Drag Queen Olympics, street fairs, and of course the world famous Canal Parade! Close out your vacation in Europe with the ultimate Closing Party, one of the biggest, loudest and most OUTrageous celebration of its kind anywhere in the world!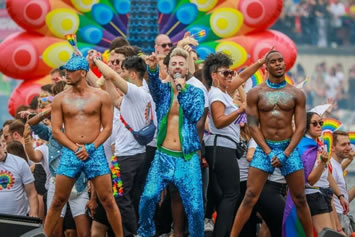 Arrive in Amsterdam during the height of Amsterdam Pride, one of the best known and exciting Pride celebrations in the world. The festival attracts over half a million visitors each year and is one of the largest events in Europe. Pride Amsterdam includes unique exhibitions, cultural and sporting events along with countless street parties throughout the city. Today is yours to let your pride flag fly and dive head first into one of the largest parties on the planet!
All Included, All Inclusive!
All Meals & Alcoholic Beverages Included!
All Shore Excursions Included!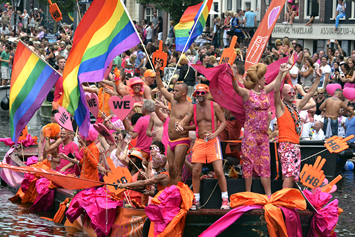 Amsterdam city has long been a centre of gay culture and travel in Europe, boasting some of the best gay clubs, bars and hotels in the world. Amsterdam is rich with cultural heritage that is waiting to be explored.
Amsterdam is known as "Venice of the North" because of its historic canals that criss-cross the city, its impressive architecture and more than 1,500 bridges. There is something for every traveler's taste here, whether you prefer culture and history, serious partying, or just the relaxing charm of an old European city.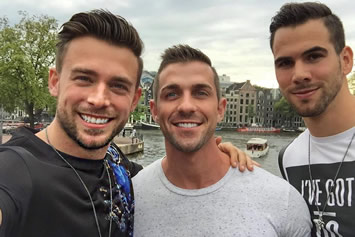 There is a strong LGBT community, and numerous gay-owned or gay-friendly hotels, nightclubs and cafés. Nowhere else in the world will you find so many gay attractions per square meter as in the city centre of Amsterdam. The city is home to a plethora of gay clubs and bars that will suit all tastes and interests.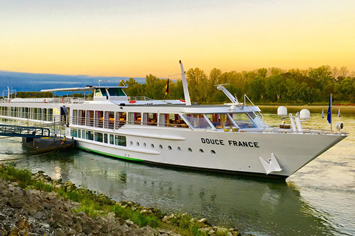 Your Ship - MS Douce France
The MS Douce France is a unique ship specifically designed for more intimate ports of call. A limited number of lucky guests ensures you can spend time enjoying a drink from the extensive bar, reading in the lounge, or relaxing in the spacious and comfortable lounge, with abundant room to roam.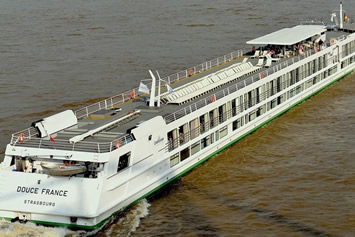 All staterooms have twin beds that can be configured as a queen and full picture windows. The Douce France is ready to offer our OUTbounders an unforgettable experience cruising the Danube river. Mixed drinks, wine, beer, sodas, juices and coffee are all included anytime onboard.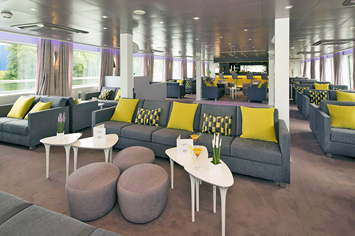 Panorama Lounge
The Panorama Lounge is situated all the way forward on Upper Deck and features floor-to-ceiling windows that allow for spectacular views of the passing scenery... a distinguishing feature of river cruising.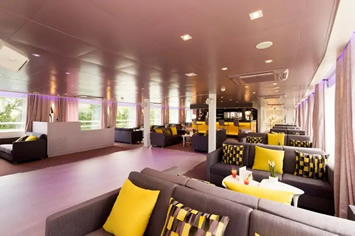 Intimate seating areas are peppered throughout the open floor plan, allowing you the choice of going all in with the group or enjoying a little private time between you and a smaller gathering of friends. Enjoy cocktails, dancing, games and entertainment in this picturesque setting.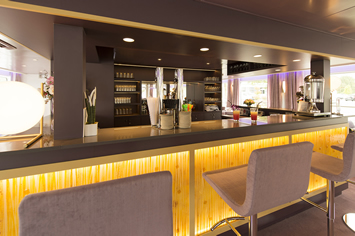 Salon Bar
Enjoy a cocktail at the main bar with us while watching a spectacular sunset together. Located within the Panoramic Lounge, you'll find originality and innovation, with a new twist on the ol' purveyors of gin and tonics and buckets of beer. This is the place where you'll spend an enjoyable evening nursing a cocktail with great friends, old and new!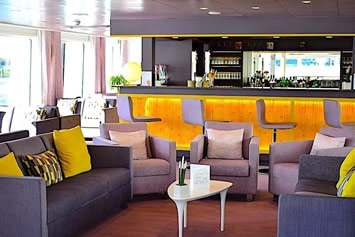 Whether you're in the mood for a mixed drink or glass of wine, we invite you to join us and enjoy one of best bars on the water with your fellow OUTbounders. Order your favorite festive cocktail to savor after a long day celebrating your Pride in Amsterdam.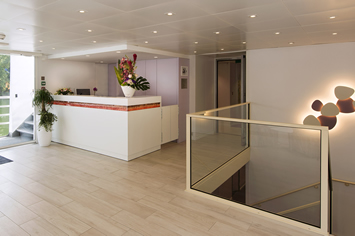 Reception
At your service, OUTbounders will find everything they need at the reception desk, located at the heart of the ship on the Upper Deck. It's the perfect place to meet with friends before dinner or ask any questions you may have during our voyage. Here's where you'll leave each morning as we venture OUTbound to Amsterdam Pride, and where you will return at the end of each day... greeted by a friendly smile and warm drink.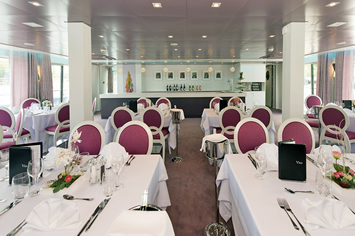 Dining
Located on the Upper Deck, the restaurant comfortably seats all our OUTbounders at tables which vary in size with a panoramic view. The atmosphere is casual but elegant. The selection and presentation of the food is outstanding, and you'll find the quality of service is unmatched.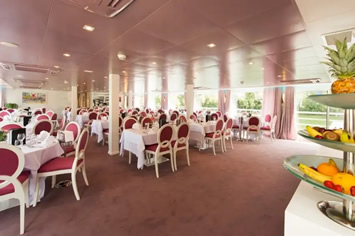 The food is incredible, every meal every day. You'll enjoy plenty of fish, fruits and vegetables with every meal and be impressed by how fresh everything is. In fact, the only frozen item is ice cream! You'll have plenty of healthy choices to choose from, and loads of unhealthy ones, too!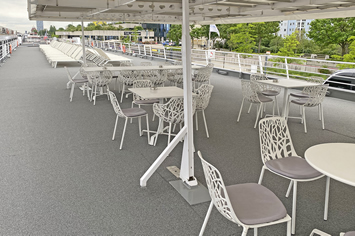 Sun Deck
For spectacular views of the passing landscape, head up to the Sun Deck that allows full enjoyment of the view, even when passing under low bridges.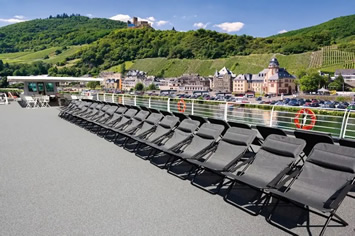 The top deck features an all-weather seating area and a walking track for those who want to keep active. It's the perfect place to visit with old friends and new during the day while enjoying complimentary refreshments with the stunning scenery passing by.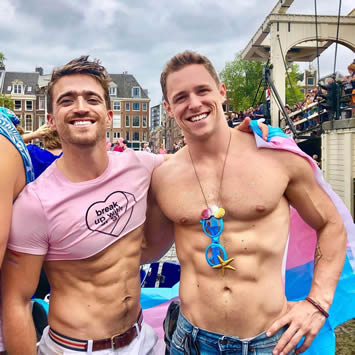 Amsterdam Pride 2024
Europe Rivers All-Gay Cruise
Itinerary


Date

Port

Arrive

Depart

26 July
Nuremberg, Germany
12 PM
9:30 PM
27 July
Rothenburg, Germany
8:30 AM
3:30 PM
28 July
Wurzburg, Germany
8 AM
1 PM
29 July
Miltenberg, Germany
8 AM
12:30 PM

30 July

Mainz, Germany
10 AM
3 PM
30 July
Rudesheim, Germany
5 PM
Overnight

31 July

Cologne, Germany
2 PM
7 PM
01 Aug
Arnhem, Netherlands
7 AM
1 PM

02 Aug

Naarden, Netherlands
8 AM
3 PM
02 Aug
Amsterdam, Holland
6 PM
Overnight

03 Aug

Amsterdam, Holland
Overnight
04 Aug
Amsterdam, Holland
Overnight

05 Aug

Amsterdam, Holland
10 AM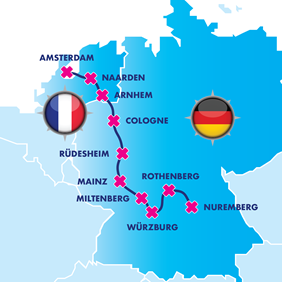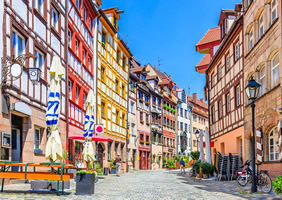 Day 1 - Nuremberg, Germany
Willkommen to Germany! Today we'll start our cruise in Nuremberg, a city steeped in history, tradition and culture. After comfortably settling into your cabins, take some time to explore this fantastic city on your own, or just unwind with a cocktail and get to know your follow OUTbounders up in the lounge. Later in the evening we'll introduce our crew at a welcome cocktail before sitting down for dinner. Later tonight we'll begin our river cruise and set sail along the Danube for Pride Amsterdam!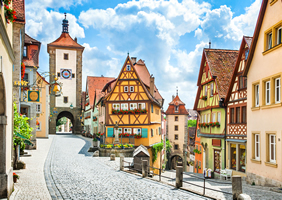 Day 2 - Rothenburg, Germany
Today we're touring Rothenburg, a magnificent walled town set up high on the hills over the river. Located along the 'Romantic Road', this town has kept its Renaissance layout virtually intact, making it one of the most authentic towns in Germany. Our guide will lead you to the 15th century ramparts, the Spital Bastion, the Market Square and Town Hall as well as the renowned St James's Church. After our tour, you will have some free time to stroll through the romantic streets, visit the Christmas Museum, or have a taste of some of the local specialties.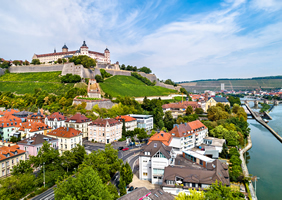 Day 3 - Würzburg, Germany
This morning we'll take a guided tour of Würzburg, historic residence of the German Prince-Bishops. We'll start with a visit to the Würzburg Residence (or Residenz), former palace of the Prince-Bishops where you'll discover 40 rooms richly decorated with furniture, paintings and tapestries by 18th century master artists and climb the monumental Main Staircase designed by Balthasar Neumann. Our tour will continue to the historic city center of Würzburg where you will have some free time before returning to our ship by coach.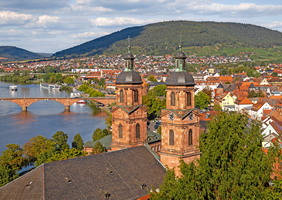 Day 4 - Miltenberg, Germany
Today we'll arrive in Miltenberg, a charming little German village nestled along the banks of the River Main with a lovely scenic backdrop of mountainous woodland. Our walking tour will take us through the market square and half-timbered houses before arriving at the Hauptstrasse (Main Street) and former Town Hall. You'll see firsthand why Miltenberg deserves its nickname 'Pearl of the Main' as we stroll into the heart of this quaint Bavarian town. Spend your free time shopping along the Hauptstrasse in the old town or wandering through the many shops of the Schnatterloch Marketplatz (Market Square).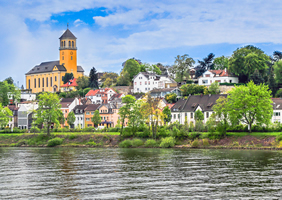 Day 5 - Mainz, Germany
Today we'll visit Mainz, where the Main River meets the Rhine. Our guided tour will visit the imposing Mainz Cathedral, built around 975 AD. In its shadows lie the Medieval and early modern districts of Mainz. The hustle and bustle of the town centers around the twisting, narrow alleyways and the small shops, boutiques and cafés surrounding the picturesque Kirschgarten square with its timber-framed buildings and Marienbrunnen fountain. Finally, we'll pass the Gutenberg Museum, built to honor local hero Johannes Gutenberg, inventor of the modern printing press.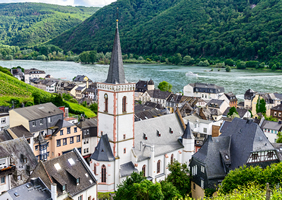 Day 5 - Rüdesheim, Germany
Today we'll have a guided tour of Rüdesheim am Rhein, one of the most beautiful wine regions in Germany. On our tour we'll stroll among the half-timbered buildings of the old town and Drosselgasse, see castles and vineyards, and sip local riesling and pinot noir in a Medieval setting. Along the way we'll take a ride on a touristic train, taste a few of the famous wines of this rich region and have a guided visit of the Museum of Mechanical Musical Instruments, a museum started by German collector in an old manor house, the Brömserhoflater.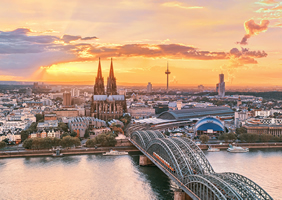 Day 6 - Cologne, Germany
Join us for a guided tour of Cologne's most famous structure, the Cologne Cathedral. The cathedral, completed in 1880, survived World War II almost entirely intact. We'll tour its impressive Gothic architecture before heading inside to see the shrine of the Three Wise Men, the outstanding stained-glass windows and other works of art of this UNESCO World Heritage Site. After, we'll walk to Cologne's Old Town to see its rustic narrow alleyways lined with traditional old houses. Enjoy a draft Kölsch beer or try Cologne's typical Halver Hahn sandwich during your free time after our tour.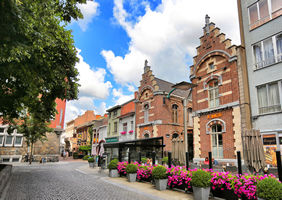 Day 7 - Arnhem, Netherlands
Welcome to the Netherlands! Today we're in Arnhem, a great place to enjoy culinary delights, no matter whether you visit an elegant restaurant or a cosy brasserie, an outdoor café in the city or a farmhouse garden. It's a charming little place to enjoy local specialities or international cuisine. Arnhem is also known for its shopping. The city center has four major shopping areas, all connected with each other. They are the Roggestraat, Ketelstraat, Vijzelstraat, Rijnstraat. It's a pedestrian zone almost a mile long, lined with endless shops, boutiques, and small local cafés.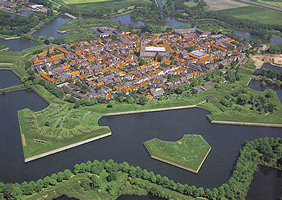 Day 8 - Naarden, Netherlands
Naarden is a beautiful town in the green Gooi region. The city is one of the best preserved fortified towns in all of Europe. Naarden is an example of a Spanish star fort, complete with fortified walls and a moat. The Fortress Museum welcomes everyone who wants to see the underground casemates and learn more about the fortressed garrison town. As you stroll through Naarden you'll find more historical buildings and monuments, such as the St. Vitus Church, a large Gothic basilica from the 14th and 15th centuries.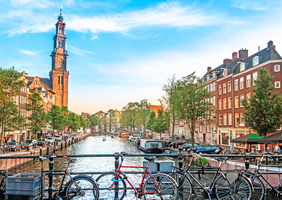 Day 9 - Amsterdam, Netherlands
Today we arrive in Amsterdam during the height of Pride! Pride Amsterdam is one of the best known and exciting pride celebrations in the world. The festival attracts over half a million visitors each year and is one of the largest events in Europe. Amsterdam Pride includes unique exhibitions, cultural and sporting events along with countless street parties throughout the city. Let your pride flag fly and dive head first into one of the largest parties on the planet! Our ship will stay docked near the Centraal Station for the rest of our stay in Amsterdam, so come and go as you please!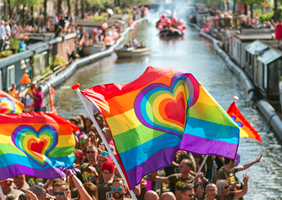 Day 10 - Amsterdam, Netherlands
Today experience the peak of the festival and Pride Amsterdam's signature event, the Canal Parade. Known the world over, the Canal Parade is a procession of boats cruising the city's canals celebrating the past, present and future of the LGBTQ+ community in lavishly decorated boats and barges. The Canal Parade is the festival's centerpiece event where the passing barges give the term 'float' a literal meaning. Participants put on a show with their onboard DJs, show-stopping themes and plenty of smiles. Smaller boats line the canal walls, enjoying the party by shimmying up to each other, forming a huge flotilla of fun.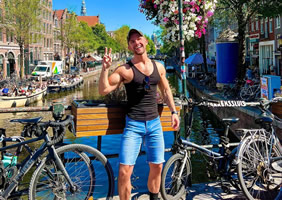 Day 11 - Amsterdam, Netherlands
This morning we say "tot ziens" to the city of Amsterdam and our epic OUTbound Pride Amsterdam river cruise. Spend your final hours exploring more of the city's elaborate canal system and narrow houses with gabled facades, legacies of the Amsterdam's 17th-century Golden Age. Take one last stroll through Dam Square in the heart of city, or head over to the Museum District which houses the Van Gogh Museum, works by Rembrandt and Vermeer at the Rijksmuseum, and modern art at the Stedelijk. However you choose to spend your time in Amsterdam, know that it will always be memorable!