Vienna To Budapest Pride All-Gay Danube River Cruise 2023
8 days from/to Vienna, Austria
July 19 – 26, 2023
CroisiEurope Cruises Douce France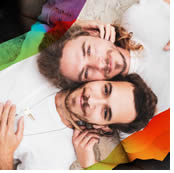 An OUTbound gay trip full of must have moments awaits when you cruise the Danube with us from stunning Vienna, Austria to Budapest Gay Pride, one of Europe's best kept Pride secrets! Along the way to Budapest we'll discover the charming town of Esztergom and its famous Castle Hill and Cathedral with a chance to explore Széchényi Square. Then we'll have three full days in Budapest to celebrate Hungary's largest LGBTQ+ event with thousands of attendees. Giving you a chance to experience multiple days (and nights!) of Pride and be front and center for the main event, the Budapest Pride Parade.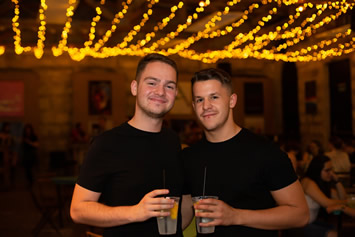 Along the way back to Vienna we'll explore medieval Bratislava and its centuries old castle standing high above the Danube. All before returning to experience one of the most beautiful cities in the world, Vienna! With a full day, and an overnight stay, we'll have time to explore its unmistakably cosmopolitan atmosphere, baroque architecture and distinctive charm and flair that was shaped by famous residents including Mozart, Beethoven and Sigmund Freud.
All Included, All Inclusive!
All Meals & Alcoholic Beverages Included! All Shore Excursions Included!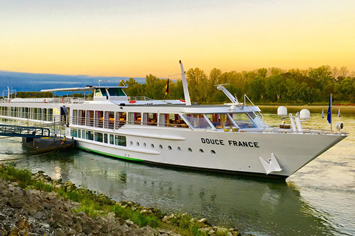 Your Ship - MS Douce France
The MS Douce France is a unique ship specifically designed for more intimate ports of call. A limited number of lucky guests ensures you can spend time enjoying a drink from the extensive bar, reading in the lounge, or relaxing in the spacious and comfortable lounge, with abundant room to roam.
All staterooms have twin beds that can be configured as a queen and full picture windows. The Douce France is ready to offer our OUTbounders an unforgettable experience cruising the Danube river. Mixed drinks, wine, beer, sodas, juices and coffee are all included anytime onboard.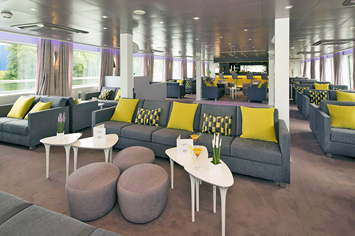 Panorama Lounge
The Panorama Lounge is situated all the way forward on Upper Deck and features floor-to-ceiling windows that allow for spectacular views of the passing scenery... a distinguishing feature of river cruising. Intimate seating areas are peppered throughout the open floor plan, allowing you the choice of going all in with the group or enjoying a little private time between you and a smaller gathering of friends. Enjoy cocktails, dancing, games and entertainment in this picturesque setting.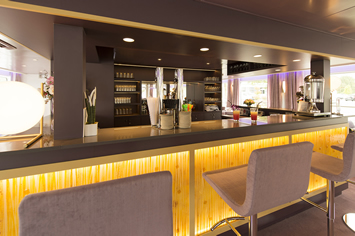 Salon Bar
Enjoy a cocktail at the main bar with us while watching a spectacular sunset together. Located within the Panoramic Lounge, you'll find originality and innovation, with a new twist on the ol' purveyors of gin and tonics and buckets of beer. This is the place where you'll spend an enjoyable evening nursing a cocktail with great friends, old and new! Whether you're in the mood for a mixed drink or glass of wine, we invite you to join us and enjoy one of best bars on the water with your fellow OUTbounders. Order your favorite festive cocktail to savor after a long day celebrating your Pride in Budapest.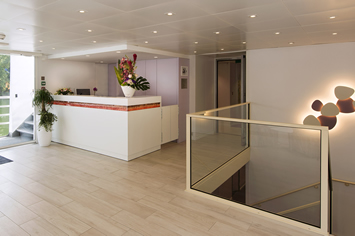 Reception
At your service, OUTbounders will find everything they need at the reception desk, located at the heart of the ship on the Upper Deck. It's the perfect place to meet with friends before dinner or ask any questions you may have during our voyage. Here's where you'll leave each morning as we venture OUTbound to Budapest Pride, and where you will return at the end of each day... greeted by a friendly smile and warm drink.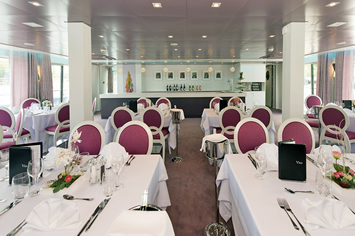 Dining
Located on the Upper Deck, the restaurant comfortably seats all our OUTbounders at tables which vary in size with a panoramic view. The atmosphere is casual but elegant. The selection and presentation of the food is outstanding, and you'll find the quality of service is unmatched.
The food is incredible, every meal every day. You'll enjoy plenty of fish, fruits and vegetables with every meal and be impressed by how fresh everything is. In fact, the only frozen item is ice cream! You'll have plenty of healthy choices to choose from, and loads of unhealthy ones, too!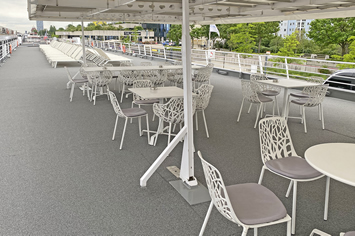 Sun Deck
For spectacular views of the passing landscape, head up to the Sun Deck that allows full enjoyment of the view, even when passing under low bridges. The top deck features an all-weather seating area and a walking track for those who want to keep active. It's the perfect place to visit with old friends and new during the day while enjoying complimentary refreshments with the stunning scenery passing by.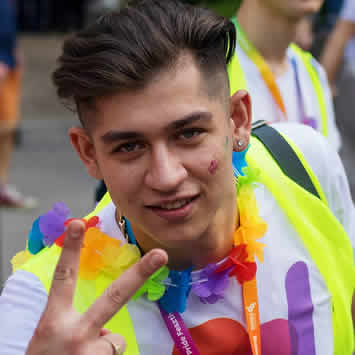 Vienna To Budapest Pride
Danube River All-Gay Cruise 2023
Itinerary


Date

Port

Arrive

Depart

19 July
Vienna, Austria
4 PM
9 PM
20 July
Esztergom, Hungary
9 AM
3 PM
20 July
Budapest, Hungary
7 PM
Overnight
21 July
Budapest, Hungary
Overnight

22 July

Budapest, Hungary
Overnight
23 July
Budapest, Hungary
7 PM

24 July

Bratislava, Slovakia
1 PM
10 PM
25 July
Vienna, Austria
9 AM
Overnight

26 Jul

Vienna, Austria
10 AM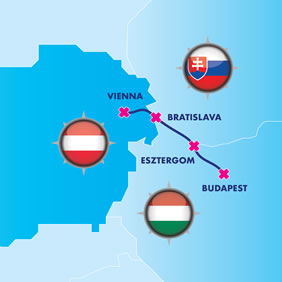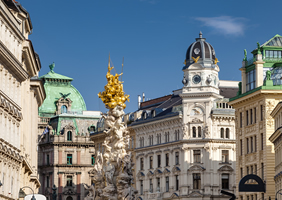 Day 1 - Vienna, Austria
Welcome aboard! Today we'll start our Budapest Pride river cruise in Vienna, one of the most beautiful cities in the world. After comfortably settling into your cabins, take some time to explore this fantastic city on your own, or just unwind with a cocktail and get to know your follow OUTbounders up in the lounge. Later in the evening we'll introduce our crew at a welcome cocktail before sitting down for dinner. Late tonight we'll begin our river cruise and set sail for Hungary.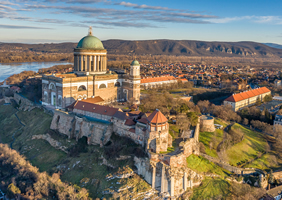 Day 2 - Esztergom, Hungary
Today we'll set out on a tour of Esztergom, visiting the largest church in all of Central Europe, Esztergom Basilica. We'll continue our tour to nearby Esztergom Castle, built in the early 1070s, before returning to town and having some free time in Széchényi Square, Esztergom's central plaza and site of a medieval marketplace walled by Baroque, Rococo and Neoclassical buildings. The highlight of Széchényi Square is the Town Hall, with plenty of charming little shops and cafés for you to wander during your free time before returning to our ship.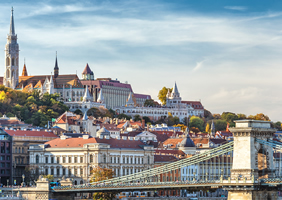 Day 3 - Budapest, Hungary
Welcome to Budapest, a city generously steeped in history and culture, where ancient architecture exists alongside contemporary buildings. This morning we'll enjoy a guided tour touching on many of Budapest's highlights, including Heroes' Square and the Buda Castle district, before a walking tour showcases Matthias Church and panoramic views best admired from the Fisherman's Bastion. See the city that was once two distinct cities, united only in 1873... Buda, on one bank with its rolling hills and valleys and Pest, on the other, with its flatter landscape to the east of the Danube.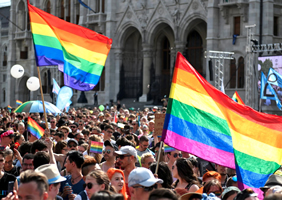 Day 4 - Budapest Gay Pride
It's time to celebrate Budapest Pride! We're docked in this glorious city for the entire weekend, so come and go as you please as you revel in all that Budapest Pride has to offer. Meet and mingle with the locals, get a seat up front for the Pride Parade and March, and dance the night away at one of the countless parties hosted by the local bars and clubs in Budapest. Get to know the locals and show your Pride!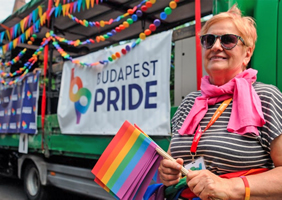 Day 5 - Budapest Pride
No excursions today, just Budapest Pride on your own! You have the full weekend to discover and enjoy the very best of Budapest Pride, so make the most of it! We'll provide you with a list of the city's hottest parties and coolest events, from the Pride Parade and March to the concert in the park on Margaret Island in the middle of the Danube. Relax, rejoice and celebrate however you'd like. We don't sail until Sunday evening, so let your Pride flag fly and live it up, Hungarian style!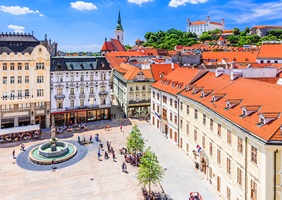 Day 6 - Bratislava, Slovakia
Today we'll explore Bratislava on our guided tour of the capital of Slovakia. We'll see Bratislava Castle, a massive rectangular building with four corner towers that stands on an isolated rocky hill of the Little Carpathians directly above the Danube. Next, we'll tour a delightful scattering of Baroque palaces, Gothic architecture and city blocks that tell tales of a communist past. We'll see firsthand the neo-Renaissance glory of the Slovak National Theatre and the Episcopal Summer Palace before having some free time on our own in the city's main square.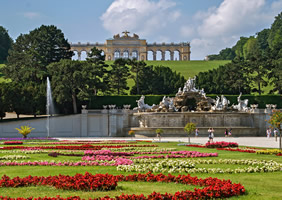 Day 7 - Vienna, Austria
This morning we return to Vienna and begin our guided visit of Vienna, starting with Schönbrunn Palace, the main summer residence of the Habsburg rulers. Next we'll continue our city tour with stops at St. Stephen's Cathedral and Hofburg Palace... Vienna's Imperial Palace and one of the biggest palace complexes in the world. And of course no tour of Vienna would be complete without a visit to the Vienna State Opera, where the works of hometown composers Wolfgang Amadeus Mozart and Johann Strauss can be heard.