Brisbane Australia Gay Pride Cruise 2023
3 nights from/to Brisbane, Australia
December 02 – 05, 2023
P&O Australia Cruises Pacific Encounter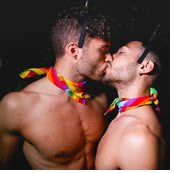 Queensland's Own Encounter! Join us for Brisbane's Inaugural LGBTQIA+ Brisbane Pride Cruise in 2023, presented by P&O Cruises Australia. Setting sail for 4 days and 3 nights onboard the newly refurbished Pacific Encounter, Saturday 2nd December, 2023. For the first time, A Queensland departure exclusively built for Australia's tropical north! Singles, couples, families and friends are signing up ready to sail, sip, slide and party through the Pacific, on this gay weekend Special departure! Everyone is onboard, so let's bring it on!
A celebratory cruise for members of the LGBTQIA+ community and their allies/supporters, to honour pride in self, the diversity of the community and the endless variety of talented artists, entertainers and educators in it. Our Brisbane Pride Cruise will be a safe space for members of the community, something curated just for them.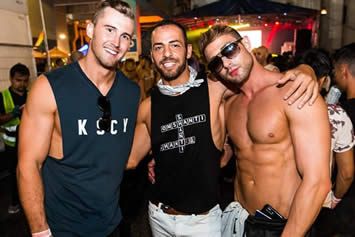 Be Entertained
The Melbourne Pride Cruise on Pacific Encounter will be like your favourite LGBTQIA+ Festival, Fair Day, or Carnivale – all rolled into one and all out at sea!
Headlining the fun with plenty of feathers, sequins and flamboyance, will be international superstar, accordionist and Berlin boy-wonder Hans the German, the award-winning comedy cabaret star who won hearts & found fame on America's Got Talent.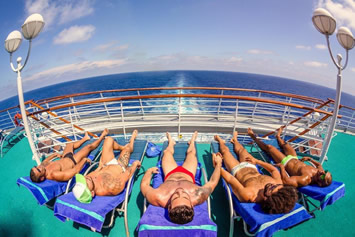 Leading diversity trailblazers will join the cruise including Queensland Rugby League ambassador Meg Ward who is 'out and proud', and Australia's Simon Dunn, the first openly gay male to represent any country in the sport of bobsled.
They will be joined by an exclusive and wide ranging array of DJs, drag kings & queens, singers, dancers, entertainers, athletes, and comedians from our wonderful LGBTQIA+ community, with many more to be announced.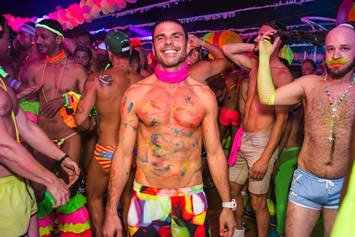 Your adventure will be filled with laughs, singing, dancing, swimming, eating, drinking, watching, playing, and enjoying all our community has to offer.
From day one, the first-ever "Queer Screen Mardi Gras Film Festival at Sea" will play on the giant outdoor screens, at the huge indoor cinema, and throughout the in-room TV system.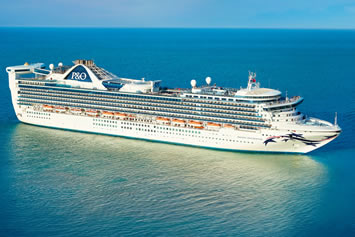 Meet Pacific Encounter!
Pacific Encounter will showcase many of P&O's favourite features as well as a range of new ones that guests are going to love.
Splurge and book a select suite or mini-suite and along with a host of great benefits, you'll gain access to Byron Beach Club, a private retreat with pool, spas and comfy seating, located on the top deck of the ship. Enjoy expansive views along with pure relaxation and a superior level of service for dining reservations, shore tours, embarkation and disembarkation. Guests will love the relaxed breakfast at Angelo's as well as the healthy salads and wraps from the Byron Beach menu throughout the day.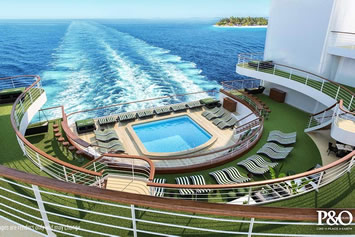 Guests will love our new celebrity chef dining venues, Luke's Bar & Grill by Luke Mangan and 400 Gradi by award-winning Melbourne chef, Johnny di Francesco.
The Lobby, located on deck 5 is our favourite new hang out place, from morning to night. It is the perfect place to sit and watch the (ship's) world go by. Choose from three fabulous bars for your favourite drink, a snack, a quick lunch, or a cheese platter. We're sure the Lobby will become your favourite new hangout place. If you're in the mood for something more lively head to Altitude, our nightclub on Deck 18.
Familiar favourites include Waterfront, Angelo's, Dragon Lady, and Shell & Bones or go casual in The Pantry. Head to the Oasis for a cocktail and a perfect view of the ship's wake or the chilled-out vibe in the Ocean Bar.
Fabulous Twin Racer Waterslides will be coming to Pacific Encounter on March 2023.
There are more spaces to explore, more places to relax and more things to do. On Pacific Encounter, you'll find there's something for everyone.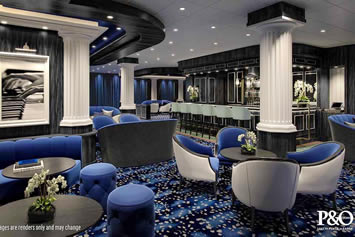 After Dark Extravagance or Intimate Experiences - You choose!
Grab craft and small batch beers, then relax in the cosy The Explorer Hotel, enjoy a cocktail at The Ocean Bar or head to The Blue Room for some live entertainment with a huge roster of LGBTQIA+ artists over the 3 nights!
Speakeasy? Why not visit The Bonded Store In partnership with Archie Rose Distilling Co.
Sit, swill and savour the finest liquors and set your tastebuds free in this glamorous speakeasy as our mixologists serve up fantastic cocktails.
Or get inspired during a gin or whisky masterclass - Bring home your own blends!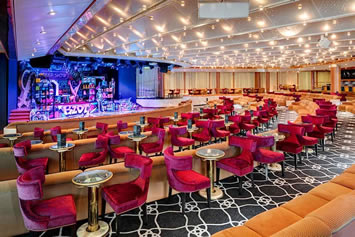 Black Circus Enjoy new levels of entertainment with exclusive dinner and show packages and a glamorous cabaret style show, Love Riot. Get ready for a fetish-laced acrobatic feast for the senses. It's the ultimate night out full of spectacle and outrageous fun.
Blue Room Hit the dance floor and cut some shapes to some funky live tunes in the Blue Room. You'll catch some home grown live acts every night.
Stage Shows - It's Showtime! All of our original stage shows are developed and choreographed by a leading Australian production company exclusively for Pride Cruise by P&O Australia, so you can't see them anywhere else. With an exciting program of shows to choose from, you'll want to catch them all.