Vasco Da Gama
Ship Facts
Gross Tonnage: 55,820
Length: 219 m
Breadth: 31 m
Draught: 7.80 m
Guests: 1,000
Crew: 550
Decks: 9
Renovated: 2021


Spartacus All-Gay Cruise 2023
France & Italy German Speaking All-Gay Cruise
Männer. Und Meer.
7 nights from/to Marseille, France
May 13 – 20, 2023
Nicko Cruises Vasco Da Gama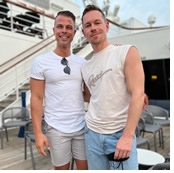 Men. And Sea. Join Spartacus Gay Cruise 2023, the German-speaking All-Gay Cruise by the community for the community! We will sail from a vibrant multicultural port city filled with history, grit, grandeur, and salty sailor – Marseille. The Spartacus Cruise is initiated by the leading German gay magazines - Blu, Gab, Hinnerk, Rik and Leo and our partner are the biggest European gay men dating site PlanetRomeo. Guests can expect great show program on board, comediants and exclusive surprise performers.
A hand-picked selection of the most popular artists of the gay/lesbian stage culture will be on board. Our partners are the most well known gay scene parties from Germany, Austria and the Switzerland and guarantee the finest Club feeling every evening.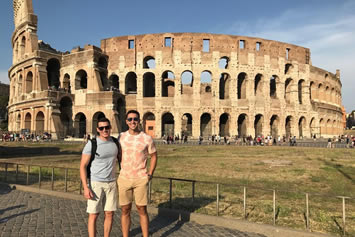 Despite being France's oldest city, predating the foundation of Paris by several centuries, Marseille remains one of the country's most underrated destinations. By day there are plenty of sexy French boys and girls shopping in open-air markets of the French-African quarter, wandering past historical landmarks of the vibrant Vieux Port (old port) and or lazing in the iconic terrace bistros of the ancient Le Panier neighborhood. But, by night, is when things really come alive…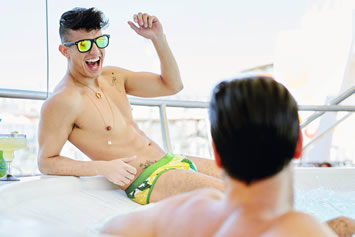 Elba is certainly known to most as Napoleon's place of exile, which will certainly be part of the excursion program. From our picturesque port of Portoferraio you can also reach some beautiful beaches in just a few kilometers. Since we stay until 10 p.m., there is time for a relaxed visit to the beach.
Rome should be on every western Mediterranean itinerary because it is one of the most historically impressive cities in the world. Even those who have been there more than once will always be able to make new discoveries. Since we don't leave until 9 p.m., there might even be time for an aperitivo in a gay bar.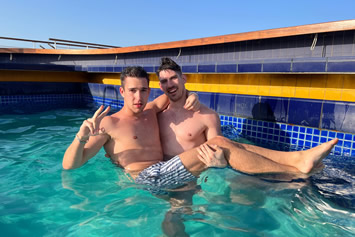 From the port city of Livorno, there are numerous possibilities for exciting excursions, including two impressive cities, Pisa and Florence. Strictly speaking, our berth in Nice is the small, beautiful neighboring port of Villefranche-sur-Mer, from where you can explore the most beautiful places on the Côte d'Azur.
With Calvi on Corsica, we have a second island in our program, which also offers alternatives to swimming nearby, for excursions into nature or exploring impressive monuments. Our starting point and destination Marseille is ideal to either discover the scene there or to go to other places on the French coast.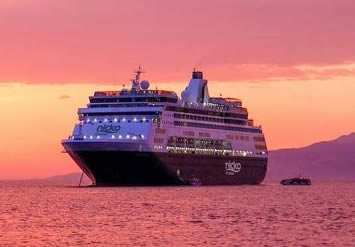 Welcome Aboard the Vasco Da Gama.
In its own unique way, Vasco Da Gama combines the Portuguese explorer tradition with the demands of today's cruise guests: a wide range of different bars and restaurants in an exclusive setting, lots of public space with a modern interior and tasteful design elements. On board, you'll find a full range of equipment for spa, fitness and your personal leisure activities. The personal atmosphere on board due to the manageable number of guests is key to the sense of well-being. In the very spirit of Portuguese hospitality, our friendly crew remains committed to your welfare.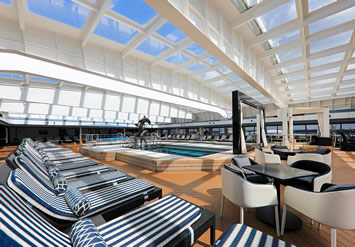 In today's cruise ship market, our ship is regarded as small due to the fact that we have limited passenger capacity. The beautiful teak-wood decks exude classic charm, working in perfect harmony with the ship's elegant and modern appearance. At 219 metres long and with a volume of 55,820 GRT, the ship provides its guests with all the space they need to thrive, spread across nine passenger decks.
On board, you'll feel this spaciousness, for example, in the cabins and suites (16 to 102 sqm in size), five bars and lounges in different designs, five restaurants, an elegant spa area with sauna and steam bath, a large fitness centre, sports areas on the outside decks as well as two pools, one of which has a sliding glass roof.
And in our "Hollywood's" show theatre over two decks, our on-board theatre company provides you with top-class evening entertainment. Bom espetáculo!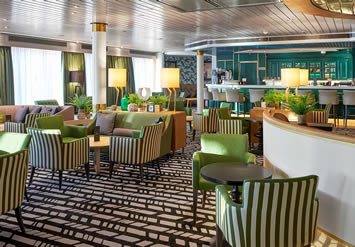 Total of 550 crew members have just one goal: to make you feel comfortable! On top of the generous room-to-passenger ratio and our range of on-board facilities, the ample crew-to-guest ratio means you can find your own personal way to relax on board the ship.
Whether you prefer to read a good book with a cool drink under the glass dome in our viewing lounge, the "Dome", or would like to expend some of your energy in the outdoor sports areas, Vasco Da Gama has the full range of options to choose from. Our chefs are, of course, able to meet all common dietary requirements.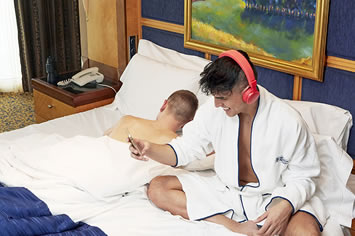 Your home on the high seas: on board Vasco Da Gama, you will find exactly the right cabin for your cruise on the oceans. No matter which deck you are on or which category you choose – you will feel completely at home.
All our cabins are equipped with a wardrobe, a shower or bath, rest room, individually regulated air conditioning/heating, a safe and satellite TV. The beds can be separated into two singles if desired. Hairdryers are available in all cabins.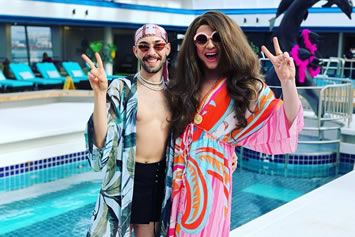 Our Cruise Hostess - Nina Queer
Already on our first cruise she was the mother of all pleasure-loving sailors. In the morning she greeted the hungover breakfast guests over the loudspeakers and remembered with relish all the misconduct and excesses of the previous night. During the day, she bribed the glamor quiz with her knowledge of the world of A, B and C stars.
In the afternoons she sorted the left and right people at the pool games or led drinking party excursions to wine tastings, although at night she still stood almost vertically behind the DJ booth. Known from television (Frauentausch, Central Comedy), radio (Energy) and for her books and parties, in 2022 she will ensure that discipline and order remain a foreign word and that every pot has a lid.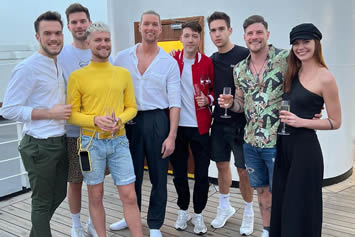 Spartacus Gay Cruise Entertainment
The details of the 2023 program will be published in the coming months. For an impression, here is our program for 2022.
In addition to the ship's on-board program, numerous gay favourite artists will once again perform on our Spartacus Cruise. The agenda also includes numerous themed parties by the pool such as "White", "Wig" or "Kinky", where there are no limits to the creativity of the outfits.
Our popular pool games with the choice of "Mr. Cruise "will definitely not be missing and all guests are of course again cordially invited to design their doors individually, whereby the craziest idea will be awarded a prize.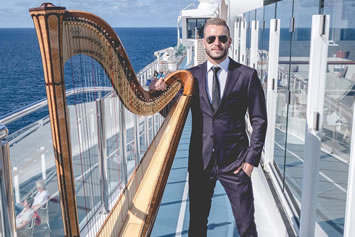 Joel von Lerber, who will accompany us at the Tea Times with his harp program from classical to pop.
Edson Cordeiro can look back on an international career spanning over 25 years. In his native Brazil he is one of the most popular and famous performers. He has sung in the most important concert halls in Europe and has received several gold CDs.
With his first solo album "Nachtzug", Rainer Bielfeldt took the heart of the gay community by storm in the early 1990s. For the border-crosser between chanson and pop, a game of hide-and-seek was never an option, and so he sang about men with a relaxed, self-evident nature when he meant men.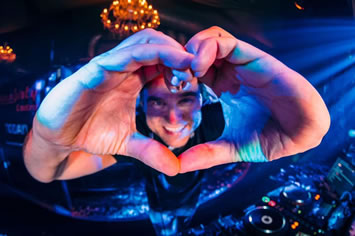 DJ & producer Chris Bekker is one of the Berlin export hits of the electronic gay and straight scene worldwide. Since 2013 he has been working with music pioneer and producer legend Paul van Dyk, on whose label VANDIT Rec his publications appear.
Rony Golding - DJ and music producer from Cologne for over 20 years. With his driving, melodic techno sets, which are always peppered with vocals, he not only escalates the queer crowd across Europe. Golding is resident DJ of Germany's biggest gay party, the SEXY, as well as the Revolver Party in Berlin's Kitkat Club and has played at almost all major European gay events.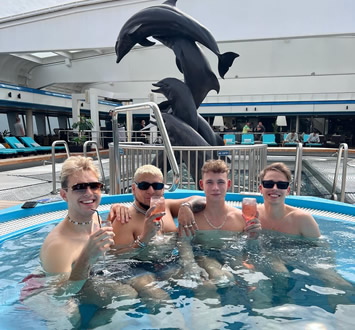 Spartacus Mediterranean Gay Cruise
Itinerary


Date

Port

Arrive

Depart
13 May
Marseille, France
8 PM
14 May

Fun Day at Sea!

15 May
Portoferraio (Elba), Italy
8 AM
10 PM
16 May
Rome (Civitavecchia), Italy
7 AM
9 PM

17 May

Livorno (Pisa / Florence), Italy
8 AM
9 PM
18 May
Villefranche (Nice), France
8 AM
10 PM
19 May
Calvi (Corsica), France
8 AM
6 PM
20 May
Marseille, France
8 AM

Itinerary is subject of change.
Embarkation May 13th: 13:00 – 17:00
Disembarkation May 20th until 10:00 am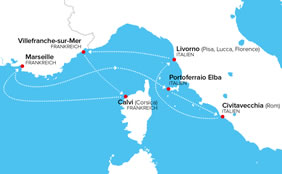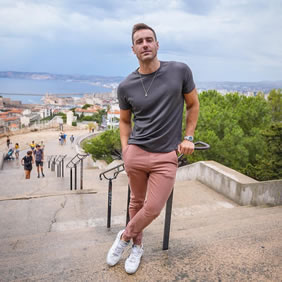 Day 1 - Saturday, May 13, 2023
Marseille, France
Marseille
is the kind of French town that has the same amount of charm as Paris, despite being less popular among the traveling crowd. With new arts districts, rejuvenated neighborhoods, and inventive museums popping up left and right, you could say Marseille is having its very own moment.
Of course, it wouldn't be a trip to the region of Provence without experiencing high-quality French food, baked goods like fresh croissants and pastries, strong red wine, and a culture highly tuned into enjoying the moment. Whether you stay local to the Vieux port in Marseille or take a day trip further into Provence, this corner of the Mediterranean deserves careful study from anyone who decides to visit on a Marseille cruise.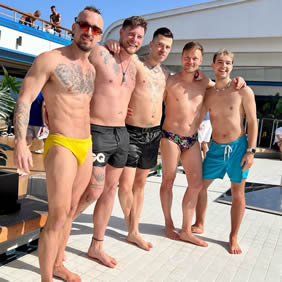 Day 2 - Sunday, May 14, 2023
Fun Day at Sea!
Slow down. Relax. Maybe visit the gym. Lay in the sun. Dangle your feet in the pool, or enjoy one of the fun & entertainment activities. Meet new friends...and get ready for the T-Dance Party!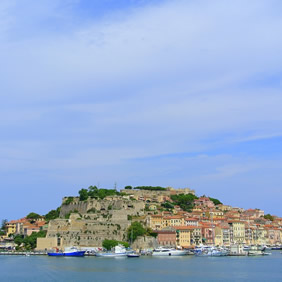 Day 3 - Monday, May 15, 2023
Portoferraio (Elba), Italy
Napoleon was once exiled to the island of Elba along with an escort of 1,000 men, household staff, and the insulting title of Emperor of Elba. What a horrible punishment, right?
But thanks to Napoleon's little time-out here, the island enjoyed a golden age in the 1800s, when it was recognized as a prime location for the iron mills that brought prosperity to the area. You can learn all about the island's history at the Archaeological Civic Museum.
Climb to the top of Medici Fortress, which was built in 1474, and you'll be rewarded with sweeping views of the sea and the town below. Or take an open cable car to the peak of Mount Capanne for even more breathtaking views of the entire island, the Tuscan Archipelago, and the Mediterranean Sea. You can also enjoy performances in Vigilanti Theatre, an ancient church converted into a theatre by Napoleon's sister Paolina Bonaparte.
One thing is for sure: When you arrive in Portoferraio, you won't understand why Napoleon ever wanted to leave.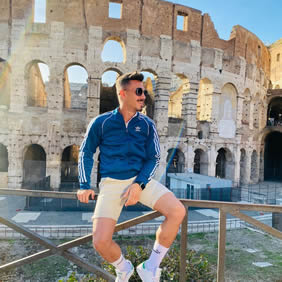 Day 4 - Tuesday, May 16, 2023
Rome (Civitavecchia), Italy
Rome has something special to offer to all visitors, no matter their interests and tastes. Whether you daydream about fighting with gladiators in the Coliseum, debating with togaed senators in the Forum, tossing a coin in a fabled fountain, or being awestruck by the magnificence of St Peter's Basilica and Michelangelo's masterpieces, Rome seems to live up to its sobriquet – the Eternal City. When you need sustenance, today's Rome will provide delizioso pasta e vino. Or perhaps you draw strength from a little retail therapy – the Italians are also renowned for their sense of style.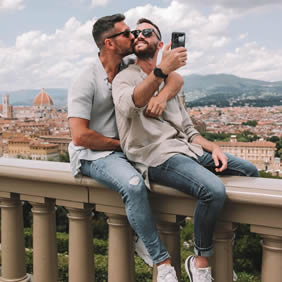 Day 5 - Wednesday, May 17, 2023
Livorno (Pisa / Florence), Italy
Ah, Florence—sublime birthplace of the Renaissance, its historic center full to bursting with elegant squares, imposing palaces, magnificent churches, and museums with such an abundance of riches it could make an art lover weep for joy.
The list of illustrious names connected with this city is mind-boggling: Botticelli, Dante, Da Vinci, Michelangelo, Galileo. Other colorful and fascinating characters were of dubious reputation: Machiavelli, and the religious extremist Savonarola, with his bonfire of the vanities. For many years the city was ruled by the powerful Medici family, patrons of the arts and bankers to the papacy, whose line included six kings and two popes.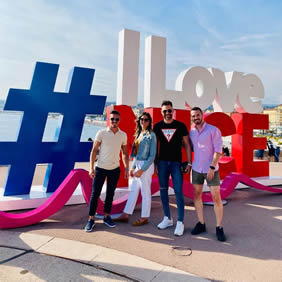 Day 6 - Thursday, May 18, 2023
Villefranche (Nice), France
Though its name may not be familiar, there's a good chance you'll recognize much of Villefranche while walking its beachfront and twisting, cobblestone streets. That's because it's been a cinematic hot spot for years, and movies such as To Catch a Thief, An Affair to Remember, and Never Say Never Again have all been shot here.
Behind the scenes, though, this resort town—located 20 minutes west of Nice—is considered one of the French Riviera's most exclusive spots. (It's also one of Europe's most sought-after residential areas.
Meander the labyrinth of winding stairways and narrow streets in the Old Town—home to many of Villefranche's most notable attractions, including Citadelle Saint-Elme, Chapelle Saint-Pierre, and Église Saint-Michel. A quick car ride to the east will bring you to Villa Ephrussi de Rothschild, a 20th century villa that overlooks nine gardens, each with a distinct theme.
If your travels have you needing to refuel, you're in luck. No day in Villefranche is truly complete without indulging in fine French cuisine, flavored with a distinct Mediterranean influence. Dine on local specialties like boeuf Rossini and fresh foie gras, or watch the world go by at Wine Pier—which is just as scenic as the name implies.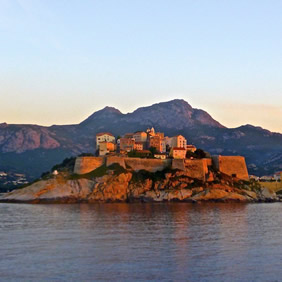 Day 7 - Friday, May 19, 2023
Calvi (Corsica), France
You can be forgiven for thinking that Calvi isn't exactly the most welcoming place upon first sight. The imposing stone fortress has fended off many an invader since the 1400s, and the massive snow-peaked mountains in the background only add to the drama of the scene. But as they often are, looks are deceiving, and the reception you can expect one you reach dry land is decidedly warm.
Start your stay by conquering the citadel—in a friendly way, of course. The climb is challenging, but half way up the hill, there are several restaurants that offer tasty provisions. So you can continue your final push to the top, no excuses, because the views of the harbor and surrounding city are worth every step.
Calvi is also the birthplace of Christopher Columbus.
Navigate Calvi's winding streets in search of treasures like dried meats, local honey, and spices from the maquis bush from your newly discovered world.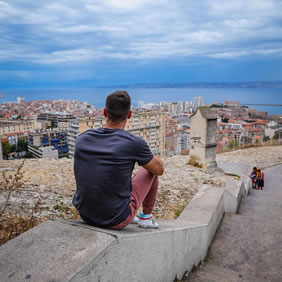 Day 8 - Saturday, May 20, 2023
Marseille, France
As France's second-largest city and home to the country's biggest commercial port, Marseille
is cosmopolitan and vibrant. This Mediterranean gateway boasts the storied Old Port that dates to 600 B.C., quaint neighborhoods, top-notch shopping and world-renowned seafood. A climb up the roughly 500-foot Garde Hill yields 360-degree panoramas and a visit to the city's beloved symbol: Notre Dame de la Garde, an 1864 Byzantine-style basilica topped with a gilded statue of the Virgin Mary. Artists and authors alike have been inspired by the sparkling bay and verdant cliffs here, prompting iconic works from the likes of Paul Cezanne. The picturesque coastline beckons with beautiful beaches and opportunities for hiking, rock climbing, swimming and snorkeling.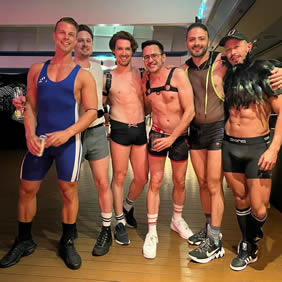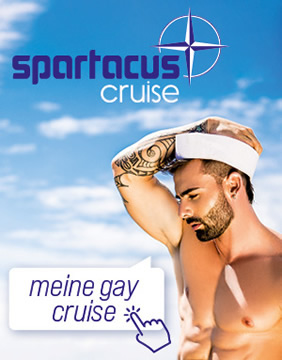 Guests: 1,000 • Crew: 550 • Gross Tonnage: 55,820 • Length: 219 m • Breadth: 31 m • Draught: 7.80 m

Spartacus Gay Cruise 2023 Rates

SUITES

16 - Penthouse Suite
Deck 10. 101.7 sqm, maximum occupancy: 4 persons. Large balcony with seating. King-size double bed. Seating area including sofa/bed, can be set up as a double bed. Bathroom with shower or bath/whirlpool and hairdryer. Flat-screen TV, DVD player, phone, safe. Options for preparing coffee/tea. Individually adjustable air conditioning. Extras for penthouse suite guests: Welcome fruit bowl, one bottle of wine & water; Evening greeting from the kitchen; Laundry & ironing service; Preferred check-in & check-out (wherever possible); Atlas, binoculars, umbrella & bathrobe for the duration of the cruise as well as towelling slippers
€ 5,199

€ 5,699

15 - Suite with Balcony
Deck 10. 34.7 sqm, maximum occupancy: 4 persons. Balcony with seating. King size double bed (can be separated into two singles if desired). Seating area including sofa/bed, can be set up as a double bed. Bathroom with shower or bath tub/whirlpool and hairdryer. Flat-screen TV, DVD player, phone, safe. Options for preparing coffee/tea•Individually adjustable air conditioning. Extras for suite guests: Welcome fruit bowl, one bottle of wine & water; Evening greeting from the kitchen; Laundry service; Preferred check-in & check-out (wherever possible); Atlas, binoculars, umbrella & bathrobe for the duration of the cruise as well as towelling slippers
€ 2,969

€ 3,299

BALCONY STATEROOMS

14 - Balcony Stateroom
Deck 9 & 10. 20.9 sqm, maximum occupancy: 3 persons. Balcony with seating. Double bed (can be separated into two singles if desired). Sofa, can sometimes be set up as a bed. Bathroom with shower or bath tub/whirlpool and hairdryer. Flat-screen TV, phone, safe. Options for preparing coffee/tea. Individually adjustable air conditioning. Extras for all balcony cabin guests: Welcome fruit bowl, one bottle of wine & water; Preferred check-in & check-out (wherever possible); Atlas, binoculars, umbrella & bathrobe for the duration of thecruise as well as towelling slippers
€ 2,096

€ 2,329

13 - Balcony Stateroom
Deck 9 & 10 front & aft. 20.9 sqm, maximum occupancy: 3 persons. Balcony with seating. Double bed (can be separated into two singles if desired). Sofa, can sometimes be set up as a bed. Bathroom with shower or bath tub/whirlpool and hairdryer. Flat-screen TV, phone, safe. Options for preparing coffee/tea. Individually adjustable air conditioning. Extras for all balcony cabin guests: Welcome fruit bowl, one bottle of wine & water; Preferred check-in & check-out (wherever possible); Atlas, binoculars, umbrella & bathrobe for the duration of thecruise as well as towelling slippers
€ 1,979

€ 2,199

OCEANVIEW STATEROOMS

12 - Ocean View Stateroom
Deck 5. 17.5 sqm with window, maximum occupancy: 4 persons. Double bed (can be separated into two singles if desired). Sofa, can partly be set up as a bed/partly as an additional upper bed. Bathroom with shower or bath tub & hairdryer. Flat-screen TV, phone & safe, individually adjustable air conditioning.
€ 1,790

€ 1,989

11 - Ocean View Stateroom
Deck 4. 17.7 sqm with window, maximum occupancy: 2 persons. Double bed (beds can be separated into two singles if desired) and seating area. Bathroom with shower or bath tub & hairdryer. Flat-screen TV, phone & safe, individually adjustable air conditioning
€ 1,709

€ 1,899

10 - Connecting Ocean View Stateroom
Deck 4. Outside cabin with window & connecting door. 17.6 sqm with window, max. occupancy of two connecting cabins:7 persons. Double bed (can be separated into two singles if desired). Sofa, can partly be set up as a bed/partly as an additional upper bed. Bathroom with shower or bath tub & hairdryer. Flat-screen TV, phone & safe, individually adjustable air conditioning
€ 1,709

€ 1,899

9 - Ocean View Stateroom
Deck 6. 16.8 sqm with window, maximum occupancy: 2 persons. Double bed (beds can be separated into two singles if desired) and seating area. Bathroom with shower or bath tub & hairdryer. Flat-screen TV, phone & safe, individually adjustable air conditioning
€ 1,619

€ 1,799

8 - Ocean View Stateroom
Deck 5 & 9 front & aft. 17.1 - 17.7 sqm with window, maximum occupancy: 4 persons. Double bed (can be separated into two singles if desired). Sofa, can partly be set up as a bed/partly as an additional upper bed. Bathroom with shower or bath tub & hairdryer. Flat-screen TV, phone & safe, individually adjustable air conditioning.
€ 1,520

€ 1,689

7 - Ocean View Stateroom
Deck 4 front & aft. 17.3 - 17.9 sqm with window, maximum occupancy: 4 persons. Double bed (can be separated into two singles if desired). Sofa, can partly be set up as a bed/partly as an additional upper bed. Bathroom with shower or bath tub & hairdryer. Flat-screen TV, phone & safe, individually adjustable air conditioning
€ 1,439

€ 1,599

6 - Ocean View Stateroom
Deck 6 front & aft. 16.8 - 18.3 sqm with window,maximum occupancy: 2 persons. Double bed (beds can be separated into two singles if desired) and seating area. Bathroom with shower or bath tub & hairdryer. Flat-screen TV, phone & safe, individually adjustable air conditioning
€ 1,403

€ 1,559

5 - Ocean View Stateroom (Partialy Obstructed)
Deck 6. 16.8 sqm with window (partially restricted view), maximum occupancy: 2 persons. Double bed (beds can be separated into two singles if desired) and seating area. Bathroom with shower or bath tub & hairdryer. Flat-screen TV, phone & safe, individually adjustable air conditioning
€ 1,331

€ 1,479

4 - Porthole Ocean View Stateroom
Deck 4 & 5 front. 16.0 - 18.5 sqm with porthole, maximum occupancy: 4 persons. Double bed (beds can be separated into two singles if desired) and seating area. Sofa, can partly be set up as a bed/partly as an additional upper bed. Bathroom with shower or bath tub & hairdryer. Flat-screen TV, phone & safe, individually adjustable air conditioning
€ 1,304

€ 1,449

INTERIOR STATEROOMS

3 - Inside Stateroom
Deck 5, 6, 9, 10. 16.4 - 17.0 sqm, maximum occupancy: 4 persons. Double bed (can be separated into two singles if desired). Sofa, can partly be set up as a bed/partly as an additional upper bed. Bathroom with shower & hairdryer. Flat-screen TV, phone & safe, individually adjustable air conditioning
€ 1,160

€ 1,289

2 - Inside Stateroom
Deck 5, 6, 9 front & aft.16.4 - 17.1 sqm, maximum occupancy: 4 persons. Double bed (can be separated into two singles if desired). Sofa, can partly be set up as a bed/partly as an additional upper bed. Bathroom with shower & hairdryer. Flat-screen TV, phone & safe, individually adjustable air conditioning
€ 1,079

€ 1,199

1 - Inside Stateroom
Deck 4. 16.4 - 16.9 sqm, maximum occupancy: 4 persons. Double bed (can be separated into two singles if desired). Sofa, can partly be set up as a bed/partly as an additional upper bed. Bathroom with shower & hairdryer. Flat-screen TV, phone & safe, individually adjustable air conditioning
€ 989

€ 1,099

All rates are cruise only in €EUR and per person, based on double occupancy subject to availability at time of booking. .

Taxes & charges of EUR 159 pp are additional.

Gratuities of EUR 120 pp in Interior Staterooms,
EUR 150 pp in Oveanview Staterooms,
EUR 180 pp in Balcony Staterooms,
EUR 200 pp in Suites are additional.

Deposit:
20% of cruise rate, plus taxes, charges & gratuities required at time of booking.
Balance payment is due 90 days prior to sailing.

Single guests - 50% single occupancy surcharge.
To avoid extra costs single traveler Cabin Share available.

3rd and 4th Person in Cabin - extra 699 EUR per person,
in suites - €1,299 per person

Price Includes: accommodation in selected cabin, all meals, Spartacus Gay Cruise entertainment on board, use of public facilities on Board, all port taxes, fuel surcharges and cruise service fees.

Beverage Packages
Nicko Cruises will update the beverage packages at the start of the winter season. The exact form has not yet been determined at this point in time. The Spartacus Cruise was guaranteed a price of EUR 29 per person per day. The packages can be booked upon embarkation and, only together for all guests in cabin.

Pricing and other information may change without notice

All cancellations are subject to a EUR 50 per booking cancellation fee in addition to any vendor cancellation penalties.

Trip Cancellation Insurance is strongly recommended for all reservations.

More information will be provided to you at the time of booking confirmation. Please contact us for a more detailed description of restrictions, cancellations, and penalties.

Cancellation Policy
up to 90 days before departure: 40% of total price
89 - 45 days before departure: 50%
44 - 30 days before departure: 70%
29 days before departure: 100%


Early booking rate available until August 31, 2022.

Special Airfares