Lima, Peru
Saturday, May 08, 2021

Today, you'll arrive in Lima and spend the night at the Wyndham Costa del Sol Hotel
. Lima is the capital and the largest city of Peru. It is located in the valleys of the Chillon, Rímac and Lurín rivers, in the central coastal part of the country, overlooking the Pacific Ocean. As the major point of entry to the country, Lima has developed a tourism industry, characterized by its historic center, archeological sites, nightlife, museums, art galleries, festivals, and traditions. Lima is home to restaurants and bars where local and international cuisine is served
Lima / Iquitos / Nauta / Embark
Sunday, May 09, 2021

This morning, we'll have breakfast at the hotel and then go to the airport for our flight to Iquitos. We'll stop for lunch on the way to the riverside town of Nauta, where we embark Delfin II. Once on board, you are welcomed by hardwood floors, rattan sofas, indoor air-conditioned lounge, outside viewing area, and graceful, modern design. The enthusiastic naturalists and expedition leader will set the informal tone for your expedition. Our chef will introduce you to Peru's haute cuisine and local delicacies, all prepared with an Amazonian flair.
Pucate River
Monday, May 10, 2021

The Pucate River is one of the three main rivers in the reserve. Never does nature seem more bountiful than here in the tropics. The wildlife and the biodiversity are tremendous, and with experienced naturalists at your side, learning about it will come easy. Aboard the skiffs and kayaks, we will explore a black water stream, looking for parrots, macaws, and perhaps monkeys—such as the monk saki, with its gray and black body, naked face, and long shaggy tail. You might also see the saddle-back tamarin whose high chirping notes can easily be confused with those of a flock of birds.
Amazon River and Sapuena Village
Tuesday, May 11, 2021

Experience one of the principal ecosystems within the Amazon basin: terra firma. Disembark and hike to see the vegetation and wildlife, distinctly different from the seasonally flooded forests. For those not interested in hiking, it is well worth traveling up-river by skiff. We reach an important junction of the Amazon headwaters, where the Ucayali and Marañon rivers merge to form the mighty Amazon River. Visit the Sapuena village to learn about the life of the ribereños—those who live on the riverbanks.
El Dorado River
Wednesday, May 12, 2021

Today we venture to find the giant Amazonian water lily Victoria amazonica. This beautiful aquatic plant grows in small lagoons known as cochas. Hike a trail with excellent bird watching and learn about caciques and oropendolas. At the junction of the El Dorado River, look for dolphins and see abundant birdlife. Sharp eyes may find an iguana lazing in the sun and sloths hanging in the upper canopy or squirrel monkeys jumping from tree to tree. We return to Delfin II after sunset to see nocturnal life along the river.
Atun Poza
Thursday, May 13, 2021

Sail further into the heart of the Pacaya Samiria National Reserve. Hike through a rich ecosystem, passing through a classical tropical rain forest. Biologically, this kind of forest is probably one of the richest habitats on earth, supporting the most species of plants and animals per unit area. The goal is to reach the giant Ceiba (or "kapok") tree, with its immense trunk diameter. By skiff you'll depart for the furthest point in the journey, up the Pacaya River to Yanayacu Lagoon. The waters of this lake originate in the very heart of the Pacaya Samiria National Reserve. This rain-forest wilderness is home to red howler and capuchin monkeys, three-toed sloths, and numerous species of parrots.
Yabauacu Lagoon
Friday, May 14, 2021

You'll continue exploring by kayak and skiff today, seeing the flowering and fruiting of plants and trees that coincides with the floods of standing water. This is a great time to see the many fish, including piranhas, swim around the trees to feed on the fallen fruit!
Puerto Miguel Village
Saturday, May 15, 2021

Today, you'll stop—by skiff—in Puerto Miguel Village to learn about its culture, traditions and folklore. Back on board, you'll be delighted with some live music.
Disembark / Nauta / Iquitos / Lima
Sunday, May 16, 2021

After lunch we disembark and return to Iquitos by bus for your group flight to Lima. In Lima, we proceed to the Wyndham Costa del Sol Hotel
for the night. After checking into the Wyndham, we will visit the Museo Larco museum of pre-Columbian artifacts and then have dinner at the museum's café. If you are departing Lima tonight you will have a day room to rest before departing on your evening flight.
Depart Lima, Peru
Monday, May 17, 2021
After breakfast this morning, you'll head to the airport in Lima for flights home or onto other adventures!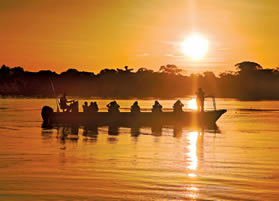 Traveler Info
Currency
The monetary unit of Peru is the Nuevo Sol.
Languages
Spanish is the national language of Peru, but English is spoken widely.
Climate
The climate in Peru varies depending on where we will be. May is cooler in Lima, as it is fall, so be sure to bring warmer clothing as it is cooler and damp (17°C/62°F by day and 11°C/52°F by night). However, closer to the equator in the Amazon, temperatures are much hotter with relative humidity (32°C/89°F by day and 21°C/71°F by night). It is recommended to bring a rain jacket as there will most likely be rain in the rainforests.
Travel documentation and identification
You will need a passport that is valid for six months past the date of the trip. If you are not a U.S. citizen, please check with both your country's consulate and the consulates of the countries we will be visiting to make sure that you do not need an entry visa or other additional documentation.
Vaccinations
The Centers for Disease Control (CDC) recommends malaria prophylaxis and yellow fever vaccination for travel to the Peruvian Amazon. The CDC also recommends that the routine vaccines should be up to date: influenza, chickenpox (or varicella), polio, measles/mumps/rubella (MMR Vaccine), diphtheria/tetanus/pertissis (DTP Vaccine).
We also recommend that you consult your personal physician for medical advice, showing her or him the itinerary indicating the places you will be visiting. Your physician is most familiar with your personal medical history and is best qualified to determine your particular needs. It is always advisable to have physical and dental check-ups before you leave.
Although the water and food are generally safe in Peru, occasional stomach upsets may occur, and we suggest that you ask your doctor to recommend anti-diarrhea medication. We recommend that you drink bottled water throughout your trip. Bottled water is available at the hotels and on board the ship.
Where to fly into/out of
You will need to fly into Lima, Peru (LIM). Most flights arrive in the evening.
Suggested arrival/departure times
Flights can arrive at any time to Lima (LIM) on May 08, 2021, even up until midnight. Hotel
check-in begins at 3:00pm. Flights for departure on May 17, 2021 can depart at any time from Lima (LIM).
Luggage allowances
Airlines often restrict (or charge) for excess baggage. Because each airline is different, and the regulations change over time, please check with your airline for baggage allowances.
Please note that there are luggage weight restrictions on the flights between Lima and Iquitos. Each passenger may have one checked bag weighing no more than 23 kilos (approximately 50 pounds) and one carry on weighing no more than 8 kilos (approximately 17 pounds). If you are traveling prior to or after the trip, and will have additional baggage, you may leave behind excess luggage at the Wyndham Costa del Sol Hotel
. You can collect this luggage when you return to Lima at the end of the trip.
Transfers and Meeting up with Olivia
The Wyndham Costa del Sol Hotel
is directly across the street from the International Terminal. Transfers from the airport to the hotel are not included, however, you will be able to walk across the street to the hotel. Transfers (and/or luggage assistance) from the Lima hotel to the Lima Airport/Iquitos airport to ship and ship to Iquitos Airport/Lima airport to hotel are all included as needed.
Check-In
Hotel check-in begins at 3:00PM
Hotels
Our host hotel in Lima is the Wyndham Costa del Sol
. Should you wish to arrive a day early or extend your stay, we recommend booking directly online with the hotel and request a Standard Room so you will not have to change rooms.
The Wyndham Costa del Sol is at the airport, and a cab is necessary to get to the beach and historic district. If you are planning to spend a little more time in Lima, we suggest a Lima hotel that is closer to the Miraflores District.
Getting to your ship
On May 09, you will have breakfast at the hotel and then be taken on a panoramic tour of downtown Lima, which may include a visit to Casa Amiaga, the Larco Herrera Museum, and lunch at the Museo Larco Café and restaurant. After lunch you will be taken to the Lima airport for your flight to Iquitos, which will depart in the late afternoon. Once we arrive in Iquitos, a bus will transfer you to the riverside town of Nauta (approx. 1 ½ hours) to embark the elegant Delphin II in time for dinner.
Ship Location
Our port of embarkation is in Nauta, Peru. When we arrive into Iquitos by plane, we will transfer by bus (approx. 1 ½ hours) to this riverside town and embarkation will begin immediately.
Ship Check-In
Check-in will be upon arrival to the ship.
Flight Guidelines
Most flights arrive into Lima in the late evening. If you arrive earlier, be aware that hotel check-in begins at 3:00pm. Departures on May 16 should be for after 9:00pm, or anytime on May 17. Please be aware that if you choose to depart late night on May 17, hotel check-out is 12 noon.
Activity Level
This trip requires walking on cobblestone streets for a tour in Lima, hiking on uneven, sometimes slippery uphill and downhill terrain, and stairs. Participants are required to be in good physical health. Wheelchairs and walkers cannot be accommodated on this trip.
Air Conditioning
The ship is air-conditioned throughout. Each cabin has its own thermostat, allowing you to control the temperature level in your cabin. Because of the high humidity in the Amazon rainforest, keeping the temperature extremely low inside the cabin can cause electronic equipment to fog up on contact with the warm, humid air outside.
Internet / Phone
There is no email access in the Amazon. Phone access is very sporadic and not reliable.