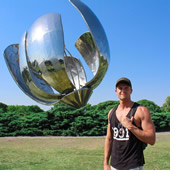 Embark on an unforgettable gay group tour of Argentina's best bits on this guided luxury gay trip. Tour the colorful neighborhoods and enjoy a tango show in Buenos Aires, go wine tasting in Mendoza, and get a view of Aconcagua mountain, South America's highest peak. Finish with a visit to the magnificent Iguazu Falls and admire the falls from both the Argentine and Brazilian sides. Leafy vineyards, eclectic galleries, char-grilled barbecue evenings and epic waterfalls give travelers to Argentina one big tantalizing adventure.
From saucy cities brimming with bars to monster waterfalls and all the steak you can eat, Argentina promises (and delivers) good times to all who come. Drink to a good drop in Mendoza, be blown away by the aquatic thundering of Iguazu Falls, and lose yourself to some hip shakin' nights in the bars of Buenos Aires, all the way to Rio de Janeiro. It's hard to imagine the continent of South America (or the world) without that flaming wedge known as Argentina.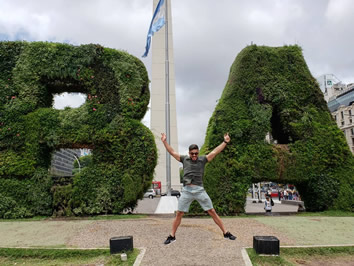 Day 0 - Friday, January 19, 2024
Depart USA, Canada, Europe for Buenos Aires, Argentina
Depart USA, Canada, Europe on any regular scheduled flight to Buenos Aires, Argentina (EZE).
Day 1 - Saturday, January 20, 2024
Arrive in Buenos Aires, Argentina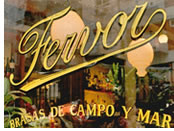 Independent arrivals in BA, transfers to the hotel will be arranged, day at leisure, REST, there will be a fun evening program to welcome you to Argentina.
Welcome cocktails will be served at the lobby bar to meet fellow travelers. Departure afoot (17 minutes) for Welcome Dinner at Fervor, featuring an eclectic ambiance, this restaurant is rated #1 barbecue experience in the city, come hungry to try some of the best meat and seafood you've ever had.
Meals: Welcome Dinner
Hotel: Palladio Buenos Aires MGallery Hotel, Buenos Aires, 5*
Room: Superior Balcony Room
Day 2 - Sunday, January 21, 2024
Buenos Aires, Argentina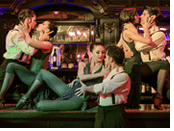 After breakfast, a city tour of most significant sites, with an emphasis on cultural and socio-political events that shaped the growth of a village that became a megalopolis. Notable highlights will include the Main Square, the colonial town-hall, the financial district, Plaza de Mayo and its neoclassical Cathedral, the 'Casa Rosada' ("Pink House") Presidential Palace, plus numerous Neoclassical jewels along the Avenida de Mayo and at the Congress House. We will stop at San Telmo Market.
Lunch at La Brigada. After lunch we visit Recoleta neighborhood and Cemetery: Considered one of the most unusual cemeteries in the world, the site was declared the city's first official public burial place in 1822. It is completely unlike a normal cemetery with elaborately carved and unique tombstones. This graveyard is the burial site of Argentina's most famous figures, including Evita Perón.
Next, we will cross Av. Del Libertador to visit Museo Nacional de Bellas Artes. The National Museum of Fine Arts is home to Argentina's largest national fine art collection. The museum has a vast permanent collection. The pieces are displayed on two floors of labyrinth-like rooms with a total of 34 exhibition halls.
Rest of the afternoon and dinner on your own. Recommended to eat at Elena, elegant porteño cuisine by chef Juan Gaffuri.
For music and dance lovers we have an optional evening program: Tango show at El Querandi.
Meals: Breakfast & Lunch
Hotel: Palladio Buenos Aires MGallery Hotel, Buenos Aires, 5*
Room: Superior Balcony Room
Day 3 - Monday, January 22, 2024
Buenos Aires, Argentina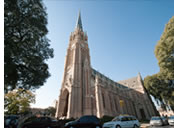 Tigre River excursion:
Swap the busy streets of Buenos Aires for the waterways of the Tigre River Delta on a day trip. You'll get to see the provincial side of the region as you explore the cobbled streets of San Isidro. At 5,405 square miles, the Tigre Delta is among the world's largest, and it is one of the only major deltas in the world that does not empty into a sea or ocean. It flows instead into the Río de la Plata, which separates Argentina and Uruguay.
There will be stops at Vivanco restaurant to try some hand-made empanadas. Be welcome to a sensory, friendly, fresh and natural environment located within one of the emblematic rowing clubs of the city of Tigre, continue to Puerto de frutos: a small pier located on the banks of the Luján River in the town of Tigre, next to which the fruit market is located.
Last stop: The Cathedral of San Isidro, a historical landmark that stands out among the other temples of its style for its beauty and imposing design. It has a neo-gothic style and has a maximum height of 70 meters in its main tower, it dates from the late nineteenth century, and still maintains all its splendor.
Optional museum visits:
MALBA (Museum of Latin American Art, Buenos Aires)
With an impressive permanent collection and a continuous stream of new and exciting temporary exhibitions, MALBA is one of the most important museums of Contemporary art in Latin America. It was founded by Argentine businessman Eduardo Costantini in 2001, it showcases the artworks from the onset of the 20th century to the present of Latin American Masters.
MAMBA the Museum of Modern Art of Buenos Aires-Located in the neghboirhood of SaN Telmo, this 15 million-dollar renovation venue, reopened to the public in December of 2010; includes over 6,000 works, including those by Josef Albers, Antonio Berni, Curatella Manes, Raquel Forner, Romulo Macció, Marcelo Pombo, Marta Minujín, Emilio Pettoruti, Xul Solar and Wassily Kandinsky, among many other artists.
Evening and dinner on your own. Recommended Piegari for the best of Argentinian pasta, or Argentine Experience to learn what the fundamentals of being and Argentine as well as how to make your own empanada using the "repulgue" technique and how to prepare you own "mate".
Meals: Breakfast & Lunch
Hotel: Palladio Buenos Aires MGallery Hotel, Buenos Aires, 5*
Room: Superior Balcony Room
Day 4 - Tuesday, January 34, 2024
Buenos Aires | Mendoza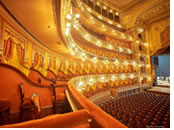 Hotel check-out and meet in the lobby for departure. On the way to the airport quick visit to Parque de la Memoria: The Remembrance park is a public space situated in front of the Río de la Plata. It is a memorial to the victims of the 1976–83 military regime. In October 2006 a ramped path was installed as well as commemorative sculptures, dedicated to the victims of the government sponsored violence. The ramped path is meant to form a giant "wound" in the lawn of the park leading toward the river, where the names of those killed or vanished are located. The park contains 18 sculptures.
Visit Teatro Colón - one of the most important opera houses in the world, its rich and prestigious history and its exceptional acoustics and architectural features rank it among theaters such as Teatro alla Scala in Milan, the Paris Opera House, the Vienna State Opera, the Royal Opera House in London, and the Metropolitan Opera House in New York.
Light lunch and transfer to the airport to board the flight to Mendoza. Upon arrival we are transferred to check-in at Park Hyatt Mendoza.
Dinner tonight at famous 1884 by chef Francis Mallmann, arguably South America's most famous Chef, as featured on Netflix's "Chef's Table".
Meals: Breakfast, Lunch & Dinner
Hotel: Park Hyatt Mendoza Hotel, Mendoza, 5*
Room: Standard Room
Day 5 - Wednesday, January 24, 2024
Mendoza, Argentina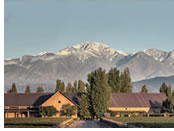 Visit Luján de Cuyo wine region. Lujan was the first region to institute the AOC (Appellation d'Origine Controlée) for Argentine Malbec. Our first stop will be Catena Zapata winery. Besides the striking, Mayan-pyramid inspired architecture, Catena Zapata offers unparalleled views of the Andes and the surrounding vineyards.
Visit Susana Balbo Winery: This family winery is located next to the Andes in the town of Agrelo. In 1981 Susana received her degree in enology, and became the first woman in Argentina to do so; she is recognized as one of the "Most influential women wine-makers" by The Drink Business magazine. She holds awards for "Woman of the year" & "The 10 most influential women in the wine world".
We will experience a cooking class to learn about the secrets of Argentinian food. We will learn how to make a perfect empanada en the most delicious home-made flan. As we savor typical dishes we will also taste the best wines of the winery: Crios, BenMarco and Susana Balbo.
On our way back to town we drive by Chacras de Coria, where we will stop at Ayllu with an incredible array of local crafts, tapestries and pottery.
Tonight dinner is on your own, recommended: Maria Antonieta, by chef Vanina Chimeno.
Meals: Breakfast, Lunch & Wine Tasting
Hotel: Park Hyatt Mendoza Hotel, Mendoza, 5*
Room: Standard Room
Day 6 - Thursday, January 25, 2024
Mendoza / Uco Valley

Day trip to the Uco Valley wine region. Approximately 90 minutes south of the city of Mendoza, the Uco Valley encompasses the highest altitude Argentine vineyards (averaging between 900 and 1200 meters above sea level). Known especially for Malbec, Merlot, Pinot Noir, Semillon, and Torrontes production, the Valle de Uco draws winemakers from all over the world (including Michel Rolland). Its striking natural setting - below a stretch of the Andes that includes the 6,800-meter Mount Tupungato.
Visit Salentein's winery with its contemporary art space. Situated in the middle of 455 hectares of vineyards below the eastern slopes of the Andes, Salentein is a massive, concrete and steel harbinger of the future of Argentine wine, this venue showcases the award -winning architecture of the magnificent, cross-shaped bodega, which uses a traditional gravity transfer system to allow wine to flow from French stainless steel tanks and wooden vats to the underground oak casks used for aging. The tour ends in the dramatic tasting room, where wines are poured atop a massive marble altar.
We continue to Diamandes Winery. In 2005, the Bonnie family, owner of the renowned Château Malrtic-Lagraviére decided to leave France and acquired 130-hectares in the heart of Uco Valley. The Bodega DiamAndes was born, as a member of a prestigious Clos de los Siete group.
Finally, a stop at Monteviejo Winery for a 4-course pairing meal at a restaurant facing the vineyards. Monteviejo is well-known for its high scoring wines; their Lindaflor earned 93 points from Wine Spectator internationally. To add to the winery's fame - it is owned by one of the most influential French women in wine, Catherine Péré-Vergé.
Evening and dinner on your own.
Meals: Breakfast, Lunch & Wine Tasting
Hotel: Park Hyatt Mendoza Hotel, Mendoza, 5*
Room: Standard Room
Day 7 - Friday, January 26, 2024
Mendoza | Iguazu Falls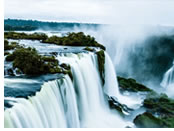 Transfer this morning (10 minutes) to the domestic airport for a flight to Iguazú (MDZ-AEP-IGR)
Located near the junction of Brazil, Argentina and Paraguay, Iguazú Falls is among the greatest waterfalls in the world. There are 275 cataracts in all, stretching 2 miles from bank to bank and reaching a height of 300 ft.
Upon arrival we tour the Argentine side of the Falls. Walk along the upper and lower trails around the spectacular scenery and admire the whole system of more than 270 different falls. Lunch break at Jungle restaurante.
After lunch visit to the Devil's Throat, the main fall of the Iguazú system, where you will see many species of wildlife such as toco toucans, parakeets, coatis, capuchin monkeys and several species of tropical butterflies.
Check in at the hotel. Farewell dinner is at the hotel at Doña Flor restaurant.
Meals: Breakfast, Lunch & Dinner
Hotel: Panoramic Grand Hotel, Iguazu Falls, 5*
Room: Garden View Room
Day 8 - Saturday, January 27, 2024
Iguazu Falls | Departure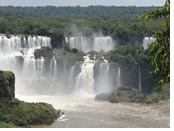 Departure to the Brazilian side of the falls (visa required), considered by most to be the most beautiful view. These falls are shaped in a semicircle 2.700 meters wide and reach 72 metres high. Depending on the river flow, the number of waterfalls can reach between 150 and 300 in number. Take the walkway along the river toward the falls and ascend by elevator.
After lunch transfer to the Foz do Iguaçu airport for a flight to Rio de Janeiro, for those extending their trip, or heading back home.
Meals: Breakfast & Lunch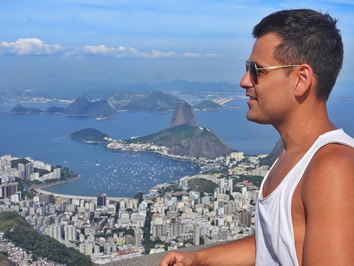 Day 8 - Saturday, January 27, 2024
Iguazu Falls | Rio de Janeiro, Brazil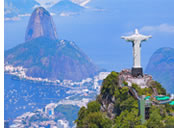 After lunch transfer to the Foz do Iguaçu airport for a flight to Rio de Janeiro.
The spectacular beauty of Rio is legendary. This glamorous metropolis is kissed by the sun, scalloped by gorgeous wide beaches, and dotted with dramatic mountains. Yet its history marked it not as a playground but as an important port for the shipment of gold, gemstones, and coffee as well as a seat of colonial power.
Transfer to the hotel which is located just opposite the gay beach on Ipanema Beach. Dinner on your own.
Meals: Breakfast & Lunch
Hotel: Miramar by Windsor Copacabana Hotel, Rio de Janeiro, 5*
Room: Superior Room
Day 9 - Sunday, January 28, 2024
Rio de Janeiro's SugarLoaf and Corcovado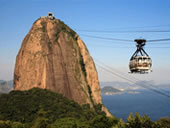 Depart the hotel and drive through the residential areas of Rio to reach the Urca district, where a cable car ascent is made in two stages to the top of SugarLoaf Mountain. The first stage of the ride goes to Urca Hill, where there are gardens and lookout points. For those who wish to venture even higher, the second cable car goes to the very top of SugarLoaf itself – 1200 feet above the sea level – for breathtaking views of the city, harbor, and beaches.
Afterwards drive to Cosme Velho to board the funicular railway for a 20-minute climb through Tijuca Forest. As the train climbs Corcovado (hunchback) Mountain, enjoy spectacular views of Rio and the Bay peeking through the dense vegetation. At the top of Corcovado, 2400 feet above sea level, is the majestic, 120-foot high statue of Christ with outstretched arms. The panoramic view is breathtaking. Descend by train again and return to the hotel via Rio's famous beaches, including Copacabana and Leblon.
This evening, dine at a trendy Brazilian "churrascaria".
Meals: Breakfast & Dinner
Hotel: Miramar by Windsor Copacabana Hotel, Rio de Janeiro, 5*
Room: Superior Room
Day 10 - Monday, January 29, 2024
Rio de Janeiro, Brazil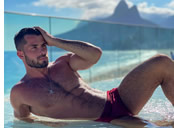 Today is at leisure to enjoy the beach or take optional excursions around Rio.
You might like to take a jeep tour of a "favela" or paraglide over Rio's famous scenery.
Being Brazil's most liberal city, Rio de Janeiro also has a thriving and well-established gay scene. The country is one of the world's most popular gay travel destinations and you'll be well catered for in this sun-soaked city. Whilst gay-friendly and gay-focused venues can be found with ease throughout the city, the most prominent gay district in Rio De Janeiro is Ipanema, well-known for its buzzing gay nightlife and popular beaches.
Meals: Breakfast
Hotel: Miramar by Windsor Copacabana Hotel, Rio de Janeiro, 5*
Room: Superior Room
Day 11 - Tuesday, January 30, 2024
Rio de Janeiro | Paraty

Depart this morning for a 3 ½ hour drive along the ocean to the village of Paraty. In 1966 the historic colonial center of Paraty was declared a UNESCO World Heritage Site. To preserve its unique pre-modern character, cars were banished from the old colonial core. In the heart of the city it's pedestrians only.
This afternoon, we tour the village and check-in to our centrally located hotel, the Pousada Porto Imperial. Dinner is at one of the fun restaurants in town.
Meals: Breakfast, Lunch & Dinner
Hotel: Pousada Literária Hotel, Paraty, 4*
Room: Standard Room
Day 12 - Wednesday, January 31, 2024
Paraty, Brazil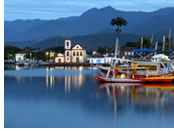 The region surrounding the city adds much to Paraty's quiet beauty. The hills are still mostly covered in lush green coastal rainforest, and the waters around Paraty, dotted with 65 islands, are tropical turquoise, warm, and crystal clear, perfect for snorkeling, swimming, or scuba diving.
Our day is spent amongst these beautiful islands as we sail on a schooner. Stop for lunch on one of the islands and return to Paraty in the late afternoon.
Meals: Breakfast & Lunch
Hotel: Pousada Literária Hotel, Paraty, 4*
Room: Standard Room
Day 13 - Thursday, February 01, 2024
Paraty | Rio de Janeiro | Departure
Spend the morning relaxing or strolling through town. After lunch, depart for Rio de Janeiro and, later, to the airport for return flights home.
Meals: Breakfast