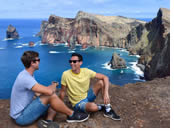 Madeira and the Azores are islands of volcanic wonder that abound with natural drama in the midst of the Atlantic Ocean. Escapist and expressive, the islands bring nature, history, culture, wildlife, lava trails and languid beaches all at once, and this luxury gay group vacation tour visits the most inspiring islands. Look forward to a journey across spectacular landscapes and remote destinations for the very best of the Portuguese archipelagos.
Our tour takes you to exquisite Madeira - the Atlantic's pearl. With great warm weather all year round, a unique history and a ton of new flavors to explore, Madeira is the perfect combination to your Atlantic island vacation. Full of culture, amazing hiking possibilities and friendly locals, Madeira is a great island destination. Marvel at its scenic cliff views and enjoy the thrilling experience of coming down a hill on a traditional wicker toboggan. Taste the exotic fruits of Madeira and enjoy its delicious cuisine. Relax at a natural swimming pool and just have a grand time.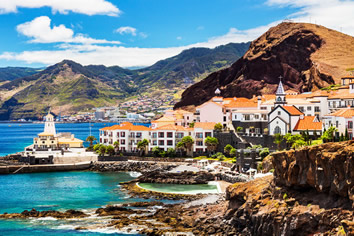 The Azores are a stunning group of nine islands. Each with its own identity, beauty and charm, these jewels in the middle of the Atlantic are a must-visit destination. With this gay tour, we take you to São Miguel, the largest island of the archipelago. Boasting lush landscapes that surround dormant volcanoes, exotic flora and beautiful crater lakes, and surrounded by clean waters, São Miguel is the perfect vacation destination for those looking for an off-the beaten path European destination.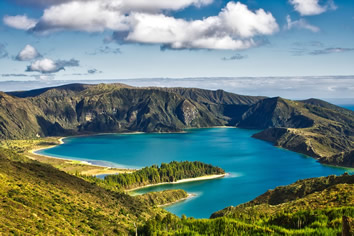 Day 0 - Friday, June 12, 2020
Depart USA, Canada
Depart the USA, Canada on any regularly scheduled flight to Funchal, Madeira (FNC).
Day 1 - Saturday, June 13, 2020
Arrive in Funchal, Madeira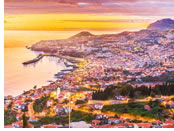 Arrive in Funchal, the capital city of the island of Madeira
A private chauffeur will provide a transfer to our 5-star accommodations.
Funchal is the capital city of Portugal's Madeira archipelago. Funchal is a city with more than 500 years of history. It's backed by hills, and known for its harbor, gardens and Madeira wine cellars.
Hotel: Pestana Carlton Madeira Hotel, Funchal, Madeira, 5*
Room: Classic Double Room
Day 2 - Sunday, June 14, 2020
Madeira Jeep Tour Tour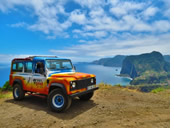 It's a Jeep thing – tour the most beautiful sites that Madeira has to offer with our expert guide.
Stop at various picturesque towns nearby before enjoying a delicious Madeiran lunch paired with local wines.
Then bask in the stunning views of the Boca da Corrida and Cabo Girão.
After a full day, return to the hotel for dinner.
Meals: Breakfast, Lumch & Dinner
Hotel: Pestana Carlton Madeira Hotel, Funchal, Madeira, 5*
Room: Classic Double Room
Day 3 - Monday, June 15, 2020
Funchal City Tour | Wine Tasting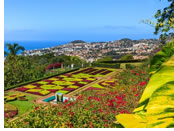 A panoramic tour of the city center takes us first to a family owned embroidery factory to discover some trade secrets.
After lunch, we are guided through the mercado to admire the colorful array of fresh fruit, vegetables, and fish, then admire the beautiful chapel of Santa Catarina and the Sé Cathedral before we tour the lush foliage of the Botanical Gardens.
Then, a private visit and wine tasting with a local sommelier before a dinner this evening that showcases the elegance of aromatic Mediterranean and Iberian cuisine.
Meals: Breakfast, Lumch & Dinner
Hotel: Pestana Carlton Madeira Hotel, Funchal, Madeira, 5*
Room: Classic Double Room
Day 4 - Tuesday, June 16, 2020
Flight to Ponta Delgada, Azores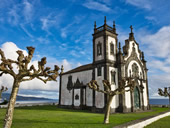 Today we take a private transfer to the airport for our flight to Ponta Delgada.
Ponta Delgada, on São Miguel Island, is the capital of the Azores archipelago of Portugal. You can clearly feel the Portuguese touch expressed in the architectural style and narrow streets, however Ponta Delgada has its own, distinctive appearance: whitewashed buildings are decorated with black volcanic basalt rock around the corners and window edges which creates a beautiful, unique design throughout the city.
Spend the afternoon at leisure.
Meals: Breakfast
Hotel: Azor Hotel
, Ponta Delgada, Azores, 4*
Room: Sea View Room
Day 5 - Wednesday, June 17, 2020
Nordeste Jeep Tour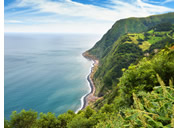 This morning embark on an exciting jeep tour with our expert guide to the easternmost part of the island, Nordeste, one of the region's most beautiful and flower-rich areas.
Nordeste is a town and the north-eastern area of the Sao Miguel island in the Azores. The name literally means "northeast" and it is exactly what it describes. The town of Nordeste is the center of the region, which is incredibly picturesque - dotted with little villages, green fields, spectacular cliffs, waterfalls and multiple viewpoints. You can also find here the oldest and the only still functioning tea plantation in Europe.
Meals: Breakfast & Lunch
Hotel: Azor Hotel
, Ponta Delgada, Azores, 4*
Room: Sea View Room
Day 6 - Thursday, June 18, 2020
Janelo do Inferno Hiking Tour | Furnas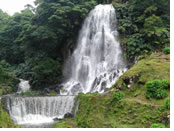 This morning we have an exhilarating, yet moderate 2-hour hiking tour of Janelo do Inferno, a nature preserve with marvelous views of the coast.
After refueling with more local cuisine and wine, explore the Furnas, one of the most exotic areas of São Miguel.
Meals: Breakfast, Lunch & Dinner
Hotel: Azor Hotel
, Ponta Delgada, Azores, 4*
Room: Sea View Room
Day 7 - Friday, June 19, 2020
Departure
A private chauffer will provide transfer to the Ponta Delgada Airport for departure flights home.
Meals: Breakfast