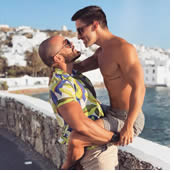 There is no amount of photos, video, or stories that can prepare a person for the incredibly captivating country that is Greece. It's a place that few people visit just once. Whether it's the jaw-dropping scenery, the hospitable people, the fascinating history, the laid-back lifestyle, or the endless exploring opportunities, Greece leaves travelers in awe. Catch the sun setting over Santorini's cliffs, start your day with a dive into the warm Aegean Sea, sip Ouzo in the shadow of the Acropolis, explore the famously gay island of Mykonos... so many options, all guaranteed to be unforgettable.
Our 11-day Greece gay trips promise to deliver the best of Athens and the Greek Islands with stops in dramatic Santorini, cosmopolitan Mykonos, and peaceful Milos. Our trips are, and always have been, laid-back, leaving plenty of room for spontaneity and adventure.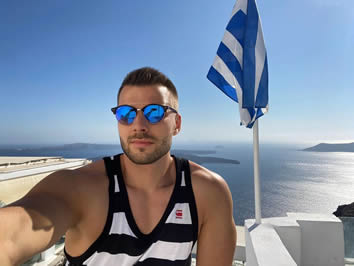 No rushing around, no stress, no limiting daily itineraries, just a great group of guys who are all excited and ready to explore and have fun. And isn't that what travel is all about?
So whether you're a history buff, beach bum, adventure addict, or a mix of all different traveler-types, our Greece gay adventure won't disappoint.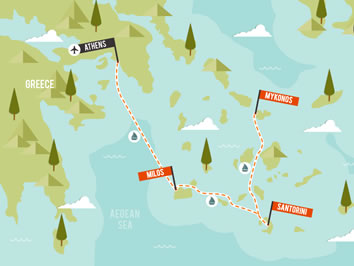 • All taxes
• All land and sea transportation within Greece
• Accommodations for your 11-day gay tour experience
• All full breakfasts
• Group travel within Greece
• Athens / Acropolis city tour with local guide
• 3-day ATV rental on Milos
• 4-hour sunset boat trip in Santorini
• Welcome dinner and drinks
• Knowledgeable and fun Detours gay tour leader
• Meals and drinks outside of those listed above
• Activities outside of the those listed above
• International Airfare
• International Drivers License (available at your local driver licensing provider)
• Optional gratuities
Additional spending budget?
Your big-ticket items are included through the trip, but you'll want to budget for additional spending such as additional meals, drinks, shopping, activities, etc. These costs can vary dramatically with differing personal habits but we suggest expecting to spend an additional $750 USD at the lower end for the more budget-conscious and $1200 USD at the higher end for the splurgers. We suggest arriving to Greece with approximately 300 Euros in cash.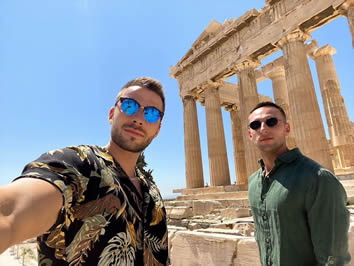 Days 1 and 2 - Athens, Greece
A city that's been around for 3400 years has definitely built up its fair share of must-see's, so our time here is spent immersing ourselves in the new and old of Athens.
The Acropolis and the Parthenon looming over the city, or the fascinating Archeology Museum are great places to spend the daytime before we head to the charming streets of Monastiraki for our evening and, if you've still got energy, the Gazi area for the bustling Athens social scene.
Our first meeting time on day 1 is at 4pm where we'll all meet together to start our adventure!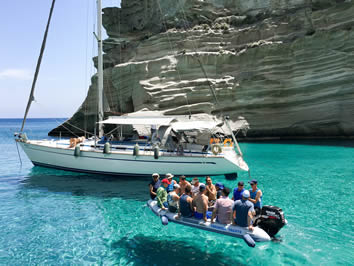 Days 3, 4 and 5 - Milos, Greece
Milos is an unspoiled paradise, an undiscovered oasis of stunning beaches, ancient ruins, and breathtaking vistas, inhabited by the friendliest people in Greece. It's full of passionately proud residents who can't wait to tell you all about their island.
We'll explore this paradise by ATV vehicle, allowing us to get off the beaten track and really experience the best this island has to offer!
This is the island that you've probably never heard of but we guarantee you'll never forget!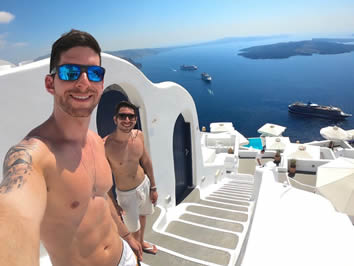 Days 6 and 7 - Santorini, Greece
Our days here will be spent making sure we discover why Santorini is one of the most famous islands in the world!
It all begins as we arrive into Thira port, and travel up to the top of Imerovigli hill to our accommodation overlooking the majestic island and Aegean Sea.
With postcard-worthy vistas, secluded beaches, sunsets to die for, wineries galore, hot springs, water activities, and more, there are plenty of reasons to fall in love with Santorini.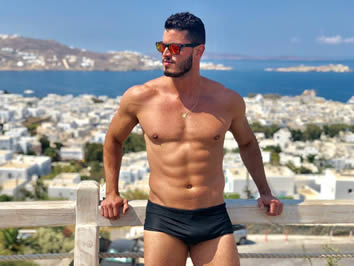 Days 8, 9, 10 and 11 - Mykonos, Greece
A bittersweet departure from Santorini is made a bit sweeter once we arrive in the famously gay island of Mykonos.
This island, however is more than just bars and gay beaches, it's also narrow white-washed streets you'll want to get lost in, it's the hole-in-the-wall piano and jazz bars where people mingle from all over the world, and it's the ruins of past civilization that has thrived in this area for thousands of years.
Our trip finishes here on Greece's most cosmopolitan island on the 11th day. But rest assured, after these 11 days in Greece, it probably won't be your last visit. All travelers are welcome to book their flights departing from Mykonos (airport code JMK) at any time on the 11th day.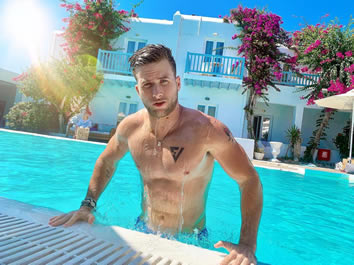 We don't like staying in smelly shacks on our vacations and we're pretty sure you don't either! You work hard to go on vacation and we believe you deserve an enjoyable, comfortable place to wind down at the end of each day. We put a LOT of time into finding the perfect accommodation for your trip. After rigorous wifi signal testing, fluffing pillows, and taking a shower or two, we've narrowed down our favorite properties. Check out our approved accommodation to see where we've stayed in the past and where we'll likely be staying on your trip.
Athens
360 Degrees Pop Art Hotel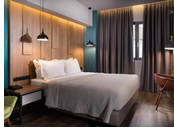 Set along a commercial street in the city center, this exceptionally-located hotel is a 2-minute walk from a metro station and 16 minutes' walk from the Acropolis of Athens. Featuring retro-inspired furnishings, the stylish rooms have free Wi-Fi, flat-screen TVs, minifridges, and tea and coffeemaking facilities.
Milos
Santa Maria Village Hotel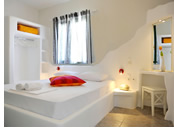 Overlooking the Gulf of Milos, this tranquil hotel spread over 7 whitewashed, block-style buildings is 2 miles (3 km) from Sarakiniko Beach. Rooms feature balconies or verandas with garden, pool or gulf views. All offer free Wi-Fi, flat-screen TVs and minifridges. Additional amenities consist of a spa, a hot tub, a poolside bar, and an outdoor pool with sunloungers.
Santorini
Loizos Stylish Residences Hotel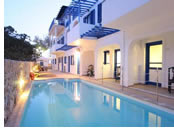 This breezy property is about one mile from Santorini's Old Port. Close to the hustle and bustle of the city centre yet far enough to get a quiet night's rest. Amenities include an outdoor pool, a sundeck with lounge chairs, and massage services. Each room offers free Wi-Fi, flat-screen TVs, minifridges, and tea and coffeemaking facilities.
Mykonos
Damianos Hotel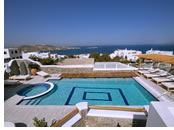 This stunning hotel is 7-minute walk from the nearest beach and a 5 min walk to the main town. The bright rooms have free Wi-Fi, flat-screen TVs and minifridges. There's also a snack bar, and a endless sea view at the pool, a bar and a sundeck. Damianos Hotel has stylish accommodations, quality services and excellent facilities for a pleasant and relaxing stay. Welcome drinks are available upon arrival to get your holiday started.
*Please note that due to availability, these exact hotels may not all be available during all Detours trips. However, we will always replace these with similar hotels, and will never downgrade.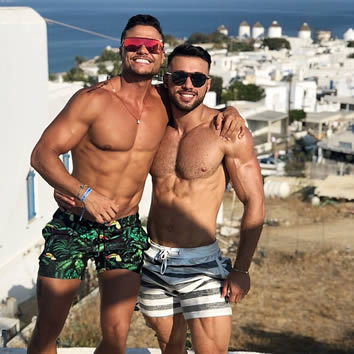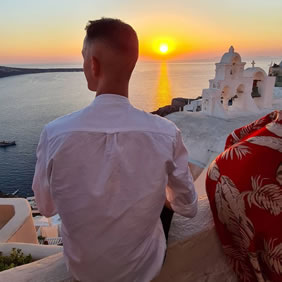 Your Arrival & Departure
This trip begins in Athens and ends in Mykonos - each with their own convenient international airport. So, when you're ready to book your international flights, you'll want to fly into Athens International Airport (airport code ATH), and out of Mykonos International Airport (airport code JMK).
Many of our travelers choose to arrive a day or two prior to the trip to give themselves some time to rest and get over some jet lag prior to meeting the group. If you'd like us to set up any additional nights of accommodation in Athens or Mykonos just let us know! Accommodation rates change often, so just reach out to us for current group hotel rates.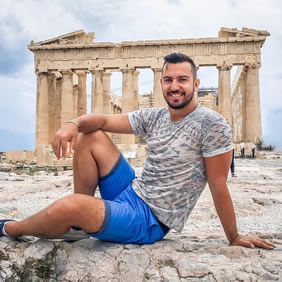 The Climate
Don't worry about getting chilly, our trips are scheduled in the warm summer months ensuring maximum warmth and sunshine! Temperatures during summer generally average highs of 27C/81F, and lows of 21C/70F, although weather can sometimes be unpredictable so it's always good to bring a couple items of warm clothing just to be safe. Greek summers receive very little rain so it's not necessary to pack for rainstorms.
The People
Greeks are incredibly friendly, happy, helpful, welcoming and easy going people! It's not difficlut to make friends with the locals while you're here. Family is incredibly important to Greek people so often you'll find the entire family working at a hotel or restaurant together. Although English is very widely spoken, consider learning a few words of Greek language while you're here, we recommend starting off with "Yia sou" (hello), "Efharisto" (thank you), and of course "Pou ine i paralia?" (where's the beach?)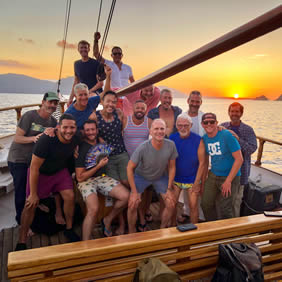 Meals
Enjoy Greek food? It's even better in Greece! Their local cuisine is Mediterranean with Middle Eastern influences. Olives, cheeses, eggplant, lamb, and yoghurt can be found on almost every menu. Detours doesn't believe in limiting your choices by including all of your meals at pre-decided restaurants as part of the trip package. Instead, we include all of your breakfasts to start your day off, then encourage you to explore all of the different restaurant options available to you for lunch and dinner. This way you can eat when you want, where you want, with whomever you want, and spend what you want! Your trip leader definitely has their favorite spots so if you'd like some advice on the best in each location, just check with them.
What to bring?
Our advice is simple. Pack your bag, then take half of those things out and leave them back home. It's common to hear people wishing they'd packed less stuff, but we've never heard anyone complain that they didn't bring enough. Even if you realize you forget to pack some crucial item you can always pick up a replacement once you arrive in Athens. We'll include some trip-specific packing advice based on expected weather as part of our update email to you, sent 60 days prior to your trip.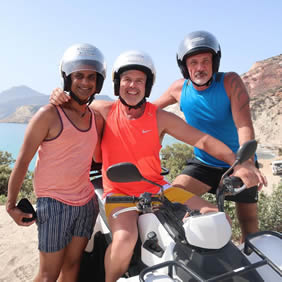 Money
Greece uses the Euros as their only currency. It's not common for shops or restaurants to accept any other currency so, while credit cards are accepted at some places along the way, it's important to also carry some cash in Euros on you. We suggest arriving to Greece with some on hand (maybe around 300 Euros), but you can also use the local ATMs to access more cash as needed along the way.
Tipping
No matter where you are these days, the tourism and hospitality has come to expect tips for good service. This includes tipping at restaurants in a similar way as you would at home, as well as staff at our island and guiding staff who operate activities. It's customary to tip your trip leader as well and, although of course this is entirely at your own discretion, most people budget around $10 USD per day for this. You'll be able to use local ATMs to access more cash through Greece.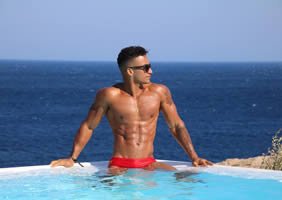 Accommodation
We have pretty high standards when it comes to choosing our accommodations, and trust us, we've done plenty of room-sniffing, pillow-patting, and bathroom inspections to make sure we stay at quality spots. To be approved as a Detours accommodations provider, a guesthouse must: be locally owned (to support the local community), be in an amazing location (close to the beach or other hot spots), AND be gay-owned or gay-friendly. We won't be staying in 5-star Ritz-Carltons but we also won't subject you to anything we wouldn't want to stay in ourselves. Clean, comfortable, well-located spots that'll put a smile on your face, you can count on that!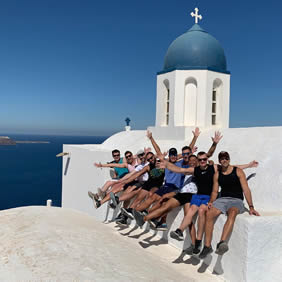 Trip Leaders
All of our trip leaders are gay and all are well-traveled and experienced in the destination they're leading in, so they'll be a great part of your experience! They're there with you every day and their job is to help ensure that this is your trip of a lifetime by taking the hassle out of your trip and enabling you to experience everything you came to Greece for. Consider them like a friendly concierge that's traveling along with you.
Alarm Clocks
We do absolutely everything possible to avoid needing such a mundane awakening. A world without alarm clocks is one we want to be part of, and your "rise and shine" while in Greece should come from the sound of crashing waves or church bells in the distance. However, sometimes due to current ferry schedules we are required to make early departures, but we do everything we can to minimize this.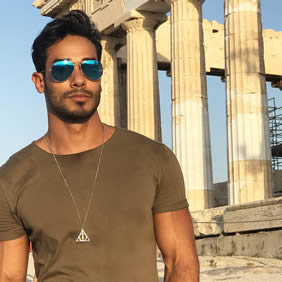 Extending Your Trip For many people, 11 days in Greece just isn't enough time. If you're lucky enough to be able to stay longer, or if you decide to quit your job and become a beach bum in the Mediterranean for the rest of your life, we'd be happy to extend (or cancel!) your return flight. We've been all over the area, so don't think twice about asking where to go or what to do after your Detours trip is complete. Turkey, Israel, Italy... many interesting destinations are close-by.
Your Group
Our Detours groups are run with a maximum of 15 travelers. Ages of group members vary but around 90% of our travelers are in their 30's, 40's, and 50's. Whatever the age of the guys on our trips everyone's already got something in common, an exciting new experience in a new country! Each group is led by a Detours trip leader who is there to ensure everything goes off without a hitch, allowing you to focus on having the time of your life!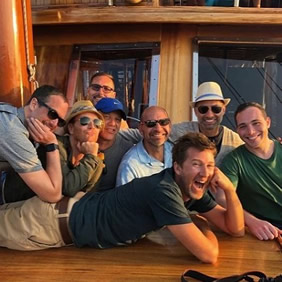 A Little Bit About Modesty
The areas of Greece that we'll be visiting are quite open-minded and most people will be welcoming of homosexuality. That said, the Greeks are largely influenced by the Orthodox church, and public displays of affection (gay or straight) are generally frowned upon. In respect for their local culture we usually suggest keeping your excitement and affection for your partner to more private locations.
Solo Travelers
No problem! Don't worry, lots of our travelers come solo and our trip will provide plenty of chances to meet great people both inside and outside of our group, including other solos. As far as your accommodations go, you've got two choices. We can either pair you up with another solo group member in a two-bed room for no extra charge, or you can have your own room for a reasonable surcharge.
Electrical Outlets
Greece uses a "type C" and "type F" plug, the same as most European countries and several other places in the world. The voltage is 230V with 50 Hz frequency.