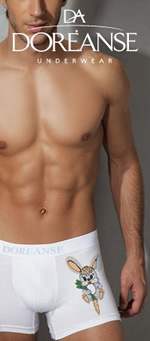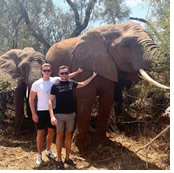 A country of undeniably unique experiences, where it's possible to be in the presence of giraffes and hippos before breakfast is even served. Where by lunchtime you can have the surreal experience of being surrounded by hundreds of little penguins. Dinner comes with a glass of world-class wine, enjoyed on the patio of that very vineyard that produced it. South Africa is the country of wide open safaris with far more than just the "big 5", underwater dives with great white sharks, white sand beaches that quickly morph into imposing mountains before fading into wide open plains.
A real experience in Africa sparks not just all five senses, but also imagination and emotions quite unlike any other place you'll experience. Nature has been more than generous to this place, visible as much in its landscape, as in its wildlife at every turn. History has been tumultuous to say the least, emerging in recent years as a world leader in social progress and tolerance. Local South Africans have been rebuilding a country to be proud of, while creating museums and monuments to ensure the past won't be forgotten.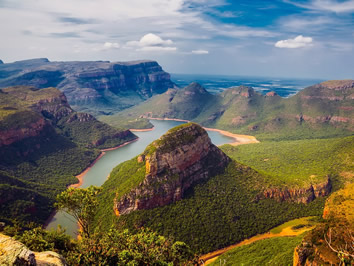 Our 11-day experience through South Africa guarantees to showcase this country in all its glory. From the cosmopolitan, postcard-perfect city of Cape Town, to the expansive country estates of the Winelands, to the world famous safaris of Kruger park, before finishing in the big, busy metropolis of Johannesburg.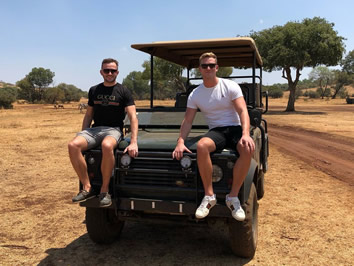 • All taxes
• All group transport between itinerary destinations
• Accommodations for your 11-day gay tour experienc
• Domestic airfare between Cape Town and Kruger National Park
• Full day wildlife safari through Kruger National Park
• Full day wine hop-on/hop-off wine tour in the Winelands
• 3-course dinner with local family in Cape Town
• All breakfasts
• Bo Kaap neighborhood tour with local guide
• Knowledgeable and fun Detours leader
• Meals and drinks outside of those listed above
• Activities outside of the those listed above
• Optional gratuities
• International Airfare
• Arrival/Departure airport transfers
• Optional gratuities
Additional spending budget?
Your big-ticket items are included through the trip, but you'll want to budget for additional spending such as additional meals, drinks, shopping, activities, etc. These costs can vary dramatically with differing personal habits but we suggest expecting to spend an additional $600 USD at the lower end for the more budget-conscious and $1100 USD at the higher end for the splurgers. We suggest arriving to South Africa with approximately 4,000 local South African Rand.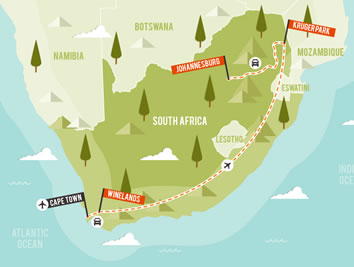 Our 11-day gay group trip through South Africa encompases the very parts of South Africa that makes it so well known! Think a safari in Kruger National Park full of lions, hippos, zebras, giraffes. Think wine tasting in the the midst of the worlds best vineyards in the Winelands. Think cosmopolitan Cape Town where you can dive with great white sharks, summit iconic Table Mountain, and walk in the footsteps of incredible history.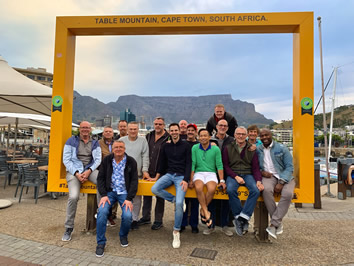 Days 1, 2, 3, and 4 - Cape Town, South Africa
Cape Town is one of the great cosmopolitan coastal cities of the world, fringed by gorgeous beaches, with the imposing Table Mountain as its focal point. The streets are full of a wide variety of languages and colors, making up a local culture that is as varied as It fascinating to be a part of.
We spend our first 4 nights here because there is so much to do! Head to the local gay beaches, up to the top of table mountain, into the water with great white sharks, out to famous Robben Island, to the penguin colonies and more! It's a city that is jam-packed with fun activities.
Our second night's dinner is in the home of a local family in the Bo-kaap neighborhood who welcome us with a 3-course meal to start the trip off right!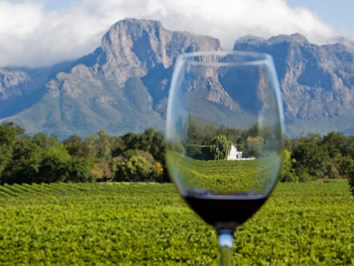 Days 5, and 6 - Winelands, South Africa
The Winelands are not far from Cape Town, but seem a world away. The city fades into rolling vineyards that spread to the east and west as far as the eye can see, with the looming rocky mountains creating a natural border to the north. True to its name, the Winelands is the land of world-class wines - of which we have yet to taste a bad one!
A visit to the Winelands is not complete without experiencing the reds, whites, blends and bubblies, along with stunning locations, fabulous food and hospitable people. That's why our time in the Winelands includes a full day of vineyard-hopping on board a hop-on/hop-off winery train.
But it's not all about wine here, there's also a "big 5" safari game reserve and a lion sanctuary nearby, as well as hiking and biking trails with fantastic views too!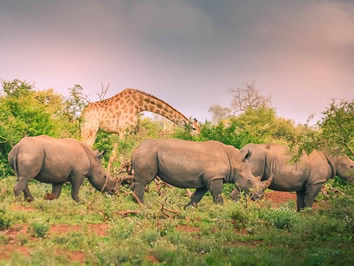 Days 7, 8, and 9 - Kruger Park, South Africa
This 19,000 square kilometre (7,000 square mile) national park in South Africa's Northeast region is one of the world's most famous places for a safari – and that's exactly what we're here for! There's no shortage of lions, rhinos, giraffes, zebras, springbok, cheetahs, elephants, hippos, and leopards here, and our mission is to find them.
We fly from Cape Town to Kruger then take a short drive through the park to our beautiful hotel.
The next day we wake up to a full day of game driving in the world-renowned Kruger National Park - a day you will never forget. Exploring the pristine wilderness in an open safari vehicle with a highly experienced ranger, who will ensure optimal game viewing with his in-depth knowledge of the African bush.
As you search for the Big Five, keep an eye out for the many other smaller creatures that live in this reserve, including over 500 bird and over 100 reptile species.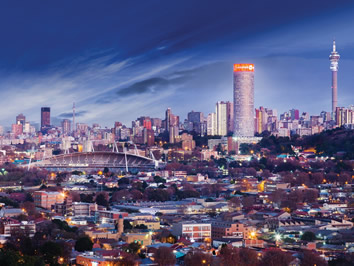 Days 10, and 11 - Johannesburg, South Africa
After a drive to South Africa's largest city on day 10, we'll spend our last evening together before our 11 days of adventure come to an end. If time before your flight permits, make sure to check out some of Johannesburg's sightseeing opportunities.
Although we don't spend much time here as a group, the city can keep you entertained if you choose to add any extra time here. Our suggestions include the Apartheid Museum, a hop-on/hop-off bus tour, and the observation deck at Top of Africa. We're here to assist with any post-trip excursions too!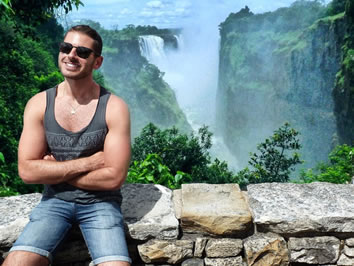 Got an extra few days to tack on another incredible experience you'll never forget? Take a 4-day / 3-night extension trip up to Victoria Falls, the world's largest waterfall, located at the border of Zambia and Zimbabwe! We've crafted a self-guided extension to our South Africa adventure that will enable you to experience the massive falls up close and personal. Victoria Falls – known to locals as 'The Smoke That Thunders' – is one of the seven natural wonders of the world and the sheer power of this massive body of water plunging into the Zambezi Gorge is awe-inspiring and unforgettable.
Day 1 (11) - From Johannesburg to Victoria Falls, Zimbabwe
Check out of our hotel in Johannesburg on the final day of your group trip through South Africa and jet off to Victoria Falls. Your 4-star boutique lodge sits close enough to the town to walk in just 6 minutes while maintaining a quiet escape with beautiful grounds.
On the evening of your arrival here, you won't waste any time stepping into the romance of Africa with a two-hour luxury cruise down the Zambezi River complemented by the sinking sun and host of on-board amenities. Besides the ambience on board the boat, helped along by snacks, beer, wine, and soft drinks, this is a fantastic way to get in some game viewing as animals come down to the river banks to drink. You will be collected from your hotel in the late afternoon and dropped back off after sunset. A beautiful introduction to your time in Zimbabwe.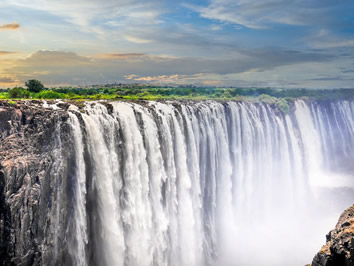 Day 2 (12) - Victoria Falls, Zimbabwe
Your unforgettable day at the majestic Victoria Falls and encompassing nature reserves is truly an awe-inspiring experience. Tons of water plunge over a chasm that is nearly 2km wide falling more than 100m to the Zambezi River below. The shower of spray and the thunderous sound of the water can be heard from miles around. Today's guided tour takes you to the best view points of this iconic waterfall, one of the seven wonders of the world, allowing you to soak up the powerful and enigmatic atmosphere of Victoria Falls.
Lunch after your visit around the falls is included at The Lookout, perched on the edge of the Batoka Gorge with stunning views. Even the zipliners and bungee jumpers can be watched from the outdoor patio.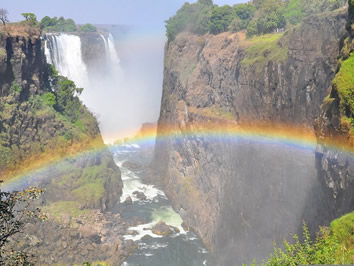 Day 3 (13) - Victoria Falls, Zimbabwe
Take this day to relax and soak in the past couple weeks of jaw-dropping experiences you've just been a part of while sipping a drink by the pool. That, or keep it going right til the end of taking part in some of the area's other treasures. Opportunities include adrenaline-racing options such as bungee jumping from the Victoria Falls Bridge, swinging through the gorge on the gorge swing, white-water rafting down the mighty Zambezi River or taking in the falls view on a helicopter ride! If you're not looking to get your heart pounding there's always a bike tour or kayak ride that can be enjoyed too.
Your final evening in Zimbabwe includes a night of local cuisine complete with dancing and drumming. Experience traditional Zimbabwean food surrounded by the sounds of Africa as your send off at the end of your trip.
Day 4 (14) - Victoria Falls Departure
In enough time to catch your outbound flight, you'll be transferred back to the Victoria Falls airport, full of endless stories of your adventure of a lifetime.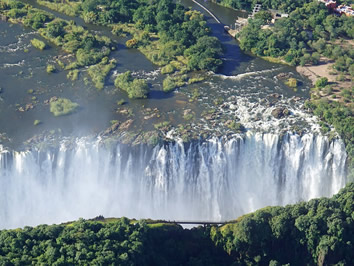 • 3 nights at the Shongwe Lookout Guest Lodge (or similar) with wifi included
• Private airport transfers within Zimbabwe (return transfers VFA airport to/from Shongwe Lookout)
• Entrance fees to all listed parks and sightseeing venues
• A 2-hour luxury sunset cruise down the Zambezi River with snacks, beer, wine, and soft drinks
• Guided tour through Victoria Falls Park
• All breakfasts
• Lunch at The Lookout at Batoka Gorge (drinks additional)
• Dinner at The Boma restaurant (drinks additional)
• Transport in private touring vehicles
• Local English speaking driver/guide on all transfers and sightseeing excursions
• Airfare to/from Victoria Falls (Need some assistance? Just ask us.)
• Lunches/Dinners not mentioned above
• Optional additional activities and transportation
• Zimbabwean entry visa (cost depends on citizenship of traveler and number of entries required)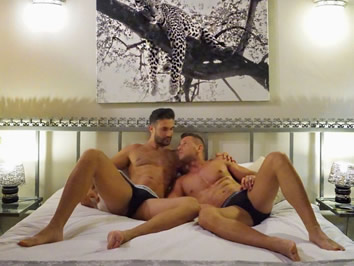 We don't like staying in smelly shacks on our vacations and we're pretty sure you don't either! You work hard to go on vacation and we believe you deserve an enjoyable, comfortable place to wind down at the end of each day. We put a LOT of time into finding the perfect accommodation for your trip. After rigorous wifi signal testing, fluffing pillows, and taking a shower or two, we've narrowed down our favorite properties. Check out our approved accommodation to see where we've stayed in the past and where we'll likely be staying on your trip.
Cape Town
Garden Court Victoria Junction Hotel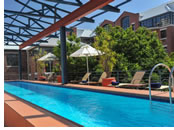 The trendy, industrial chic Garden Court Victoria Junction hotel, is ideally situated in the heart of the bustling urban district of Green Point, home to some of Cape Town's most exciting shopping, dining, and nightlife. At the foot of iconic Signal Hill, the hotel is within walking distance of the V&A Waterfront and Two Oceans Aquarium. Contemporary rooms with free uncapped Wi-Fi, flat-screen TVs and room safes. Swimming pool and fitness center are available for use with an on-site restaurant and coffee shop available to dine at.
Winelands (Paarl)
Cascade Country Manor

Set against the backdrop of the Klein Drakenstein Mountains, the 4-Star Cascade Country Manor offers guests authentic country-style hospitality in 15 upmarket rooms. Known for its world-class service, the venue boasts an extensive range of luxury amenities including an on-site spa, outdoor swimming pool and wifi. Olive groves surround the manor house, providing gorgeous landscapes and exciting in-house cuisine. With locally sourced and fresh ingredients, the dining is an experience in itself. Within the estate's vicinity, there's something for everyone: from championship golf courses, museums and a close promimity to Ashia Cheetah Sanxctuary, Drakenstein Lion Park, and a myriad of wine estates, the Cascade Country Manor has something for everyone.
Kruger National Park
Hippo Hollow Country Estate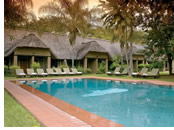 Situated off the banks of the Sabie River there is no better place to stay near Kruger National Park! Enjoy the incredible sprawling gardens, bar and lounge area, and two swimming pools to cool off in. Each room has complimentary Wi-Fi, bathtubs, room safes, flat screen TVs and air conditioning. Dine at the local Hippo Hollow Restaurant where guests can spot hippos whilst they dine, or the on-site Shangaan River Club serving local South African and Shangaan cuisine.
Johannesburg
Marriott Johannesburg Melrose Arch Hotel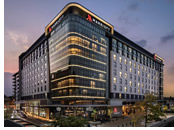 Centralized in the Melrose Arch Pricinct filled with trendy cafés, high street boutique shops, and el fresco restaurants, Hotel Melrose Arch is close to everything you need. Featuring an outdoor pool, restaurant and bar of its own, you will have plenty to enjoy. Each room has free wifi, 24-hour room service, flat screen TVs, air conditioning, and USB outlets for ease of device
Victoria Falls
Shongwe Lookout Guest Lodge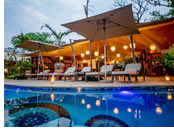 Award-winning lodge offers 23 beautifully furnished rooms set in the suburbs of Zimbabwe's most famous wildlife town, Victoria Falls. The rooms surround our unique Lookout Tower, which offers stunning views of the Zambezi River, and the mist rising above the world-famous Victoria Falls. Enjoy an early morning coffee as you watch the sunrise from the treetops, rest and relax in the comfort of our new rooms, or dine-in and take a dip in our infinity pool after a day of exploring all that Victoria Falls has to offer.
*Please note that due to availability, these exact hotels may not all be available during all Detours trips. However, we will always replace these with similar hotels, and will never downgrade.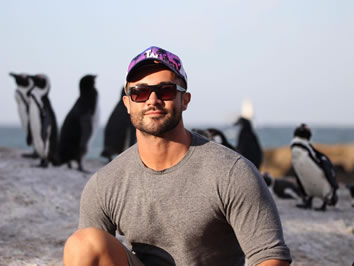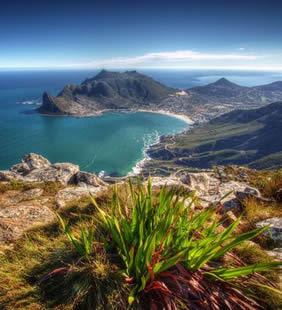 The Climate
South Africa's location in the Southern Hemisphere means January to April are the sunniest and warmest months of the year, while June to August are the coolest months. That said, the Cape Town and Winelands area are really the only areas that have a big change, and the Kruger Park and Johannesburg areas are generally pleasant with clear skies any time of year. If you're looking for the warmest weather and an escape from Northern Hemisphere winter, you'll want to steer towards our January to April trip dates. Temperatures in January-April range from highs of low-30's, while typical highs in June-August drop to around 15 celsius. That said, weather can sometimes be unpredictable anywhere in the world so it's always good to pack a "just in case" outfit for the odd rainy day at any time of the year.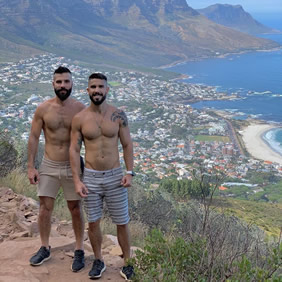 The People
South African people are quick to point out how diverse their nation is – and it's true! With 11 official languages in the country and a big visible mix of cultures, classes, and colors, it really is a place where many different types of people come together. When South Africa's constitution was rewritten in 1994, it worked hard to make all people feel welcome and accepted in society. This includes the large LGBT population, even going so far as to legalize same sex marriage long before many other western countries. You'll notice that the local people are very laid back and friendly, and are very welcoming to foreigners in the place their proud to call home. Don't worry about a language barrier here – it would be very difficult to find someone who doesn't speak fluent English!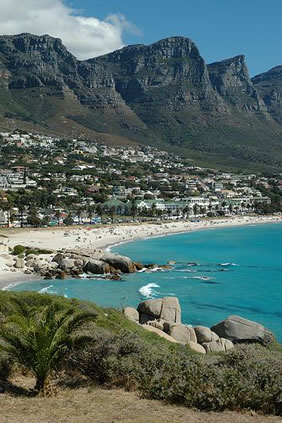 The Cuisine
While there are always plenty of options for all sorts of dietary restrictions including vegetarians, it's meat that makes up a good chunk of menus here including some exotic meat options. Detours doesn't believe in limiting your choices by including all of your meals at pre-decided restaurants as part of the trip package. Instead, we include all of your breakfasts to start your day off, then we explore all of the different restaurant options available for lunch and dinner. This way we can eat when we want, where we want, and spend what we want! Your trip leader definitely has their favorite spots so if you'd like some advice on the best in each location, just check with them.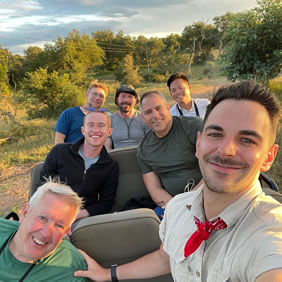 What to bring?
Our advice is simple. Pack your bag, then take half of those things out and leave them back home. It's common to hear people wishing they'd packed less stuff, but we've never heard anyone complain that they didn't bring enough. Even if you realize you forget to pack some crucial item you can always pick up a replacement once you arrive in South Africa. We'll include some trip-specific packing advice based on expected weather as part of our update email to you, sent 60 days prior to your trip.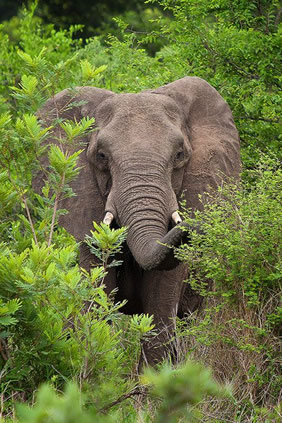 Money
We suggest just bringing your regular bank card from home and using the ATMs in South Africa to get cash. In our experience it's cheaper than currency exchange shops here or even at home. South Africa has its own currency, the Rand (ZAR) and you likely won't find shops or restaurants that will accept US Dollars or Euros. Credit cards are widely accepted in South Africa so it's good to bring at least one on your trip too. Travelers checks are a thing of the past so we don't recommend bringing them on any of our trips.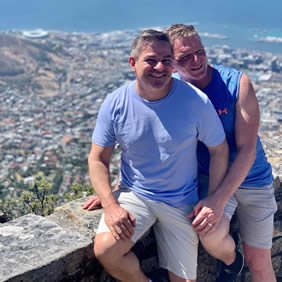 Tipping
Just like in the United States, Canada, and some other places in the world, tipping is expected in South Africa for restaurant/bar service and any guides you may have along the way. We suggest adding somewhere between 12-18% gratuity to your bill for good service. Your trip leader will have advice for other services along the way including your safari guide.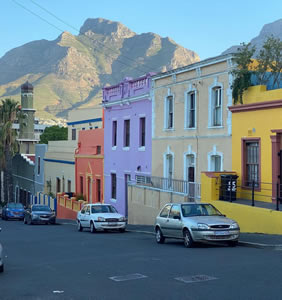 Accommodation
We have pretty high standards when it comes to choosing our accommodations, and trust us, we've done plenty of room-sniffing, pillow-patting, bed-jumping and bathroom inspections to make sure we stay at quality spots. To be approved as a Detours accommodations provider, a hotel/guesthouse must: be locally owned (to support the local community), be in an amazing location (close to the hot spots), AND be gay-friendly. We won't be staying in 5-star Ritz-Carltons but we also won't subject you to anything we wouldn't want to stay in ourselves. Clean and comfortable and approximately 4 stars, you can count on that!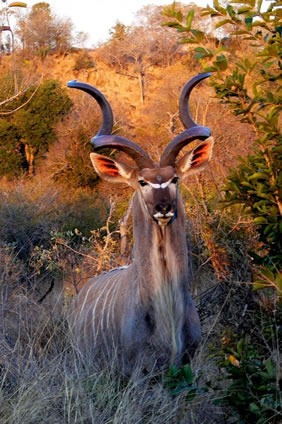 Trip Leaders
Our trip leaders are a huge part of the success of your experience with us. They're there with you every day and their job is to help ensure that this is your trip of a lifetime by taking the hassle out of your trip and enabling you to experience everything you came to South Africa for. Consider them like a friendly concierge that's traveling along with you. All of our trip leaders are gay and all are well-traveled and experienced in the destination they're leading in, so they'll be a great part of your experience!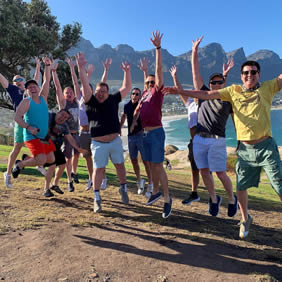 Alarm Clocks
We do absolutely everything possible to avoid needing such a mundane awakening. A world without alarm clocks is one we want to be part of, and your "rise and shine" while in South Africa should come from the sound of a lion's roar, or a hyena's laugh. However, sometimes due to current train or flight schedules (and a morning safari!) we are required to make early departures, but we do everything we can to minimize this.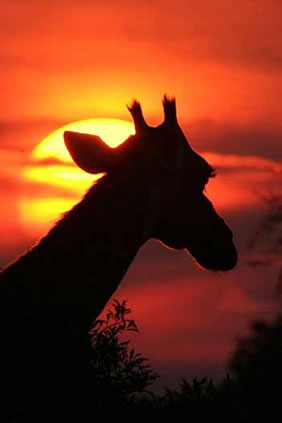 Extending Your Trip For many people, 11 days in Africa just isn't enough time. If you're lucky enough to be able to stay longer, or if you decide to quit your job and become a lion tamer or rhino wrestler for the rest of your life, we'd be happy to help you extend (or cancel!) your return flight. We've been all over the area, so don't think twice about asking where to go or what to do after your Detours trip is complete. Victoria Falls, the sand dunes in Namibia, Chobe Park in Botswana... many interesting destinations are close-by.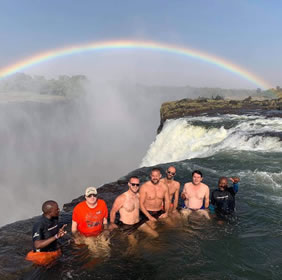 Your Group
Our Detours groups are run with a maximum of 16 travelers. Ages of group members vary but almost all our travelers are in their 30's, 40's and 50's. Whatever the age of the guys on our trips everyone's already got something in common, an exciting new experience in a new country! Each group is led by a Detours trip leader who is there to ensure everything goes off without a hitch, allowing you to focus on having the time of your life! We welcome both men and women onto our trips although it's important to know that most groups are 100% gay men.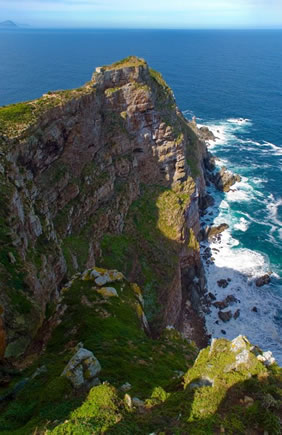 A Little Bit About Modesty
The areas of South Africa that we'll be visiting are very open-minded and most people will be very welcoming of homosexuality. That said, South Africa is a small pocket of gay friendly attitudes, in a continent known for quite the opposite. For that reason, we do suggest being cautious about the amount of public excitement and passion you have for your partner or new local "friend".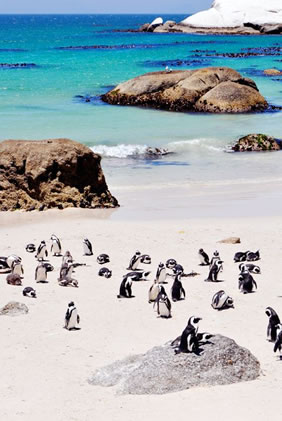 Solo Travelers
No problem! Don't worry, at least half our travelers come solo and our trip will provide plenty of chances to meet great people both inside and outside of our group, including other solo travelers. As far as your accommodations go, you've got two choices. We can either pair you up with another solo group member in a two-bed room for no extra charge, or you can have your own room for a very reasonable surcharge.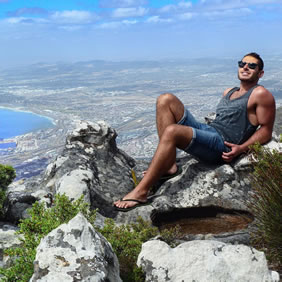 Electrical Outlets
South Africa uses several different plugs shapes so it's a good idea to bring a multi-prong electrical adapter on your trip here. The voltage is 230V with 50 Hz frequency. These days, the majority of items that are plugged into an outlet are built to handle varying voltage and frequency levels, but just to be sure, we suggest checking your item for its acceptable range.