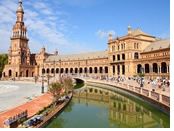 Spain is one of those countries that has been in our minds forever. We've all seen our friends' photos of the stunning architecture, white-sand beaches, dramatic flamenco dancing, and medieval fortresses. We've heard their stories of being blown away by the experience of it all. The food, the wine, the dancing, the cobblestone streets, the romance, the "fiestas and siestas" culture, the beauty at every turn... followed up with an emphatic "I could live there!". This is the Spain we know and love and can't wait to experience with you, whether you're a first time visitor to Spain, or a tenth. Spain is that rare country that will steal a piece of your heart and beg you to come back for it.
Our trips through Spain encompass the greatest regions of the diverse country, from eccentric Barcelona on the Mediterranean coast, to the Andalucian towns of Granada and Seville which live up to all the Spanish stereotypes (think flamenco, bull-flights, sangria, and Ole!), and the cute warmth of the uber-gay beach town of Sitges. With 12 days and a laid-back pace we've got the time to fully immerse ourselves in each of these four destinations. We'll sip sangria above Barcelona on Montjuic, take in some live flamenco in Seville, learn to cook our own tapas under the shadow of the Alhambra in Granada, and take a couple days on the gay beach in Sitges to soak it all in.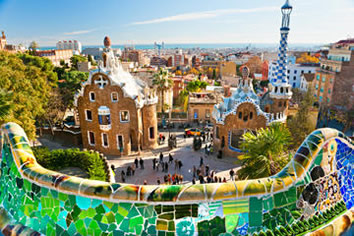 Our 12 days in Spain will be surrounded by incredible history, culture, scenery, people, and food and we want to ensure you experience everything that you came for! Listed below are just a few of the activities that will be available to you during the trip. Our unhurried travel concept ensures you'll have enough time to take advantage of as much (or as little!) as you'd like to make this your trip of a lifetime!
Barcelona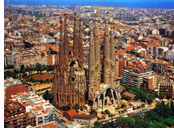 • Sagrada Familia Tour
• Cooking Classes
• Gay Beach
• Montjuic Cable Car
• Museo Picasso
• Segway Tour
• Park Guell
• Wine and Food Tours
• Camp Nou Stadium
• Scuba Diving or Snorkelling
• Cooking Classes
Granada
• Alhambra Tour
• Hike in the Sierra Nevadas
• Food Tours
• Cooking Class
• Flamenco Show
• Live Theatre
• Nighttime Astronomy
• White Water Rafting
• Bird Watching
• Scooter Rentals
Seville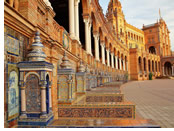 • Wine Tours
• Cooking Classes
• Live Theatre
• Tour of Seville Cathedral
• La Giralda Tower
• Segway Tours
• Plaza de Espana
• 1987 Bar
• Flamenco Classes
• Museums and Parks Galore!
Sitges
• Windsurfing and Surfing Classes and Rentals
• Bacardi tour
• Bike rental
• Gay beach
• Golf
• Museums
• Segways Tours
• Wine Tours and Cooking Classes
...just to name a few!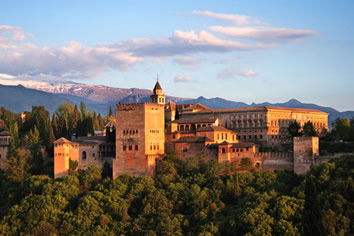 Our 12-day Spain gay trips include many of the "big ticket" items of your experience, including your domestic flight, train passes, land transfers, breakfasts and more! Check out our detailed list of inclusions and exclusions below.
• All Taxes
• All accommodation in 3-4* hotels/guesthouses
• Domestic airfare from Barcelona to Granada
• Train tickets from Seville to Barcelona
• All ground transfers between remaining destinations
• 2 hour guided Barcelona walking tour
• 2 hour guided Seville walking tour
• Welcome dinner and drinks in Barcelona
• Sangria overlooking Barcelona from Montjuïc
• All full breakfasts
• Evening visit to Alhambra
• Knowledgable and fun DETOURS trip leader
• DETOURS pre-trip guidebook
• Group travel within Spain
• 15 years of trip leading experience
** - Trip prices based on twin share. Traveling solo? We'll match you up with another traveler at no extra charge, or just pay a $890 single supplement for your own room!
• Lunches and dinners not noted above
• Activities not noted above above
• Optional tips for drivers/guides
• International Airfare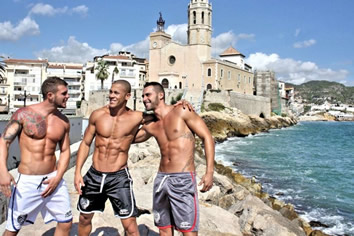 Our 12-day gay trip through Spain mixes the contrasting regions of Catalonia and Andalucia. From the modern Gaudi-inspired Barcelona, to the picturesque traditional town of Granada, we'll get an incredibly well-rounded Spanish experience. An evening of flamenco in Granada, sangria on the beach in Sitges, the excitement of Barcelona, and tapas under Seville's cathedral are just a few unforgettable moments to cherish.
Days 1, 2, and 3 - Barcelona, Spain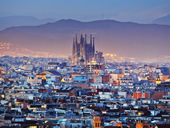 Barcelona is jam-packed full of unique things to see and do which is why it's such a loved place by its visitors! Our first two nights are spent finding out why this city makes people yearn to come back over and over again. We'll check out some famous spots together such as the Sagrada Familia, and Las Ramblas then take in the view from the best vantage point atop Mont Juic while sipping the finest Sangria. Our first meeting time on day 1 is at 4pm where we'll all meet together to start our adventure!
Barcelona is one of those world-class cities that leaves a lasting impression on visitors for many years beyond their visit. Maybe it's a mix of Spanish romance, the carefree Catalonian attitude, the Gaudi-inspired architecture, the laid-back patio culture, and being surrounded by history all set on a gorgeous Mediterranean beach. Whatever it is, it's sure to have you vowing to return to experience it again!
It's easy to get wrapped up into the Spanish way of life in this city and that's why we start and end our Spain trips here! Besides being a famously gay "must see" city with countless nightlife options, Barcelona also has that "beach city" feel and a "siestas and fiestas" attitude. Whether you've come to immerse yourself in the culture that surrounds each city block, mark your spot on the stunning gay beach, dive into the endless gastronomy scene, or get to know the locals, Barcelona is ready for you.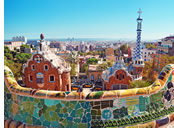 Barcelona's history dates back thousands of years and has been conquered several times over by armies including the Romans and the Arabs, and still retains that old-world charm. If you're here for the history, make sure to include a few of the UNESCO World Heritage Sites including the Sagrada Familia, Park Güell, and Casa Batlló as well as museums such as the Barcelona City History Museum.
Situated directly on the Mediterranean Sea and surrounded by hills, Barcelona sits in an enviably beautiful location with several great vantage points and stroll-worthy areas. If you're here to get outside, make sure to spend some time in the Barceloneta and Olympic Harbor areas as well as the famous Las Ramblas street that runs through the best parts of the city!
And don't forget that we'll spend the morning of our first full day in Barcelona on a 2-hour walking tour together to give you a great overview of the city!
Days 4, 5 and 6 - Granada, Spain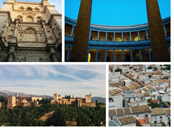 The famous Alhambra looms over the quaint, picturesque, traditionally Andalusian streets, all set against the background of the snow-capped Sierra Nevada mountains. "Can't miss" items in this gorgeous town include visiting the hill-top Alhambra at sunset, taking in a local flamenco show, and checking out the many parks, streets, and buildings dating back to the time of the Moorish rule. Whether you'd like to take a Spanish cooking course here, take a day trip up to the Sierra Nevada mountains, or maybe even visit local wineries, you'll have plenty of options to keep you as busy as you'd like.
The small Andalucian city of Granada sits in the foothills of the picturesque Sierra Nevada Mountains with the medieval Alhambra fortress looming over the streets below. Despite overflowing with beauty, romance, and history, Granada maintains a sense of small-town community that gives its visitors a warm, welcome feeling. The presence of the 80,000-student University of Granada keeps a youthful vibe in the city with a thriving gay community mixing with all the traditions that Spain is famous for. From flamenco to paella to bull-riding, this area in Spain is well known for those things that scream "SPAIN!" so we'll definitely dive right in and experience it all!
Granada isn't just medieval history, museums, and stone streets, if you're more of the adventurous type then lets go river rafting, jump on some bikes for a trip around the area, hot-air balloon over the valley, or go for a hike in the Sierra Nevadas! Whatever you're into we'll make sure this stop in Granada is one you'll always remember.
Don't forget that we'll head up to the Alhambra fortress at sunset for a view over the area that will go down as one of the best sunsets you've ever seen!
Days 7, 8 and 9 - Seville, Spain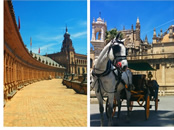 Seville (or "Sevilla" as the locals call it) is incredibly rich in history and is the home to many things that scream "SPAIN!" including bull-riding, flamenco, and paella. It's also known as being one of the most romantic cities in Spain with romance in the air at every turn. Of course there's also a very lively gay community here too if you're looking to meet some locals! All of this makes Seville a perfectly well-rounded city with beauty, history, and culture galore.
We can guarantee that Seville is one of the most beautiful cities you've ever seen! There's a reason visitors fall in love with this Andalucian city that's full of life and a contrast of old and new. It's a city of football, history, romance, tapas, sangria, dancing, and culture. Hit the streets to soak in the atmosphere at the Plaza de Espana, head inside to the Alcazar or the famously grand Cathedral, get cultural with live local theatre and dancing, or take a day trip to the vineyards or a nature tour. We're here for 3 nights of everything Andalucian so whether you're a "do as much as you can" traveler or more of the laid back and "take it all in" type, Seville won't limit you.
Our daytimes will generally be spent exploring and adventuring while our evenings are the time for taking in the memorable culinary scene and social life. The majority of the gay scene here in Seville is outdoor and flows from one establishment to the next, making for a fun social mood and a great place to meet the locals.
Days 10, and 11 - Sitges, Spain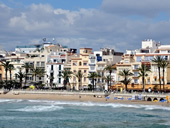 Right up there with Mykonos, Key West, and Ipanema, Sitges has marked its spot on the world's gay map. But instead of the massive beach parties, Sitges is actually a very "homey" and cute beachside town that attracts a more low-key and social crowd than others on the list. Sure there are plenty of gay bars here, but there's also a feeling of community and relaxation that will have you feeling like you could live here forever! While you're here we'd suggest taking a wine tour, getting in the sparkling blue Mediterranean, or checking out one of the many museums.
With less than 30,000 residents, Sitges is more of a town than a city, and we stay right in the town centre to experience it all. This is our most "laid-back" stop on our Spain trip and it's your chance to hit the gay beach or get social on a patio to meet other guys from around the world. For the adrenaline-seekers there are surfing and windsurfing rentals and classes, water flyboards to rent, or regular bicycles and Segways for a more tame way to experience Sitges.
We'll take the opportunity to chill out here before heading back to the big city of Barcelona for our final night.
Days 12 - Sitges / Barcelona
Our 12th and final day is when most travelers depart, but if you've got the time we really suggest spending some more time in this beautiful area! Our final night of this trip is spent in Sitges which is only 20 minutes from BARCELONA AIRPORT, meaning you'll have easy access from our Sitges hotel to the airport for your trip home.
*Note that the order of stops and duration at each location are subject to change.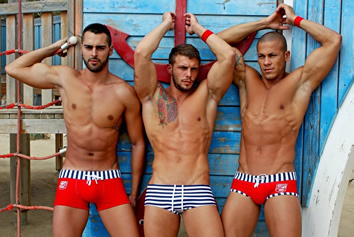 We don't like staying in smelly shacks on our vacations, and we're pretty sure you don't either! After working hard for your trip, you deserve an enjoyable, comfortable place to wind down at the end of your day. We put a LOT of time into finding the perfect accommodation for your trip so after sniffing around, fluffing pillows, and testing showers we have narrowed down our favorite properties that won't disappoint. Check out our approved accommodation to get an idea of the types of places you can expect to lay your head during your Detours trip.
Barcelona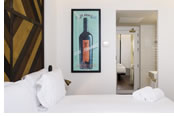 Praktik Vinoteca Hotel
Why we love this property:
• Located in the heart of Barcelona
• Trendy wine-themed decor
• Great breakfasts
• Contemporary furnishings
• Immaculately clean rooms
• The "wow" factor
Seville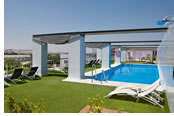 NH Plaza de Armas Hotel

Why we love this property:
• In the middle of Sevilla's hotspots
• Quiet rooms
• Friendly and helpful staff
• Contemporary design
• Immaculately clean rooms
• Refreshing outdoor pool
Granada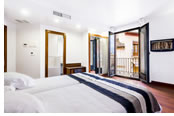 Monjas del Carmen Hotel

Why we love this property:
• Fantastic location
• Classy modern decor
• Very friendly staff
• Quiet rooms, just steps from the Alhambra
• Immaculately clean rooms
• Locally owned
Sitges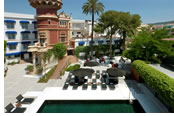 Medium Sitges Park Hotel
Why we love this property:
• The "charming" factor
• Perfectly located in the middle of town
• Great pool to beat the heat
• 3 minute walk to the beach
• Small and homey
• Locally owned
• Great breakfasts
*Please note that due to availability, these exact hotels may not all be available during all Detours trips. However, we will always replace these with similar hotels, and will never downgrade.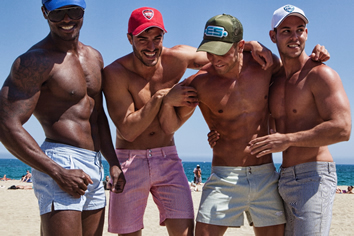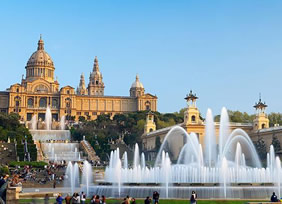 The Climate
Don't worry about getting chilly, our trips are scheduled in the warm months ensuring maximum warmth and sunshine! Temperatures will vary from warm to hot depending on your chosen travel month and itinerary stop. In Barcelona and Sitges we can expect temperatures in the high 70's and 80's Farenheit (high 20's Celsius) during the day, while Granada and Seville can even reach up into the 90's (mid 30's Celsius. That said, weather can sometimes be unpredictable so it's always good to pack a "just in case" outfit for the odd rainy day.
The People
You may notice a difference between the Catalonian people of Barcelona and Sitges, and the Andalusian people of Seville and Granada. Both areas are proud of their unique heritage which is evident in the people you'll meet. Although Spain is known as a Catholic country, it is also an incredibly LGBT-friendly country too, being one of the first countries in the world to legalize same sex marriage nationally. The gay community in Spain ranges from the beach and party-loving crowd in Barcelona, to the more laid-back social and friendly communities in Granada and Seville. Although English is very widely spoken, consider learning a few words of the Spanish language while you're here, we recommend starting off with "Hola" (hello), "Gracias" (thank you), and of course "Donde esta la playa?" (where's the beach?)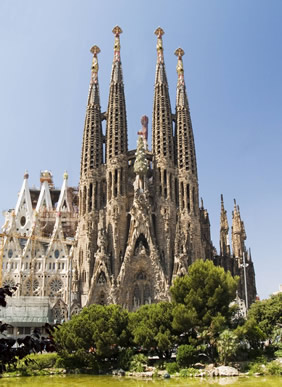 Meals
Who doesn't like Spanish food?! Think Mediterranean favorites such as paella, and unique tapas served on perfect people-watching patios. Spanish people love taking long breaks ("siesta hours") in the afternoon when they'll close up shops for a couple hours to grab a bite with friends. This is a perfect time to indulge in some afternoon tapas and a glass of sangria. Detours doesn't believe in limiting your choices by including all of your meals at pre-decided restaurants as part of the trip package. Instead, we include all of your breakfasts to start your day off, then we explore all of the different restaurant options available for lunch and dinner. This way we can eat when we want, where we want, and spend what we want! Your trip leader definitely has their favorite spots so if you'd like some advice on the best in each location, just check with them.
What to bring?
Our advice is simple. Pack your bag, then take half of those things out and leave them back home. It's common to hear people wishing they'd packed less stuff, but we've never heard anyone complain that they didn't bring enough. Even if you realize you forget to pack some crucial item you can always pick up a replacement once you arrive in Spain.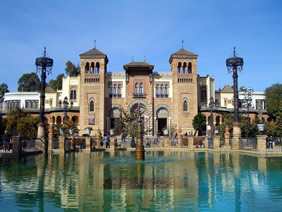 Money
We REALLY suggest just bringing your regular bank card from home and using the ATMs in Spain to get cash; in our experience it's cheaper than any currency exchange service in Spain or even at home. Spain uses the Euro as their local currency and shops/restaurants do not accept US dollars so once you arrive into Barcelona airport you should stock up on some Euro cash. Credit cards are widely accepted in Spain so it's good to bring one on your trip too. Travelers checks are a thing of the past so we don't recommend them any more.
Tipping
Tipping isn't a native Spanish custom, however, it is always appreciated by local service staff. We suggest tipping for any services that go above and beyond expectations. That extra Euro or two on a dinner bill is very appreciated by the service staff..
Accommodation
We have pretty high standards when it comes to choosing our accommodations, and trust us, we've done plenty of room-sniffing, pillow-patting, bed-jumping and bathroom inspections to make sure we stay at quality spots. To be approved as a Detours accommodations provider, a hotel/guesthouse must: be locally owned (to support the local community), be in an amazing location (close to the beach or other hot spots), AND be gay-owned or gay-friendly. We won't be staying in 5-star Ritz-Carltons but we also won't subject you to anything we wouldn't want to stay in ourselves. Clean and comfortable 3-4 stars, you can count on that!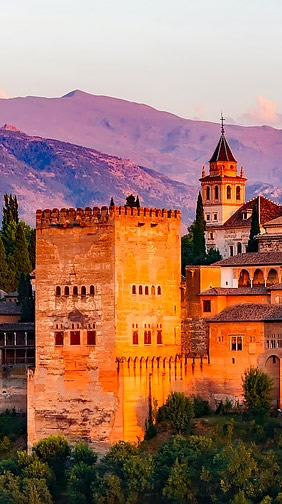 Trip Leaders
All of our trip leaders are gay, and all certified leaders must undergo a rigorous training routine that includes deep-fried cricket eating, and impromptu dancing tests. Apart from these vital skills, we require our leaders to know their stuff really, really well. Underneath their fun and quirky facades, our guides are experts and passionate about what they do. Don't hesitate to ask them to teach you some Spanish or question them about a random statue you might see along the way. Their job is to help ensure that this is your trip of a lifetime by taking the hassle out of your trip and enabling you to experience everything you came to Spain for.
Alarm Clocks
We do absolutely everything possible to avoid needing such a mundane awakening. A world without alarm clocks is one we want to be part of, and your "rise and shine" while in Spain should come from the sound of crashing waves or church bells in the distance. However, sometimes due to current train or flight schedules we are required to make early departures, but we do everything we can to minimize this.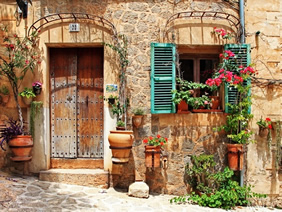 Extending Your Trip For many people, 12 days in Spain just isn't enough time. If you're lucky enough to be able to stay longer, or if you decide to quit your job and become a beach bum in the Mediterranean for the rest of your life, we'd be happy to help you extend (or cancel!) your return flight. We've been all over the area, so don't think twice about asking where to go or what to do after your Detours trip is complete. Italy, France, the Balearic Islands, Portugal... many interesting destinations are close-by.
Your Group
Our Detours groups are run with a minimum of 4 travelers and up to a maximum of 15 travelers. Ages of group members vary but the majority of our travelers are in their 30's and 40's. Whatever the age of the guys on our trips everyone's already got something in common, an exciting new experience in a new country! Each group is led by a Detours trip leader who is there to ensure everything goes off without a hitch, allowing you to focus on having the time of your life! We welcome both men and women onto our trips although it's important to know that most groups are 100% gay men.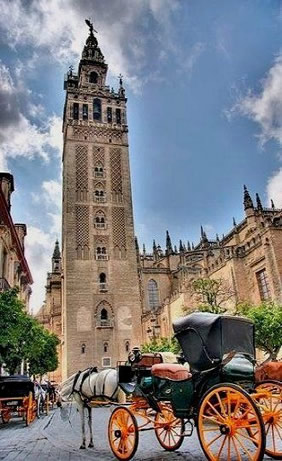 A Little Bit About Modesty
The areas of Spain that we'll be visiting are very open-minded and most people will be welcoming of homosexuality. As one of the first countries in the world to legalize gay marriage nationally, gays are widely accepted and although you may not see same-sex couples showing their love in the streets, it is not a place where it is dangerous to be ourselves.
Solo Travelers
No problem! Don't worry, lots of our travelers come solo and our trip will provide plenty of chances to meet great people both inside and outside of our group, including other solo travelers. As far as your accommodations go, you've got two choices. We can either pair you up with another solo group member in a two-bed room for no extra charge, or you can have your own room for a reasonable surcharge.
Communicating with Home
Relax – we won't keep you from updating your Facebook status the whole trip. There is WiFi all over the place and available at every hotel we stay at. If you're more the "E.T." type and would just rather call home, feel free to pick up a calling card at a corner store and make use of the many local payphones. Alternatively, if your mobile phone is "unlocked" you can pick up a local European SIM card which is quite affordable..
Further information can be found in your "Trip Preparations" guidebook which will be available to you after your trip signup. However, if you have any further questions about your Spanish experience please visit our FAQ page or contact us.