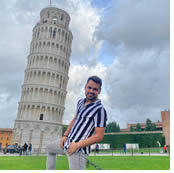 This is the stuff dreams are made of. Wake up in your beautifully restored 600-year old castle perched on a Tuscan hillside, surrounded by an unspoiled Italian village and endless vineyards in the distance. Spend your time basking in the August sun at the private pool with up to 30 Detours gay tour friends at your 20-suite compound, then explore the famous nearby sites of Siena, Florence, and Pisa before returning to your private castle each night.
Our 8-day all-gay adventure begins together on a Saturday in the capital city of Rome where you'll join your 2 Detours trip leaders and the rest of the crew for an unforgettable Italian dinner and celebratory evening out in Rome's gayborhood. The next morning (late morning, don't worry) we're jumping on the train to head 2 hours north where we'll spend 7 days exploring Tuscany from our incredible luxury castle.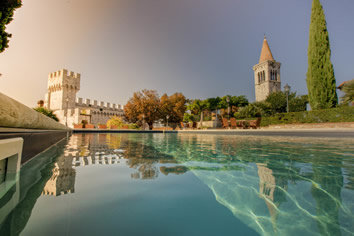 You've got a wide variety of rooming options at your castle, from a brilliantly restored pool-side cottage, to a 3-story sprawling suite with a private rooftop, and everything in between. All rooms come with A/C, oversized private bathrooms finished in fine Italian marble or travertine stone, and all showcase our hosts devotion to preservation of the grandiose past with a tasteful infusion of modern comforts.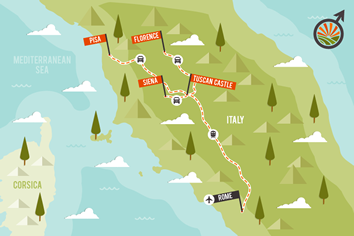 • All taxes
• All train and bus transportation within itinerary
• Accommodations for your 8-day Detours experience
• 3 x full day tours with transport and local Italian walking-tour guide (1 x Siena, 1 x Florence, and 1 x Pisa)
• 4 dinners
• All full breakfasts
• Group travel within Italy
• Two knowledgeable and fun Detours leaders
• Meals and drinks outside of those listed above
• Activities outside of the those listed above
• International Airfare
• Optional gratuities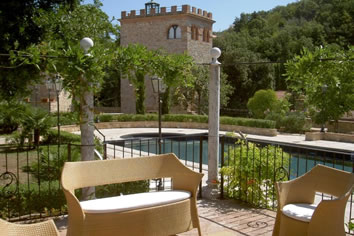 Day 1 - Rome, Italy
Welcome to the capital city of Rome, and one of the most beautiful and historically significant cities in the world! If you've never been to Rome, we encourage you to arrive at least a day or two prior to the start of the group trip to enjoy the incredible sites this city has to offer.
At 4:00pm on day 1 of our trip we'll start things off with a bang as we gather up to 30 Detours gay friends and 2 trip leaders for an unforgettable experience together! Our first night is all about eating great food, meeting new friends, and experiencing Italian nightlife before heading up to our private Tuscan castle the following day.
If you'd like to add any additional nights at our centrally-located accommodation just ask!
Days 2, and 3 - Castle in Tuscany
Once we've casually gotten up and moving and enjoyed breakfast, we'll depart on a late-morning train for a 2.5-hour trip into the heart of Tuscany. On arrival, we'll be welcomed to our castle compound by the Gangale family, who will be our hosts in this town of 2,000 people oozing with traditional Italian character.
The remainder of this day and the full next day are all about exploring our neighbourhood, enjoying our stunning property, and visiting some of the nearby wineries and hilltop towns with their beautiful architecture, unique shops, and stunning vistas. Our own property, with its large pool area, bell tower, and multiple buildings is a destination itself and you'll want to devote some time to exploring the property. Of course, if you'd like to just grab a glass of Chianti and bask in the sun poolside, that's encouraged too!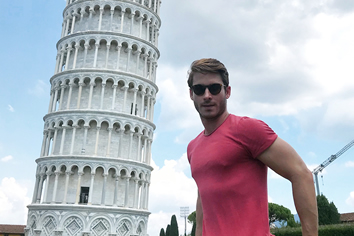 Day 4 - Pisa and Lucca
On day 4 we'll head out on a day trip to Pisa, and the surrounding region. Of course, of one the biggest highlights of the area is the iconic leaning tower here and we'll make sure we get our best selfies with it before exploring the gorgeous sites surrounding it as well. We'll be joined by a local Italian tour guide who will spend the day with us, sharing their vast knowledge of the area with us.
The city of Pisa, with its 3000-year old history, is one of the great art cities of the world with plenty of beautiful alleys, squares, and markets to get lost in. It's an authentic Italian city full of history and charm. Come for the tower, but fall in love with the beauty of this ancient city before we continue on to Lucca in the afternoon. The town of Lucca is famous for its fantastic medieval city walls that still encircle most of the historic old town, in addition to serving as an important meeting place for Julius Caesar and Crassus. The unqiuely Italian architecture and character of Lucca makes it a highlight of the Tuscany region.
We understand that some travelers love soaking in all the knowledge of a local tour guide on a walking tour, while others prefer to explore on their own. That's why we'll always set a meeting place/time and you're welcome to stick with the group/guide, or wander and return when it's time to continue on.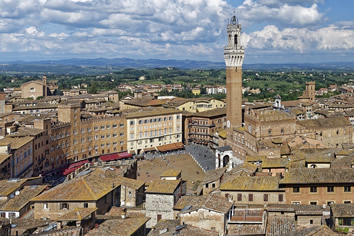 Day 5 - Siena
Siena is located just a few rolling hills away from our castle home, about 30 minutes drive, and is most well known for the fiercely competitive Palio horse race, which is held in the main streets of the city each summer. A horse race like no other, this event has also included competitions such as flag throwing and even fist fights since it began in the 11th century.
Once a very wealthy independent city-state during the Middle Ages, Siena was defeated and descended into poverty for hundreds of years, which is a big reason why the lovely Medieval buildings were never torn down and replaced with modern structures. It's those medieval structures and the authentic Tuscan charm that makes Siena a destination not to be missed.
After spending the morning at the castle, we'll head to Siena for the afternoon with a local gay tour guide who will show us the most impressive sites around the town, before enjoying dinner and wine at a beautiful local patio restaurant.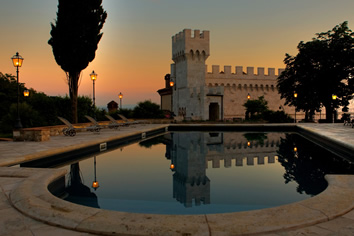 Day 6 - Castle in Tuscany
Our 6th day is totally open for you to either take a break and spend a gorgeous day at the pool or, if you'd rather keep busy, we'll visit some of the nearby villages to try the local cheeses and wines on offer. There are plenty of unique villages in the surrounding area, all ready to be explored, including our own local community at our doorstep.
If you'd rather explore a bit farther today we'd really recommend the country of San Marino if you're up for a 2.5 hour trip, or the city of Arezzo for a shorter excursion. Your 2 Detours trip leaders will be with you to ensure you've got plenty of options and advice for your free day.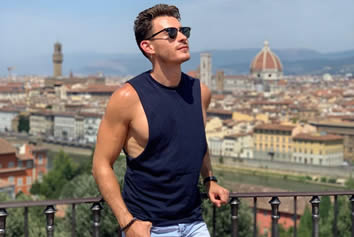 Day 7 - Florence
The highlight for many in Tuscany, Florence is world renowned for its culture, Tuscan cuisine, Renaissance art, architecture and monuments. It's romantic, enchanting and utterly irresistible, and it's only 80 minutes from our castle.
We'll head to Florence with a local gay guide just after lunch to spend the whole of the afternoon, evening, and nighttime soaking up the beauty of this city. Our guide will take us on a walking tour through the afternoon to ensure we experience the highlights and learn about Florence's seemingly endless significant history. After all, this is the birthplace of opera, gelato, the Renaissance, and the Italian language itself, just to name a few of the reasons why Tuscany is considered the cradle of Italian civilization.
Once we've spent the full afternoon learning and exploring through the streets and squares, we'll also experience the nightlife of Florence, both with a fabulous dinner, and Friday night drinks before heading back to our castle for our final night.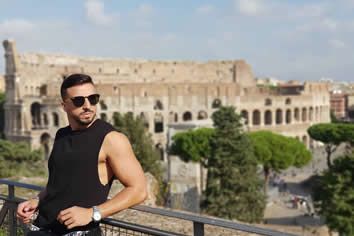 Day 8 - Departure Day
Day 8 has come and it's time to wind things down after a packed week together from Rome to the highlights of Tuscany from our 14th century castle home. If you've got some extra time in your schedule we encourage you to extend your trip onwards to Venice, Milan, Bologna, Cinque Terre, or the many other destinations in Italy's Northern regions. However, you're also welcome to join your two Detours trip leaders as we return to Rome in the morning. If you're pressed for time, you're welcome to book a departing flight from Rome's airport with a scheduled departure any time after 1:00pm.
After what has surely been an incredible 8 days together eating amazing food, meeting plenty of new friends, drinking fantastic wine, and exploring some of the most beautful places in Italy, we'll say our goodbye-for-now's on this 8th day and look forward to our next adventure together!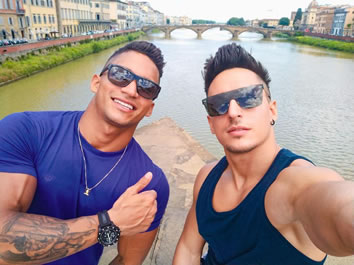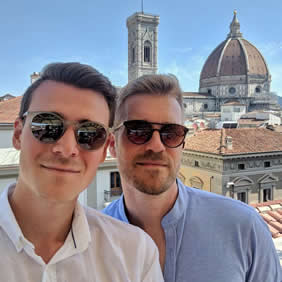 Arrival & Departure
All travelers should arrive to Rome (airport code FCO) by 1:00pm on day 1 of the trip to ensure you are able to get to our group hotel by our 4:00pm official starting time. Many travelers will want to extend their stay here in Rome, especially those who will be visiting the city for the first time. Just let us know and we'd be happy to arrange additional nights for you!
The trip officially ends on the morning of the 8th day when you're welcome to either join your trip leaders on their return to Rome where you can catch a departing flight as long as its departure time is 1:00pm or later. Alternatively, you can book your departing flight from a Florence (75 mins away), or an even better option, if you've got more time, we encourage you to extend your trip in Italy! We'd be happy to help you arrange travel from our castle to Milan, Venice, Bologna, or other amazing destinations nearby!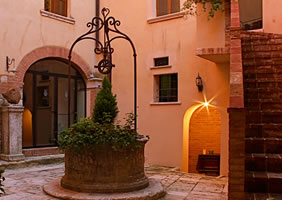 Weather
Expect fabulous mid-summer weather! Historically, August is a very sunny month to be in Italy. Expected daily temperatures between 75 and 85F (24-30C). This dry season brings very little rain so make sure you bring plenty of sun protection. That said, weather can sometimes be unpredictable, so we always suggest bringing some "just in case" rain gear too.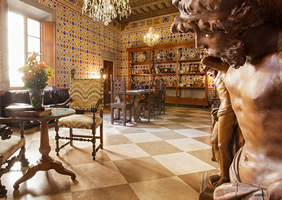 Money
Italy uses the Euro as their main currency. It's a good idea to have some on hand to pay for things like souvenirs, tips, or little things along the way. Visa and Mastercard credit cards are widely accepted at most shops and restaurants as well, with American Express accepted at fewer places.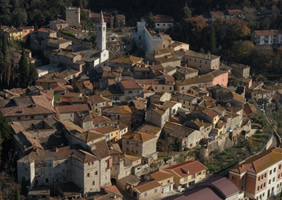 Additional spending budget?
Your big-ticket items are included through the trip, but you'll want to budget for additional spending such as additional meals, drinks, shopping, activities, etc. These costs can vary dramatically with differing personal habits but we suggest expecting to spend an additional $600 USD at the lower end for the more budget-conscious and $900 USD at the higher end for the splurgers. We suggest arriving to Italy with approximately 200 Euros in cash for small purchases, although most shops and restaurants will accept major credit cards.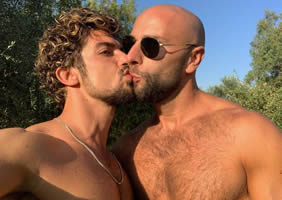 Staying Connected... Or Not
Most cell phone carriers provide international roaming service on Italian networks. Call your provider to ensure you have coverage, and ask about cost-saving international service plans. We will be in data/call range through the entire trip and our accommodation has free WiFi.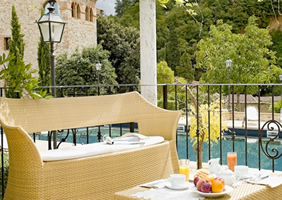 Attire
Our first night together will be our "special night" where we suggest you bring something nice for dinner and drinks. Not fancy like a tuxedo of course, but something comfortable that you'd wear out on a Saturday night for dinner and drinks. The rest of the trip is all about casual and comfortable as we spend plenty of time walking, as we explore Siena, Florence, Pisa, and the village around our castle or lounging at our property. Good walking shoes are likely the most important item in your suitcase.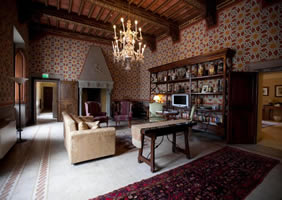 Solo Travelers
Around 60% of Detours travelers join solo, so you're certainly not alone! As a result, 13 of our 20 rooms at the castle are specifically for solo travelers. You've got the option of sharing your room with another 1 or 2 solo travelers (in a room with 2 or 3 beds) or taking your own private room.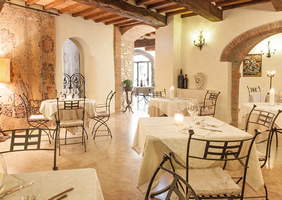 Excursions
Throughout our 8-day adventure together we've planned a bunch of exciting excursions, from guided day trips to Siena, Florence, and Pisa to winery tours and tastings, to dinners at our castle and the local village. These are included in the cost of your trip, but as with every Detours trip, you're welcome to stray from the itinerary if there are other things that interest you more. You'll have 2 Detours trip leaders with you throughout the trip to ensure you get everything you'd like out of your adventure in Italy.
Rome, Italy
Monti Palace Hotel

Perfectly located in the heart of Rome, this newly opened property makes for a perfect base to explore the surrounding area. In just a 10 minute walk from the door you can be staring up at the famous Collosseum or the impressive Roman Forum. Within the hotel walls enjoy a beautiful contemporary style, a rooftop restaurant, and fabulously comfortable rooms.
With parquet flooring, room automation system and matching furnishings in primary colors, rooms at the Monti Palace are stylish and contemporary. Each comes with free Wi-Fi and air conditioning.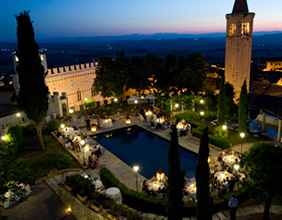 Serre di Rapolano, Tuscany
Castello delle Serre
600-year character, with 21st century comfort! At Castello delle Serre, you'll experience comfort, relaxation and excitement in a Tuscan castle restored into a luxury B&B. Castle offer a variety of expertly appointed rooms and suites to accommodate anyone's tastes. Devotion to preservation of the grandiose past with a tasteful infusion of modern comforts is second to none.
Castello delle Serre sits at the top of Serre di Rapolano, an unspoiled Tuscan village with the easiest access to all of the major points of interest. Siena, Chianti, Montepulciano, Montalcino, Cortona and Arezzo are only a short drive away.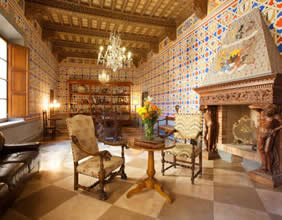 Whether it's churches, monasteries, classical architecture, museums, pottery, Italian shopping or the simple aspects of everyday Italian life that draw you, all of this is in the near vicinity. We'll help you get there!
The Gangale family has joined forces with V. Sattui Winery of Napa Valley, California and are proud to showcase the splendor of our recently restored castle. Let us show you the Tuscany few people know exists. Attention to detail and personalized service will make your stay the experience of a lifetime. Enjoy the beautiful private swimming pool, the beautifully restored grounds, and the quaint surrounding village during our castle week together.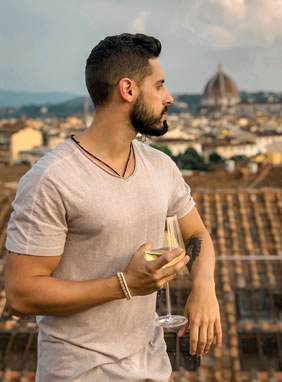 Tuscany Gay Castle Week Prices


Couples Rooms



Deluxe 3-Story Suite

Couples Room - Room #201. 3 story deluxe suite, located in a free-standing tower, with private terrace on roof and view over Southern Tuscany. One level is a sitting area, the second is the bedroom, and the third is the terrace. The suite features orthopedic queen-size bed and private bathroom. All rooms offer over-sized private bathrooms, finished in fine Italian marble or travertine stone and come with heat or air conditioning.

$ 3,930


$ 3,930


Contessa Suite

Couples Room - Room #111. Deluxe "Contessa Suite" located on the 2nd floor of the main castle building. Queen size bed. Shower + double sinks. The castle's design is based on devotion to preservation of the grandiose past with a tasteful infusion of modern comforts. All rooms offer over-sized private bathrooms, finished in fine Italian marble or travertine stone and come with heat or air conditioning.

$ 3,860


$ 3,860


Villa

Couples Room - Room #206. Queen bed, Sofa- Bed, 2 full bathrooms, kitchen. This room is part of the 3-bedroom, 4-bathroom villa complex with a separate entrance to each bedroom and a shared communal area. The castle's design is based on devotion to preservation of the grandiose past with a tasteful infusion of modern comforts. All rooms offer over-sized private bathrooms, finished in fine Italian marble or travertine stone and come with heat or air conditioning.

$ 3,670


$ 3,670


Deluxe Suite

Couples Room - Room #202. Located in free-standing tower complex. 2 story deluxe suite with spiral staircase. Queen-size bed. tub & shower. The castle's design is based on devotion to preservation of the grandiose past with a tasteful infusion of modern comforts. All rooms offer over-sized private bathrooms, finished in fine Italian marble or travertine stone and come with heat or air conditioning.

$ 3,490


$ 3,490


Suite

Couples Room - Room #132. Located on the top floor of the main castle building. Queen-size bed with stand up shower in bathroom. The castle's design is based on devotion to preservation of the grandiose past with a tasteful infusion of modern comforts. All rooms offer over-sized private bathrooms, finished in fine Italian marble or travertine stone and come with heat or air conditioning.

$ 3,270


$ 3,270


Deluxe Room 1

Couples Room - Room #126. Located on the 3rd floor of the main castle building. Queen-size bed with tub and shower in bathroom. The castle's design is based on devotion to preservation of the grandiose past with a tasteful infusion of modern comforts. All rooms offer over-sized private bathrooms, finished in fine Italian marble or travertine stone and come with heat or air conditioning.

$ 2,980


$ 2,980


Deluxe Room 2

Couples Room - Room #124. Located on the 3rd floor of the main castle building. Queen-size bed. Stand up shower in bathroom. The castle's design is based on devotion to preservation of the grandiose past with a tasteful infusion of modern comforts. All rooms offer over-sized private bathrooms, finished in fine Italian marble or travertine stone and come with heat or air conditioning.

$ 2,980


$ 2,980


Solo Travelers



Deluxe Single Room 1

Private Room - Room #102. Located on the ground floor of the main castle building, with patio. One double bed, with stand-up shower in bathroom. The castle's design is based on devotion to preservation of the grandiose past with a tasteful infusion of modern comforts. All rooms offer over-sized private bathrooms, finished in fine Italian marble or travertine stone and come with heat or air conditioning.

$ 4,030


$ 4,030


Deluxe Single Room 2

Private Room - Room #122 Located on the 3rd floor of the main castle building. Queen-size bed. Stand up shower. With balcony. The castle's design is based on devotion to preservation of the grandiose past with a tasteful infusion of modern comforts. All rooms offer over-sized private bathrooms, finished in fine Italian marble or travertine stone and come with heat or air conditioning.

$ 4,130


$ 4,130


Single Suite 1

Private Room - Room #134. Located on the top floor of the main castle building. Queen size bed with tub and shower. The castle's design is based on devotion to preservation of the grandiose past with a tasteful infusion of modern comforts. All rooms offer over-sized private bathrooms, finished in fine Italian marble or travertine stone and come with heat or air conditioning.

$ 3,980


$ 3,980


Single Suite 2

Private Room - Room #123. Located on the 3rd floor of the main castle building. Queen-size bed. Stand up shower in bathroom. The castle's design is based on devotion to preservation of the grandiose past with a tasteful infusion of modern comforts. All rooms offer over-sized private bathrooms, finished in fine Italian marble or travertine stone and come with heat or air conditioning.

$ 4,080


$ 4,080


Deluxe Single Room 3

Private Room - Room #204. Queen-size bed, tub & shower. This room is part of the 3-bedroom, 4-bathroom villa complex with a separate entrance to each bedroom and a shared communal area. The castle's design is based on devotion to preservation of the grandiose past with a tasteful infusion of modern comforts. All rooms offer over-sized private bathrooms, finished in fine Italian marble or travertine stone and come with heat or air conditioning.

$ 3,840


$ 3,840


Deluxe Single Room 4

Private Room - Room #131. Located on the top floor of the main castle building. Queen-size bed with tub and shower in bathroom. The castle's design is based on devotion to preservation of the grandiose past with a tasteful infusion of modern comforts. All rooms offer over-sized private bathrooms, finished in fine Italian marble or travertine stone and come with heat or air conditioning.

$ 3,880


$ 3,880


Deluxe Single Room 5

Private Room - Room #121. Located on the 3rd floor of the main castle building. Queen-size bed. Tub and shower in bathroom. The castle's design is based on devotion to preservation of the grandiose past with a tasteful infusion of modern comforts. All rooms offer over-sized private bathrooms, finished in fine Italian marble or travertine stone and come with heat or air conditioning.

$ 3,980


$ 3,980


Deluxe Single Room 6

Private Room - Room #113. Located on the 2nd floor of the main castle building. Queen size bed. Shower in bathroom, with balcony. The castle's design is based on devotion to preservation of the grandiose past with a tasteful infusion of modern comforts. All rooms offer over-sized private bathrooms, finished in fine Italian marble or travertine stone and come with heat or air conditioning.

$ 3,880


$ 3,880


Standard Single Room

Private Room - Room #203. Located in the 3-bedroom, 4-bathroom villa complex, with separate entrance to each bedroom and shared living space. Queen-size bed, private bathroom with shower. The castle's design is based on devotion to preservation of the grandiose past with a tasteful infusion of modern comforts. All rooms offer over-sized private bathrooms, finished in fine Italian marble or travertine stone and come with heat or air conditioning.

$ 3,840


$ 3,840


Shared Deluxe Twin Room

Shared Room - Room #205. Two single beds, bathroom with shower. This room is the standalone "Cottage Room", located next to the swimming pool. The castle's design is based on devotion to preservation of the grandiose past with a tasteful infusion of modern comforts. All rooms offer over-sized private bathrooms, finished in fine Italian marble or travertine stone and come with heat or air conditioning.

$ 3,190


$ 3,190


Shared Triple Suite

Triple-Shared Suite - Room #114. Located on the 1st and 2nd floors of the main castle building. 2 levels, 2 full bathrooms with shower. Queen size bed plus additional 2 single beds. This room is shared, for 3 solo travelers. The castle's design is based on devotion to preservation of the grandiose past with a tasteful infusion of modern comforts. All rooms offer over-sized private bathrooms, finished in fine Italian marble or travertine stone and come with heat or air conditioning.

$ 2,920


$ 2,920


Shared Deluxe Room

Shared Room - Room #112. Located on the 2nd floor of the main castle building. Deluxe room, two single beds. Stand-up shower in bathroom. The castle's design is based on devotion to preservation of the grandiose past with a tasteful infusion of modern comforts. All rooms offer over-sized private bathrooms, finished in fine Italian marble or travertine stone and come with heat or air conditioning.

$ 2,930


$ 2,930


Shared Deluxe Triple Room

Triple-shared Room - Room 125. Located on the 2nd floor of the main castle building. Large suite with 3 beds (queen-size bed, French bed, and single bed). Triple-share room. Stairs down upon entry, tub and shower, and separated rooms. Note, this room has been updated with new bed and white linens not shown in this outdated image. The castle's design is based on devotion to preservation of the grandiose past with a tasteful infusion of modern comforts. All rooms offer over-sized private bathrooms, finished in fine Italian marble or travertine stone and come with heat or air conditioning.

$ 2,960


$ 2,960

Taxes of $150 pp & Gratuities are additional.

Min. Deposit: $750. Balance Due not later than 90 days before departure

Price does not include 3% payment card charges. No additional charges on bank transfer payments.

Special Airfares