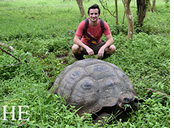 Existing in virtual isolation for millions of years, the Galapagos Islands are home to many species found nowhere else on Earth. Join this gay Galapagos cruise & wildlife tour and experience this abundance and variety of equatorial wildlife closely, as we walk, hike, snorkel, swim and imagine Darwin's dream.
Nowhere else in the world can you see and experience such an abundance and variety of wildlife as in the Galapagos Islands. A naturalist's dream, the Galapagos Islands lie on the Equator, 600 miles west of Ecuador and the South American coastline. Formed as a result of intense volcanic activity, they consist of 61 islands and islets, with 13 main islands. Existing in virtual isolation for millions of years, they are home to many species found nowhere else on Earth. More than 1,900 of its more than 5,000 species are endemic.
Charles Darwin, observed the potential scientific bonanza of the islands' flora and fauna in 1835 and was inspired to write his famous thesis, "On the Origin of the Species by Means of Natural Selection." Aside from a few roving pirates and buccaneers, the islands remained untouched by man for centuries.
Our naturalist guide will fill us in on the extraordinary variety of plants and wildlife as we will visit and explore various islands. A birdwatchers paradise, there are 29 species of land bird found here and 22 of them are endemic to the islands. See the world's smallest penguins, the bright red-chested frigate birds, the flightless cormorants, boobies, hawks, owls and lava gulls. In the sea, you'll experience the wonder of watching giant sea turtles swimming to their homes, and sea lions playfully splashing as you snorkel along looking at multitudes of colorful fish. All this from the comfort of a modern and well appointed ship.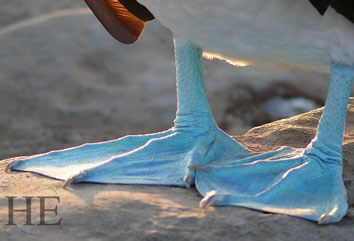 • Begin your journey with two nights in Ecuador's mountain capital of Quito
• Relax on an upscale modern ship for four nights and enjoy the peace and quiet of these remote islands.
• See exotic birds and wildlife in their native setting.
• Visit the breeding grounds and sanctuary for giant green sea turtles.
• Swim with sealions and view an amazing bounty of fish and sea life.
• Hike along tidal lagoons, mangroves and bright, clean beaches.
• Experience Darwin's inspiration in a lovely and pristine setting.
• Ask about availability of cabin types and also about land extensions around Quito and the mountains of Ecuador, such as to the exquisite new Mashpi Lodge.
• Sail on our deluxe ship among the islands
• Enjoy this once in a lifetime trek with a friendly group of gay men, lesbians, family and friends. (Please note that this is not a charter, so our group will be among other passengers on our comfortable ship.)
For a more active adventure, see our Gay Galapagos Land Tour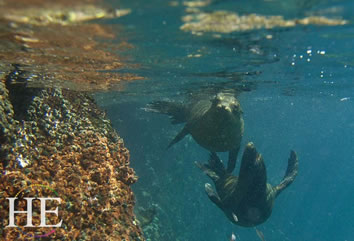 Days 1 - 2 - Quito, Ecuador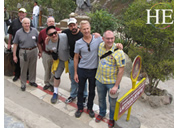 We arrive in Quito to begin our adventure. Since most flights arrive in the late evening, there are no official activities scheduled on arrival day.
After a good night's sleep, we explore Quito, Ecuador's capital city, high in the Andes, seeing the colonial architecture of the historic district, and the Equatorial Monument along the Equator. In the evening, we'll have our Welcome Dinner and orientation for our Galapagos adventure.
Day 3 - All aboard for the Wildlife Express!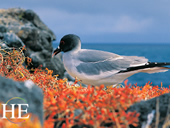 After a morning flight from Quito via Guayaquil to Baltra Airport in the islands, we begin our exploration of the Northern Islands of the Galapagos. Our exact routing will depend on the Galapagos National Park Service, but the following is an example of the islands we may visit. Each day our naturalist-guides will lead us ashore on one island in the morning and another in the afternoon to view the variety of plant-life and marine and land animals, including flightless cormorants, blue-footed boobies, penguins, marine iguanas and giant tortoises.
Arrival on Baltra Island
After our late morning landing at Baltra Island we will go to the pier to board our ship. Once on-board we will have an orientation to our cruise, the boat drill and lunch.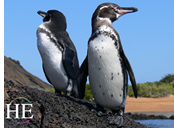 Las Bachas (Santa Cruz Island)
After lunch we go to Las Bachas, on nearby Santa Cruz Island. This stretch of white sand beach that is broken up only by brackish lagoons that provide rich feeding areas flamingos, stilts and other wading birds. While ashore we will follow coastal and inland paths to see bird colonies, marine iguanas and sea lions. Once back on the ship we will meet up for our welcome cocktail, hear about our plan for the next day's touring, and have our first dinner onboard our ship.
Day 4 - Santiago (James) Island / Buccaneer Cove & Puerto Egas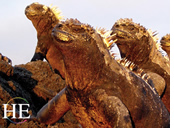 This morning we sail along the rugged coastline of Santiago (James) Island. A highlight is Buccaneer Cove, where British pirates would hide under the high cliffs and the sea caves, and replenish their supplies of turtle meat and other delicacies. Along with hearing of the human history of the cove, we'll see a variety of sea lions, marine birds and other species. We will also pause to disembark for snorkeling or a ride on a panga (small boat).
Puerto Egas (Santiago Island)
We continue around Santiago Island to Puerto Egas. There we can swim or snorkel along a rocky shoreline, which is usually home to a number of turtles. We will also walk along the shore to see a variety of birds that find nutrition from the volcanic soil, including some fairly recent lava flows. We may also get to observe marine iguanas and fur-sea lions.
Day 5 - Rábida & Bartholomew Islands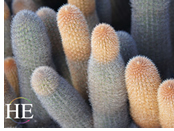 This morning we will sail along the south coast of Santiago Island, to Rábida Island, known for its red beach, created by a very high iron content in the volcanic soil. Our group will alternate between a panga ride along around the island and walking along the beach to see several species of finches (made famous by Darwin), mockingbirds, iguanas and sea lions. There is also a salt pond where flamingos nest for a part of each year. This unique spot is a great place for snorkeling, but those who prefer to stay out of the water can enjoy a ride on a glass-bottom boat.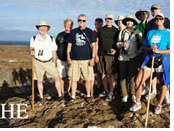 Later in the day we sail further around Santiago Island to the tiny Bartholomew (Bartolomé ) Island. We embark on our dinghies (inflatable boats for going ashore on islands with no pier) for an optional 375-foot climb on a wooden staircase to the summit, to enjoy a panoramic view of the landmark Pinnacle Rock. A tiny colony of Galapagos penguins resides at the foot of the rock. Ride the dinghy around this colossal-sized rock and relax on the sand beach here to swim and snorkel, perhaps with penguins. A glass-bottom boat will also be available to further enhance our experience. As we set sail, look for the dolphins that live in this area, and which sometimes enjoy swimming alongside the boats.
Day 6 - Genovesa (Tower) Island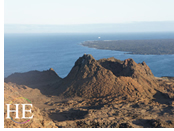 We will make an overnight sailing to one of the northernmost of the island, Genovesa (Tower) Island, which is a collapsed volcano whose flooded caldera makes a wonderful boiler-shaped deep protected harbor. We will anchor at the foot of steep crater walls in Darwin Bay, then make a steep 90-foot climb up from the beach on the Prince Philip Steps. We will find ourselves among the free-roaming pelagic seabirds that pause here to nest and breed during their journeys across the ocean. You may see red-footed boobies, frigate birds, swallow-tailed gulls and storm petrels that love to float in the air currents caused by the uneven landscape of this volcanic island. (For those who prefer to stay at sea level, panga rides will be offered to get up close and personal with the beautiful shoreline of Darwin Bay.)
Day 7 - San Cristóbal (Chatham Island) /Puerto Baquerizo Moreno / Farewell to the Islands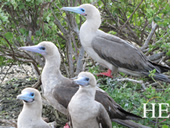 Our day starts with our final breakfast on ship, after which we have a chance to go ashore to witness the promising breeding program for the endangered giant tortoises at Cerro Colorado.
From there we drive to the airport on San Cristóbal for our return flight to Quito, with a stop in Guayaquil.
We will arrive in Quito in the late afternoon. We will reserve a hotel room in Quito tonight for anyone joining the Mashpi Extension or flying home the next day. However, if your flight home departs around midnight, you can stay at the airport or get a "day room" at a nearby hotel, and depart tonight.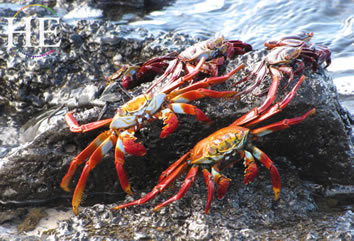 After your immersion in the carefully preserved natural environment of the Galapagos, please consider joining our extension to the incredible new Mashpi Lodge in the cloud forest in the Andes highlands outside Quito. This lodge opened in 2012 and quickly won awards for its unique architecture and commitment to blend as seamlessly as possible into the natural environment of the Mashpi Biodiversity Reserve.
Day 7 - An evening in Quito
Our Galapagos tour ends after we return to Quito on the last evening. For those staying on, we'll spend tonight in Quito and begin our journey to the Andean Highlands the next day.
Day 8 - Journey to Mashpi Lodge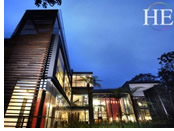 A stay at Mashpi Lodge starts with a morning drive from Quito past the Equator Monument and over a pass to the Pacific Ocean side of the Andes. A 2.5 hour drive takes you to the edge of the Reserve, where you stop at the Hummingbird Viewpoint and change to an electric cart for the final 4 miles to the Lodge. (To give an idea of the variety of birds here, 22 species of hummingbirds alone have been found in the reserve, along with such fascinating species as the Andean Cock-of-the-Rock and Club-Winged Manakin). In the afternoon, the Naturalist Guides will give you an overview of the Reserve and your activity options. All meals at the Lodge are included in the extension price, including night walks after dinner, accompanied by one of the Naturalist Guides.
Day 9 - Bird-Lover's Paradise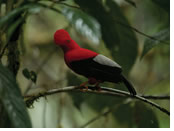 The day's activities start with a guided hike before breakfast, when you can be out with the myriad species of birds and other animals as the actively (and noisily!) start their day. You will see why this region is considered one of the richest birding habitats in the world.
The Naturalist Guides offer a variety of activities throughout the day including hikes through the dense jungle or a chance to cool off under a cascading waterfall. Rubber boots, rain ponchos and binoculars are provided during your stay. There is even an aerial bicycle to let you glide through the jungle, leaving literally no footprint.
On the outbound journey there will be a mile-long gondola ride that allows hikes deeper in the rainforest, far from any roads. The 6-passenger gondolas ride high above the trees, allowing an overview of the vast forest canopy, and on the return journey the cables are much lower, so that visitors can get a more intimate view of the rich profusion of plants and animals that thrive below the tree canopy.
When you return to the Lodge, you can relax on the terrace, or in your room, each of which features north-facing floor-to-ceiling windows. One window can be opened, so if you wish you can wake up to the profusion of birds calling to each other at dawn.
Day 10 - Tulipe Archaeological Site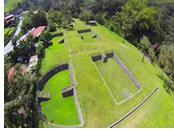 Take one more nature hike this morning, then in late morning, start your return drive to Quito.
Along with way make a stop at the recently-opened Tulipe archaeological site. This was the ceremonial grounds for the Yumbo people who lived in the region between about 800 AD and 1660 AD. They were known for their keen observation of the heavens from their high-mountain location right on the equator. Being near a major pass of the Andes, they also prospered as merchants on the trade routes between the Pacific coast indigenous communities, and those of the Amazon basin.
We'll be back in Quito in late afternoon.
Our tour extension ends with a drop-off at Quito Airport in time for evening flights. An optional overnight stay near Quito Airport can be added if you are taking a flight the next day.
OR Stay Longer and Visit Machu Picchu in Peru!