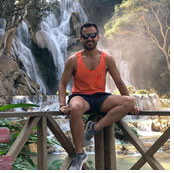 Enjoy the decadence of the beauty of Laos and all it has to offer with 5 star accommodation and luxury massage treatments. You will be travelling in air-conditioned cars or minibuses, by boats along rivers, by inter-city train Lao style and using local flight carriers. First arriving at the capital Vientiane for 3 nights, you then travel by train to Vang Vieng for 1 night where the natural sights will take your breath away, then continue by train to picturesque Luang Prabang for 4 nights before returning to Vientiane by plane. Each day is carefully prepared for you with daily activities so you can then rest in the late afternoon and get pampered. Come book this gay group tour and have the experience of a lifetime.
The stunning country of Laos is fast becoming a favourite for gay travellers to Asia. The country famous for the Mekong River is also renowned for its mountainous terrain, beautiful Buddhist monasteries and temples, colonial architecture, rice fields and hill tribes.
You'll visit Luang Prabang, undoubtedly the drawcard attraction in Laos. The city itself is UNESCO World Heritage-listed. On this trip, you'll explore temples, rivers and the impressive Lippi falls. This itinerary is a true mixture of everything that is great about Laos.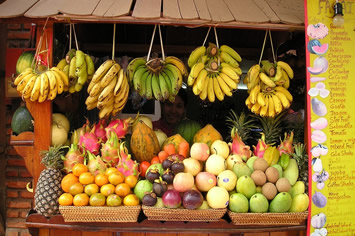 From the French colonial streets of Vientiane to the quiet respite of Luang Prabang, gay travellers love kicking back landlocked Laos.
As a largely Buddhist country, Laos is generally tolerant of homosexuality. Despite a small population, Laos is home to 49 ethnic groups. The nation is officially Buddhist, and continues to practice daily traditions like Alms-giving. Long cut off from the rest of the world, today it's laid-back and seemingly lost in time.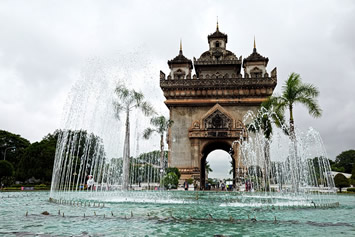 Day 1
Arrival in Vientiane, Laos
• Warm welcome at Vientiane Wattay International Airport (VTE)
• Transfer to your 5 star hotel in Vientiane
• "Meet and Greet" session at 8 pm in the hotel reception
Vientiane, the capital of Laos, is the antithesis of a bustling capital like London. In fact, it feels more like a welcoming village, nestled in a bend of the Mekong River, Vientiane is dotted with temples and quirky, accessible attractions like the Buddha Park featuring surreal statues of the Buddha and the Monk Chat, a monthly opportunity to hang out with, you guessed it, monks. The major monument in town is Patuxai, and local food, you'll want to head to the night market.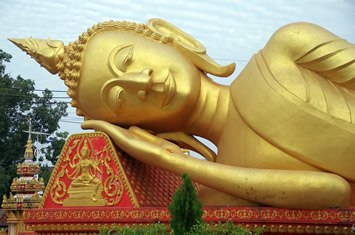 Day 2
Vientiane, Laos
• Wat Si Saket
Wat Si Saket is the only temple in Laos that survived the Siamese occupation, which destroyed much of the capital in 1828. It features over 10,000 Buddha sculptures of varying sizes and styles. The temple also has beautiful architecture and layout, with a history that dates back to 1818.
• Ho Phrakeo Museum with the Temple of Emerald Buddha
Ho Phra Keo (or Haw Phra Kaew) is a former Buddhist shrine dating back to 1565 – today, it serves as a museum of religious arts in Vientiane. Locals call it 'the Temple of the Emerald Buddha' as Ho Phra Keo has a gilded throne meant for the Emerald Buddha, which now sits on the grounds of Bangkok's Grand Palace.
• Wat Thatluang Stupa
The holiest site in the Laos capital Vientiane, the gleaming, angular stupa of Pha That Luang dates from 1566 CE. The temple rose from the site of a 13th-century Khmer temple to house a relic from the Buddha—but has fallen and revived several times in the face of war and conquest.
• Patuxai Victory Monument
The Patuxai Victory Gate is a massive concrete arch on Lang Xang Avenue. Reminiscent of the Arc de Triomphe in Paris, the monument commemorates Laos's resilience and eventual independence, as well as those who lost their lives in the wars that got them to that point.
Day 3
Vientiane, Laos
Buddha Park (25 kms/26 miles from Vientiane)
Buddha Park (Xieng Khuan) is an open-air sculpture park with giant sculptures of Buddha and Hindu deities. Located 25km southeast of Vientiane, the park was founded in 1958 by monk and sculpture artist, Bunleua Sulila.
Lao Revolution Museum
The museum, which was originally built in 1925 as the French governor's residence, presents the history of Laos, highlighting the Laotian people's struggle to free the country from foreign occupiers and imperialist forces.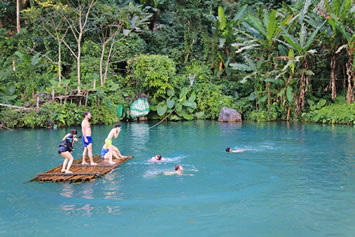 Day 4
Vang Vieng
Train 1st class from Vientiane to Vang Vieng
Hotel check-in
Tamchang Blue Lagoon Cave
The blue lagoons of Vang Vieng is still one of the most popular things to do in Laos. People travel from all around the world just to see the turquoise-coloured pools and to go for a swim in the cooling waters.
Lao Revolution Cave
Vieng Xai was home to the leaders of the Communist led revolution during their struggle against the French Colonial regime and later the American government. Deemed an almost impregnable hideout because of their inaccessibility and natural protection from bombing, they were used from around 1964 until the mid 1980s.
Fishing boat trip up Nam Song river (1 hour)
The rugged karst landscape of Vang Vieng is one of the most mesmerizing in Laos. A ride along the Nam Song River offers the best way to discover this stunning scenery. Visitors will be amazed by the gigantic limestone mountains covered by lush green forest all along the way.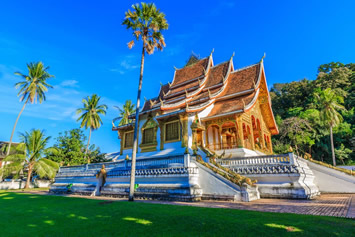 Day 5
Luang Prabang
Train from Vang Vieng at 9 am to Luang Prabang, arriving 10.45 am
Hotel check-in
Wat Xieng Thong
Wat Xieng Thong is one of the largest temples in Luang Prabang. A symbol of great historic importance, its structure has characteristics of 16th-century Lao architecture, with elaborate mosaic patterns, wall carvings, rare Buddhist deities, and a 12-metre-tall funeral carriage.
Wat Visoun
Wat Visoun or Wat Wisunalat is the oldest Buddhist temple in Luang Prabang, also one of the most popular sites in the city. Wat Visoun was originally built in 1513, during the reign of King Visoun who ruled the country from 1501 to 1520.
Royal Palace Museum
The Royal Palace Museum of Luang Prabang once served as the residence of King Sisavang Vong and his family during the French colonial era. Designed in the French Beaux-Arts style with many tasteful accents of traditional Lao culture, the palace was converted into a museum in 1995.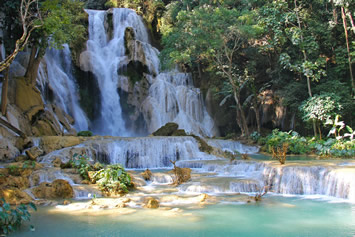 Day 6
Luang Prabang
Ethnic villages
Visit a great selection of villages inhibited by a selection of different ethnic groups, there is no better way to experience local daily life in such a short time! You will know more about different villages and see the great landscapes, cultures and traditions around Luang Prabang.
Kuangsi waterfalls
The Kuang Si Falls has 3 tiers leading to a 50-metre drop into shallow pools, before flowing downstream. Surrounded by lush tropical jungle, the pools have cascades of up to 5 metres high. If you don't fancy a swim, you can relax in the shade and watch others having fun jumping in and out of the water.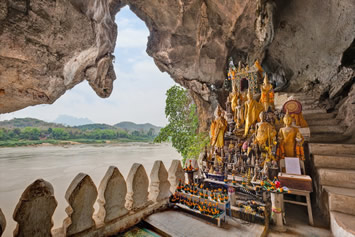 Day 7
Luang Prabang
Long tail boat to explore Mekong river
Hop onboard a long tail boat for a relaxing journey aong the Mekong River. Enjoy the views from the water as you pass by local villages and fishing communities.
The Buddha caves
Pak Ou Caves, 25 km north of Luang Prabang, have a history dating back thousands of years. Packed with over 4,000 Buddha icons, the caves are set in a dramatic limestone cliff at the point where the Mekong joins the Nam Ou River.
Lao whisky village with tastings
Whiskey Village (Ban Xang Hai) sits on the banks of the Mekong, roughly 4 miles (6.5 kilometers) by boat from the Pak Ou Caves. Here, you can witness the traditional method of making lao-lao, the local rice wine.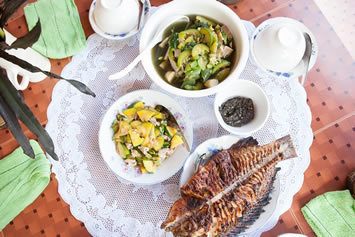 Day 8
Luang Prabang Cooking Class
Visit local market to buy fresh produce
Cooking lesson
Meal preparation
– bamboo soup
– steamed fish in banana leaves
– lemongrass with pork
– papaya salad with sticky rice
Don't just eat delicious Laotian dishes, learn to cook them yourself during a cooking class and market tour in Luang Prabang. Exploring the market with a guide means that you'll overcome the language barrier and discover exotic ingredients that you may otherwise have missed.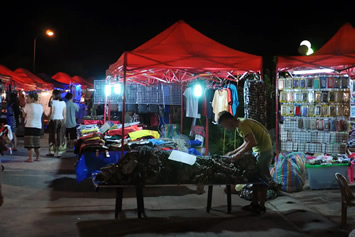 Day 9
From Luang Prabang to Vientiae
Flight from Luang Prabang to Vientiane
Walk along the Mekong to watch the sunset
Vientiane night market
The Vientiane Night Market takes place along the Mekong Riverfront, where you can see rows of red-roofed stalls selling handicrafts, clothes, and electronics. Some of the most common items you can find at the Vientiane Night Market include Buddhist-inspired paintings, cheap sunglasses, and shirts with Beerlao logos.
Day 10
Vientiae Departure
Farewell at your hotel
Vientiane Wattay International Airport (VTE) transfer
Each day includes a luxury massage subject to availability.