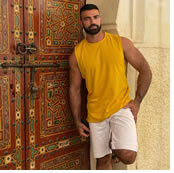 We will take you on an epic 11 day gay group tour of Morocco. Morocco is the land of all sounds and smells, a trip to Morocco is a truly sensory experience. You will experience an explosion of colors, sounds, scenarios and smells. The country stirs up all the senses for having a very strong personality culture of its own. The historic souks of Marrakech, the Berber towns in the Atlas Mountains, the cinematic vein of Ouarzazate, the Skoura oasis, the Todra gorge, the Sahara Desert, the inks and labyrinths of the Medina of Fez. A new world that you will discover.
We start our adventure in Casablanca, which was immortalized by the movie "Casablanca", visit Hassan the II mosque, the largest mosque in Morocco and the third largest in the world. Then we set off for Fez, which is one of the four imperial cities of Morocco, where you will find the best preserved historic center in the Arab world. You will also visit the Blue Town of Chefchaouen.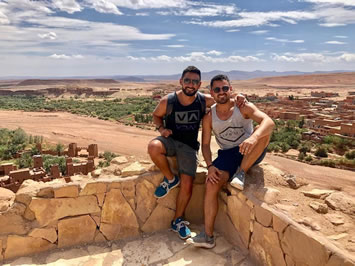 From Fez we leave for Marrakech on a 3-day Luxury Desert Tour and discover the magic of Moroccan SAHARA. You will pass through Ziz valley, Gorges of Todra and Dades, Ouarzazate, and so many more. It's a great introduction to Moroccan landscapes, food, etiquette, lifestyle and the transport system as well, that will excite your imagination.
We will end our trip in Marrakech, which bewitches and enchants any visitor. Getting to know Marrakech, known as the Red City, and getting involved in its magical atmosphere will always be an unparalleled and unforgettable travel experience. Here we will have various experiences from food tours, cooking classes and discover tucked-away corners of Marrakech.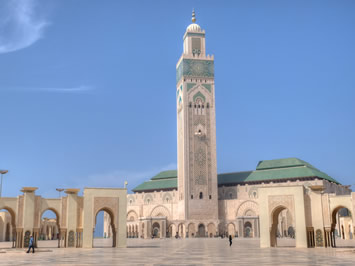 Day 1
Arrival in Casablanca, Morocco
"Mrehba" and welcome to Morocco.
Upon arrival at Casablanca Airport (CMN), you will have a transfer waiting for you that will take you directly to the hotel with maximum comfort. Arrive as early as possible so you can still refresh yourself and enjoy, for example, the hotel's swimming pool. This is where we will be waiting for you and it will be the group's meeting point.
On our first night we will have our first group dinner, to introduce ourselves/get to know and socialize.
Included: • Transfer from Casablanca airport • Welcome Gift • Group dinner • Hotel in Casablanca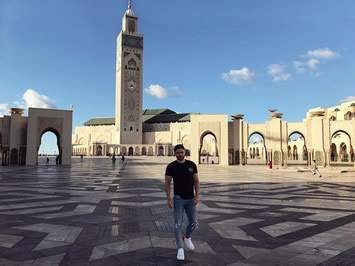 Day 2
Casablanca / Fez
This morning discover the wonders of Casablanca as you tour around the city's highlights. As you explore, feel immersed in the unique atmosphere and gain an insight into the city's diverse history and culture.
Your Casablanca walking tour begins at Hassan the II Mosque, the largest Mosque in Morocco and the third largest in the world. Admire the Mosque's imposing minaret, which stands at 210 meters tall, then head to the famous Rick's Cafe, a stylish reproduction of the bar from the iconic Casablanca movie.
Next, follow your guide through the picturesque alleyways of the city to reach the Medina, where you can browse the stores alongside locals going about their daily shopping. From here, visit the nearby palace of Mahkama du Pacha, a grand Moorish-style building featuring mosaics, marble columns, and carved cedar ceilings.
Make your way over to the Habous quarter, also known as the New Medina, and shop for authentic Moroccan goods and souvenirs such as clothing, leather, jewelry, and food. Make a stop at a local bakery next where locals take their homemade breads and pastries to be baked. Enjoy a tasting of some freshly baked bread, then visit one of the oldest pastry houses in Casablanca, tucked in a laneway off the Souq Habous. Sample some traditional Maghribi pastries before washing it down with a coffee or mint tea at a nearby cafe.
After this magnificent and full morning, you'll have lunch and head towards the city of all senses: Fez. But on the way, enjoy the amazing panoramic views. We'll arrive at the end of the day in Fez. Rest for a while at the hotel and then we'll once again have a group dinner with the delights of Moroccan cuisine.
Included: • Breakfast • Cultural historic tour of the wonders of Casablanca + Local guide • Entrance to the Medina + Local guide • Lunch • Transport with private driver from Casablanca to Fez • Dinner • Hotel in Fez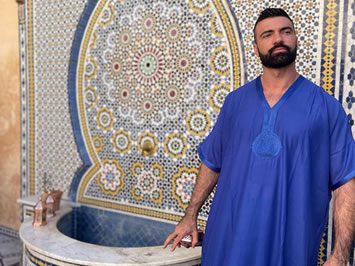 Day 3
Fez
After breakfast, around 9:30 am, we will discover the mysterious city of Fez with a local. On this walking tour, you will be introduced to the real Fez and the people who live here, learning about its history and customs. This walking tour takes you to less frequented places and will show you what makes Fez such an interesting destination, especially for people interested in architecture and history.
See the famous Bab Boujloud, the Jewish Quarter, Janan Sabil garden, and many more highlights of the city with a private guide.
In this authentic experience you will walk through small alleys where people live and narrow streets with all kinds of shops and food stalls. You won't see cars, but make sure you stay away from donkeys and wheelbarrows! You will meet artisans, shop owners and food vendors. Take as much time as you need to stop, admire, taste and take pictures.
The rest of the afternoon will be free to venture through the streets of Fez and look for that irresistible purchase to take back as a souvenir of this wonderful city, or simply relax by the pool at the hotel. Most likely, we continue our free time together and set off on an adventure on our own and decide where to go.
In the early evening, when hunger starts to set in, we will have dinner with a Moroccan family. We guarantee that you will have a very authentic dinner, away from the tourist attractions, in a homestay where you can chat with a Moroccan family about food and culture.
Included: • Breakfast • Private local guide tour of Fez city • Entrance to Al-Attarine Madrasa • Dinner included with Moroccan family • Transport included • Hotel in Fez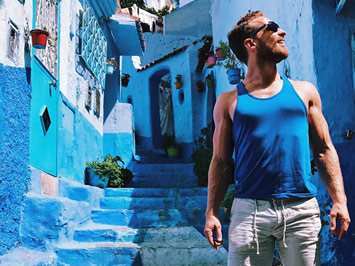 Day 4
Fez - Chefchaouen
Today we have to wake up a little earlier, have breakfast and around 8 am we leave on an exceptional trip to the Blue City of Chefchaouen.
You leave Fez and pass through the Rif mountain range, enjoying natural panoramic views.
The trip consists of 3 stops along the way to Chefchaouen. The first stop will be at the Sidi Shahid Dam, to enjoy the view and take some pictures. The next stop will be a coffee break and the last stop will be at the beginning of the city, with a panoramic view of the entire city.
You'll have around 4 hours to explore the picturesque streets of the small town of the medina, where you are encouraged to discover the local shops and cafes. At the beginning you'll have a local guide who will accompany you to the main places, then you will have enough time to explore the city on your own, before returning to Fez. The main square is known as Plaza Uta el-Hammam, which includes the Kasbah Museum, which dates back to the early 18th century. You'll see the Great Mosque and the Ras Elma River that runs through the old town.
You can also visit the Ethnographic Museum, which contains musical instruments, ancient weapons and photos of the old town. You will also have a delicious lunch in one of the restaurants around the city.
At the end of the day we're back at our hotel in Fez, take the rest of the evening and dinner at your leisure.
Included: • Breakfast • Private driver from Fez - Chefchaouen - Fez • Local guide in Chefchaouen • Lunch • Hotel in Fez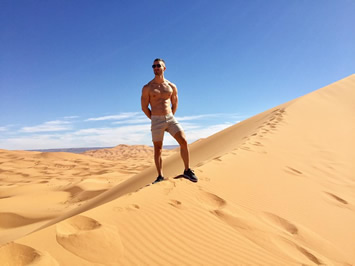 Day 5
Fez / Atlas Mountains / Sahara Desert
After breakfast, we set off on an adventure towards the Sahara Desert, having as destination Marrakech. But before we get there, we have 2 nights that will be spent in the middle of the desert.
At 8am we have our guide and driver waiting for us and we'll drive south to Ifrane and Azrou passing through the Middle Atlas Mountains. On the way, you'll stop at the cedar forests to see the Barbarian Apes in their natural habitat and then proceed to Midelt by crossing the Tizi N'talghamt pass. As we approach the city of Errachidia, you see picturesque views of the Middle-Atlas plateau that reveal hints of the SAHARA desert.
You'll enjoy your lunch and continue to Erfoud and Rissani through the Ziz Valley to reach Merzouga where you'll be welcomed with open arms, showing hospitality by offering you a glass of Moroccan tea. After that, you'll leave your luggage in the hotel then take a camel ride about 1h30 to the Berber camp in the middle of the Erg Chebbi Sad Dunes, the highest sand dunes in North Africa, where you'll have dinner, enjoy the traditional Berber drums music and set up Berber tents for your night in the desert.
This day starts in Fez, then passes through Ifrane, Midelt, Ziz Gorges, Erfoud, Rissani and ends in Merzouga.
It will be a unique night!
Included:• Breakfast • Transport • Lunch • Camel ride to the camp • Dinner • Night in a luxury tent with private bathroom, in the desert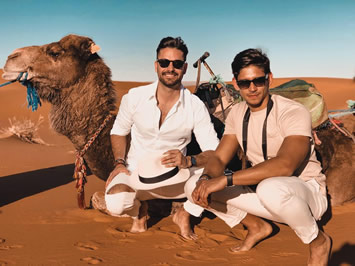 Day 6
Merzouga / Todra Gorge / Dades Valley
On the second day of this adventure, you'll wake up early to enjoy an awesome sunrise on Merzouga dunes, have breakfast then take a camel ride back to the hotel.
After freshening up, we'll leave for Tinghir and the Todra Gorges to go to Dades Valley where you will enjoy dinner and spend your second night in a luxury hotel with a pool.
Our route today will be Merzouga - Todra Gorge - Dades Valley.
Included: • Breakfast • Camel ride back from camp • Lunch • Transport • Dinner • Night at a luxury hotel in Dades Valley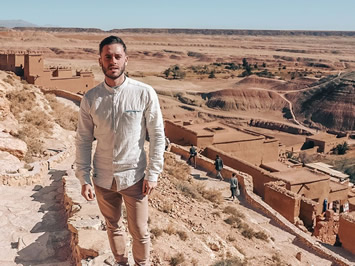 Day 7
Dades Valley / Ouarzazate / Ait Ben Haddou Kasbah / Marrakech
After breakfast, we'll drive to Dades Valley towards Kelaat Mgouna, visit the Roses valley and Skoura village then continue to Ouarzazate which is "the Hollywood of Africa".
Thereafter, you'll have a lunch break at the famous Ait Ben Haddou Kasbah, the largest Kasbah in Morocco known as the UNESCO World Heritage site.
After having a great time while touring, we'll continue through the majestic Tizi n'Tichka pass over the High Atlas Mountains where you'll stop to enjoy wonderful sceneries and visit the Argan oil cooperative to make our way after that to Marrakech. We'll arrive late afternoon.
After checking in at the hotel in Marrakech, you'll have the rest of your free time to enjoy as you wish and in the evening we will have our first group dinner in Marrakech.
Our route today will be Dades Valley - Ouarzazate - Ait Ben Haddou Kasbah - Marrakech.
Included: • Breakfast • Transport + guide from Dades Valley to Marrakech • Lunch • Dinner • Hotel in Marrakech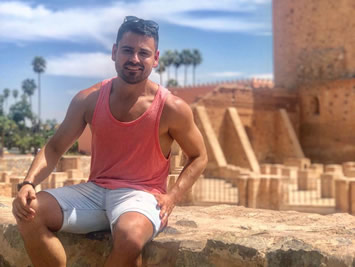 Day 8
Marrakech & Tagine Cookery Class
After breakfast in Marrakech, around 9:30am, we head to our Tagine Cookery Class With a Local.
Learn to cook authentic Moroccan tagines in Marrakech. Get ready for the ultimate tagine experience on this one of a kind tour in Marrakech. From market to plate, you'll learn how to whip up a tagine from scratch, using ingredients from the famous Marrakech souks. The best part of it all? You get to eat your tagine after you've made it!
Stroll among the locals as you select the meat, vegetables, herbs, and spices that form the basis of Moroccan cuisine. Learn how spices are used, and about their historic import to Morocco over thousands of years. Discover homegrown ingredients, such as saffron from Taliouine, mint and olives from Meknes, and oranges and lemons from Fez.
Then, during your hands-on cookery class, an expert chef will teach you how to make traditional dishes central to Moroccan meals. Among the most famous Moroccan dishes are couscous, pastila, tagine, tanjia, and harira. Although the last is a soup, it is considered a dish in itself, especially during Ramadan, and is often served with delicious local dates.
Once you have prepared your tagine meal, sit down to savor the delights of your cookery class in the delightful surroundings of a typical riad. After all this, with the recipes that will be passed on to you, all you have to do is try it at home.
But the day is not over yet, around 2pm, you'll have your first Historical and Cultural contact. Discover the majesty and vibrancy of Marrakech's medina, beginning with a jaunt across the Jemaa el-Fnaa square to the Koutobia Mosque. Gaze at the mosque's massive minaret, the largest in Marrakech, as your expert guide informs you of the stunning building's history.
Onwards, you'll head towards the Saadian Tombs, sealed for centuries until their rediscovery in 1917. Marvel at the ornate carvings in a Hispano-Moorish style that frame the crypts of the 16-century royal family.
Afterwards, head to the equally ornate Bahia Palace, a 19th-century royal dwelling intended to be the most splendid palace of its time. Gaze at the elaborately-painted ceilings, manicured gardens replete with fruit trees, and elaborate stucco patterns adorning almost every surface of the building.
To cap the tour off, you'll wander through the buzzing souks, with their wide array of local artisans and craftspeople, your guide showing you insider tips about the best stalls.
The rest of the afternoon and dinner tonight is at your leisure to choose from the many stalls in the square.
Included: • Breakfast • Guide + Tagine Cookery Class With a Local • Lunch • Historical and Cultural Tour in Marrakech with a local guide • Hotel in Marrakech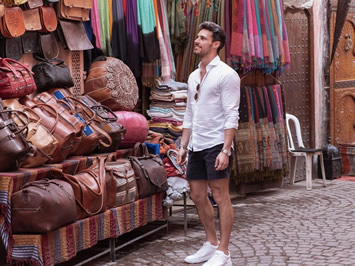 Day 9
Marrakech
Today you will have the whole morning and afternoon free to rest, enjoy the pool, shop or walk through the labyrinth that is Marrakesh. If you wish, we have some optional tours that you can take.
After a more relaxed day, we will enter the hustle and bustle of the Moroccan night. We will have a guide waiting for us around 8pm who will take you to eat and drink only in non-touristy areas. It will be as our guide indicates a "food porn" night. Let's go out of the Medina through 3 different neighborhoods.
You'll see a side of Marrakech away from the tourist sections to get an idea of how people live day to day in their community. You will eat delicious food, which if you were alone you would never taste. What we recommend is that you go hungry, because there will be plenty of food.
Included: • Breakfast • "Food porn tour" outside the Medina of Marrakech • Dinner • Hotel in Marrakech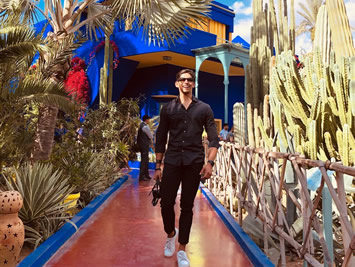 Day 10
Marrakech, Morocco
On this last full day, and now that you've familiarized yourself with Marrakech, it's time to set out on your own and walk through the different streets, find that special store, eat that snack you liked and sit on a terrace watching the hustle and bustle of the city. As a last day, if you wish, you can also try the famous Moroccan Hammam or the hotel's swimming pool.
We will also give suggestions for optional tours and visits if you prefer. Since everyone has their own tastes, you might like to take a calligraphy class or ride a quad bike. We are with you to help!
This being our last group day, we can't say goodbye without our last group dinner. We will remember these last days we spent together and maybe start planning the next ones. You will certainly have new friends and lots of memories.
Included: • Breakfast • Optional tours • Farewell dinner • Hotel in Marrakech
Day 11
Marrakech Departure
Today is the day to say goodbye. After breakfast we leave our hotel and each one will leave for their next destination or home.
If you need a transfer to the airport, or another location, let us know and if you want we can help. If you want to stay longer in Morocco and need help we can also help.
Included: • Breakfast