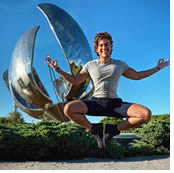 Tuck into beef, wine, and natural wonders on this gay Argentina cultural tour. This bodacious gay Argentina & Brazil tour will introduce you to everything Argentina is famous for at an easy-going pace, with a side of Brazil & Iguazu Falls. Beginning in the country's aristocratic capital Buenos Aires, we'll learn about the real Eva Perón on a private city tour before an arousing tango lesson with a gay instructor. We'll chew on the country's famously beefy cuisine during included dinners, a market tour and even during a sizzling cooking class. Then it's off to one of the New Seven Natural Wonders of the World, Iguazu Falls. We'll appreciate the colossal power of this beautiful behemoth from both its Argentinian and Brazilian sides, and we'll even board a soggy boat tour and sail into the mist below Devil's Throat and the San Martin Falls.
To wrap up our adventure, we'll uncork the country's oenophilic side in juicy Mendoza while pedalling through its renowned vineyards. Expect stylish hotels, top-notch meals, classically handsome men and at least one off-the-cuff performance of 'Don't Cry for Me'—this is a gay tour afterall.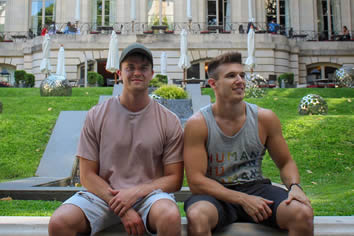 • Appreciate Argentina's signature Malbecs and lesser-known varietals during a vineyard biking tour
• Learn the basics of Argentina's sensual tango from a local gay instructor
• Savour the country's best cuts of meat during included meals at some of the country's best restaurants
• Capture the sheer beauty and size of Iguazu Falls from both the Argentinian and Brazilian sides
• Get wet on a jet boat tour that enters the splash zones below both Devil's Throat and the San Martin Falls
• Enjoy a market tour and cooking class with a local chef in Buenos Aires, one of South America's foodie capitals
• Learn about Argentina's turbulent yet colourful history during private city tours of Buenos Aires, Salta and Mendoza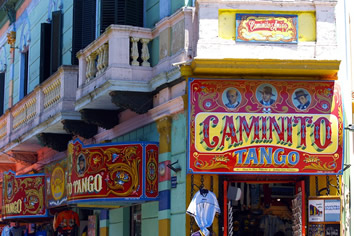 Day 1 - Arrive Buenos Aires, Argentina
Hola. And welcome to Buenos Aires! Upon arrival at the airport, you'll be transferred to our joining point hotel.
Buenos Aires is a massive, vibrant city with a turbulent past. Feel free to explore a little on your own before our brief 6:00pm welcome meeting.
After everyone has gotten acquainted, we'll stroll over to one of the romantic city's best local haunts for our official Welcome Dinner.
Hotel: Pleno Palermo Soho Hotel
, Buenos Aires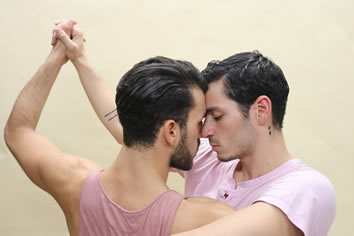 Day 2 - Buenos Aires
Buenos dias! This morning we'll hit the streets on a private Buenos Aires city tour. Buenos Aires is unarguably Latin American's most cosmopolitan and aristocratic capital, mirroring many European destinations. But this sophisticated atmosphere is contrasted by the bohemian, coloured houses of La Boca and the passionate tango resonating through San Telmo's streets.
Specifically, we'll stroll La Boca, Monserrat, San Telmo, Puerto Madero, Palermo, Recoleta and perhaps most interestingly, Barolo Palace. With our appetites worked up we'll enjoy a local lunch in Palermo before returning to our hotel.
At this point we'll have some free time before reconvening for an unmissable tango lesson. Under the guidance of a gay instructor, we'll learn to sensually shift and sway like a true ballroom dancer.
To cap off the experience we'll watch our gay tango instructors perform before an optional visit to a gay club/bar where we can show off our new moves… or just sit on the sidelines appreciating the classically handsome locals.
Hotel: Pleno Palermo Soho Hotel
, Buenos Aires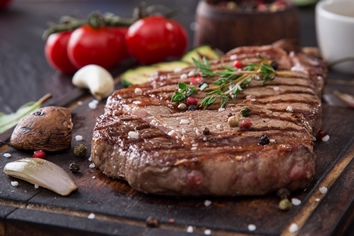 Day 3 - Buenos Aires
After a potentially late night you'll be glad to know you have the entire morning and early afternoon at leisure.
We'll meet at our hotel mid-afternoon for a succulent food tour and cooking class. On this experience, an Argentinean chef will meet us at one of the city's busiest markets where they'll point out local produce, unique spices, regional cheese and of course the country's famous cuts of beef.
Afterwards, we'll head to the chef's house where they'll teach us the secrets to ageing, marinating, grilling and broiling every cut of beef from the juicy tenderloin to the underappreciated flank. With their guidance, we'll then sear and saute our very own dinner to enjoy at the atmospheric house.
Vegetarians/vegans fear not! While the country's cuisine certainly centers around beef, we can arrange for the chef to teach you some of the region's lesser-known veggie specialties. Buen provecho!
Hotel: Pleno Palermo Soho Hotel
, Buenos Aires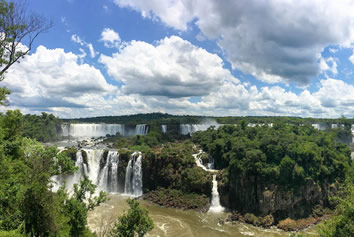 Day 4 - From Buenos Aires to Puerto Iguazu
This morning we bid farewell to beautiful Buenos Aires and take a domestic flight to one of South America's most famous attractions – Iguazu Falls.
These 275 massive waterfalls are divided between Argentina and Brazil and provide vastly different views and experiences depending on which side they are viewed from. Lucky for you, we'll experience both sides!
We'll make our way to our centrally-located hotel where we'll have some time to relax before an included dinner this evening.
Please note: Today's flight is not included in the cost of the tour. Please see 'Trip Notes' for a special note on purchasing domestic airfare.
Hotel: O2 Hotel Iguazu, Iguazu Falls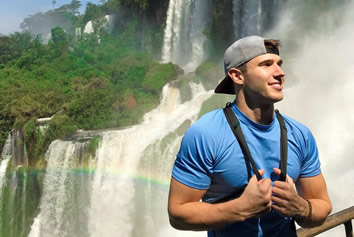 Day 5 - Iguazu Falls
After breakfast at our hotel, we'll mosey over to the Argentina side of Iguazu Falls for our first glorious look at this 'New Seven Natural Wonder of the World'. In total, the waterfalls extend almost 3km/1.8mi.
After we've picked our jaws up off the floor we have three official trails to explore: lower, mid and upper walkways. Each trail offers us a unique view of the falls while also submerging us in the surrounding National Park.
Of course, our visit wouldn't be complete without a stop at the Devil's Throat where we'll stand just feet from the thundering falls. We'll grab a couple (read: thousands) of selfies and group photos here before enjoying lunch in the park.
After an included lunch, we've planned an, um, moist (and bumpy) boat tour into the splash zones of both Devil's Throat and the San Martin Falls.
Tonight we're hosting an optional group dinner, but you're welcome to explore the many nearby restaurants on your own if you so choose.
Please note: Today's jet boat ride may not be suitable for individuals with back or neck injuries
Hotel: O2 Hotel Iguazu, Iguazu Falls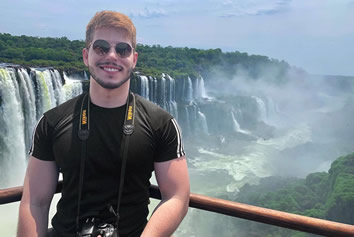 Day 6 - Iguazu Falls
This morning we'll take a short transfer across the border to get a uniquely Brazilian perspective of the natural wonder. Most notably from this side of the falls we'll be granted an unforgettable panoramic view of the entire falls.
A simple but nice lunch awaits us nearby before we continue to the Iguazu Falls Parque das Aves (Bird Park). It's here we'll meander subtropical forest spotting several native species of birds in their natural habitat. This refuge and sanctuary is home to thousands of birds, not least of which includes macaw, golden parakeet, harpy eagle, and toucan.
We'll then make our way back to our hotel in Argentina for a free evening.
Hotel: O2 Hotel Iguazu, Iguazu Falls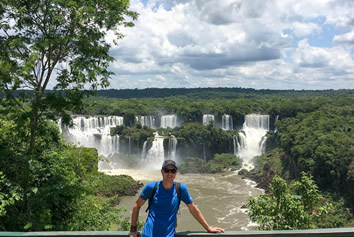 Day 7 - From Iguazu Falls to Mendoza
A full day of travel lays ahead as we fly to magnificent Mendoza via Buenos Aires.
Once in Mendoza, we'll take a private transfer directly to our stunning vineyard hotel located outside the city centre.
To round out our day we'll enjoy an exceptional Argentinian feast complete with regional wine or beer.
Please note: Today's flight is not included in the cost of the tour. Please see 'Trip Notes' for a special note on purchasing domestic airfare.
Hotel: Club Tapiz Hotel & Restó Hotel
, Mendoza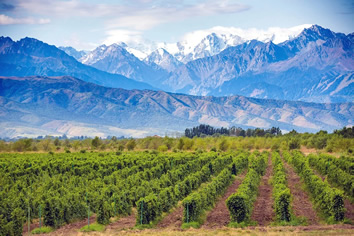 Day 8 - Mendoza
Enjoy a delicious country breakfast before joining us on our private Mendoza city tour.
A local guide will regale us with stories of the desert town while guiding us through the old neighbourhood. They'll point out Independencia Square, Government Building and other important sites.
Our tour will continue to the Parque General San Martín, one of the most important urban parks in Argentina. Our tour concludes under the monument of Cerro de la Gloria before another delicious local lunch.
Afterwards, you have the choice to either head back to our luxe hotel to enjoy its many amenities and spa treatments, or stay in the city to further explore on your own.
If you choose the latter option, a private transfer has been arranged to pick you up at 6pm and take you back to the hotel.
Note: while Mendoza is charming and lively during the day, the city really comes alive at night as bar and restaurant patrons along Av Arístides spill out onto the sidewalk. You are welcome to arrange your own transfer in/out of Mendoza this evening to appreciate the atmosphere.
Hotel: Club Tapiz Hotel & Restó Hotel
, Mendoza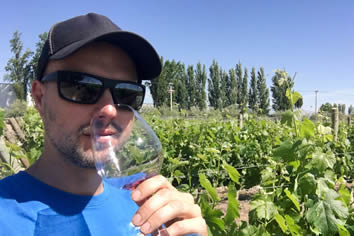 Day 9 - Mendoza
Today we'll truly learn why Mendoza has become synonymous with wine. The arid landscape is perfect for a wide range of varietals, not least of which being the country's signature crop of Malbec. In fact, Mendoza produces approximately one-third of all Argentinian wines.
Together we'll ride bicycles through the beautiful landscape stopping at boutique wine producers to sip and swirl their vivacious vintages. We'll even enjoy an al fresco lunch at one of the larger vineyards, complete with (you guessed it) a regional wine pairing.
Back at our hotel we'll have a little free time to freshen up before our extraordinary Farewell Dinner at one of Mendoza's best restaurants, complete with an entire wine cellar you can peruse alongside the in-house sommelier.
Hotel: Club Tapiz Hotel & Restó Hotel
, Mendoza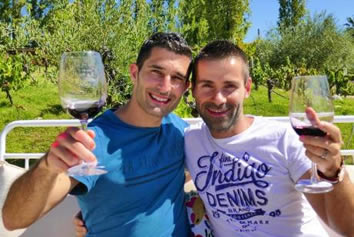 Day 10 - Mendoza Departure
There are no activities planned today, so you are free to depart at your leisure.
Your local guide will help arrange your included departure transfer to the airport. Gracias for joining our big gay Argentinian escape and safe journey home. Ciao!
Please note: If you're interested in extending your holiday, our Argentina & Chile: Patagonia Gay Hiking tour kicks off just as this tour concludes. Ask us about pairing the two.