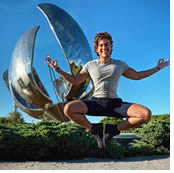 Tuck into Argentina's beef and wine on this all-gay cultural tour. This bodacious gay Argentina tour will introduce you to everything the country is famous for at an easy-going pace. Beginning in the country's aristocratic capital Buenos Aires, we'll learn about the real Eva Perón on a private city tour before an arousing tango lesson with a gay instructor. We'll chew on the country's famously beefy cuisine during included dinners, a market tour and even during a sizzling cooking class. Then it's off to Salta and its surrounding region to witness Argentina's natural beauty. Specifically we'll see the brilliant rainbow hills of Purmamarca, photograph the striking salt lakes in Puna de Jujuy, and board the scenic Train to the Clouds. To wrap up our adventure, we'll uncork the country's oenophilic side in juicy Mendoza while pedalling through its renowned vineyards. Expect stylish hotels, top-notch meals, classically handsome men and at least one off-the-cuff performance of 'Don't Cry for Me'—this is a gay tour afterall.
If you have a few extra days, why not join our pre-tour extension to Iguazu Falls, one of the New Seven Natural Wonders of the World? Alternatively, this tour concludes just as our Argentina & Chile: Patagonia Gay Hiking tour kicks off. The two are easily combined.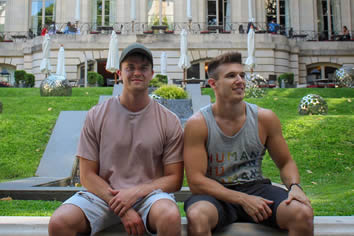 • Appreciate Argentina's signature Malbecs and lesser-known varietals during a vineyard biking tour
• Learn the basics of Argentina's sensual tango from a local gay instructor
• Savour the country's best cuts of meat during included meals at some of the country's best restaurants
• Ride the Train to the Clouds and see one of the most important engineering feats of the past century
• Enjoy both a market tour and cooking class with a local chef in Buenos Aires, one of South America's foodie capitals
• Learn about Argentina's turbulent yet colourful history during private city tours of Buenos Aires, Salta and Mendoza
• Photograph Argentina's beautiful countryside while driving around Quebrada de Humahuaca, a narrow mountain valley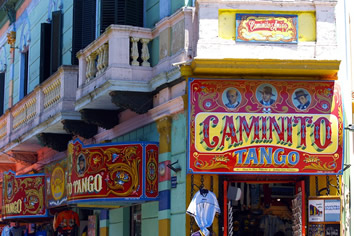 Day 1 - Arrive Buenos Aires, Argentina
Hola. And welcome to Buenos Aires! Upon arrival at the airport, you'll be transferred to our joining point hotel.
Buenos Aires is a massive, vibrant city with a turbulent past. Feel free to explore a little on your own before our brief 6:00pm welcome meeting.
After everyone has gotten acquainted, we'll stroll over to one of the romantic city's best local haunts for our official Welcome Dinner.
Hotel: Own Grand Palermo Soho Hotel
, Buenos Aires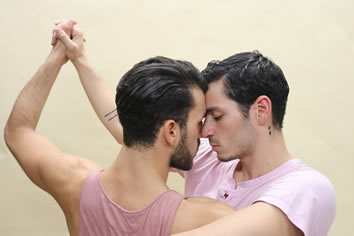 Day 2 - Buenos Aires
Buenos dias! This morning we'll hit the streets on a private Buenos Aires city tour. Buenos Aires is unarguably Latin American's most cosmopolitan and aristocratic capital, mirroring many European destinations. But this sophisticated atmosphere is contrasted by the bohemian, coloured houses of La Boca and the passionate tango resonating through San Telmo's streets.
Specifically, we'll stroll La Boca, Monserrat, San Telmo, Puerto Madero, Palermo, Recoleta and perhaps most interestingly, Barolo Palace. With our appetites worked up we'll enjoy a local lunch in Palermo before returning to our hotel.
At this point we'll have some free time before reconvening for an unmissable tango lesson. Under the guidance of a gay instructor, we'll learn to sensually shift and sway like a true ballroom dancer.
To cap off the experience we'll watch our gay tango instructors perform before an optional visit to a gay club/bar where we can show off our new moves… or just sit on the sidelines appreciating the classically handsome locals.
Hotel: Own Grand Palermo Soho Hotel
, Buenos Aires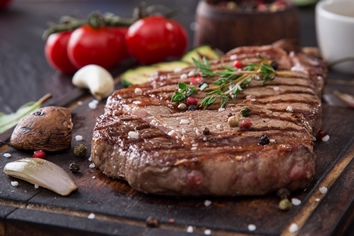 Day 3 - Buenos Aires
After a potentially late night you'll be glad to know you have the entire morning and early afternoon at leisure.
We'll meet at our hotel mid-afternoon for a succulent food tour and cooking class. On this experience, an Argentinean chef will meet us at one of the city's busiest markets where they'll point out local produce, unique spices, regional cheese and of course the country's famous cuts of beef.
Afterwards, we'll head to the chef's house where they'll teach us the secrets to ageing, marinating, grilling and broiling every cut of beef from the juicy tenderloin to the underappreciated flank. With their guidance, we'll then sear and saute our very own dinner to enjoy at the atmospheric house.
Vegetarians/vegans fear not! While the country's cuisine certainly centers around beef, we can arrange for the chef to teach you some of the region's lesser-known veggie specialties. Buen provecho!
Hotel: Own Grand Palermo Soho Hotel
, Buenos Aires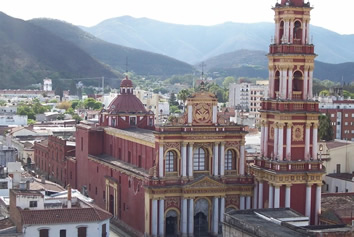 Day 4 - From Buenos Aires to Salta
This morning we bid farewell to beautiful Buenos Aires and take a short domestic flight to Salta.
Salta's rich history, colonial architecture and surrounding natural beauty make it one of Argentina's most popular destinations.
After dropping off our luggage and grabbing a quick bite on our own, we'll enjoy a private city tour with visits to the Church of San Francisco, Town Hall, and the Historic Museum of the North. Then we'll climb nearby San Bernardo Hill for a bird's-eye-view of the city.
Afterwards we transfer to the seasonal village of San Lorenzo located within a ravishing ravine. Our tour concludes in the local craft market where you can shop for authentic chachkis.
Tonight's delicious dinner will be accompanied by a traditional guacho dance show.
Please note: Today's flight is not included in the cost of the tour. Please see 'Trip Notes' for a special note on purchasing domestic airfare.
Hotel: Design Suites Salta Hotel
, Salta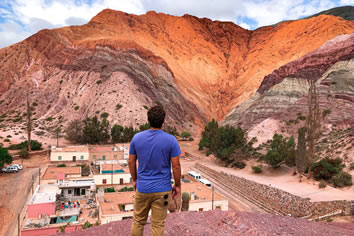 Day 5 - Quebrada de Humahuaca / Purmamarca
After a leisurely breakfast, we'll visit the Quebrada de Humahuaca, a narrow mountain valley.
We'll stroll among small villages like Volcán, Tumbaya and Maimara. In Tilcara we'll visit an archaeological museum and Pucara (impressive indigenous ruins) before continuing to ancient and picturesque Humahuaca.
After a full morning of driving we'll have free time in Humahuaca to stretch our legs and grab lunch on our own.
Finally, we'll enter Purmamarca, a village famed for its rainbow hills. We'll spend the night in this charming city so feel free to make a reservation at one of the local restaurants and spend your evening walking its streets.
Hotel: El Manantial del Silencio Hotel
, Purmamarca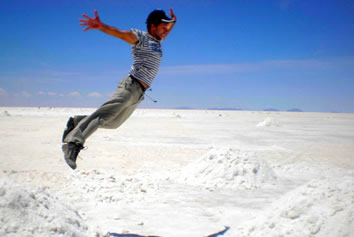 Day 6 - Salinas Grandes / Train to the Clouds / Salta
Today we'll head to the stunning Salt Lakes and its striking surrounds.
Together we'll tackle the fairly easy Lipan slope until we reach the impressive Salinas Grandes, one of the most visited destinations in the Puna de Jujuy region. We'll take in the white landscape before observing the process of extracting table salt.
Then a quick detour to San Antonio de los Cobres awaits before boarding the Train to the Clouds. This historic ride will carry us to the Polvorilla Viaduct, one of the most impressive engineering works of the last century.
With our camera memory cards full, we'll transfer back to Salta for a local dinner and relaxing evening.
Hotel: Design Suites Salta Hotel
, Salta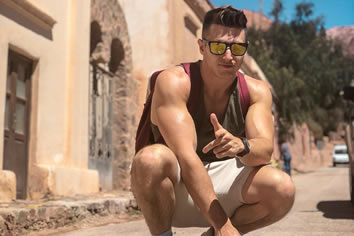 Day 7 - From Salta to Mendoza
A full day of travel lays ahead as we fly to magnificent Mendoza via Buenos Aires.
Once in Mendoza, we'll take a private transfer directly to our stunning vineyard hotel located outside the city centre.
To round out our day we'll enjoy an exceptional Argentinian feast complete with regional wine or beer.
Please note: Today's flight is not included in the cost of the tour. Please see 'Trip Notes' for a special note on purchasing domestic airfare.
Hotel: Club Tapiz Hotel & Restó Hotel
, Mendoza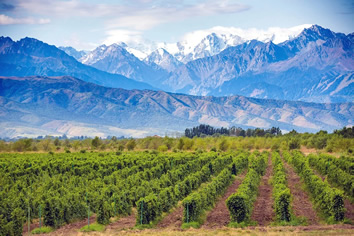 Day 8 - Mendoza
Enjoy a delicious country breakfast before joining us on our private Mendoza city tour.
A local guide will regale us with stories of the desert town while guiding us through the old neighbourhood. They'll point out Independencia Square, Government Building and other important sites. Our tour will continue to the Parque General San Martín, one of the most important urban parks in Argentina. Our tour concludes under the monument of Cerro de la Gloria before another delicious local lunch.
Afterwards, you have the choice to either head back to our luxe hotel to enjoy its many amenities and spa treatments, or stay in the city to further explore on your own. If you choose the latter option, a private transfer has been arranged to pick you up at 6pm and take you back to the hotel.
Note: while Mendoza is charming and lively during the day, the city really comes alive at night as bar and restaurant patrons along Av Arístides spill out onto the sidewalk. You are welcome to arrange your own transfer in/out of Mendoza this evening to appreciate the atmosphere.
Hotel: Club Tapiz Hotel & Restó Hotel
, Mendoza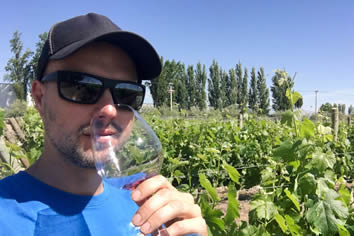 Day 9 - Mendoza
Today we'll truly learn why Mendoza has become synonymous with wine. The arid landscape is perfect for a wide range of varietals, not least of which being the country's signature crop of Malbec. In fact, Mendoza produces approximately one-third of all Argentinian wines.
Together we'll ride bicycles through the beautiful landscape stopping at boutique wine producers to sip and swirl their vivacious vintages. We'll even enjoy an al fresco lunch at one of the larger vineyards, complete with (you guessed it) a regional wine pairing.
Back at our hotel we'll have a little free time to freshen up before our extraordinary Farewell Dinner at one of Mendoza's best restaurants, complete with an entire wine cellar you can peruse alongside the in-house sommelier.
Hotel: Club Tapiz Hotel & Restó Hotel
, Mendoza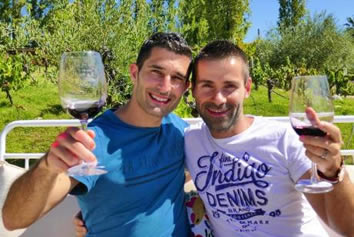 Day 10 - Mendoza Departure
There are no activities planned today, so you are free to depart at your leisure.
Your local guide will help arrange your included departure transfer to the airport. Gracias for joining our big gay Argentinian escape and safe journey home. Ciao!
Please note: If you're interested in extending your holiday, our Argentina & Chile: Patagonia Gay Hiking tour kicks off just as this tour concludes. Ask us about pairing the two.