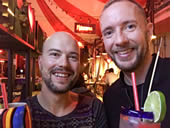 A carefree Caribbean gay group escape with stops in Bogotá, Santa Marta, Tayrona and Cartagena. From its soaring capital to its shimmering Carribean coast, this tour immerses you in everything Colombia is famous for. The journey begins in the high altitude city of Bogotá where we'll explore its graffitied streets by day and shake our arepas in its largest gay bar by night. In Tayrona National Park we'll venture into the humid jungle photographing howler monkeys, tamarinds, toucans and other exotic fauna. To wrap up our adventure we'll melt into Cartagena's laid-back Carribean lifestyle.
As part of our Flex Tour line, this adventure is bursting with optional activities such as a gay salsa lesson, private Colombian cooking class, river tubing experience or an afternoon snorkelling.
For anyone interested in extending their South American adventure, our Peru: The Inca Trail & Machu Picchu hike kicks off right as this tour concludes.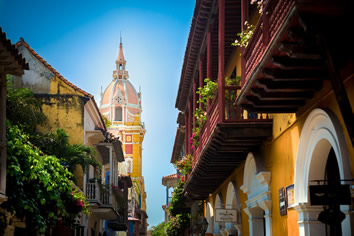 • Enjoy plenty of free time in Colombia's famous walled city, Cartagena
• Delve into Tayrona National Park, where tamarin monkeys, poison-dart frogs and caimans are in no short supply
• Make bad good choices at Teatron, arguably the largest LGBT club in the Americas
• Enjoy an unforgettable bird's-eye-view of Bogota from Monserrat Mountain
• Get optional cooking and/or salsa lessons from local gay Colombians
• Discover South America's second oldest city, Santa Marta, on a private walking tour
• Float down peaceful Don Diego River on an optional river tubing experience
• Relish in Rosario Island's sun, sand and sea during an optional snorkelling excursion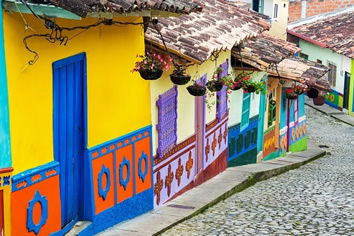 Day 1 - Arrive Bogota, Colombia
Hola! Welcome to Bogota. This vibrant city has moved beyond its chequered past, and today offers a combination of bohemian cool, colourful graffiti and big city swagger. The city's openly lesbian mayor is a sign of just how progressive this Latin American capital has become.
We start our tour with a welcome meeting at 5pm, followed by our official Welcome Dinner at Andres Carne de Res—a truly Colombian experience that Lonely Planet describes as "equal parts Tim Burton, Disneyland and Willy Wonka".
Hotel: B.O.G Design Hotel
, Bogota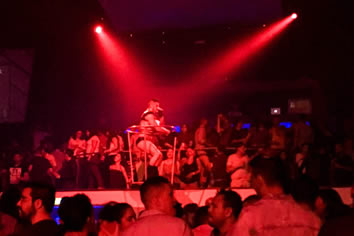 Day 2 - Bogota, Colombia
Today we explore the historic Candelaria district and its colourful graffitied walls. More than pretty paintings, these murals contain deep messages and learnings about Colombian politics, culture and religion. Be sure to try some chicha along the way, a traditional Colombian street drink made from fermented fruit rinds. This historic neighbourhood is also home to a university district, full of cobblestoned streets and centuries-old houses.
After working up an appetite we will enjoy a local lunch, then a stop that will literally take your breath away—we'll take a cable car to the top of Monserrat Mountain, at 10,000m/32,800ft you can see the whole city unfold before you.
Dinner is optional, and then it's time to rumbear at Teatron, a massive gay club with 13 (!) separate dance floors. If you are keen to learn some salsa with a local gay instructor, this is also an option we'd LOVE to organize for the group in the early evening.
Hotel: B.O.G Design Hotel
, Bogota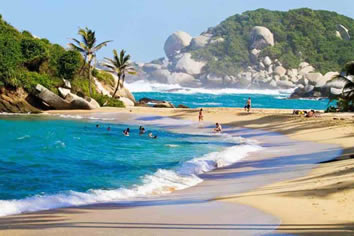 Day 3 - Santa Marta, Colombia
If you aren't nursing an Aguardiente hangover, you're welcome to meander Bogota one last time.
Then in the early afternoon we'll catch a short flight to Santa Marta. Brimming with fascinating history, this small coastal city was the first Spanish settlement in Colombia, the country's oldest surviving city, and the second oldest city in South America.
Upon arrival we will check into our hotel, do a short orientation walk through the historic centre, and then have an optional dinner to try some of the city's famous arepas.
Please note: Today's flight is not included in the cost of the tour. Please see Important Information for a special note on purchasing domestic airfare.
Hotel: Casa de Leda, a Kali Hotel
, Santa Marta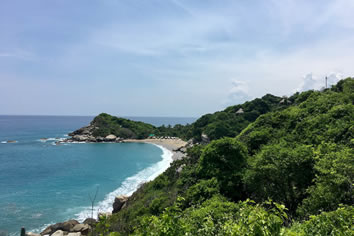 Day 4 - Tayrona National Park
Slather on the sunscreen and choose your cutest bathing suit because we're off to the treasure of Colombia's Caribbean coast, Tayrona National Park.
With some luck we may spot some cotton-top tamarin monkeys, poison-dart frogs and caimans. We will spend the day exploring both the park's jungle trails and pristine beaches.
After a full day exploring we head to our paradise in the jungle where we can relax by the pool and then later enjoy a traditional Colombian dinner together.
Hotel: Villa Maria Tayrona, a Kali Hotel
, Tayrona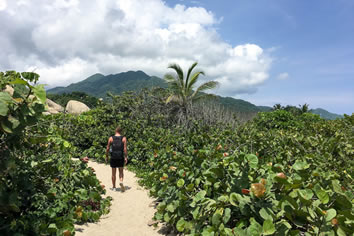 Day 5 - Tayrona National Park
After yesterday's big jungle jaunt, we have a very relaxed itinerary today.
Feel free to enjoy a leisurely breakfast before joining us for our exciting optional activity: tubing down the nearby Don Diego River! This relaxing—and yet totally hilarious—excursion begins in the jungle where you'll be given an inflatable tube to mount. You'll then be let loose to slowly float down the peaceful river with plenty of opportunities to spot playful howler monkeys, fluttering butterflies and exotic birds. Upon arrival at the mouth of the river, you will have the chance to explore a virgin beach, take a dip, or just enjoy a sandy catnap.
If the aforementioned tubing experience isn't your thing, you're more than welcome to relax by our hotel's pool or perhaps take a romantic stroll towards the beach.
Tonight we'll enjoy an included dinner together at our hotel.
Hotel: Villa Maria Tayrona, a Kali Hotel
, Tayrona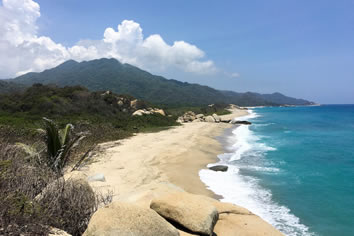 Day 6 - From Tayrona to Cartagena, Colombia
After a leisurely breakfast we are off to Cartagena—arm yourself with a good book, podcast or music as we'll have to weather a 5-hour drive.
The historic walled city of Cartagena has a laid back Caribbean vibe, and is undoubtedly one of the jewels of Latin America.
Upon arrival we will walk through the narrow cobblestone streets and grab a cocktail on the old city wall while watching the sunset.
Later in the evening you are free to take in the romantic and charming vibe on your own or join the group for an optional dinner.
Hotel: Bantu Hotel By Faranda Boutique
, Cartagena
Day 7 - Cartagena & Rosario Islands
Today we have two incredible optional activities for you.
In the morning we'd love if you joined us on an optional snorkeling experience in nearby Rosario Islands. The collection of 27 islands are protected national park and famous for their calm, teal waters with vibrant coral systems below the surface.
After a morning of sun, sand and sea, feel free to kick back at the hotel, grab a quick bite and then change into your stretchy pants for this afternoon's optional cooking class. On this mouthwatering activity we'll learn the secrets to Colombia's unsung cuisine from a local gay chef. Then we'll get to devour our own creations for dinner.
If you decide to skip the optional cooking class, our local guide will have plenty of restaurant recommendations you may be interested in.
Hotel: Bantu Hotel By Faranda Boutique
, Cartagena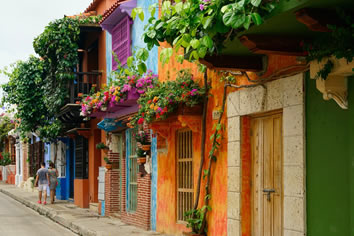 Day 8 - Cartagena, Colombia
Yet another beautiful day to enjoy this colonial coastal gem, que rico! Why not explore the Castillo San Felipe de Barajas, a fortress dating back to 1536?
Alternatively, head to the nearby beaches one last time and soak in those last few hours of Carribean sun.
Tonight we gather for an included Farewell Dinner where we'll get a taste of the city's world-class seafood. To wrap up our night (and the entire tour) we'll enjoy farewell drinks at a gay or gay-welcoming bar.
Hotel: Bantu Hotel By Faranda Boutique
, Cartagena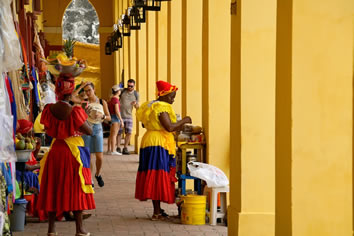 Day 9 - Departure
Ciao for now!
Today is the final day of our tour and we wish everyone safe travels home.
From the whole Out Adventures team, muchas gracias for joining our gay Colombia tour!