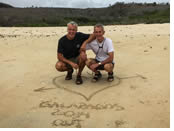 Experience Mother Nature at her most extra as you glide through the Galápagos Islands on this boutique gay cruise. Things start and end in Quito, the second-highest capital city in the world. A walking tour is the perfect introduction before we head out of town to see The Equator. Then we fly off the mainland and board a yacht to follow Charles Darwin's trail of discovery.
These islands went untouched by civilization for thousands of years and developed exceptional ecosystems. It's basically Paradise, and the animals are completely comfortable around (or totally indifferent to) the curious tourists. We've also planned plenty of snorkelling to immerse you in the marine life.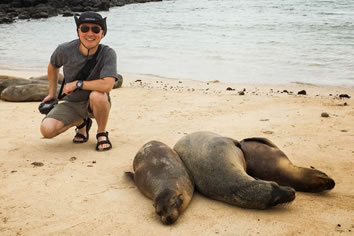 • Kickback on a luxe 7-night gay cruise
• Snorkel through awe-inspiring marine biodiversity
• Experience a range of flora and fauna unlike anything else on Earth
• Explore Quito, the second-highest capital city in the world
• Feel truly balanced standing on the Equator line, and then enjoy an 'Equator Experience'
• Pay homage to the Father of Evolution at the Charles Darwin Research Station
• Swim through Pinnacle Rock, one of the islands' most iconic landmarks
• Paddle through the mangrove wetlands of Black Turtle Cove
• Sunbathe with sea lion pups on pristine beaches
• All meals are included on this itinerary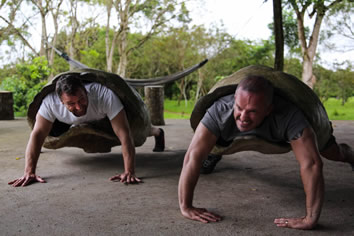 • Arrival & departure transfers to/from the Joining/Finishing Point Hotels
• Accommodations throughout
• All meals except two lunches
• Transportation by private coach
• Domestic airfare
• Expert local English-speaking Tour Leader and Host
• Hotel porterage
• Gratuities for basic porterage, included meals and day guides
• International airfare
• Passport and visa expenses
• Alcoholic drinks
• Items of a personal nature
• Gratuities for your Local Tour Leader (approximately $10 USD per person, per day) and ship crew (approximately $15 USD per person, per day)
• International airport departure tax
• Galápagos National Park entrance fee: $100 USD, and Transit Control Card: $20 USD per person, paid at entrance.
• Travel insurance – mandatory for all travellers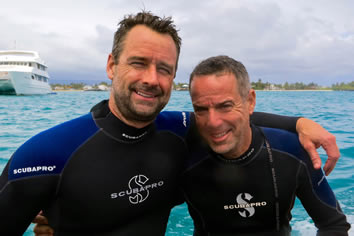 Day 1 - Quito, Ecuador / Arrival Day

Hola – welcome to Ecuador, and the second-highest capital in the world.
After a 10 AM Kickoff Meeting we've planned a full-day city tour including La Compañia de Jesus – the most beautiful church in the Americas, and Calle La Ronda – Quito's oldest street. Then we're off to the Equator museum where you'll get a keen sense of what it means to be equidistant from the world's two poles.
A Welcome Dinner ends our day, but officially starts the holiday.
PLEASE NOTE: Given the city's high altitude consider arriving the day before, so your body can adjust to the thinner air.
Day 2 - San Cristobal, Galapagos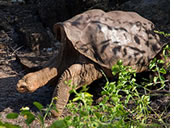 Today we fly to the Galápagos, and board the sumptuous Grand Queen Beatriz, our home for the next week.
This is mainly a travel day, but in the afternoon we'll explore Red Hill, a national park with an established breeding program and information center for tortoises. See the creatures in their natural habitat and learn about their origin, evolution and threatened future.
PLEASE NOTE: A US$20 per person transit card is payable on departure at Quito Airport and a US$100 per person national park entry fee is payable on arrival on the islands. Please have cash on hand for these transactions as using credit cards can be time consuming.
Day 3 - Bartolome Island / Sullivan Bay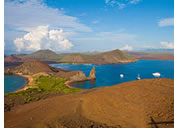 Bartolomé is a newer island with traces of its volcanic past visible everywhere – it really feels like you're on the moon. Here's where you can check out Pinnacle Rock, one of the most photographed landmarks in the Galápagos that thrusts out from the water like a tooth.
Then consider a hike to the top of a dormant volcano for superb views of Sullivan Bay across the water. We'll also snorkel near Pinnacle Rock where you'll likely see plenty of tropical fish, starfish, white-tipped reef sharks, rays and hopefully penguins.
Finally, we'll enjoy a ride on a panga boat.
Day 4 - Espumilla Beach / Port Egas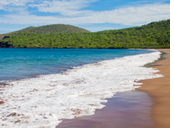 Rise and shine as another busy day awaits, starting with Espumilla Beach, in James Bay. The beach is an important nesting site for marine turtles. It's also known for its Palo Santo Forest and extraordinary lava formations.
Check out Buccaneer Cove, a natural rock formation caused by sea erosion, where pirates would careen their ships. If the weather is favourable, we'll enjoy an hour of snorkelling.
Finally, Port Egas is a black sand beach set against Sugarloaf Volcano, where you can walk among marine iguanas and sea lions. We'll enjoy a second snorkelling session here, hopefully encountering friendly sea lions under the water's surface.
Day 5 - Santa Cruz Highlands / Charles Darwin Station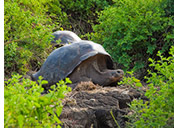 Today begins with a visit to Santa Cruz, the second largest island in the Galápagos.
Puerto Ayora, the island's hub of life, is also home to the Charles Darwin Research Station. Undertaking vital conservation work, the station offers amazing opportunities to encounter giant tortoises, their babies, and land iguanas.
Then it's off to the highlands with a total change of scenery en route: misty forests, inactive volcanic cones, plenty of endemic plants, and perhaps the bright red feathers of a vermillion flycatcher await.
Day 6 - North Seymour / Mosquera Islet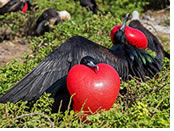 This morning we venture to North Seymour. The trail crosses inland through the island and on to the rocky coast. Along the way we'll see colonies of blue footed boobies and even frigates – large black birds known for the red pouch on their necks. During mating season males throw back their heads and inflate the pouch – sometimes to the size of a soccer ball – in a flashy display to woo the females. We'll end the morning snorkelling in search of white tipped reef sharks.
After lunch the sandy island of Mosquera makes for a picturesque stop. Red lava crabs scamper and skip across pools of water in search of supper. Bright red on top and blue beneath, they are a stunning crustacean contrast to the black lava. Depending on the tides and visibility, there may be another chance to go snorkelling here.
Day 7 - Black Turtle Cove / Dragon Hill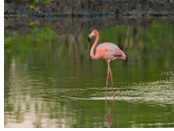 Black Turtle Cove is a mangrove wetland on the north shore of Santa Cruz Island. Paddle through and discover the region's underwater riches. It's a wonderful place to see green turtles, and is a nursery for rays and Galápagos sharks. Birds like the yellow warbler and lava heron also call the cove home.
In the afternoon, a walk on Dragon Hill offers iguana and flamingo sightings.
Day 8 - Chinese Hat / Rabida Island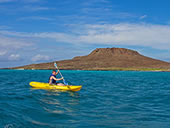 The small island of Rabida is one of the most striking in the archipelago. Introduced species were eradicated in 1971, letting indigenous wildlife return to a state of splendid isolation. The volcanic activity here produces vivid landscapes like the red sand beaches and scarlet cliffs. Look out for nesting pelicans, pintail ducks, and sea lions. We'll definitely dive into the waters for a prime snorkelling opportunity, hopefully glimpsing penguins and sharks.
Our last stop is Sombrero Chino, or Chinese Hat islet, which takes its name from the island's shape: snorkel away!
Day 9 - Bachas Beach / Baltra / Quito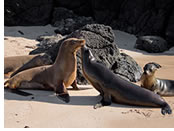 We've planned an early start for our final day on the Galápagos. We're off to Las Bachas, named after the barges abandoned by the American Navy in the 1940s. The sandy white beaches are a nesting site for the Pacific green turtle with marine iguanas commonly seen. The sand here is particularly white and soft, made of decomposed coral. A lagoon near the beach is home to whimbrels and great blue herons. This is the perfect place for our last snorkel session. Keep your eyes peeled for sea turtles, starfish and sea lions.
Our Galápagos gay cruise is over, but we have one final night – and a Farewell Dinner – in Quito after our flight to the mainland.
Day 10 - Quito / Departure Day
As the last day of our tour no activities are planned. Please confirm departure transfers with your trip leader, and safe travels home.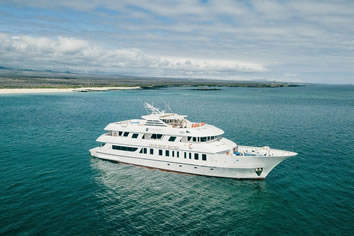 Experience the 'Enchanted Islands' in our new custom-built yacht, the Grand Queen Beatriz. Custom built, with a stylish modern design, ensuite bathrooms, outward-facing windows in all cabins (and private balconies in some), and a jacuzzi on the sundeck, the Grand Queen Bea is be one of the newest boats operating in the Galapagos.
Whether she's coming or going, it's easy to fall in love with The Grand Queen Beatriz as she glides through gorgeous marine surrounds. The crew will make you feel welcome from the moment you step aboard. And imagine diving off those decks for a little dip and snorkel...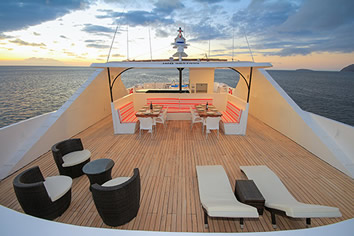 Punch yourself in the face then get a load of our common ground on water. The staircases are fit for dramatic exits. The hot tub is the place to simmer your sun-kissed torso after a day of snorkelling. Did we mention there's going to be *LOTS* of snorkelling? It's not a euphemism.
To enjoy the tropical climate of the islands our sun terrace is the perfect place, there is an open bar for you to enjoy your favorite drinks. Here you can take a sun bath or rest in the shadow, enjoy the panoramic view. Once a week we have a lunch or dinner in this spacious terrace
To offer a great experience on board, the boat counts with a jacuzzi for six people, you can use it when the boat is anchored. Here you can relax at fresco with a cold beer , if you are willing to use the jacuzzi please talk to the barman in advance.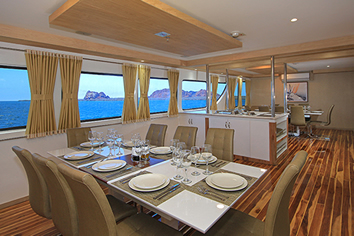 After all that snorkelling you'll have a hearty appetite and may long for libations. Good thing Bea's inner sanctum offers serene respite from the wild kingdom outside. Her living room is the hub of the boat; an easy place to meet for pre-dinner cocktails or to curl up with a thick book. A well-stocked bar awaits your cocktail ambitions and the dining room is a chill escape (not only for the AC).
The living room is the place where the guide briefs the group each day about the next activities, here you will find a TV with DVD player, books, and board games.
In the dinning room you will enjoy the best dishes of the international and national cuisine, as well will find a selected wine stock and a bar with exquisite drinks. This place has a fantastic panoramic view.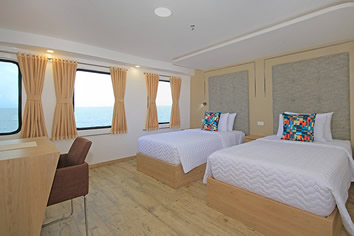 Since Out Adventures are equal parts exhilarating and exhausting, we care about where you unwind. The rooms aboard are awfully spacious for a boat: all face outward, many with balconies. Coming from swimming salty waters you'll love your loo the most. It delivers one hot and steamy shower, Honey.
All cabins include: Air conditioning; All linen; Ensuite bathrooms; Toiletries (soap and shampoo); TV's with on demand movies; Safety deposit box